Les noces vénitiennes
(a.k.a. Venetian Honeymoon,
a.k.a. La prima notte, 1959)
---
Thanks so much, Mikayel, for contacting Constantino.
And thanks so much, Constantino, for recording this movie for me!!!!!


---
Back in Venice for two months, Brass worked as assistant to Brazilian-born British documentarian Alberto Cavalcanti, who somehow ended up directing this French comedy, which was briefly released in the US (
Venetian Honeymoon
) and in Italy (
La prima notte
), but then seems to have vanished for the next half-century. The rights, or perhaps only the French rights, are currently owned or licensed by
Gaumont
.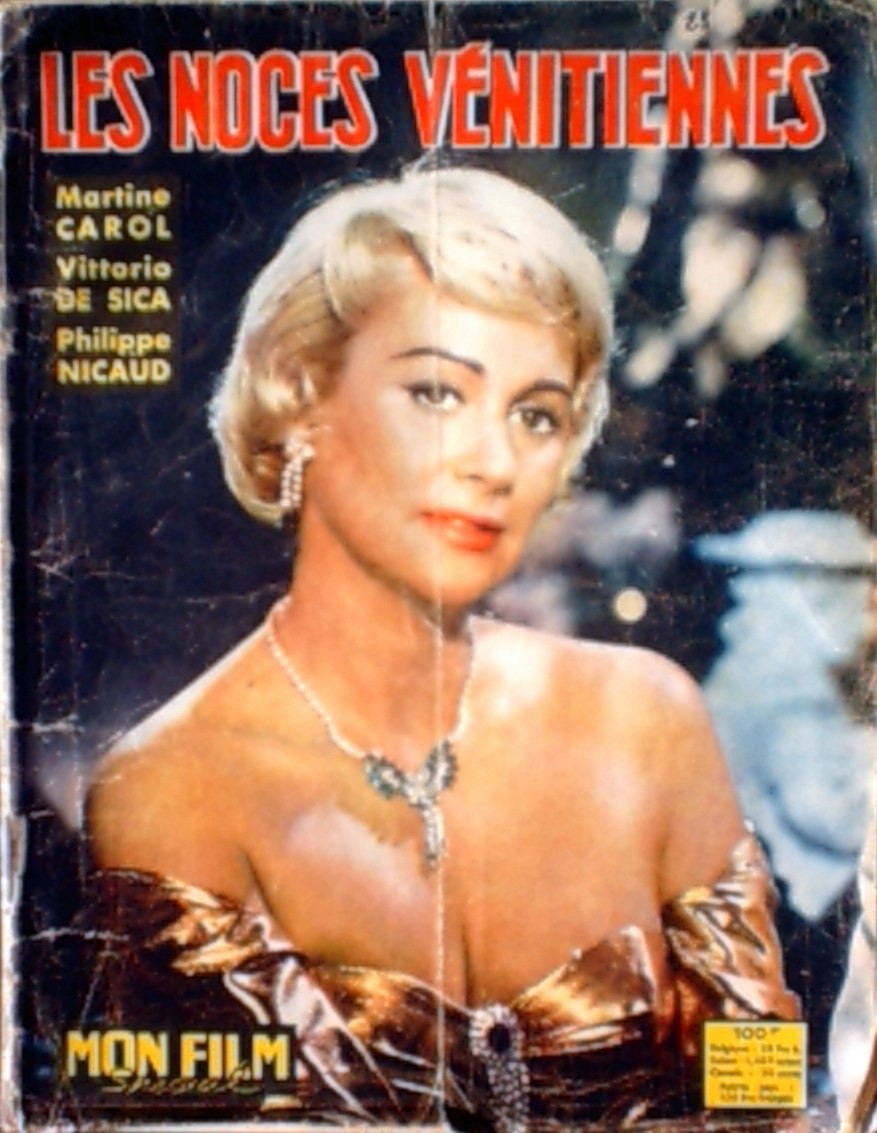 The photonovel, a special issue of the Paris-based Mon film special, no 667 (September 1959).
La prima notte
Directed by
Alberto Cavalcanti
Written by
Jean Ferry, Abel Claude-André Puget, and Luciano Vincenzoni
Based on a novel by
Abel Hermant
Produced by
Giovanni Addessi and Robert Gascuel
Assistant producer
Saverio Scipioni
Music
Jean Françaix
Musical excerpts from
Carlo Rustichelli
Director of photography
Gianni Di Venanzo
Editors
Elsa Arata, Maurizio Lucidi, Yvonne Martin
Production design
René Moulaert
Set decoration
Arrigo Breschi
Costumes
Grazia Lusignoli, Elisabeth Simon
Make-up
Romolo de Martino
Hair style
Marcella Cecchini
Production managers
Giuseppe Fatigati, Ugo Tucci
Assistant directors
Tinto Brass, Leopoldo Savona,
Roland Straglia
Sound
Bernardino Fronzetti
Production secretary
Marguerite Chevalier
Camera operator
Erico Menczer
| | |
| --- | --- |
| PERSONAGGI E INTERPRETI | |
| Isabelle de Santos | Martine Carol |
| Alfredo | Vittorio De Sica |
| Gérard Chevalier | Philipe Nicaud |
| Angelica | Claudia Cardinale |
| Antoinette Sophronides | Marthe Mercadier |
| Bob Lebel | Jacques Sernas |
| Singer | Umberto Da Preda |
| Lisa Bradwell | Martita Hunt |
| Le Marquis | André Versini |
| Yolanda | Ave Ninchi |
| ??? | Giacomo Furia |
| ??? | Donziegler |
| ??? | Brigitte Juslin |
| ??? | Ivan Dominique |
| ??? | Tonino Lenza |