---
THE WORKS OF TINTO BRASS

Winning Accolades—Continued
---
La donna è una cosa meravigliosa
(Woman Is a Wonderful Thing, 1964)
Click here for a review, but I don't know how to read it.
This is NOT a movie by Tinto Brass, but he does have a momentary bit part in the second episode. This is one of those wonderful, delightful light sophisticated comedies of the early and mid-1960s. Except for a few little oddities like Dr. Strangelove and The Pink Panther and How to Steal a Million, they all seem to be forgotten. Check people's opinions on the web, and you'll find that the few who deign to comment don't have anything good to say. Something tells me that this isn't the entire story. If these films were to be shown again today, I think they would bring the house down. The film's opening act, La balena bianca (The White Whale), is a true masterwork. The members of the Orfei Circus play themselves—sort of. Midget MC Eros is having a fling with a midget acrobat named Luciana. The trouble is that Eros is married to the fat-woman acrobat Ciccia. Eros's numerous attempts to murder his wife are all in vain, as she is indestructible. Not only is the story brilliant and captivating, and not only are the circus acts top-notch, but the design, lighting, and cinematography are unbeatable. Visually this is one of the most hauntingly gorgeous movies I've ever seen. The cinematographer was the great Gianni Di Venanzo, and his camera operator, Pasquale (or Pasqualino) De Santis, later rose in the ranks to become arguably the finest cinematographer of all.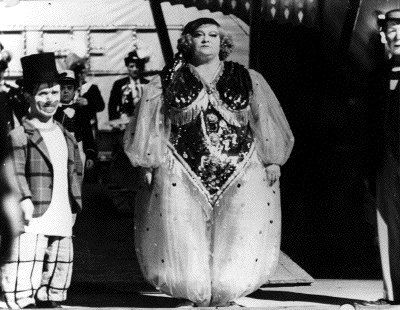 The second story, Una donna dolce dolce (A Sweet Sweet Woman), can't match up to the first, but it's still a delight. Childlike wife Rossella, unhappy that her husband Carlo doesn't want children, treats him as an infant, relegating him to the children's den and treating him to countless gifts of baby toys. Tinto Brass, with what was then his trademark frizzy hair, plays one of the guests in Rossella and Carlo's back yard who witness Carlo's squirming embarrassment at his wife's antics. He has a grand total of two lines. Sandra Milo plays the lead. She was also in Il Generale della Rovere and narrated parts of Ça ira. The reason? She was producer Moris Ergas's girlfriend at the time.
| | |
| --- | --- |
| | |
| | |
| | |