THE WORKS OF TINTO BRASS
---
Yankee
(a.k.a. L'americano,
a.k.a. Uccidi se non vuoi essere ucciso,
a.k.a. Kill or Die, 1966)
A promising project came along when a studio offered Tinto Brass the job of making a "Spaghetti Western." He accepted eagerly. He had been deeply impressed by Sergio Leone's
B-movie,
Per un pugno di dollari (Fistful of Dollars)
, which became a surprise hit, and so he wanted to try his own hand at the genre. Leone's film plagiarized Akira Kurosawa's
Yojimbo
, which in turn was based without attribution on Dashiel Hammett's novel
Red Harvest
. The
Yankee
script, by Alfonso Balcázar and Alberto Silvestri, took its inspiration from Leone's film. It was probably Tinto Brass who doctored the script to bring it into line with the comic books he so loved.
SYNECDOCHE: In addition to wanting to make a comic-book movie, Brass endeavored also to take film grammar one step further by the use of visual synecdoche, inspired by Chinese and Japanese pictographic writing, in which a part is used to represent the whole. So instead of showing a gunman, he would show the tip of the gun barrel; instead of showing a horse approaching, he would show the horse's ear; and so forth. Sadly, his ideas have largely been removed from the film, since the producer, horrified by the dailies, fired Brass just as he was completing the editing, and even got into a fistfight with him.


DISOWNERSHIP: The studio boss hired Juan Oliver to fix the movie and delete the bulk of the synecdoche. Brass sued the studio and won the right to delete his directorial credit from the movie. That's why the original prints of the film were credited as "Un film di Antony Luc," a play on the name of the co-producer. Finding that having a fake name and no director's credit was impeding boxoffice sales, the producers reached a financial settlement whereby the film would be "Un film di Tinto Brass," though there would still be no director credited.


RECONSIDERATION:
The VHS releases — cropped, battered, smudgy — do no justice to the original film, and I found that I, like others, was almost entirely unimpressed.
The new DVD
, with its sharp, colorful, crisp images, clear sound (and English subtitles!) makes a world of difference. Even more interesting (and curious) is
the new DVD-R
that periodically pops up on eBay from
Squonkamatic
, which — hold your breath — is in English! Nobody spoke English on camera; this was a multilingual cast who spoke on camera in probably every known language except for English. Nonetheless, the English dub is simply amazing. It breathes an entirely different sort of life into the movie, and it's surprisingly entertaining.
NOTE ADDED WEDNESDAY, 29 APRIL 2009:
Now that I watched the English dub, I decided to look at a little of the Italian dub again. And I noticed something. In the Italian dub the Americans and Méxicans speak in a manner that one would never hear in the US. Never. Ever. Under any circumstances. Oh, yes, it's funny; it's clever; it's poetic. More than that, it's entirely elliptical, and that makes it entirely
non-American.
In the English dub the dialogue is rewritten, which changes the plot a bit and cleverly ties up some ends that had been left loose in the original. Whatever one may think of such alterations, the characters talk much more like Americans, or at least like the caricature of Americans that Clint Eastwood portrayed in
Per un pugno di dollari
. A lot of genuine love was put into the English dub — a
lot
of love.
The story is quite typical and unexceptional: A stranger wanders into a lawless town in New Mexico to discover that the locals live in dread fear of the invincible bandito who has driven them all into poverty and subservience. When the stranger is warned to leave, he sees a money-making opportunity, meets up with the bandito's gang, and in a series of slick moves double-crosses them time and again, until, at the end, he has killed them all and walks off with their loot. The story is small, trivial, insignificant, but the manner in which it's told is unusually compelling and quite funny in its own strange little way. Most entertaining, for me at least, is the appearance of famous circus equestrian
Osiride Pevarello
. He and Brass met on this film and became fast friends.
Pevarello
has appeared in the bulk of Brass's films ever since.

HISTORY: The set decoration is intentionally bad. The WANTED posters are entirely wrong. The tinted windows in El Grande Concho's church/residence are entirely anachronistic. The coins seem right, though, but I haven's checked them against listings in numismatic references. We are to assume that this nameless desert border village is within maybe a day's ride of Los Alamos. No, I don't think so.


MUSIC: Very little, but it's great. Clearly inspired by what Ennio Morricone and Bruno Nicolai had done for Fistful of Dollars.


The 45rpm single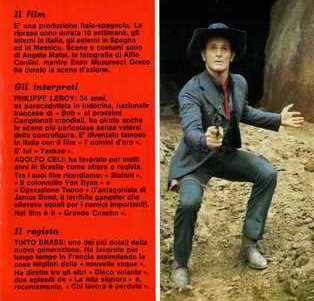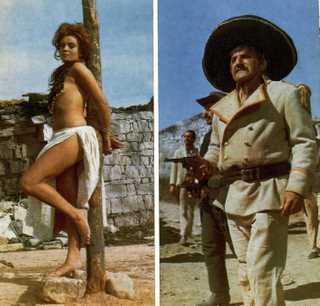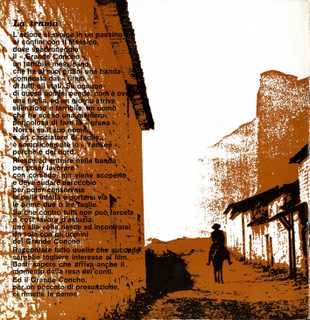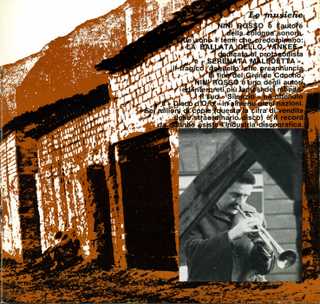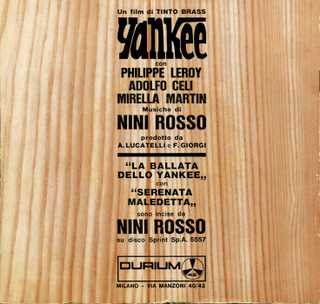 The promotional edition, nearly impossible to read
MACHISMO: One of Brass's strong points is his ability to write for women. He seems to have no use for machismo. Yankee, though, is pure machismo — but absurdly, ludicrously, farcically so. If it can be taken seriously at all, it can be seen only as a condemnation, but it probably can't be taken that seriously. Philippe Leroy is certainly perfect as the macho man, but his attitudes are French, not American. Once you get used to the idea that it is someone who is so obviously steeped in European culture, someone who has no feeling at all for the American west, who is playing a down-and-dirty American, though, it's rather fun to watch. NOTE ADDED ON TUESDAY, 29 APRIL 2009: I take that back. Never before had I realized how much I could be fooled by postproduction. In the Italian dub he seems to be a Frenchman playacting at being American. In the English dub he's as American as American can be!


FLATTERY: Two years later Sergio Leone took a momentary image from Yankee and expanded it to epic, almost archetypal imagery for Once upon a Time in the West (C'éra una volta il west). And another one year after that Sam Peckinpah took the sequence concerning the scorpion in a ring of fire and greatly expanded upon it for The Wild Bunch.


AN EXPLANATION, AT LAST!: Thomas Weisser's Spaghetti Westerns: The Good, the Bad and the Violent (Jefferson, NC: McFarland & Company, 1992, p 356) tells us why it was that an actor of such brilliance as Adolfo Celi was so hopelessly unconvincing in this movie. He was doing an imitation of Fernando Sancho. A ha! Well, I don't know who Fernando Sancho is, but it explains a lot anyway. By the way, Weisser quite liked Yankee. So did Bill Everson, for that matter.


MYSTERY SOLVED: The Internet Movie Database once listed Brass's next film as Uccidi se non vuoi essere ucciso (Kill If You Don't Want to Be Killed). That was merely the proposed subtitle for Yankee, which was at first supposed to be marketed to the international trade as Yankee — Kill or Die.


GERMAN PREVIEW: Unlike the Italian preview, this one seems to have been made some years ago, probably for a revival, but it's considerably shorter than the Italian preview embedded above:


THE RESTORED VERSION ON DVD!
Yankee (Italo-Western Collection #2), from Koch Media in Germany
, released on 17 October 2007. Optional German and English subtitles, though the English subtitles are not mentioned anywhere on the packing or in the advertising and can only be selected by the remote's SUBTITLE button after the movie starts. All the opening credits were redone entirely, and they're a little bit different from the original, with added effects (wipes and so forth), but they look good! Mysteriously, the color timing during a late-evening scene is terribly inconsistent, and that is the only real flaw I detected.
| | |
| --- | --- |
| | Apparently this identical transfer is also available in Italy, though without the optional English subtitles. |

WELL I'LL BE GORMED. IT WAS ALREADY ON DVD-R, BUT DUBBED INTO SPANISH:

AND HERE'S THE ENGLISH VERSION ON DVD-R:


A MYSTERY TO SOLVE:
In all my years and years and years of sifting through trade directories and annuals and whatnot, I have never seen any indication, anywhere, ever, that
Yankee
was shown in the UK or the US or Canada. Nor have I seen any indication anywhere that there had ever been an English dub.
Yet now the English dub is available on DVD-R!
The quality of the sound is not perfect (warbles, imperfect clarity, etc), which makes me suspect that this was a rough draft hammered together by a sound editor who just needed to test his work by hearing it through before mixing a final master. Was the final master ever completed? Now, as we all know, most English dubs of foreign-language movies sound hideous — flat, unreal, with a painfully obvious straining not to speak with accents, but this one does not sound bad at all! On the contrary, it sounds quite impressive. The voices match the characters, and the voices
have
character. The English dub converts an avant-garde movie into a Hollywood-type western. Which studio did this? When? Who all were on the crew, and who were the voice actors? Who wrote their lines? Does a final copy of the English-dialogue-only track still survive? Was a print ever made with the English track? Was it ever released? Do prints still exist? If you know the answers to any of these questions,
please write to me
. Thanks so, so, so much!!!
A BIGGER MYSTERY TO SOLVE:
We know that Tinto was kicked out of the editing room just as he was one step away from completing his final cut. We know that the most idiosyncratic imagery is now missing from this movie. We know that when Koch created the recent DVD, they were unable to locate any other footage. We also know that things have the strangest ways of just popping up again. If you know where any trims or rough cuts are hiding,
please please please let me know
!!! Infinite thanks!
VHS from
DeltaVideo (Italy, 1990)
VHS from
René Chateau (France, undated)
DVD from
Koch Media (Germany, 2007)
"Italian Film Directors,"
Variety
(weekly), Wednesday, 4 May 1966, p 112:
"International Sound Track,"
Variety
(weekly), Wednesday, 28 September 1966, p 26:

"Spain's Film Productions,"
Variety
(weekly), Wednesday, 26 April 1967, p 26: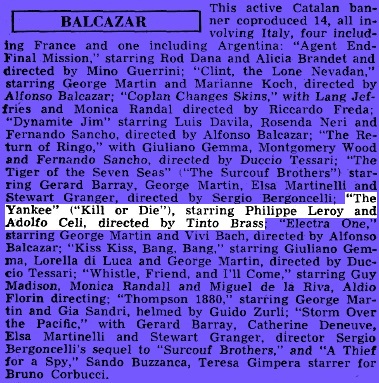 ANICA — Associazione Nazionale Industrie Cinematografiche Audiovisive e Multimediali
Una coproduzione italo spagnola
Tigielle 33 (Roma) P.C. Balcazar (Barcellona)
Un film di Tinto Brass
Yankee
Soggetto e sceneggiatura
(original story and screenplay)
Alfonso Balcázar [¿uncredited?], Alberto Silvestri, Tinto Brass
Dialoghi (dialogue)
Gian Carlo [sic] Fusco
Prodotto da (produced by)
Antonio Lucatelli e Francesco Giorgi per la Tigielle 33 (Roma) P.C. Balcazar (Barcellona)
Aiuto regista (assistant director)
Ruggero Dugoni
Isp. di produzione (unit manager)
Romolo Germano
Segr. di produzione (continuity)
Carla Cipriani
Aiuto regista (assistant director)
Carmelo Patrono
Oper. alla macchina (camera operator)
Maurizio Scanzani
Ass. operatore (assistant camera operator)
Sandro Tamborra
Fonico (sound)
Vittorio de Sisti c.s.c.
Fotografo di scena (still photographer)
Enrico Appetito
Capo elettricista (gaffer)
Domizio Ercolani
Capo macchinista (key grip)
Giulio Diamanti
Truccatore (make-up)
Duilio Scarozza
Maestro d'armi (stunt coordinator)
Enzo Musumeci Greco
Effetti speciali (special effects)
Serge Urbisaglia, Antonio Baquero
Direttore di produzione
(production manager)
Antonio Liza
Montaggio (editing)
Juan Oliver, Tinto Brass
Commento musicale
(musical score)
Nini Rosso
Direzione e orchestrazione
(direction and orchestration)
Puccio Roelens
Edizioni musicali (music publishers)
Durium, Milano
Scenografia, arredamento e costumi
(art direction, set décor, and costumes)
Giulia Mafai, Juan Alberto Soler
Direttore della fotografia
(director of photography)
Alfio Contini
Prodotto da (produced by)
Antonio Lucatelli e Francesco Giorgi
Registrazione sonora (sound studio)
C.D.S. ai Villini, Roma
Teatri di posa (interiors)
Incir de Paolis
Negativi positivi effetti ottici
(optical effects)
S.P.E.S., Dir. E. Catalucci
Pellicola (raw stock)
Eastmancolor Kodak
PERSONAGGI ED INTERPRETI
Yankee
Philippe Leroy
Grande Concho
Grand Cougar
Adolfo Celi
Rosita
Mirella Martin
Filosofo
Philosopher
Jacques Herlin
Faccia d'angelo
Angel Face
Franco de Rosa
Luìz
Tomas Torres
Consalvo
Paco Sanz
Denti d'oro
Gold Teeth
Pasquale Basile
Pittore
Painter
Giorgio Bret Schneider
Tom
Tomas Milton
Sceriffo
Sheriff
Victor Israel
Tatuato
Tatoo
Antonio Basile
Vice sceriffo
Vice Sheriff
Caesar Ojinaga
Portoghese
Portuguese
Renzo Pevarello
Carlos
Osiride Pevarello
Perro
Pete
José Jalufi
Garcia
Valentino Macchi, c.s.c.
??? [probably the innkeeper at the beginning]
Henriquetta Señalada
---
Original research and commentary copyright © 2009 by Ranjit Sandhu. All rights reserved.


---