---
THE WORKS OF TINTO BRASS
---
I Miss Sonja Henie
(Serbo-Croatian Title: Nedostaje mi Sonja Henie)
(Slovene Title: Manjka mi Sonja Henie) (1972)
Manca Čermelj on the swing

Matjaž Kozbek

Ivo Svetina

Tomæz Krelj

Milæn Jesih in foreground

Iucundus Oblak Bard
Gratinirani mozak Pupilije Ferkeverk
(
The Gratinated Brains of Pupilia Ferkeverk
/
Browned Brains of Pupilia Ferkeverk
, 1970, 35mm, color, 1:1.66) Most images captured from
Karpo Godina: Ram za nekoliko slika
(
Karpo Godina: Frame for Several Pictures
, 15 November 2006), an RTVSLO television documentary.
Believe

Dictatorship

Suicide

Death

Love

God

®

: "Be fruitful"

Swallow LSD

®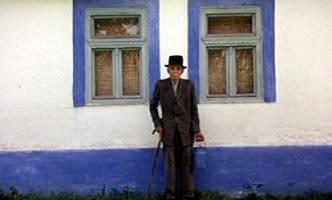 Zdrave ljude za razonodu
(
Healthy People Ready for Fun
, a/k/a
The Litany of Happy People
, 1970, 35mm, color, 1:1.66)
Most of these frames are captured from
Karpo Godina: Ram za nekoliko slika
(
Karpo Godina: Frame for Several Pictures
, 15 November 2006), an RTVSLO television documentary. Aren't these beautiful images? Who could look at these images and not want to move to Vojvodina? How could so many governments get away with playing upon such cultural differences to change neighborliness to hatred overnight and thus get their lucrative bombing campaigns started? Sheesh! Some people get arrested and tortured for taking drugs or for defending themselves against violent policemen. Other people bomb, kill, and mutilate beautiful people like the folks in these pictures and win awards and honors and accolades and political offices and defense contracts for it.
O ljubavnim veštinama ili film sa 14 441 kvadrata
(On Love Skills, or A Film with 14,441 Frames, 1972, color, 1:1.375).
It's so nice, for once, to have an unambiguous record of a movie's actual running time.
A few words about this insanity of a masterpiece. I'm not surprised that you couldn't find anything on this particular film — as it was more or less never shown, at least in public; even the usually quite-reliable and well-researched BFI Encyclopedia of Russian and Central European Cinema got this one wrong: They say that it is a documentary about the Belgrade Film Festival made by some of the invited directors of the (I think) '72 edition, among them Sergio Leone — which is bulls__t, as the film is neither a documentary nor had Sergio the Great anything to do with it.


It's a kind of cinephile experiment: Godina asked some of the directors that were present at the Belgrade Film Festival in (I think) '72 to shoot a short film following a very strict set of rules: no pans, no zooms, no travellings, only one lens (the same for everybody — i.e. a fixed gaze), one roll of raw stock for each director, and at some point the actors had to say "I miss Sonja Henie" (Snoopy is actually credited as the film's screenwriter). Now, each of these directors shot his segment (some lameass, some weird; some pop up only briefly; some were used, it seems, in their entirety), and out of these individual segments — plus a few additional scenes (stock footage of Sonja Henie, etc) — Godina edited the final film — which did not please the censors. Except for one, all of Godina's earlier efforts — most of which are EXTRAORDINARY, BRILLIANT WORKS OF A GENIUS — were forbidden to be shown publicly: They said the films were works of Western decadence and therefore a danger to the Yugo-Soc-mindset; now, in the case of this particular masterpiece (his last work as a director for quite some time), they said that now he'd even worked together with those Western decadents, that he'd become their tool. Well, that's the film, that's its story. By the way, now Godina is considered to be the most visionary artist Slovenia ever brought forth — together with Serbia's
Želimir Žilnik
(check out my piece on Žilnik in
Film Comment
1/2 '04!:-) and Croatia's Lordan Zafranović he became something like an avant-garde inside the Yu-black-wave-avant-garde of the late 60s and early 70s. And: The real documentary in this case is the making of: 5 hours' worth of a lot of great filmmakers having a whale of a good time shooting the s__t, filmmakingwise — now, this mother is certainly a document about a place in time in cinephilia!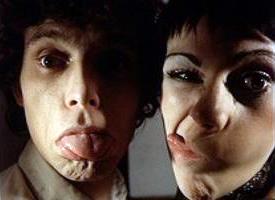 Dušan Makavejev's sketch opens
I Miss Sonja Henie
. Makavejev was the only one of the eight filmmakers who ignored the set, which can only barely be seen in the background, and focused instead entirely on the actors.
Here's an image I just found from an essay posted at
Chained to the Cinémathèque
, which was written by Dave McDougall, who was in the same audience I was in! He in turn found this image via a Google search at the
Filmarchiv Austria
site. This is a frame of Miloš Forman being wrapped in bandages by Brooke Hayward preparatory to shooting his three-minute scene. This frame comes from the documentary
I Miss Sonja Henie: The Making of a Film
, a one-hour record of the shooting. A 26-minute abridgment was shown at the Brooklyn Academy of Music, and that same night Karpo Godina was giving out DVD-Rs of his new 100-minute edition to those who had worked on the movie.
Dušan Makavejev's sketch

Frederick Wiseman's sketch

Frederick Wiseman's sketch

Paul Morrissey's sketch

Bogdan Tirnanićs sketch

Bogdan Tirnanićs sketch

Buck Henry and Miloš Forman's sketch

Puriša Ðorđević's sketch

Tinto Brass's sketch
I MISS SONJA HENIE: THE MAKING OF A FILM

Dušan Makavejev

Dobrila Stojnić, Branislav Milićević, Dušan Makavejev

Branko Vučićević and Tinto Brass

Bogdan Tirnanić in the background

Dobrila Stojnić

Branislav Milićević

Bogdan Tirnanić

Dobrila Stojnić, Bogdan Tirnanić, Branislav Milićević

Dobrila Stojnić and Puriša Ðorđević

Paul Morrissey and Branko Vučićević

Srdjan Zelenović, Dobrila Stojnić, Branislav Milićević

Branko Vučićević translates for Frederick Wiseman

Dobrila Stojnić frightens Branislav Milićević

Catherine Rouvel and Miloš Forman explain the intricacies of French to Brooke Hayward

Buck Henry, Catherine Rouvel, and Miloš Forman in a story conference

Buck Henry

Buck Henry, Branko Vučićević, and Dušan Makavejev
---
I Miss Sonja Henie / Nedostaje mi Sonja Henie
35mm, 1:1.375, monaural optical, direct sound
---
A Personal Musing —
DUŠAN MAKAVEJEV and TINTO BRASS:
Two Peas in a Pod
Τὰ παιδιὰ κάτω στὸν κάμπο
δὲν μιλάν μὲ τὸν καιρό
μόνο πέφτουν στὰ ποτάμια
γιὰ νὰ πιάσουν τὸ σταυρό.

Τὰ παιδιὰ κάτω στὸν κάμπο
κυνηγούν ἕναν τρελό
τὸν επνίγουν μὲ τὰ χέρια
καὶ τὸν καίνε στὸ γιαλό.

Ἔλα κόρη τῆσ σελήνησ,
κόρη τοῦ αὐγερινού.
νὰ χαρίσεισ στὰ παιδιά μασ
λίγα χάδια τοῦ οὐρανοῦ.

Τὰ παιδιὰ κάτω στὸν κάμπο
κυνηγάνε τοὺσ ἀστούσ
πετσοκόβουν τὰ κεφάλια
ἀπὸ ἐχθροὺσ καὶ ἀπὸ πιστούσ.

The urchins down in the meadow
don't converse with the times.
They just dive into the rivers
to retrieve the cross.

The urchins down in the meadow
chase off a fool,
they strangle him with their bare hands
and burn him on the seashore.

Come, daughter of the moon,
daughter of the morning star,
offer our children
heaven's embrace.

The urchins down in the meadow
chase down the city slickers.
They smash the heads
of heretics and believers alike.

Τὰ παιδιὰ κάτω στὸν κάμπο
κόβουν δεντρολιβανιέσ
καὶ στολίζουν τὰ πηγάδια
γιὰ νὰ πέσουν μέσα οἱ νιέσ.

Τὰ παιδιὰ μέσ' τὰ χωράφια
κοροϊδεύουν τὸν παπά
τοῦ φοράν ὅλα τὰ ἄμφια
καὶ τὸν πάν στὴν ἀγορά.

Ἔλα κόρη τῆσ σελήνησ,
ἔλα καὶ ἀνάψε φωτιά.
κοίτα τόσα παλικάρια
ποὺ κοιμούνται στὴ νυχτιά.

Τὰ παιδιὰ δὲν ἔχουν μνήμη
τοὺσ προγόνουσ τοὺσ πουλούν
καὶ ὅτι ἁρπάξουν δὲν θὰ μείνει
γιατί εὐθὺσ μελαγχολούν.

The urchins down in the meadow
cut little sprigs of rosemary
to adorn the wells
so that the young girls will fall in.

The urchins in the fields
make fun of the priest;
they dress him in all his vestments
and march him through the square.

Come, daughter of the moon,
come and light a fire
and behold how many young lads
are sleeping in the still of the night.

The urchins have no memory,
they sell their forebears short.
And all that they grab will never last
for they are instantly overcome by sadness...
---
Berlin Film Festival
(1972)
---
---