THE WORKS OF TINTO BRASS
---
a/k/a

(1976)
Click on the image to place an order.

Click on the image to place an order.

URGENT! Does anyone know the whereabouts of this version of the film, entitled

Madam Kitty

? I need to examine it.

Please let me know.

Thanks!
Variety, Wednesday, 10 July 1974, p. 26:


Oceania producer
Giulio Sbarigia
has offered "Salon Kitty" to
Sidney Lumet
. Project was originally set for director
Giuseppe Patroni Griffi
, who is now actively prepping "The Divine Nymph" for Titanus.
Variety, Wednesday, 29 January 1975, p. 38:


Tinto Brass and scripter Ken Adam are in Germany selecting locations for the Coralta project "Salon Kitty."
Variety, Wednesday, 2 April 1975, p. 44:


Ingrid Thulin has femme lead under the direction of Tinto Brass in "Salon Kitty" — Coralta's big budgeter starting April 24 on location in Germany.
SIDE NOTE ABOUT ITALIAN AND GERMAN MOVIES, AMONG OTHERS: Why were The Damned and Death in Venice filmed entirely in English with some British cast members? Answer: Warner Bros. Why was Ludwig filmed entirely in English? Answer: MGM. Why was Fellini-Satyricon filmed partly in English with Anglo/US leads? Answer: United Artists. Why was Fellini's Casanova filmed in English with a Hollywood lead? Answer: Universal. Follow the money.

Cabaret

Salon Kitty
Same prop lights, same lighting design, probably the same furniture, similar or same costumes, similar makeup. I refused ever to watch Cabaret again, solely and simply because of the unpleasant associations with my extremely unpleasant old projection job. Now I think it's time I break down and buy a copy and watch it anyway, regardless of upsetting memories. Besides, Cabaret coproducer Cy Feuer is some sort of relation to my friend Miles Kreuger (uncle, I think). ¿Small world? 15 JULY 2017: I just watched the Blu-ray with its endless interference patterns. The bemonocled guy in the dress was the only character who was repeated in Salon Kitty. Predictably enough (though I didn't intuit it), Cabaret copied this image from Otto Dix's poster of journalist Sylvia von Harden. Read the summary at this link. Okay. I get it now. Cabaret is well done, but it's not my type of movie at all. I dislike stories about shallow immature insecure smaller-than-life self-centered and often hateful manipulators entirely devoid of affection or any ability to care about anyone or anything other than their own inebriated libidos. And they all smoked too much. Whatever. It was well made, I guess, even though the editors had to cut around some bad acting to salvage some scenes. Joel Grey was marvelous. His was the only character I cared about in the least, and that's only because his was the only character about whom we learn nothing. Mine is the minority view, admittedly. The movie was a boxoffice sensation. Do most moviegoers find these repulsively vacuous characters sympathetic? Do most moviegoers identify with them? I hope not. If not, though, then why is this movie so universally loved?
Variety, Wednesday, 6 August 1975, p. 30:


SALON KITTY (May 12 start in Germany and Dear Studios)....
The above is somehow squeezed from the widescreen Blue Underground edition, with its wrongly edited music. For thirty-plus years I've been unable to understand a few of the lyrics. Below is my messy transcription, with the questioned words highlighted. If you can figure them out,
write to me
and you'll be my friend forever.
MALE: It's a cold and an empty feeling,
just staring endlessly
at a cold and an faceless ceiling,
and wondering where she'll be.

FEMALE: Then at last when I think he's found me,
at last my time has come.
Ah, the women are all around me,
and I'm back where I started from.

HERMAPHRODITE: But here's some news,
I'll make it plain.
Friends you haven't a thing to lose,
just forget all the old taboos,
you've got really much more to gain.

Just get closer to
the one you're close to.
And that needn't be
the one you're s'posed to.


Cast out your fears,
chase them away.
You've been waiting around for years,
now it's time that you shifted gears,
why be glum when you could be gay?

Once around should suffice,
if you'll just slip a little versa into your vice.

FEMALE: I could die for the sweet things you do,
yet any fool can see
you've got eyes for Marlene, for Nunu,
but not a glance for me.

MALE: How it hurts when I feel you near me,
FEMALE: So near but yet so far,
MALE: And I start seeing things so clearly,
Seeing things just the way they are.


HERMAPHRODITE: So here's some news,
I'll make it plain.
Friends you haven't a thing to lose,
just forget all the old taboos,
you've got really much more to gain.

MALE: Just get closer to the one you're close to,
and that needn't be the one you're s'posed to.

HERMAPHRODITE: Cast out your fears,
chase them away.
You've been waiting around for years,
now it's time that you shifted gears.
why be glum when you could be gay?

Once around will suffice,
if you'll just slip a little versa into your vice.
They say that all things
must have an end,
that broken bones
and broken hearts
take oh so long to mend.

You've heard it so often,
it must be true.
Will you believe it
when it happens to you?

Your morning coffee
won't taste the same.
A fix won't help a lot,
you've only got
yourself to blame.


Your bed so empty,
your world so black.
Is there no joy,
is there no love,
is there no turning back?

Your life's in pieces.
what can you say?
As you light yet
another cigarette
thoughts far away.

With sleepless eyes
you realize
it's not the same world as before,
On the morning after the night before.


Your life's in pieces.
What can you say?
As you light yet
another cigarette
thoughts far away.

With sleepless eyes
you realize
it's not the same world as before,
On the morning after the night before.

For me, this is the toughest one to understand:
We're taught, for what it's worth,
that God created life on earth.
That's what we're given to believe.

It's also written in The Book
that on the day that Adam took
his first long look at Eve,
he eyed her tenderly,
and though his thoughts were pure,
noting her gender he remarked,
"One thing's for sure:
I'm going to get me some of that;
I'll be the first man to begat."

But Eve, nobody's fool,
said, "There are things, my friend,
I think that you should hear,
about the things that I'm not going to take.
I'm not for free, my friend,
and if that's not quite clear,
why don't you go try it with that snake?"

Well Adam must have seen
there's no real choice between
a love affair with Beauty or the Beast.
So he wrote fig-leaf checks
for prehistoric sex.
He must have learned at least,
that it's the geld that counts,
in very large amounts.
Don't tell me you're just finding out
what it's all about.
Mister you just got here from the moon.


In the best bank accounts,
It's still the geld that counts.
It may be sad but yet it's true,
it's something all of you
would-be lovers must discover too.

Philosophers and sages
writing wisdom of the ages
all agree and leave no doubt,
that if you want to play the boss
you'd better plan to come across
or else you'll do without.

Why even Romeo
found out to his dismay
the lovely Juliet
would not come out to play.
If all he offered her
were speeches
Julie had the brains to know
that each is on his very own.


She said, "Look here, my friend,
I think it's time for you
to learn a few things you will never see.
For there's not much, my friend,
a girl is going to do
for just some words
beneath her balcony."

Well there's a moral here,
by now it should be clear,
by now it should not come
as a surprise.
You pay for what you get,
a s____ or Juliet [a peek of Juliet? a snake or Juliet?],
to girls who realize,

when the champagne amounts,
that's when it really counts,
because champagne has to be
a _________,
drinking water from a ________ cup.

It's strictly geld that counts,
in very large amounts.
So mister all you got to do
is bear in mind that you've
got enough.
You better get it up!
HAAAAAA!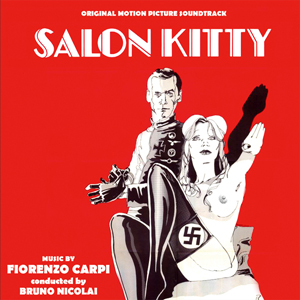 Somebody recently rediscovered something: the music tapes! And somebody did something really nice:
released them on CD!
So at long last we can finally hear the music, without distractions and without edits. You were never able to identify that
Viennese waltz
, were you? That's because it was written for the movie! All those decades I was certain it must have been a rearrangement of an earlier piece. Not at all. Amazing. This music is
good enough
to be performed as a symphony concert. But that will never happen because the movie that it accompanied is for
over-18's
only. Silly, isn't it? But it's great music, really. It's not
all
the music, of course. One piece is an arrangement slightly different from the one in the movie, and then there are two pieces altogether missing from the CD, because they were from historical recordings, I guess:
Wenn die SS und Die SA Aufmarschiert
and
Wenn die Soldaten
(
click here for the lyrics in German and English
). Anyway, back to the CD. The written score seems to be missing, which explains why these pieces have such descriptive titles as "Sequence 1," "Sequence 2," "Sequence 3," "Sequence 4," "Sequence 5".... Definitely worth getting. Now can somebody find that written score somewhere?
Aldo Valetti, who had just appeared in

Pasolini's

Salò

These four photographs copyright © 1975 by Vittoriano Rastelli.

Reproduced without permission.

(If you can put me in touch with Rastelli or the current rights holder, please

write to me

. Thanks!)
FROM THE INSIDE FLAP:
Fascism is a permanent temptation.
It is so even for us who had proudly thought that with the Resistance movement we had actually exorcised society.
Salon Kitty
is not, therefore, only a fine photographic, witnessed, testimony by Fabian Cevallos of an impetuous and aggressive film by Tinto Brass, it is also an
identikit
: a document in fact which the political journalist of
Il Mondo
Enrico Nassi proposes in the form of an inquiry.
Fabian Cevallos is a South American photo reporter who refused to give in to the fascism of the South American colonels and who today works in Italy for L'Espresso and Sygma of Paris. His photographs bring a new, human dimension to facts, a love for the victims, pity for those who fall.


The cover is by Mauro Piccini, head of the graphics department of Playmen, and is an emblematic synthesis of the violence of Nazi power. Salon Kitty is not the story of a high-class brothel (Eros and Death); it is a Memorandum.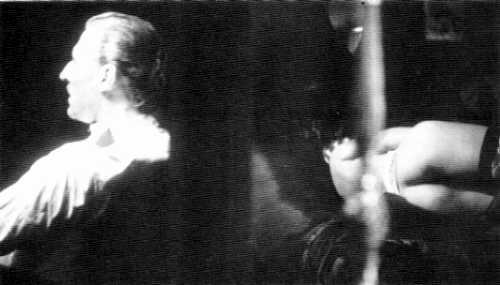 This scene, the "Maroon Room," with Alexandra Bogojević,
is deleted from nearly all copies of Salon Kitty.
The cut in the film is painfully obvious.
THE PRESS
Page 8
ENTERTAINMENT, CULTURE, AND VARIETY
Volume 110 — Number 48 — Thursday, 26 February 1976

After Tinto Brass's Requests

---
Salon Kitty: The Producer
Defends the Film's 16 Cuts
---
Rome, 25 February.
Ninety meters of film, a little more than two minutes of running time [wrong: 90m = 295' = 3 min 15 sec], have rekindled the fights over Salon Kitty, the film that depicts the decadence, vulgarity, and obscenity of Nazism, through an espionage center established in a renowned bordello, the Salon Kitty, in fact.
Tinto Brass, the director, does not consent to the cuts imposed by the Censorship Commission after an appeal, cuts that had already made by the producer so that he could release the film by next month.
The Venetian director has asked for the withdrawal of his film, and with that clamorous gesture he intends to repeat with great vigor the discourse on the total abolition of the Censor.
Brass's attitude is shared by radicals who, at the "
Biennial
," have currently sought to organize a retrospective of censored or banned films, and who have proposed a bill to abolish not only administrative censorship, but the [correlative] penal code as well.
In Tinto Brass's request for the withdrawal of
Salon Kitty
, the director appealed to "
the [author's] rights to the rushes
," which has no precedent in cinema, because hitherto this pertained to writers who, for ideological or religious reasons, could ask for the
non-distribution
of their works, though they had to pay damages to the publisher. In this case, the damages would be one billion three hundred fifty million [US$
1,724,618.40
] to be paid by the director, the screenwriters, and the music composer.
There were sixteen cuts requested by the censor for a total of ninety meters, and those who witnessed the "execution," in the presence of a judge, certified that they related to crowd scenes and a single "lightening" of a scene involving the lead actor, Helmut Berger.
"The cuts," maintains producer Sbarigia, "do not diminish the value of Tinto Brass's film. I am willing to show the ninety censored meters to a jury of critics to demonstrate that I did not castrate the director's work. On the contrary, in accepting the cuts, I am certain that I have opened the road to success for a film that is worthy of being seen. I don't even think that Brass wishes me to take his name off of the film, because one does not renounce the ownership of a work when one is certain it can be a success."
If the director and producer don't reach a compromise, then that could spell the end of the project on a film about the Borgias, which Tinto Brass had planned to make with Marlon Brando, with Sbarigia as producer.
e. b.
---
THE STORY YOUR FILM PROFESSOR NEVER TOLD YOU. The US had, and still has, a problem unknown to most of the modern Western world. Just as place of residence and employability are determined by inherited wealth and skin color, film release is determined by corporate provenance and degree of pabulum. This is not the free market at work. This is regulation of a most indirect and insidious sort.


For a few years, 1969 through 1973, the Hollywood system began to break down. In part this was due to the abhorrence bank executives felt (and still feel) towards amortized properties, as well as to the desire of
real-estate
developers forever to move populations around, in part by
block-busting.
Remember, banks and
real-estate
developers don't make a dime from people living contentedly in a house that's fully paid for. When efforts to induce people and businesses to relocate failed, tax assessments were raised astronomically, forcing residents and business owners out of downtowns and into new suburban developments. This brought respectable downtowns and older neighborhoods to ruin, together with the major theatres and movie palaces therein. What had been the safest parts of town suddenly became war zones. The few renters and home owners and business owners who still stood their ground now gave up. They moved to the new suburbs and entertained themselves at the new shopping malls. This, of course, altered
movie-going
habits. You see,
Doctor Zhivago
works only at a deluxe movie palace;
Easy Rider
works only at a bland hole-in-the-wall or at a
drive-in.
Sure-fire
money-making
formulas (remember
Funny Girl
and
Darling Lili
?) were suddenly
sure-fire
deficits. That, in part, is what caused all Hollywood studios to operate in the red in the 1960's. That, in part, is what convinced desperate studio execs to take chances with cheap movies made by amateurs. Some of these amateurs made really good movies that earned tons of money. Unfortunately, some of these amateurs acted like amateurs. Some dawdled forever so that they could smoke joints; others refused free help from professional technicians and got lost, falling weeks, months, even years behind schedule; while yet others threw heavy office chairs at their bosses. So much for the amateurs. Correlative with these developments was the new
film-rating
system, in the works since the 1950's (I think), but not codified until late 1968. It was
the alphabet soup of ratings
that allowed highly unconventional films to have prominent venues. It was the X rating in particular that opened the market to offbeat cinema, often even in the major chains and in suburban malls. Despite everything you think you know, the X was not meant to connote anything offensive or indecent. Indeed, most X films were not offensive in any way at all. The X was designed only to keep children away from movies deemed inappropriate for their consumption, nothing more. The X rating is why
Midnight Cowboy
was able to win an Academy Award for Best Picture. The X rating is how
The Damned
was allowed a release, to become one of the most respected movies of the time. The X rating is how
A Clockwork Orange
became a massive breakout success. The X rating is why
Last Tango in Paris
came to be a major hit. The X rating is how a censored-by-the-studio-but-rated-X-anyway version of
The Devils
made it to the screen. The X also allowed movies of narrow appeal an outlet on the
art-house
and university circuits, and that is why we were permitted to see the
Pasolini
and
Metzger
and
Makavejev
flicks, along with
Performance
and
Fritz the Cat
and
The Killing of Sister George
and
if....
and so forth. Too bad
Last of the Mobile Hot-shots
flopped, though. I really liked that one. One of my favorites is the universally reviled
take-down
of egotism, the misspelled
...Can Heironymous Merkin Ever Forget Mercy Humppe and Find True Happiness?
, which was wrongly
advertised
as skin flick (here's the
hottest scene
).
Oh what a gem that was
!
Everybody detested it
.
As you can see by watching the clips and previews in the links above, these were not "immoral" or "pornographic" or "degenerate" films. These were serious works that were simply not suited to the Saturday-morning family matinée. They appealed to a different audience, an audience that craved thought-provoking, challenging, even difficult entertainment rather than escapism. The major studios and cinema chains, now more aware than ever before of this alternative market, began to cater to it, giving writers and filmmakers more freedom to be creative.


Do you know what killed this newfound freedom, this widening of the market? The Mafia. The Mafia submitted hardcore movies to the MPAA's Classification and Ratings Administration, which awarded them X ratings as well. It didn't help that the X rating was never trademarked, intentionally, so that any studio or distributor could
self-apply
the X on any film it so desired. So Radley Metzger
self-applied
the X on Tinto Brass's
Black on White
, which really didn't deserve such a harsh restriction. Then the US distributor of
Death Laid an Egg
a/k/a
Plucked
self-applied
the X on that one too, for no reason I can discern. The situation instantly deteriorated, as distributors of hardcore
self-applied
the X on countless thousands of pieces of junk, and in the newspapers often used a loop of X's as a border surrounding their hideously ugly advertisements. That is why X soon came to be perceived as denoting porn. There had been numerous calls for the MPAA's Classification and Ratings Administration (CARA) to invent a different classification for hardcore. Unfortunately, CARA refused, insisting that its job was only to offer objective age restrictions, not to pass subjective judgment on cinematic quality. That was a terrible mistake — and a terribly disingenuous excuse. Nobody was asking CARA to judge cinematic quality. Countless people begged CARA simply to identify which films were hardcore, which was a reasonable request — completely objective, not subjective. CARA played games. Why? I don't know. So by about 1973 parents were complaining, local ordinances were changing, leases were being renegotiated, and almost overnight X was
verboten
in the major cinemas. No more experimenting. No more taking chances. No more freedom. I often wonder if that was CARA's game plan all along. I don't know, and I can't know. Soon enough we were back to
cookie-cutter
plots and all the standard boring clichés, with hardly an alternative in sight. I stopped following Hollywood around 1981, and so I really cannot speak with any authority on what has happened since, but the very last major burst of freedom sponsored by a Hollywood studio of which I am aware was United Artists'
Heaven's Gate
, a film that was deliberately murdered, courtesy of Reagan's attorney general,
William French Smith
, and Reagan's secretary of state,
Alexander Haig
, who ensured that studio executives would see to it that the film was instantly buried. The studio executives were more than happy to oblige. Aided by a 70mm print that had the mag tracks laid down while the film was still wet, resulting in nearly incoherent dialogue at the première NYC screening, and abetted by the
ever-grumpy
Vincent Canby and the usual endless supply of critics who just wrote
monkey-see-monkey-do
, the film died before it could be born, and the media made of it a laughing stock. The End. Free market? Free market? What's this I hear about a free market? Oddly, when
Heaven's Gate
is revived nowadays, more than three decades later, it gets applause and ovations.
Predictably, just a few months after I posted this embedded essay on the X, a film programmer decided to run with the idea: "
RATED X: NOT FOR CHILDREN (BUT NOT FOR PORN)
." Sigh. So many things I've said in casual conversation or hammered out in email messages or posted on my web sites became real not long afterwards, in programs, in books, in essays, in articles, generally with no credit to me or even a private
thank-you.
"NOTE: No one under 17 will be admitted to 'Rated X' shows." Why? Some of them are rated R now, and some of them just aren't worthy of such a severe restriction. (And no, the programmer was wrong.
NC-17
is not solely for
non-hardcore.
X is no longer used.
NC-17
is just a trademarked X that may not be self-applied. As soon as the new rating was put into effect, several hardcore movies were submitted to CARA, which, predictably, awarded them
NC-17
. So cinemas, predictably, instituted a policy of no
NC-17
no matter what. The problem continues.)
Studios soon managed to become profitable again, not through ticket sales, but through a series of bizarre financial mechanisms that I have yet to untangle. Suburban multiplex cinemas became profitable both as tax write-offs for unrelated parent organizations and as long-term real-estate investments. They're built on cheap land, and once the value skyrockets twenty or thirty years later, they are demolished and the land is sold off.


EXHIBIT FOR THE PLAINTIFF: For those few of you under the age of 70 who have seen these movies and disbelieve my assertion that they were ever rated X, well, they were. Click to enlarge:


See? They were rated X. Nowadays nobody would bat an eye at any of this. Back in the late 1960's and 1970's, though, these were most definitely X. Since these films broke the barriers decades ago, they are now considered "old," and so we take them for granted. Few movies are this inventive anymore. It is unfortunate that later movies did not use these innovative films as springboards to greater creativity, but rather just copy-catted only the most superficial aspects: flesh and blood. Whoopdeedoo. Who cares? Once we were overly desensitized to flesh and blood, the studios appealed the ratings to the above films and many others, too, often successfully. I suppose all of these are rated R now.
Of course, from cinema's beginnings in the 1890's to the present, the vast majority of movies have been unmitigated junk. It therefore follows that the vast majority of movies that won X ratings were also unmitigated junk. Furthermore, the ratings system has always been a bit crazy. As soon as the ratings were announced in late 1968, the widespread assumption was that films that merited R or X ratings must be "naughty." Some were, yes. The movies made by the great
Russ Meyer
come to mind. So do some unwatchable examples of dullest dreck. On the other hand, those who attended
Midnight Cowboy
or
Last of the Mobile Hot-shots
or
The Damned
in hopes of getting their kicks from seeing something "dirty" were indeed shocked — by the realization that there was nothing at all "dirty" about these flicks. I suppose most walked out
part-way
through in disappointment and agonized boredom. Also, I have frequently encountered movies (such as most of the ones mentioned above) whose ratings left me
slack-jawed,
as there was no justification for them at all. Sometimes I wondered what the ratings jury was thinking — or drinking. Sometimes I wondered if the ratings jury had actually bothered to watch some of the movies before passing judgment. For instance,
Napoléon vu par Abel Gance
got a G rating. A G rating? How on earth did it get a G rating? Remember the body parts in the battlefield scene? Remember the street parade with the trophy on a spike? Remember the ladies in the ballroom scene? A G rating? A G rating? Huh? Either the jury members didn't bother to watch it at all or they fell asleep after the first few minutes — or they were imbibing or inhaling certain substances that rendered them oblivious to what was unfurling on the screen in front of them. Then there was the case of
The Magic Christian
: How it got a
PG
is beyond my reckoning powers — unless, again, the jurors simply didn't bother to watch it. The award for funniest misapplication of the X surely goes to Antony Balch's 1969 reissue of
Witchcraft through the Ages
, which was not for little kids, admittedly, but which was not worthy of a restrictive rating by any means. Well, whatever. I could drone on, but there's no point. Nonetheless, for all its faults, the new ratings system did make a positive contribution for just over four short years, allowing
big-studio
production and mainstream distribution of movies that could never have been made or shown otherwise. There's no denying that. The irony is that the same ratings system that unleashed a tidal wave of creativity was soon thereafter responsible for the definitive end of that creativity. The ratings system continues to have a small echo of its original good effect, as daring movies can still legally be shown, albeit mostly in museums or in university settings. They can also be made available on home video and can even occasionally be presented at off-the-beaten-path cinemas. I doubt that Hollywood will ever again produce or finance a daring movie, though. Those days are over. On rare occasion we still get wonderful movies such as
Rhymes for Young Ghouls
and
The Seventh Fire
, but those are made entirely outside the Hollywood system, and they get limited play at best, generally at festivals and specialty houses and libraries and archives and universities and museums. Terrible pity, isn't it?
---
SIDE NOTE:
You're probably thinking that a much stronger film had already been seen. Nope. Though it had been filmed slightly earlier,
Salò, or the 120 Days of Sodom
had not yet been released. (That was the movie that turned even
Dave Friedman
's stomach. He couldn't understand how I could watch such an atrocity, willingly, more than once, and drive several hours each way to do so. "The bad guys don't even get it in the end!" he wailed.) There's an interesting story about that movie, too. Grimaldi's P.E.A., funded by United Artists via its Parisian subsidiary, Les Productions Artistes Associés S.A., had commissioned Sergio Citti to direct the film, and it was Citti who called in Pasolini and Pupi Avati to help with the script. Citti resigned to take a different project, and Avati contractually could not take credit. Pasolini took over, and then, in late August 1975, a third of the negative was stolen in a raid on the Technicolor vault and held for ransom. Since the studios refused to pay any ransom, Pasolini reshot some scenes, and it appears that he edited around what he didn't have time to reshoot — there are important publicity stills by
Fabian Cevallos
that correspond to nothing in the final film; they were stills of scenes that I doubt would have been cut during normal editing. Just as Pasolini submitted his answer print, he was murdered. When the movie arrived in the US, Customs seized it on potential obscenity charges. When the UA executives finally received the movie in, I think, early 1976, they were so mortified to discover what they had paid for that they decided never to release it in the US. Not only did they fear a backlash and infinite bad publicity; they could not in good conscience unleash such a horrifyingly grotesque film to the public. And you thought
you
had a bad day at the office, huh? So there is no way on earth anybody at
20th Century-Fox
could have seen or even known about
Salò
in late 1975. Finally, in late 1977, probably under contractual pressure, United Artists did consent to have a subsidiary, UA Classics, give
Salò
a minimal US release only to specialty houses. In every copy of the film I have seen, several scenes are darkened so that male nudity will be rendered invisible (sorta silly, since it was fake nudity anyway), and towards the end another shot is cropped and then obscured with a column through a binocular mask (
2:17 in the preview
). I'm quite sure that Pasolini never intended the binocular mask in that particular shot, and certainly not with the image enlarged, cropped, reframed, and obscured by an unmotivated column. The unit stills reveal a lot more image. It looks to me as though that scene was also trimmed quite a bit, but I can't be certain of that.
There is a claim that Pasolini's original cut, perhaps only a rough cut, was 29 minutes longer than the version that was released
. To all appearances, nearly all outtakes and trims and studio deletions and censor deletions from all of Pasolini's films were dumped into a landfill decades ago, which is one of the greatest of all cinematic tragedies.
Salon Kitty

25.03.1976

2891m (106 min)

Vicky

16.01.1979

(same footage)

Vicky was a rerelease by another distributor, Nobis-Film.
USELESS PERSONAL NOTE: When I first learned of the movie, back in early 1979, I went to B. Dalton to order a copy of Norden's book. The clerk dutifully placed the order, and then a few weeks or months later I received a postcard stating that the book was not available in any of the Dalton warehouses and could not be ordered from Ballantine. So I went to Waldenbooks and did the same, only to get the identical result. I went to the downtown library and ordered it through Interlibrary Loan. A few libraries had the book listed in their catalogues, but then they unanimously made the claim that the book had vanished. I went to several used bookshops and paid for a search service, by which a request list would be circulated to bookshops worldwide. No results. I did this again and again and again. No results. Then in about the year 2000 my friend Elise mentioned that she was conducting her business via something called eBay. She urged me to check the site, saying that I'd be able to find pretty much anything there. I didn't even know how to spell eBay, but I took a guess, correctly, and the very first item I searched for was "Madam Kitty." There must have been a hundred hits, each copy of the book selling for about a dollar. So this was the book that nobody could find for twenty-one years, huh?
I suppose you'd like to see the program notes given out at trade and press screenings?