---
THE WORKS OF TINTO BRASS

Big Budgets and Big Headaches—Continued
---
(a.k.a. Madam Kitty, 1976)
| | |
| --- | --- |
| Click on the image to place an order. | Click on the image to place an order. |
| | |
Finally things began to look up when Giulio Sbarigia offered Brass the job of directing a script based on Peter Norden's book, Salon Kitty, after Giuseppe Patroni Griffi and Sidney Lumet withdrew (or were withdrawn?). Brass initially turned it down, but the ideas in the script began to haunt him, and he went back to the producers, stating that he would direct the film only on condition that he and Maria Pia Fusco could collaborate with the author, Ennio de Concini, on a rewrite. He was apparently disturbed that the original script was merely sensationalistic. He preferred a political focus. It was a deal. Salon Kitty probably bears some similarities to Order and Sex Discipline, The Borgias, and Sturmtruppen.

The above is somehow squeezed from the widescreen Blue Underground edition, with its wrongly edited music. For nearly thirty years I've been unable to understand a few of the lyrics. Below is my messy transcription, with the questionable words highlighted. If you can figure them out, write to me and you'll be my friend forever.
MALE: It's a cold and an empty feeling,
just staring endlessly
at a cold and an faceless ceiling,
and wondering where she'll be.

FEMALE: Then at last when I think he's found me,
at last my time has come.
Ah, the women are all around me,
and I'm back where I started from.

HERMAPHRODITE: But here's some news,
I'll make it plain.
Friends you haven't a thing to lose,
just forget all the old taboos,
you've got really much more to gain.

Just get closer to
the one you're close to.
And that needn't be
the one you're s'posed to.

Cast out your fears,
chase them away.
You've been waiting around for years,
now it's time that you shifted gears,
why be glum when you could be gay?

Once around should suffice,
if you'll just slip a little versa into your vice.

FEMALE: I could die for the sweet things you do,
yet any fool can see
you've got eyes for Marlene, for Nunu,
but not a glance for me.

MALE: How it hurts when I feel you near me,
FEMALE: So near but yet so far,
MALE: And I start seeing things so clearly,
Seeing things just the way they are.

HERMAPHRODITE: So here's some news,
I'll make it plain.
Friends you haven't a thing to lose,
just forget all the old taboos,
you've got really much more to gain.

MALE: Just get closer to the one you're close to,
and that needn't be the one you're s'posed to.

HERMAPHRODITE: Cast out your fears,
chase them away.
You've been waiting around for years,
now it's time that you shifted gears.
why be glum when you could be gay?

Once around will suffice,
if you'll just slip a little versa into your vice.
They say that all things
must have an end,
that broken bones
and broken hearts
take oh so long to mend.

You've heard it so often,
it must be true.
Will you believe it
when it happens to you?

Your morning coffee
won't taste the same.
A fix won't help a lot,
you've only got
yourself to blame.

Your bed so empty,
your world so black.
Is there no joy,
is there no love,
is there no turning back?

Your life's in pieces.
what can you say?
As you light yet
another cigarette
thoughts far away.

With sleepless eyes
you realize
it's not the same world as before,
On the morning after the night before.

Your life's in pieces.
What can you say?
As you light yet
another cigarette
thoughts far away.

With sleepless eyes
you realize
it's not the same world as before,
On the morning after the night before.

For me, this is the toughest one to understand:
We're taught, for what it's worth,
that God created life on earth.
That's what we're given to believe.

It's also written in The Book
that on the day that Adam took
his first long look at Eve,
he eyed her tenderly,
and though his thoughts were pure,
noting her gender he remarked,
"One thing's for sure:
I'm going to get me some of that;
I'll be the first man to begat."

But Eve, nobody's fool,
said,"There are things, my friend,
I think that you should hear,
about the things that I'm not going to take.
I'm not for free, my friend,
and if that's not quite clear,
why don't you go try it with that snake?"

Well Adam must have seen
there's no real choice between
a love affair with Beauty or the Beast.

So he wrote fig-leaf checks
for prehistoric sex.
He must have learned at least,
that it's the geld that counts,
in very large amounts.
Don't tell me you're just finding out
what it's all about.
Mister you just got here from the moon.

In the best bank accounts,
It's still the geld that counts.
It may be sad but yet it's true,
it's something all of you
would-be lovers must discover too.

Philosophers and sages
writing wisdom of the ages
all agree and leave no doubt,
that if you want to play the boss
you'd better plan to come across
or else you'll do without.

Why even Romeo
found out to his dismay
the lovely Juliet
would not come out to play.
If all he offered her
were speeches
Julie had the brains to know
that each was on his very own.

She said, "Look here, my friend,
I think it's time for you
to learn a few things you will never see.
For there's not much, my friend,
a girl is going to do
for just some words
beneath her balcony."

Well there's a moral here,
by now it should be clear,
by now it should not come
as a surprise.
You pay for what you get,
______________ Juliet,
to girls who realize,

when the champagne amounts,
that's when it really counts,
because champagne has to be
a _________,
drinking water from a ________ cup.

It's strictly geld that counts,
in very large amounts.
So mister all you got to do
is bear in mind that you've
got enough.
You better get it up!
HAAAAAA!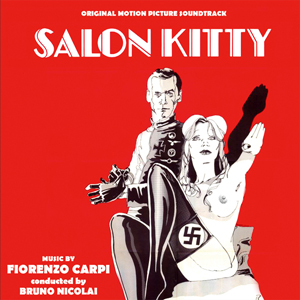 Somebody recently rediscovered something: the music tapes! And somebody did something really nice: released them on CD! So at long last we can finally hear the music, without distractions and without edits. You were never able to identify that Viennese waltz, were you? That's because it was written for the movie! Amazing. This music is good enough to be performed as a symphony concert. But that will never happen because the movie that it accompanied is for over-18's only. Silly, isn't it? But it's great music, really. It's not all the music, of course. One piece is an arrangement slightly different from the one in the movie, and then there are two pieces altogether missing from the CD, because they were from historical recordings, I guess: Wenn die SS und Die SA Aufmarschiert and Wenn die Soldaten (click here for the lyrics in German and English). Anyway, back to the CD. The written score seems to be missing, which explains why these pieces have such descriptive titles as "Sequence 1," "Sequence 2," "Sequence 3," "Sequence 4," "Sequence 5".... Definitely worth getting. Now can somebody find that written score somewhere?
Few musical comedies are as disturbing as this nightmare. The authors concocted a fiction inspired by the infamous Berlin brothel, Salon Kitty, operated by Madam Kitty Schmidt. Brass's idea was to use this fiction to reveal the methods used by the Nazis to ensnare almost everyone in the region. As he explained, he wanted to paint a portrait of a society running a fever. Salon Kitty painfully demonstrates how life under the Nazis was ingeniously reconstructed so that almost anyone, of almost any persuasion, could find a niche—an inescapable niche that insulated one from any feeling of guilt for the regime's policies. (Sort of like life for us now, huh?) Taking over the famous brothel that catered to many top government officials, the Nazi secret police installed spies as prostitutes and bugged the rooms in an effort to gather information and to rout out any dissenters.
| | |
| --- | --- |
| | |
| Tina Aumont as Herta Wallenberg | Wallenberg tries to break Margherita's spirit |
| | |
The film changes gears every few moments. From being a moody set piece it switches to a political horror to a vignette of family life to a musical to a freak show to a suspense story to a love story — and on and on and on. Before you have an opportunity to adjust to what you're seeing, it all changes. Had the film lingered on many of the evocative images of the extras, sets, and backgrounds, the result would have been satisfying and almost soothing to watch. But that would have contradicted the point of the piece, and so instead it races, denying us the pleasure of losing ourselves in the atmosphere. (To compensate, I captured a number of frames below. Take a look.) Further, everything is deliberately overstated, which, considering the subject matter, is actually appropriate. Chances that you will like this film on a first viewing are slim indeed. You'll more likely be exhausted, fatigued, worn out, and exasperated. But, much like Fellini's Satyricon, it has a way of sticking with you and not letting you go, almost forcing you to give it a second viewing, during which you will likely begin to notice the intricacies. Again, toward the beginning is a brief scene in a slaughterhouse that will put many people off to this film (and it's my bid for one of the most gratuitously offensive sequences in any movie ever). Try to stick through it, though, and ultimately you probably won't be disappointed. Because of the film's subject matter there is an overwhelming amount of undraped flesh (male and female), and for that reason alone the film was a hit in Europe, despite the censor cuts. Yet we can see, especially now with the passing of more than three decades, that the film never seeks to titillate. A theme that runs through many of Brass's films is the flat contradiction between authoritarianism and sensual pleasure. (If you think this idea is simplistic, take a look at "The Origins of Peace and Violence".) At the Salon Kitty the Nazis tried to combine the two. In the actual story as revealed by Peter Norden (who clearly spiced it up with fictional dialogues) the results were mostly undramatic and seemed not to have been worth the effort. In the film, though, we see individuals break down in their efforts to live a contradiction.
| | |
| --- | --- |
| | |
| Madam Kitty Kellerman entertains the troops | Madam Kitty isn't happy with her new recruits |
| | |
| Hoorah for the war! | Wallenberg's come-uppance |
THE CENSORS PROTECT US: Outraged once again (by its sexual content rather than by its anti-authoritarianism, which I'm sure that no censor could detect or understand even if it were explained) the censors imposed numerous cuts (30 according to one account, 67 according to another). Brass sued his producer for allowing the cuts, citing a law permitting literary authors to withdraw their books should the publishers make any unauthorized changes prior to publication, and arguing that his film was a literary work. He half-won. The judge decided that the massive publicity surrounding the case made it known to all interested viewers that the film they were watching was not the integral version. Further, even with the cuts, the judge argued that film displayed Brass's views and vision. The judge did, however, allow Brass to show the original film privately.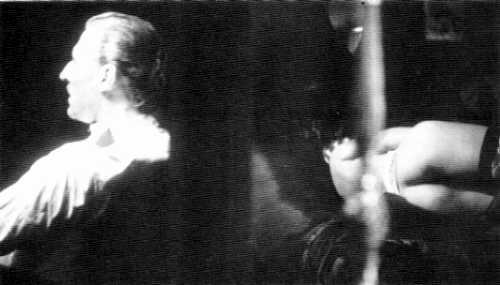 This scene, the "Maroon Room," with Alexandra Bogojević, is deleted from nearly all copies of Salon Kitty. The cut in the film is painfully obvious.
Aldo Valetti, who had just appeared in
Pasolini's Salò
These four photographs copyright © 1975 by Vittoriano Rastelli.
Reproduced without permission.
(If you can put me in touch with Rastelli or the current rights holder, please write to me. Thanks!)
QUESTION: Who dubbed Teresa Ann Savoy?
CURIOUS NOTE: Richard Crenna, of all people, had been hired to work in this film. If he did appear before Brass's cameras, he ended up on the cutting-room floor.
CURIOUSER NOTE: The dubbing of the Italian version was directed by Gigi Proietti, of all people. And not only did he direct the dubbing, he himself dubbed Helmut Berger!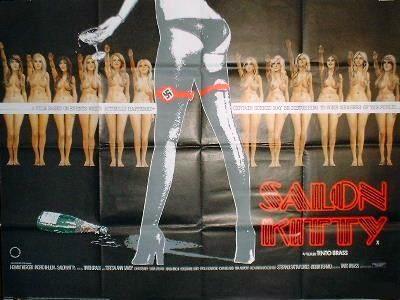 Yes, it's all in the movie, but anyone who had hoped to see a
nonstop two hours' worth of this stuff probably
punched the box-office cashier in the nose
on the way out of the cinema.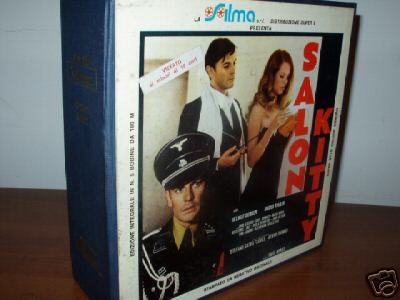 This popped up on eBay, but was available only to people with an Italian mailing address, which I don't have. This is the condensed Super 8 home-collector's version. Five reels of between 15 and 20 minutes each, presumably the Italian dub. The item number was 300027328475, and the seller was vancouver_it, not that that info will do you any good anymore.
PERSONAL NOTE: Brass perfectly captured the personality of Margherita's mother. As soon as I saw her I wanted to jump into the television screen and strangle her to death. She was exactly like my grandmother, down to the smallest nuances of facial expressions, tone of voice, speech cadences, and that smug, uneducated, condescending self-righteousness. She has the scariest line in the movie: "The important thing is to be on the winning side." That's the motto of the Tonawanda police. That's the motto of every psychopath I've ever met. That's the motto of so many of the businessmen in the movie and theatre rackets who maintain authority by bullying, filing false criminal reports, faking evidence, and robbing people blind. And that's the mission statement of Buffalo's real-estate developers. Those two little scenes, with their great ensemble acting, are so absolutely perfect that they make my skin crawl. Now that is masterful filmmaking.
THOUGHT TO PONDER: How on earth would you pitch or advertise this movie? The previews available as extras on the Blue Underground edition, as well as the various press books and press kits, all give ample evidence that no one has ever been able to figure out how to promote this highly unusual movie. Now matter what you say, you give the wrong impression. Strange, isn't it?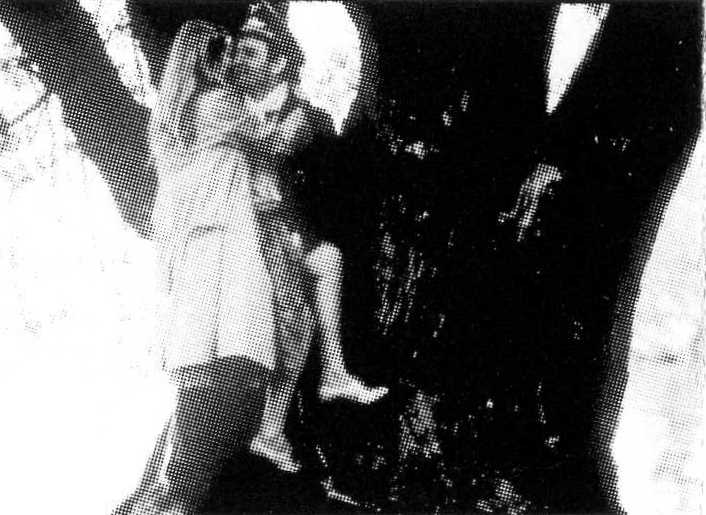 A deleted moment, with one of Tinto's favorite motifs: people in a tree
A HALF-WAY FAVORABLE REVIEW:
Kult Movie Maximus
REVIEWS OF BLUE UNDERGROUND'S NEW DVD:
Monsters at Play
DVD Drive-In
Video Premiere Awards
WIOG 102.5
THE TRUE STORY:
Spy Fact of the Day: Salon Kitty
Spy Tech Agency: SpyTRIVIA

German hardcover
movie-tie-in edition.
Click on the image to enlarge.

Abridged translation by
J Maxwell Brownjohn.
Click on the image to enlarge.

UK abridged paperback.
Click on the image to enlarge.

US abridged paperback.
Click on the image to enlarge.

Reprinted UK abridged paperback.
Click on the image to enlarge.
There is no indication in any edition of the English translation that it is an abridgment. (The French translation, too, is an abridgment!)
But it is, undoubtedly, as anyone can see by comparing it with the German original, which is nearly twice as long!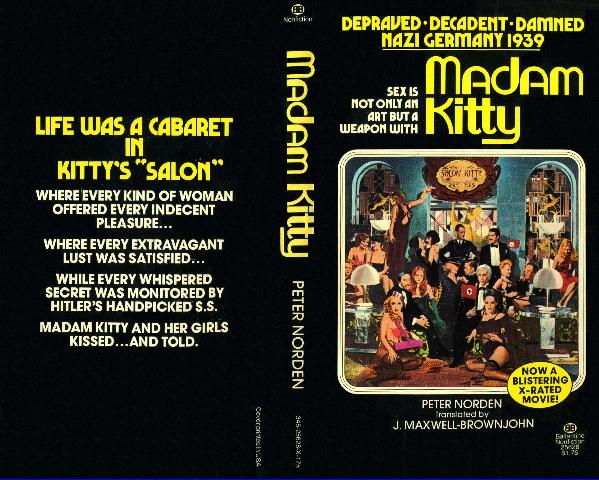 NOTE ADDED ON 29 MAY 2008: I never knew about this edition before. Did you?
Click on the image to enlarge.
THE BOOK OF THE FILM: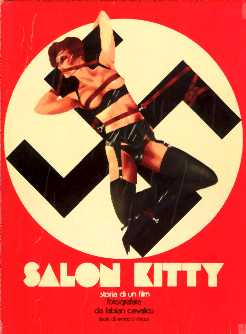 Enrico Nassi and Fabian Cevallos, Salon Kitty: storia d'un film. Bei Editore, 1975.
FROM THE INSIDE FLAP: Fascism is a permanent temptation. It is so even for us who had proudly thought that with the Resistance movement we had actually exorcised society. Salon Kitty is not, therefore, only a fine photographic, witnessed, testimony by Fabian Cevallos of an impetuous and aggressive film by Tinto Brass, it is also an identikit: a document in fact which the political journalist of Il Mondo Enrico Nassi proposes in the form of an inquiry.
Fabian Cevallos is a South American photo reporter who refused to give in to the fascism of the South American colonels and who today works in Italy for L'Espresso and Sygma of Paris. His photographs bring a new, human dimension to facts, a love for the victims, pity for those who fall.
The cover is by Mauro Piccini, head of the graphics department of Playmen, and is an emblematic synthesis of the violence of Nazi power. Salon Kitty is not the story of a high-class brothel (Eros and Death); it is a Memorandum.
---
A MYSTERY TO SOLVE
Salon Kitty was supposed to have been released in Italy in December 1975, but wasn't. As noted above, the censor demanded cuts, and the studio obliged by making those cuts in the camera negative and master tapes and discarding the resulting trims. This had all occurred without Brass's knowledge, and as soon as he found out he sued, arguing author's rights.
---

Click image to enlarge.

Click image to enlarge.

Click image to enlarge.

Now here's what's strange. It seems that though the negative had been cut to a mere 112 ½ minutes, the release prints were made from an earlier uncut internegative, which was then sloppily censored via hastily made splices, resulting in jumps in the soundtrack. But these cuts did not always correspond to the cuts made in the camera negative, and this version ran 129 minutes (at cinema speed, 24 frames/second). Once the legal conflict had been settled and a compromise reached, the movie premièred on 2 March 1976 and instantly became one of the highest grossers of the season. You can see the Italian release version on these home videos (about 123 minutes at PAL speed, 25 frames/second). It might be good to bear in mind that even though all but one or two of the actors spoke English on camera, the Italian dub was prepared before the English postsynching.
---

French VHS from René Chateau Vidéo, released in 1983
Click on the image to enlarge.

Click on the image to enlarge.

Click on the image to enlarge.

This version, too, was censored. And though the cuts are similar to those in the Italian release version, they are not exactly the same. This includes a few snippets that never made it to Italian screens. So, think about it. If this included footage that was deleted from the earlier Italian release, that could only be because it derived from a submaster that was longer than the Italian release, surely one that was uncut. But since it was missing some pieces that had been shown in Italy, it was obviously the French censors and/or distributor who did some cutting of their own. And when they censored it, they carefully re-edited the sound to match, covering the cuts perfectly. The result runs about 128 ½ minutes (at 24fps, or about 123 min at 25fps).
---

Australian VHS from Virgin. This image features models who do not appear anywhere in the movie. Half-cropped, and then half-stretched to fill a standard TV. 123 minutes at PAL speed, despite what the box cover says.
Click on the image to enlarge.

US VHS from Media Home Entertainment, easily the worst transfer of all — cropped, fuzzy, and altogether too dark, so dark that many images completely disappear. 129 minutes at NTSC speed, despite what the box cover says.
Click on the image to enlarge.

Bootleg of the Media Home Entertainment VHS, which was badly copied onto a T-120 and thus runs out before the movie ends. Caveat emptor!

Danish VHS from PolyGram. 123 minutes at PAL speed, despite what the box cover says.
Click on the image to enlarge.

Frame capture from the Danish VHS. As you can see, this shows significantly more of the image than probably any other home-video version, though the quality ain't exactly great.
Click on the image to enlarge.

Despite claims to the contrary, the entire uncut, uncensored version of the movie had been postsynched and mixed in English prior to the censoring. In all likelihood the English recording had been conducted under Tinto Brass's direction at the Fono Roma Studio in Rome, but I can't swear to that. The version released to England (and presumably Denmark, the Netherlands, and Australia) had censor cuts that were identical to those in the French edition. Since the movie was a French co-production, it is reasonable to assume that the French producer made the cuts to the submasters prior to sending them out to England and elsewhere. But there's no way to be sure of the exact sequence of events without unearthing the studio records. These videotapes represent the UK version. By the way, for those who might be interested, the British Film Institute has in its archive several 35mm prints of the UK release version.
---

Japanese DVD in a jewel case, with a model on the cover who is not in the movie.
Click on the image to enlarge.

Spanish DVD with fascinating artwork that really has nothing to do with the movie.
Click on the image to enlarge.

Click on the image to enlarge.

A new Polish release, which I have not seen, with artwork that has nothing to do with the movie. The typefonts and color scheme are nice though, aren't they?
Click on the image to order a copy.

Slovakian DVD, which I have not seen.
Click on the image to order a copy.

Thenceforward, new prints would be made from the censored camera neg (and accompanying master tapes), which was a mere 112 ½ minutes (at 24fps). Surprisingly, this included a few bits and pieces missing from the previous releases. Opening and closing credits were in English, but the caption about the declaration of war was now unalterably in Italian (which means that the camera neg for this particular shot probably no longer exists, and was replaced by an interneg that incorporated the caption). This much-shortened version can be seen in these videos.
---

This cover art does not derive from the movie.
Out of print, but click on the image and you might find a used copy for sale.

Click on the image to enlarge.

The Blue Underground DVD release was an attempted restoration, which used as its main source the 112 ½-minute negative, and the gaps were filled in from Tinto's personal 35mm print of the uncensored Italian dub, which is the only known surviving copy of the complete film. Strangely, several sections with missing soundtrack, such as "Orpheus in the Underworld," were filled in by repeated sections. Why this was done I'm not sure, since the "Orpheus in the Underworld" sequence had no dialogue and survived intact in the Italian version which can be heard on Audio Track 2. In the medical-theatre scene, one portion of a missing line was pulled from the earlier Australian VHS. Though most of the other missing audio sections could likewise have been pulled from the earlier English-language VHS editions, they weren't, and so now they're in Italian with English subtitles.)
---

Abridged German-dubbed VHS from EuroVideo.
Click on the image to enlarge.

A Greek-subtitled VHS of the German-dubbed abridgment.
The front-cover art does not derive from the movie.
Click on the image to enlarge.

Click on the image to enlarge.

Click on the image to enlarge.

How strange! This credit is unique to the German version. Peter Norden's book (which is not exactly a "Romans") is credited nowhere in the Italian, French, or UK versions of this movie.
Click on the image to enlarge.

Click on the image to enlarge.

This is where the story gets really strange. If we are to judge only from the materials above, we would conclude that it is unlikely that an uncut interneg or interpositive, or master or submaster audiotapes, survived intact past February 1976. But then we look at the version released in Germany. Despite being the most drastically shortened of all, running a mere 105 minutes, it includes snippets of nearly all the footage missing from the Italian and French/British versions! These prints were created AFTER the negative had been censored. So that settles the issue. The Italian, French, and German release editions were each derived from uncensored submasters, which may consequently have been cut up in the process. If there were three uncut submasters, there is a fair chance that there were more, as back-ups and for further international releases. Further, the trims from at least one of those three submasters might well still exist somewhere! (And if you watch all the different versions, you'll be amused to see that no two censors could agree on which materials are objectionable.) So why were there at least three uncensored submasters floating around AFTER the camera negative and master tapes had been cut to pieces? The answer is probably the simplest and most obvious one: Salon Kitty was a co-production by Coralta Cinematografica of Rome, Les Productions Fox Europa of Paris, and Cinema Seven Film Gmbh of Munich. So by contract the other two producers probably each got a set of uncensored submasters prior to the censorship problems in Italy. It would probably be a good guess that the entire film was dubbed into German prior to the censoring.
---

Click on the image to enlarge.

Click on the image to enlarge.

Hmmmm. It was very briefly on DVD in Germany. Will this help us to sort things out? Frustratingly, it won't. This is taken from the Blue Underground edition, though it was not a straightforward conversion; it was speed-corrected to 25 frames per second to accommodate the PAL system, and thus runs about 128 minutes. (Such a speed correction, though anathema to many purists, eliminates the problems of duplicated, dropped, and synthesized frames, which are the inevitable results of more conventional conversions.) When we choose to listen to the German dub, we discover that it's not all there. The parts that had not previously been released in Germany are now in Italian with German subtitles. Interestingly, there are two subtitle options: German and English (taken from the Blue Underground version). There are also three audio options: German, Italian, and English (taken from the Blue Underground reconstruction).
---
Our quest now is to trace the source material for the German dub, as well as for the French and English versions. It almost certainly still exists, probably in a storage facility rented by Surf Film Srl, the current rights holder. The reason no one has noticed its existence is probably because the labels fell off of the cans. WE MUST LOCATE THOSE SUBMASTERS! Please contact me if you have any clues as to their whereabouts. Thanks!
---
Here's a VHS from Argentina. No idea what's in it: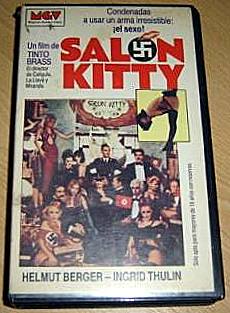 ---
SOME DVD RELEASES

Blue Underground offered this NTSC Region-1 two-disc limited edition with lots of extras. English and Italian, with optional English subtitles.
Though it's out of print, click on the image and you just might be able to find a used copy for sale.

Blue Underground now offers this NTSC Region-1 single-disc edition with few extras. English and Italian, with optional English subtitles.
Click on the image to order a copy.

Italian-language DVD, Region-2 PAL, which will not play on most US equipment. CENSORED! NOT COMPLETE!
Click on the image to order a copy.

French DVD, Region-2 PAL, which will not play on most US equipment.
Click on the image to order a copy.

British DVD with different extras. Region-2 PAL, which will not play on most US equipment.
Click on the image to order a copy.

Japanese DVD which I have not seen. Lovely cover, isn't it?
Click on the image to order a copy.
Variety, Wednesday, 10 July 1974, p 26:
Oceania producer Giulio Sbarigia has offered "Salon Kitty" to Sidney Lumet. Project was originally set for director Giuseppe Patroni Griffi, who is now actively prepping "The Divine Nymph" for Titanus.
Variety, Wednesday, 29 January 1975, p 38:
Tinto Brass and scripter Ken Adam are in Germany selecting locations for the Coralta project "Salon Kitty."
Variety, Wednesday, 2 April 1975, p 44:
Ingrid Thulin has femme lead under the direction of Tinto Brass in "Salon Kitty"—Coralta's big budgeter starting April 24 on location in Germany.
Variety, Wednesday, 7 May 1975, p 140:
Last month Giovanni Tinto Brass took "Salon Kitty" before cameras with Helmut Berger, Ingrid Thulin and Beckim Fehmiu heading a cameo-studded cast. In the Ken Adams production design pic rolls three weeks in Berlin and ten weeks at Dear Studios in filming story of espionage and prostitution in Berlin during W.W. II.
Variety, Wednesday, 18 June 1975, p 32:
Richard Crenna arrived to join cast of "Salon Kitty," midway through production with Tinto Brass directing.
Variety, Wednesday, 2 July 1975, p 38:
John Ireland moved over from a costarring role in "We're No Angels" to a guest spot in Coralta's "Salon Kitty."
Variety, Wednesday, 6 August 1975, p 30:
SALON KITTY (May 12 start in Germany and Dear Studios)....
Variety, Wednesday, 28 January 1976, p 32:
Also in the censor eye, Tinto Brass—director of the banned Coralta production, "Salon Kitty," has gone on the warpath against producer acceptance of 30 cuts or trims requested by the Censor board before authorizing release.
"Ich"—Helmut Berger's Autobiography:
Many people only see me as an extravagant scandal-guy. But I am an actor. I show my feelings so that people can read them like a book. I have learned from great directors like Visconti, Tinto Brass, de Sica. They have changed me.
Variety, Wednesday, 19 January 1977, p 22:
"Madam Kitty" is a piece of elegant, often amusing, sometimes repulsive pornography about sordid doings in a World War II Nazi brothel where the girls spy on SS men for commandant Helmut Berger and madam Ingrid Thulin. Production values are excellent. Director Giovanni Tinto Brass gets more sophisticated entertainment mileage from the sordid material than the low-brow sell would indicate....
"Madam Kitty" sidesteps much of the offensiveness of its subject matter through its campy tone. Thulin entertains brothel patrons with ludicrous Dietrich-like song interludes, while Berger's Nazi routine is getting to be a complete joke. He acts and sounds more like Peter Lorre all the time....
First-class tech credits include superlative orchestration of Viennese waltzes and period tunes by Fiorenzo Carpi, inventive lensing by Silvano Ippoliti, and stylish production design by Ken Adam....
Archer Winsten, New York Post, 22 January 1977, p 33:
...It may be argued that the picture is simplistic, wholly lacking in subtleties and kicking the Nazis around with what amounts to caricature. The fact remains, however, that much of the Nazi pomp and ceremony lends itself to that interpretation. This picture has much to recommend it if you can view it without revulsion and with some memory of the time, place and people involved.
To my great wonder and delight, I discovered that there was once an entirely favorable review, by a critic who perfectly understood the movie and its intentions. Significantly, the critic, Doug de Lisle, was primarily an actor and director; hence his critiques were noted for their incisiveness. After discovering his review, in May 2008, I desperately wanted to contact him, but discovered to my agonized sadness that he had died only shortly before, on 1 February 2008. You can see his obituary by clicking here. His column in the Troy, New York, newspaper, The Times Record, was cleverly entitled "Doug de Lisle — On the Aisle." This particular review, published on Thursday, 27 January 1977, p 15, was actually a review of multiple arts events, and hence was entitled "A Masterful Violin Performance." Here it is:
SLEAZY ADS, GREAT PICTURE.... American International Pictures, that wonderful company that has brought us such films as Blacula and A Matter of Time, has never been noted for class or taste, but occasionally even the grossest of swine stumble into something other than garbage, which is the case with Madam Kitty.
American International didn't make the film, but has released it through a subsidiary arm in this country. What sin they have committed is releasing a classic, powerful, even brilliant film in conjunction with a sleazy advertising campaign that would have the public believe that Madam Kitty is a film which ranks somewhere with Ilse, She Wolf of the SS.
Not so. I can't remember the last time a film wiped me out with such devastating skill and artistry. Director Tinto Brass has conjured a nightmare vision of Nazi Germany that is simply overpowering. Nudity and simulated sex along with the portrayed decadence earn the film its X rating, but to reiterate reviewer Michael Adler's comments, there is nothing pornographic about the film itself.
Don't let the ad campaign turn you off — do see Madam Kitty. A warning is in order. Much of the film could offend some straighter sensibilities. The film is kinky, but never in a cheap or exploitive way. What director Brass does is reveal, probe and strip the pornography and depravity of Nazi Germany more lucidly than even Luchino Visconti in his The Damned. The experience is worth it....
ANICA — Associazione Nazionale Industrie Cinematografiche Audiovisive e Multimediali
A film produced by (produzione) Giulio Sbarigia and Ermanno Donati for Coralta Cinematografica
Salon Kitty
a film by (un film di) Tinto Brass
Distributed by Titanus (Italy),
20th Century-Fox (International),
and Trans-American Films (USA)
Screenplay by (sceneggiatura)
Ennio de Concini, Maria Pia Fusco, Tinto Brass
Story by (soggetto)
Antonio Colantuoni, Ennio de Concini, Maria Pia Fusco
Freely adapted from the book of the same name by (liberamente tratta dal libro omonimo di)
Peter Norden [uncredited in English, Italian, and French versions]
Production designer
Ken Adam
Women's costumes designed by
(costumi femminili)
Jost Jakob
Men's costumes designed by (costumi maschili)
Ugo Pericoli
Editing (montaggio)
Tinto Brass
Director of photography
(direttore della fotografia)
Silvano Ippoliti
Music by (musiche)
Fiorenzo Carpi
Music directed by (musiche dirette da)
Bruno Nicolai
Lyrics (testi delle canzoni)
Derry Hall
Sung by (le canzoni sono contate da)
Annie Ross
Chore[o]grapher (coreografo)
Tito Leduc
Music publishers (edizioni musicali)
Ed. Zita s.r.l. Rome
Musiche incise su dischi
Ricordi s.p.a. Records
Production supervisor (organizzatore generale)
Carla Cipriani
Directed by (regia)
Tinto Brass
Assistant director (aiuto regista)
Peppe Scavuzzo
2nd assistant directors (assistenti alla regia)
Stefano Sbarigia, Gianni Michelagnoli, Patrick Bureau
English dialogue (dialoghi inglesi)
Louise Vincent
Continuity (segretaria di edizione)
Beatrice Banfi
Unit Manager (ispettore di produzione)
Roberto Sbarigia
Production secretary (segretario di produzione)
Vittorio Fornasiero
Administration (amministratore)
Aureliano Lalli-Persiani
Secretary (segretaria amministrazione)
Lucia Nolano
Cameramen (operatori)
Enrico Sasso, Renato Doria
2nd cameraman (assistente operatore)
Ettore Corso
Stills (fotografo)
Angelo Samperi
Art director (scenografo)
Enrico Fiorentini
Set dresser (arredatore)
Giovanni Checchi
Assistant wardrobe (assistente costumista)
Mario Carlini
Dress maker (sarta)
Maria Fanetti
Make-up (truccatori)
Otello Sisi, Stefano Trani
Hairdressers (parrucchiere)
Maria Teresa Corridoni, Aldo Signoretti
Production mixers (fonico)
Mario Messina, Jean Rouat [uncredited in Italian version]
Boom operator (microfonista)
Roberto Forrest
Mixing (missaggio)
Biraschi-Checcacci, Pierre Davanture
Special sound effects (effetti speciali sonori)
Studio Venus
Sound editing (assistente edizione)
Elsa Armanni, Maurice Martin [uncredited in Italian version]
Assistant film editor
(Collaborazione al montaggio)
Fiorenza Müller [miscredited in Italian version]
Assistant to the film editor (assistente montaggio)
Luciana di Russo
Second assistant cutters
Raffaele Cirioni, Claudio Maimone [uncredited in Italian version]
Gaffer (capo elettricista)
Sergio Spila
Electrician (elettricista)
Marcello Cardarelli
Head grip (capo macchinista)
Quirino Fantauzzi
Grip (macchinista)
Orlando Zuccari
Painter (pittore)
Fernando Fortunati [uncredited]
Carpenter (falegname)
Tarantino Gaetano [uncredited]
For the sequences shot in Germany
(per le riprese in Germania):
Art director
Jan Schlubach
Asst. art director
Will Kley
Location manager
Rudolf Gurlich
Assistant director
(assistente alla regia)
Werner Rochath
assistant wardrobe
(assistente costumista)
Irms Pauli
Unit publicity (ufficio stampa)
Maria Ruhle
Film negative (negativo)
Eastmancolor
Laboratory (sviluppo e stampa)
Staco Film
Prints
L.T.C., Paris [uncredited in Italian version]
Sound studios (sonorizzozione)
Cooperativa di lavoro Fono Roma S.r.l., S.N.D. (Paris)
Studios (teatri di posa)
Dear
Costumes (costumi)
Sartoria Tirelli
Shoes (calzature)
Pompei
Jewels (gioielli)
Lembo-Felietta Caracciolo
Upholstery (tappezzeria)
Enrico Sanchini
Furniture (arredamento)
Cimino Cinearredamenti S.r.l.
Antique props (curiosita liberty e deco)
Nitto Costa
Versione italiana curata in collaborazione con la
S.A.S., Societa Attori Sincronizzatori
con la direzione di
Luigi Proietti
An Italo-German-French Co-Production
(una co-produzione Italo-Tedesco-Francese)
Coralta Cinematografica S.r.l., Rome
Cinema Seven Film Gmbh CoProduktion IKG, Munich
Les Productions Fox Europa, Paris
CAST (PERSONAGGI E INTERPRETI)
Untergruppenführer Wallenberg
Helmut Berger
Madam Kitty Kellerman
Ingrid Thulin
Margherita
Teresa [Therese] Ann Savoy
The Blond Obergruppenführer
John Steiner
Helga
Sara Sperati
Hilde
Maria Michi


Susan
Rosemarie Lindt
Marika ("Professor, is it true...?" / cubicle with dwarf / dartboard / "I want to have the child" / "Take me to America with you")
Paola Senatore
Clift
John Ireland
Herta Wallenberg
Tina Aumont
Gloria
Alexandra Bogojević
Rauss
Dan Van Husen
Medical Professor
Ullrich Haupt Jr (His father was in The Iron Mask and The Rogue Song, the latter of which also featured Laurel & Hardy!)
(A photo and another photo.)
Dino
Stefano Satta Flores
Hauptman Hans Reiter
Bekim Fehmiu
Official with 16mm projector
Giancarlo Badessi
Doktor Schwab
Luciano Rossi
Wolff / Wolffie
Gianfranco Bullo
"And don't call me Herr General! Call me Greta"
Gigi Ballista
Margherita's mother
Margherita Horowitz
Margherita's father
Claus Rhule [uncredited]
"They hanged the son of a bitch on a meat hook"
Alain Corot
"And his manners, my dear! The way he holds a tea cup with his little finger raised!"
Clara Colosimo

NO PICTURE BECAUSE I CAN'T IDENTIFY HER
???
Mary Kristall
To Margherita's immediate left (our right) in initiation line-up
Malisa Longo
???
Paola Maiolini
???
Alena Penz
???
Loretta Persichetti
???
Margherita Petrucca
???
Michelle Starck
???
Alison Swaisland
???
Tamara Triffez
???
Patrizia Webley
Indian Chief
Osiride Pevarello [uncredited]
Frankie / Schatzie
Tito Leduc [uncredited]
Dinner guest
Geoffrey Copleston [uncredited]
Neanderthal prisoner
Salvatore Baccaro [uncredited]
Gypsy
Pietro Torrisi [uncredited]
Gestapo agents
Tom Felleghy [uncredited] and John Bartha[uncredited]
Dart-playing client
Aldo Valetti [uncredited]
Decades later and I still can't identify these folks:

When you see credits set like this, you know what that means, don't you? It means that Ingrid and Helmut each had exclusive top billing by contract. So the studio gave each billing over the other: Ingrid is above, but Helmut is previous, to the left. ¿Clever, que no?
Violinist
???
Employee
???
Client
???
Client and two employees
???
Kitty and a client
???
Client, employee, Kitty
???
More
???
Client and unidentified painting
???
Client
???
Client
???
Employee who loves the life of the sea
???
Employee
???
Employee
???
Client
???
Blue employee
???
More
???
Dinner guest
???
Jewish grandparents
???
Jewish grandchild
???
Marika's dwarf
???
Olga from Hamburg
???
Martha from Danzig
???
Susan's amputee
???
Margherita's Jew
???
Apartment-block maid
???
Clients
???
Housekeeper of old salon
???
Employee
???
Employees
???
Three employees and a client
???
More
???
Battle-scarred client
???
More
???
Employee
???
More
???
More
???
Bee-stung
???
Employee and one-eyed client
???
Employee
???
Employee
???
Employee
???
Client
???
Client
???
Gold-painted employee
???
Client
???
Client
???
Trombonist
???
Employee
???


Cigar-smoking employee
???
Three more dancers perform with Kitty and Frankie
???
Two clients
???
Cigar-smoking client
???
Client
???
A client and a recruit
???
A client and a recruit
???
Recordist
???
Gloria's client
???
Translator
???
The band
???
Cigarette girl
???
Two recruits
???
Friendly nurse
???
Patient
???
Two patients
???
Two patients
???
Two doctors and a patient
???
Two patients
???
Patient
???
Butler
???
House maid
???
A recruit and a client
???
Bartender
???
"Hoorah for the war!"
???
Filmed in English.
---
Original research and commentary copyright © 2009 by Ranjit Sandhu. All rights reserved.
---