THE WORKS OF TINTO BRASS
---
Region 2 PAL, which will NOT play on most US/Canadian equipment.
I have not seen any of these DVDs and so I shan't comment on their quality or completeness.
Corti circuiti erotici
(Erotic Short Circuits, 1999–2000)
A competition, judged by Tinto Brass, for short erotic video scripts elicited over 600 entries, and these are the winners. I'd hate to see the losers. With one magnificent exception (Giulia ' oh god what a great movie ' ohhhh!!!!!), these range from okay to dreadful. One would have hoped that these videomakers had been influenced by Brass. Maybe they were, but if they were, it was only in the vaguest way. If you like T&A (or "tette e culi" if you want to be Italian about it), you'll be perfectly content with these. Actually, you'll probably be thrilled. Well, no, you'll probably be more than thrilled; you'll probably be beside yourself with ecstasy. If you want something more than T&A, well.... But who am I to complain? These movies are exactly what they set out to be: titillation for the sake of titillation. I have no idea what I should really say about these little movies.


TECHNICAL CREDITS FOR ALL SHORTS EXCEPT GIULIA
Musiche originali di (original music by) [except for La coccinella]
Paolo Rustichelli
Musiche originali di (original music by) [La coccinella only]
Pino D'Angio [Is this a typo for Pino Donagio?]
Prodotto da (produced by)
Giuseppe Colombo per la C.I.C. S.r.l. [Cinema International Comunications] e la PHV [Patrone Home Video]
Servizi fotografici (photographic services)
Bruno Oliviero per Studio Immagine
Montaggio (editing) [Fine settimana a Lecco, Ultimo metrò, SCTMV, Voyeur, La coccinella, Stringimi forse i polsi]
Consuelo Catucci
Montaggio (editing) [Rapporti impropri, Specchio, specchio delle mie brame, Sogno, Benedetta trasgressione!]
Patrizia Franco
Direttore di produzione (production manager)
Maurizio Pigna
Direttore della fotografia
(director of photography)
Joseph Arena
Operatore (camera operator)
Daniele Giandelia
Aiuto regista (assistant director) [except for Voyeur]
Isabella Salvetti
Con l'amichevole assistenza alla regia di [Voyeur only]
Gioia Raparelli
Scenografia (art direction)
Francesca Mescolini
Costumi (costumes)
I Magò Snc
Fonica presa diretta (sound recording)
Andrea Faustinella
Capo macchinista (key grip)
Piero Bosi
Capo elettricista (gaffer)
Fabio Dell'Orco
Mezzi di ripresa digitale ed Edizione
Orange Snc
Mezzi tecnici (technical equipment)
Arco Due
Props. Management
Sabina Palermo per Intesa & Cp. Srl.
Si ringraziano (we thank):
l'Artista B. Ravenkilde [Sogno only]
Thomson
Cantori
Master
Mivar
Pin-up
Trasparenze
---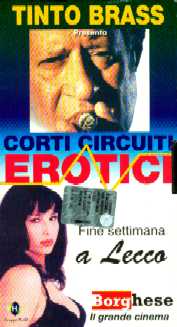 (Weekend in Lecco)
A lesbian couple spend a weekend together. Tinto Brass has an amusing cameo at the end.


| | |
| --- | --- |
| Sceneggiatura di (screenplay by) | Silvia Rossi |
| Regia di (directed by) | Silvia Rossi |
---
(Last Subway)
This one's actually kinda cute. While waiting for her train, a woman performs a striptease for a guy waiting at the opposite track.


| | |
| --- | --- |
| Sceneggiatura di (screenplay by) | Andrea Prandstraller |
| Regia di (directed by) | Andrea Prandstraller |
| | |
| --- | --- |
| PERSONAGGI E INTERPRETI | |
| | Deborah Calì |
| | Iarno Berardi |
| | Sasa Vulicevic |
| | Angelo Tanzi |
| Guastafeste (spoilsport) | Tinto Brass |
---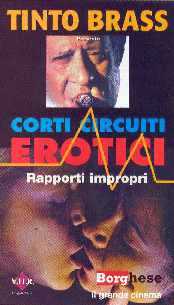 (Improper Relationships)
A cousin comes over to visit and turns the household upside-down as she seduces almost all her relatives. Brass has a great cameo at the end.


| | |
| --- | --- |
| Sceneggiatura | Massimiliano Zanin |
| Regia di | Massimiliano Zanin |
| | |
| --- | --- |
| PERSONAGGI E INTERPRETI | |
| ??? | Victoria Di Stefano |
| ??? | Rossella Seno |
| ??? | Nino D'Agata |
| ??? | Massimo Ali |
| ??? | Vincenzo Vollero |
| ??? | Veruschka Moncini |
| ??? | Arsineta Ungurreanu |
---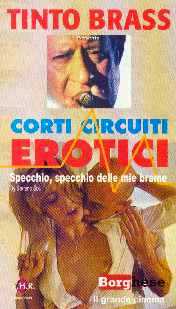 (Mirror, Mirror of My Longings)
A woman makes out with a repairman while her boyfriend is having a bath.


| | |
| --- | --- |
| Sceneggiatura di | Stefano Soli |
| Regia di | Stefano Soli |
| | |
| --- | --- |
| PERSONAGGI E INTERPRETI | |
| | Loredana Cannata |
| | Rolando Ravello |
| | Massimiliano Franciosa |
| Portiere | Tinto Brass |
---
"S.C.T.M.V." stands for "Sono come tu mi vuoi," which means "I Am the Way You Want Me."


| | |
| --- | --- |
| PERSONAGGI E INTERPRETI | |
| | Fiorella Rubino |
| | Tinto Brass |
---
Studio 'A' ' Paris, France
Tinto Brass presenta
Una produzione di Giuseppe Colombo per C.I.C.
un film di Roy Stuart
In early 2003 I heard from Roy Stuart's agent, Massimo, but lost all my files and contact information in my hectic move. So Massimo, if you happen to run across this page again, please drop me a line. Many thanks!
I swooned when I saw this. This intensely moody experimental one-hour video begins with a French modern-dance class preparing to go to Rome, but Giulia is mysteriously singled out not to go on the field trip.


Dancing is only one of Giulia's ambitions. Rebelling against her religious-wacko sister Christine and their religious-wacko mom (
Tina Aumont
, who still looked gorgeous at the age of 50), Giulia aspires to be an actress. I so much admire kids who can talk back to their parents when they need to. She goes to a private session with her acting instructor but discovers nothing more than a casting couch. After a few minutes of playing along, she scrams, but promises him anything he wants the next night. The next night is the highlight, for this is when we witness Giulia moonlighting as a live-sex-act performer at a Parisian strip club. (No faking anything during this lengthy sequence. But no graphic close-ups either, thank goodness. I'm sure this was done in one take and with a real audience.) She invites her instructor to join her on stage, but in his jealousy and shock he chickens out and leaves. Now, here's my confession: When I was a teen, nudity and sex on film were a major turn-on. I'm no longer a teen, and nudity and sex, scripted and posed, no longer do anything for me at all. But then I saw this scene '
and I melted
.
There are various vignettes as Giulia walks through Paris, chats with a friend, pulverizes a pest in the park, attends a street festival, and so forth. I bet that some of these episodes were not staged, but were real events, shot as they happened. A good example of this is the bit with the Chaplin-like mime in the park, who may not have even known he was appearing in a professional video; he probably thought he was just in someone's home movie. And I bet that was a real night in a real discotheque too. Oh the lucky people who were there that night!


Turns out that Giulia wasn't invited to travel with her classmates because her jealous dance instructor Gustavo is having an affair with her sex-show partner Eric. She gets to Rome anyway. Apparently the Vatican hierarchy blew their collective fuse when they found out what that cameraman used his footage for. But hey, what I love about the Italians is that they're not Catholic.


In class
Wacked-out mommy
At a Spanish street festival
Moonlighting
On stage with Eric
Inviting her casting director to join in
Giulia has a disagreement with a masher
Posing with a mime
Eric and Giulia provoke Gustavo's jealousy
There will soon be a spectacle at the discotheque
Giulia and Gustavo settle their differences
Giulia visits the Vatican
I suspect that
Roy Stuart
had already started shooting this tape when he heard of the Tinto Brass competition, and probably submitted footage rather than a script. In opposition to Brass's works, jealousy in this story doesn't increase desire; it only increases rage. This is by far the longest of the 12 shorts, it's the only one with a different crew, and it's the only one that doesn't have a cameo by Brass.
WARNING:
Don't watch this just before bedtime. If you do (as I did), it will seriously mess with your dreams. (Actually, if you like to have your dreams messed up, then watch this late at night, alone, without distractions, with all the lights out, and then when it's over, try going straight to sleep.) And don't be fooled by the seemingly simplistic plot. This is as moody and as atmospheric as a movie can get. The wildly expressionistic editing alone would be enough to get under your skin. But on top of that is the music, composed by director
Roy Stuart
, which is genuinely haunting, and which is sung to perfection by Anna Biella (Giulia) and Alessandro Corsini (Gustavo).
Certain that director/co-author
Roy Stuart
would now be the hottest name in erotic cinema, I looked him up on Google and for the longest time found nothing. But now he's apparently doing quite well with his series of erotic books (published by
Taschen
!) and a series of erotic videos. Further, immediately upon viewing
Giulia
back in 2000, I was certain that Anna Biella would soon be the hottest young actress in the world. I looked her up on Google only to discover that she had vanished from the face of the earth. I couldn't understand why and surmised that she must have been arrested by the Vatican police, tried by a secret military tribunal, and then burned at the stake for heresy. Fortunately, I was as wrong as wrong could be. She continues to work under a slightly different and probably more authentic name, Anna Bielska. She and Roy Stuart have continued to work together in a movie called
The Lost Door
as well as on a book and video called
The Fourth Body
. Quite nice.... Judging from what little I've seen, I feel rather confident in saying that no one is doing, or has ever done, what Roy Stuart is doing. He has real characters with real emotions, combines them with expressionistic graphics and seductive aural experiences, and creates works of genuine beauty. How many other creators of "porn" have their works exhibited in museums and published by Taschen? Thanks so much, Roy, for sharing!
Giulia is the only video I've ever seen that looks more effective and compelling and moody than film. So much for that elusive "film look." Giulia has been issued in several different editions. The DVD-R currently available from Roy Stuart's site is far superior to the VHS editions issued earlier, with much better sound and picture quality, and it's a little more complete too. Jesus was a vegetarian? Aggressive Hawaiians? Planned animal?


NOTE:
Alejandro Gagossian also models for Alessandro Corsini's
Dance Wear
site. ¿Small world, que no?
ANOTHER NOTE: Brass's introduction is included in some but not all releases. I liked it, especially because he quoted from the same school-child doggerel that Luigi Proietti quoted at the end of L'urlo.


| | |
| --- | --- |
| Sceneggiatura di (screenplay by) | Roy Stuart e Joey Simas |
| Testi delle canzoni di (lyrics by) | Nelson Villamor, Robert Herrick |
| Diretto da (directed by) | Roy Stuart |
Aiuto regista (assistant director)
Joey Simas
Assistenti alla regia
(assistants to the director)
Dominique Llorens, Jerzy Karpisz, Roland Fontenier, Fabien Soliveres, Sylvain Verdet
Secondi operatori alla ripresa
(second-unit camera operators)
Joey Simas, Przemek Lisiecki
Suono (sound)
Jean-Pierre Aumont
Musica (music)
Roy Stuart
Canzoni cantate da (songs sung by)
Anna Biella, Alessandro Corsini
Assistente al montaggio
(assistant editor)
Jerzy Karpisz
Consulente per i dialoghi in italiano
(assistance with the Italian dialogue)
Massimo Garella
Parrucchieri (hairdressers)
Dominique Cadore, Jose Pais
Trucco (make-up)
Axelle Dersin, David Alexander
Coreografia (choreography)
Alessandro Corsini
Tecnici al montagio (editing studio)
Tele-Europe (Paris)
Ringraziamenti speciali a
(special thanks to)
Eric Neveu ed a Max 'Eminence Grise'
| | |
| --- | --- |
| PERSONAGGI E INTERPRETI | |
| Giulia | Anna Biella [a.k.a. Anna Bielska] |
| Gustavo | Alessandro Corsini |
| ??? | Pascal Mufflet |
| ??? | Joseph Hamilton |
| Cristina | Christine Donval |
| L'amica di Giulia | Genevieve Essesse |
| Madre di Giulia | Tina Aumont |
| ??? | Laurent Abry |
| ??? | Elisa Ber |
| ??? | Carine Boulanger |
| ??? | Eric Brossard |
| ??? | Francis David |
| ??? | Jennifer Duclos |
| ??? | Jean-Claude Fereol |
| Eric | Alejandro Gagossian |
| ??? | Remy Gambier |
| ??? | Isabelle Helleux |
| ??? | Corrine Hubert |
| ??? | Jean-Claude Joerger |
| ??? | Melinda Kolasa |
| ??? | Dominique Llorens |
| ??? | Sonya Mellah |
| ??? | Aurore Mourgues |
| ??? | Laurent Nelson |
| ??? | Sandrine Rouxel |
| ??? | Andrea Schweimmer |
| ??? | Fabian Soliveres |
| ??? | Leo Vincent |
---
NOTE ADDED ON SUNDAY, 30 DECEMBER 2007: Roy sent me a copy of his lovely book/video, The Fourth Body, quite some time ago, but for the longest time I simply couldn't figure out what to say about it. Did I want to plug it? Yes. But how? How can I describe this without being misleading? Legally I guess it would qualify as "pornography," but this isn't like any porn I've ever seen before. No matter how extreme it gets, it registers as human, and the models are recognizable as perfectly ordinary humans. As basic as this concept is, in civilization (any civilization) it can be considered only revolutionary. I can just hear people assailing me from all sides that the book and video are just "porn" and that my liking them proves only that I must be a sexual degenerate. End of story. No one wants to hear a defense, because no one has patience for lame excuses. Having been confronted by this attitude for decades, I've been more than merely hesitant to speak the simple truth that this is a beautiful book. Yes, the images in Roy's work are sexually graphic, but they are also emotionally evocative and lovely in their own right. The book opens with an interview conducted by Dian Hanson, and Roy's answers are perceptive and clear. Here are a few excerpts:


D H: Your images are amazingly popular while breaking all the rules of mainstream pornography. There are no huge artificial breasts, few blondes, no pumped-up lips. How do you outsell these pros using only natural women?


R S: The mainstream erotic formula is out of date. Nature programmed us to be attracted to people of its own design ' not some art director's or photographer's notion of what's appealing.
Commercial present-day pornography displays a remarkable and reprehensible lack of sincerity and intelligence; its purveyors are obviously out there only for the cash. I can't think of anything that's manufactured with less sincerity than modern-day pornography. There's nothing in this whole world that's produced worse. People package duct tape with more sincerity.... The end result is a grotesque parody of human sexuality resulting in what seems to be publicity against sex. In France, they allow sex on TV because it's so crudely done it turns people off....


D H: Describe your concept of the photo shoot as a model for a better world....


R S: ...[T]he images depict a situation where people behave as they would if there was an absence of taboos, or where people have evolved to the state where you witness women exercising the same sexual license as men and being free to behave more authentically.


D H: Are you talking about a freedom from within or without? Is this freedom from their own prejudices?


R S: What do you mean by "their own prejudices"? All prejudice comes from others. All prejudices are stupidity. All taboos carry one logic, one purpose: to control others.


D H: So you feel the differences we see in male and female sexuality are cultural rather than innate?


R S: In what way could repression be innate? I just returned from Belgium and in the hotel there were tons of women from Saudi Arabia and Kuwait, all in black, top to bottom. A lot of women had masks on. This isn't their choice; this is the culture, imposed because that culture is afraid of women's sexuality, which has always been the biggest threat to organised religion.
---
(Dream)
© Giuseppe Colombo per C.I.C. Roma 1999
Avant-garde imagery with Yuliya (now transliterated "Yulia") Mayarchuk.


| | |
| --- | --- |
| Sceneggiatura di (screenplay by) | Nicolaj Pennestri |
| Regia di (directed by) | Nicolaj Pennestri |
---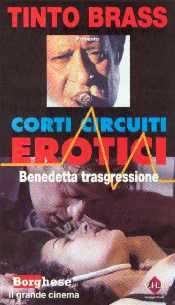 (Blessed Transgression!)
This begins as a nice exploration of Brass's idea about jealousy being used to increase excitement. I really liked it until it got to the scene with the switchblade. Then I didn't like it at all.


| | |
| --- | --- |
| Sceneggiatura di | Enrico Bernard |
| Regia di | Enrico Bernard |
---
Tinto Brass presenta
Voyeur
Is it Mario or Max? A hotel has surveillance cameras in all its rooms? Including the bathrooms? And no one notices? And the monitor displays a letterboxed image? Why a handheld camera? Shadow of mike boom on wall!


| | |
| --- | --- |
| Soggetto e sceneggiatura di | Roberto Gandus |
| Regia di | Roberto Gandus |
---
Tinto Brass presenta
La coccinella
(The Ladybug)
Francesca Nunzi has such a nice comic sensibility. I wish she'd get the chance to develop it some day. Dandy cameo by Tinto and Tinta Brass as door-to-door Jehovah's Witnesses.


Sceneggiatura (screenplay)
Nello Pepe, Rosario Galli
Liberamente tratto da
(freely adapted from)
Metafisico e Metà no di A. G. Sanna
Regia (director)
Nello Pepe
| | |
| --- | --- |
| PERSONAGGI E INTERPRETI | |
| | Francesca Nunzi |
| | Marco Di Stefano |
| I testimoni di Geova | Tinta & Tinto Brass |
---
Tinto Brass presenta
Stringimi forte i polsi
(Hold My Wrists Tightly)
A chiropractor's office. Emanuela Nay as a secretary who's even less responsible than I am. Erika Saffo Savastani as a nun. Tinto Brass as a father confessor.


| | |
| --- | --- |
| Sceneggiatura di | Walter Martyn Cabell |
| Regia di | Walter Martyn Cabell |
| "Stringimi forte i polsi" è cantata da | Erika Saffo [Savastani] |
---
The final installment. We get to see Tinto momentarily playing a cop. Hooray! I imagine that some people will like this video, not for any artistic qualities but rather for the hardcore hermaphroditic sex scenes. (I'm not quite sure, but I think some video editions crop out the hardcore imagery, making it softcore.)