UPDATE: I wrote the first draft of the above tirade two years ago, in 2009. In movie terms, it's already prehistoric. Much has changed. For those who might not know, mom-and-pop cinemas have had a heck of a hard time. For decades they were prohibited from showing films until the major chains had drained every last cent from them. VHS was introduced in the 1970s but did not saturate the market until 1987. And so it was in 1987 that mom-and-pop cinemas were not allowed to have a picture until the day it was released on VHS. After a class-action lawsuit, the law was revised, and the mom-and-pops were at last allowed to bid on any new picture they pleased. The chains were not happy. Now they are. You see, fewer and fewer cinemas are using film, and new cinemas are being built without projection booths. The digital era is now upon us. Digital equipment was barely affordable, at first. That's why all movies are now being made in 3D, because 3D digital equipment is unaffordable. This is a boon for bank executives, because cinemas cannot purchase digital equipment outright, but are compelled to take loans (or else borrow those lousy Sony machines in return for advertisements). Independent mom-and-pop cinemas are not in a position to take loans, and must continue to present their shows on film. That explains why the LaVezzi factory ceased manufacture of film-projector parts on Friday, 17 December 2010. As far as I know, the only company in the world that continued to make film-projection equipment (until spring 2014) was Kinoton/Philips/Norelco in the Netherlands, and that equipment was prohibitively expensive in the US thanks to excise taxes. (For instance, I think it was beginning in the early 1980s that a $40 part, after the import duties, was $800. That's why these machines, the best ever put on the market, were all suddenly rendered useless. Commercial cinemas decided to get charitable-donation tax credits by unloading these machines onto unsuspecting nonprofits.) Remember, mom-and-pop cinemas are mostly single-screen, which means that they're older, and many are historic landmarks. Now the real-estate developers and banks can have a field day by demolishing them and building something new in their place — parking lots, drug stores, skyscrapers, auto-supply shops, and whatnot. Banks and developers abhor amortized properties, you see. (Drug stores generally receive a ten-year waiver on property taxes. That's why after ten years they are abandoned and move a block or two down the street, to receive another ten-year waiver. I imagine the same holds true for many other major franchises as well, which receive government subsidies to hire employees at minimum wage or just above. Mom-and-pops are never given such incentives.) Despite the outlandish expenditures on new technology, audiences will continue to diminish. For those of you who don't know, cinema chains are designed to lose money. They make money by losing money. It's a long story, and I'm not in the mood to go into the details. Actually, since I last learned the details, those details have all changed. The essence, though, is surely the same: tax schemes combined with real-estate schemes combined with predator schemes. Cinemas are also ideal for laundering money. Say you have an extra $12,000 every day from drug deals, and you need to spend it but can't explain too well where you got it. Easy. You have two shows a night and 800 seats in your auditorium, and you sell an average of three tickets a night. Just say you sold 1,203 tickets. Voilá!
When properly presented, digital looks amazingly good, but there are problems. Firstly, digital files have a short life, and a few years from now they will not be playable. Even if the files survive, the equipment to play them will not. Secondly, why should anyone think that digital will be properly presented? Here's an article on what is happening:
Ty Burr, "A Movie Lover's Plea: Let There Be Light — Many Theaters [sic] Misuse 3-D Lenses to Show 2-D Films, Squandering Brightness, Color," The Boston Globe, Sunday, 22 May 2011.
This article caught the attention of the folks on the listserve of the Association of Moving Image Archivists, and they had some intelligent comments:
The Dimming of Digital Projection (Mon, 23 May 2011 12:47:56),
Re: The Dimming of Digital Projection (Mon, 23 May 2011 18:56:05),
Reply: The Dimming of Digital Projection (Mon, 23 May 2011 10:30:05)
Zo, suppose you're the exec of a lending institution and you've just placed a $25,000,000 bet on digital projection, and suppose that at most cinemas the digitally projected images look atrocious. Suppose that the quality is so dreadful that that there are a few cinemas that are still clinging to their 35mm equipment and insisting on booking movies on FILM, and suppose those few diehard cinemas are getting beautiful images and attracting better audiences. What do you do? This is what you do: You pay off the labs to sabotage all the film work so that the 35mm prints are unprojectable. Here's an email from a projectionist-who-shall-remain-nameless:
I seem to be encountering a lot of sloppy film lab work lately.
• One of my Hangover 2 prints has a 3min section in Reel 4 where the color balance goes completely out, followed by another minute or so where the picture goes almost completely dark. The problem persists long enough that people will come out & complain. We were supposed to get a replacement reel, but it didn't come as promised. After a few more phone calls, we got a whole replacement print late last night, and I swapped it out early this morning. (The print I got is the SF Loew's Metreon's "digital back-up" print. This isn't the first time I've gotten a print from them under similar circumstances, which makes me wonder — if digital is so damn reliable, why do some places, like the Metreon, insist on having 35mm back-up prints?) Here are a couple of photos from the bad reel I had on my Hangover 2 print.
REEL 4: The color balance was slightly "off" from the very begining of the reel, then about 800ft in, I started to get color & black blotches like this:


The blotchy film goes on for about 50ft, followed by about 200ft of this:


There is actually an image on the film, but it's barely visible. It looks like the film got light-struck or something either before or after exposure. (And no, there are no lab splices in this reel.) Looks like a couple of guys at the film lab may have had hangovers of their own, or are they actually trying to kill off film entirely?
I've also recently received several defective trailers & Screenvision ads:
• One of my trailers for Super 8 has a hair (from a dirty printer gate) in the frame. At first I thought maybe it was supposed to be there (super 8!). But then I saw it wasn't in any of the other copies I had.
• All the SCOPE copies of an "American Express" ad from Screenivsion I'm supposed to be running this week are unwatchable. There appears to have been some problem with the video-to-film transfer, making it look on screen like an old VHS tape with a bad tracking error.
• I've also had trouble with two 3D ads in the past two weeks. In both of them it looks like the film slipped in the printer. The framelines are not where they are supposed to be. For example, note how in this "Target" ad, the frame lines are each bisecting a perforation, instead of being BETWEEN the perf holes, where they should be.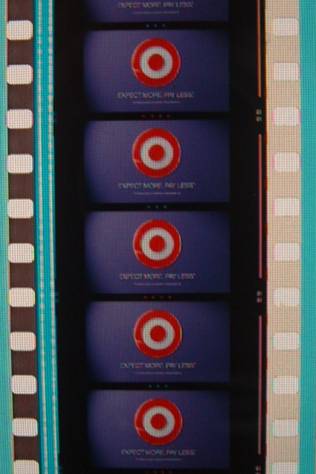 (3D print. The frame line is where the "dots" are.)
A 3D "Ford" ad I had last week had the same problem, only worse — the framelines were actually MOVING, as the film apparantly slipped in the printer. The effect on screen was that it looked like someone was constantly trying (unsuccessfully!) to frame the projector and, since this was a 3D print, it meant the the 3D was going in & out of correct left/right phase. It all looked very interesting on screen, but I'm sure it's not what the advertiser intended. I pulled these defective ads off screen since they looked horrible.
NOTE ADDED SATURDAY, 2 JULY 2011: Of course, as one would suspect, there's more to the story. Here is a quote from an email message sent by The Cinefamily (Silent Movie Theatre) today: "35mm rentals fees are rising fast. And we mean fast." Need we wonder why?
(Before we click over to the next page, let's define terms. Nobody else will ever do this; so it's up to us. Some years ago, back in the 1970s, I think, there was a conference, somewhere, in which the participants voted that stage-play houses would be called "theater" with an er, and that movie houses would be called "theatre" with an re. (I have the reference somewhere in my storage locker, but don't expect me to dig it up in the near future.) I doubt any grammarians know about that conference, but it should make their jaws drop. Whether it is spelled with an re (traditional) or an er (modern American) is irrelevant. It is the same word. A theatre has a fully rigged stage and live acoustics. A movie house will usually not have a usable stage and will usually have dead acoustics. By definition, it is not a theatre, but a "movie theatre." If you prefer not to use a two-word five-syllable term, then you may call it a cinema. A theatre with a fully rigged stage and live acoustics that shows mostly or exclusively movies is a theatre that operates as a cinema. An edifice designed for stage plays that has dead acoustics which require the actors to use amplification is neither a theatre nor a cinema; it is an abomination.)
---
MORE TO COME, WHEN I GET IN THE MOOD
In the meantime, why not look at some machines?
---
Original research and commentary copyright © 2009 and 2011 by Ranjit Sandhu.
All rights reserved.
---