Where Did Buster Go?
Okay. It is time at last to make my voice heard.
I have been watching Buster's movies since I was seven years old, and in those decades I have seen more and more differences among the various release prints and home videos. Now that more of Buster's work is scheduled to come out on DVD and Blu-Ray, I simply must put my foot down and say "ENOUGH!!!" For once, let's get it right.
Now, I'm in the middle of a hundred other things these days, and my time is limited. This essay should ideally be as long as an encyclopedia. But I can't do that right now. So I'll abbreviate to just a few paragraphs. Here goes.
---
The Roscoe/Buster Comiques
Released through Paramount

THE BUTCHER BOY
Kino: "Arbuckle & Keaton, Volume One"
Transferred from a print that had the bottom and either the left side or right side of the image missing
THE BUTCHER BOY
Arte Vidéo: "Buster Keaton: L'intégrale des courtes métrages" and
Image: "The Best Arbuckle/Keaton Collection"
Transferred from a print that had the left side, right side, and top of the image missing
Basically what I can say here is that you should watch each short as it appears on the two-DVD Kino set (click here for volume One and click here for volume Two), and then watch each short again as it appears on the Image set. And if you're lucky enough to have Serge Bromberg's 4-DVD set of Buster's short films, check those against the Kino versions as well. There are LOTS of differences, and they're MAJOR. I'm not faulting anybody here. Different groups of people were working as best they could on limited budgets and limited schedules, unaware that others were doing essentially the same work elsewhere on this planet with different source materials. If only they could have collaborated, they would have created wonders. Alas.... And, of course, there's extant material missing from the various reconstructions.
THE ROUGH HOUSE : Here's what Ed Watz said on the alt.movies.silent newsgroup back in 2002:
29 January 2001: I'm hoping that the Rough House print contains the footage missing from Rohauer's erroneously titled The Cook edition: Buster as a cop going downstairs at the 14th Street subway kiosk, followed immediately by the shot of him exiting at the 222nd Street kiosk in the Bronx. The second shot is in Rohauer's version, which of course loses the payoff effect without the setup. The 14th Street shot is an extraordinary glimpse of an unknown Keaton in a bustling NYC and Union Square, quite unlike those dreamy dawn shots of Fifth Avenue on a Sunday for The Cameraman.
30 October 2002: ...The Kino versions are limited to whatever Rohauer had (most of which were severely truncated Czech versions). Too bad no one has put back in the wonderful NYC 14th street footage missing from every restoration of The Rough House (it was shown at the '93 Cinecon but I seem to be the only one who gives a damn...).
So I wrote to Ed, and he replied that the print shown at Cinecon came from a European archive, though he did not know which European archive. Perhaps the folks at the Cinecon kept their records?
Oh. I should also mention THE COOK. Serge Bromberg did a wonderful job reconstructing this movie, based on fragments found in Norway and in the Netherlands, and he issued his reconstruction on his Buster Keaton: l'intégrale des courtes métrages box set. After having seen a lesser reconstruction at the Syracuse Cinefest, based only on the fragments found in Norway, this DVD made me really happy. But then the usual expected unexpected happened. Dennis Doros issued a different reconstruction, based on the same sources, through his company, Milestone. It was an improvement! He hired Patty Tobias to study the fragments and decide how to piece them back together, without reference to what Serge had done. Patty also had the onerous task of inventing new dialogue titles, to replace the original dialogue titles which are presumed lost. She did an outstanding job, and the result contained a moment of footage that Serge had neglected to include in his version. In the interest of fairness, Dennis decided to include the raw fragments as found, in a supplement. And when we watch those fragments, we see yet more footage that, though Patty had said it should be included, somehow got left out. And Serge somehow left it out too. This is what you won't see in either reconstruction: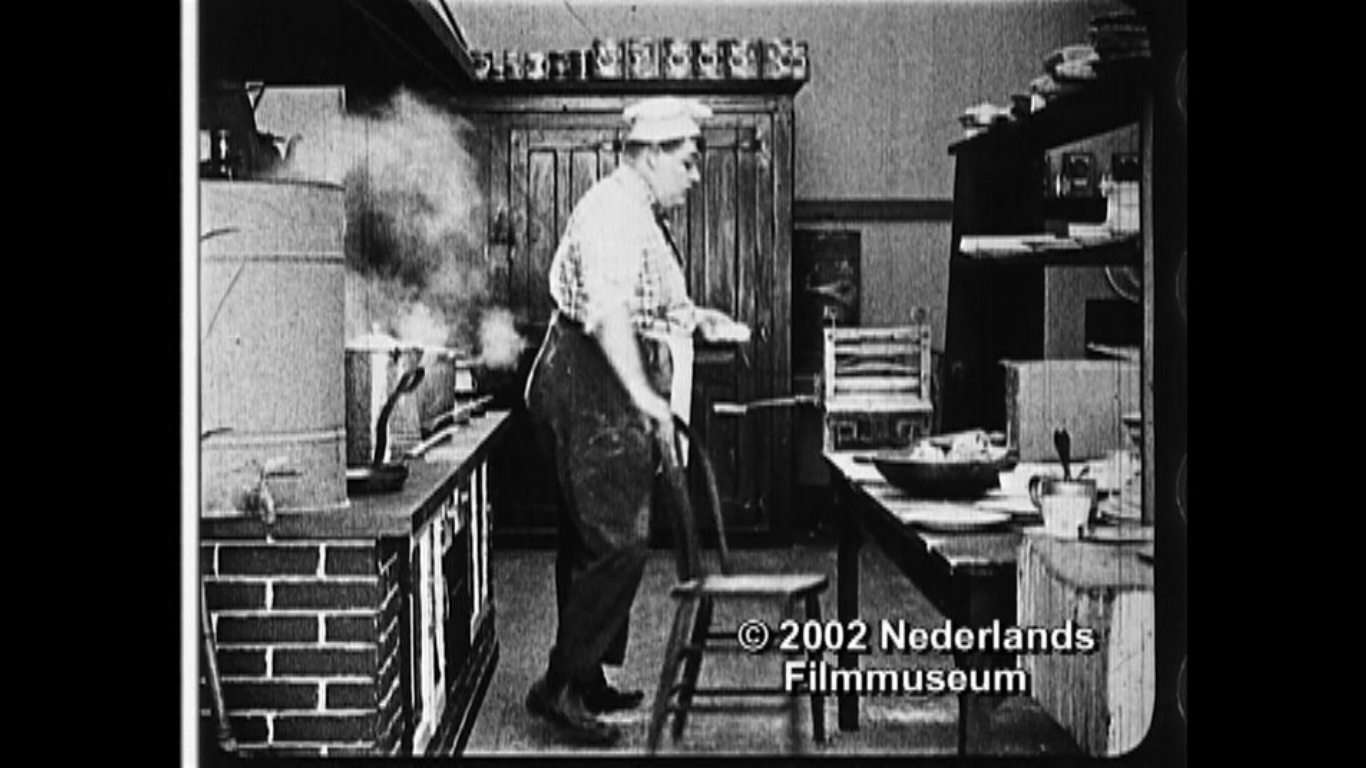 Roscoe is about to do something to a dough ball.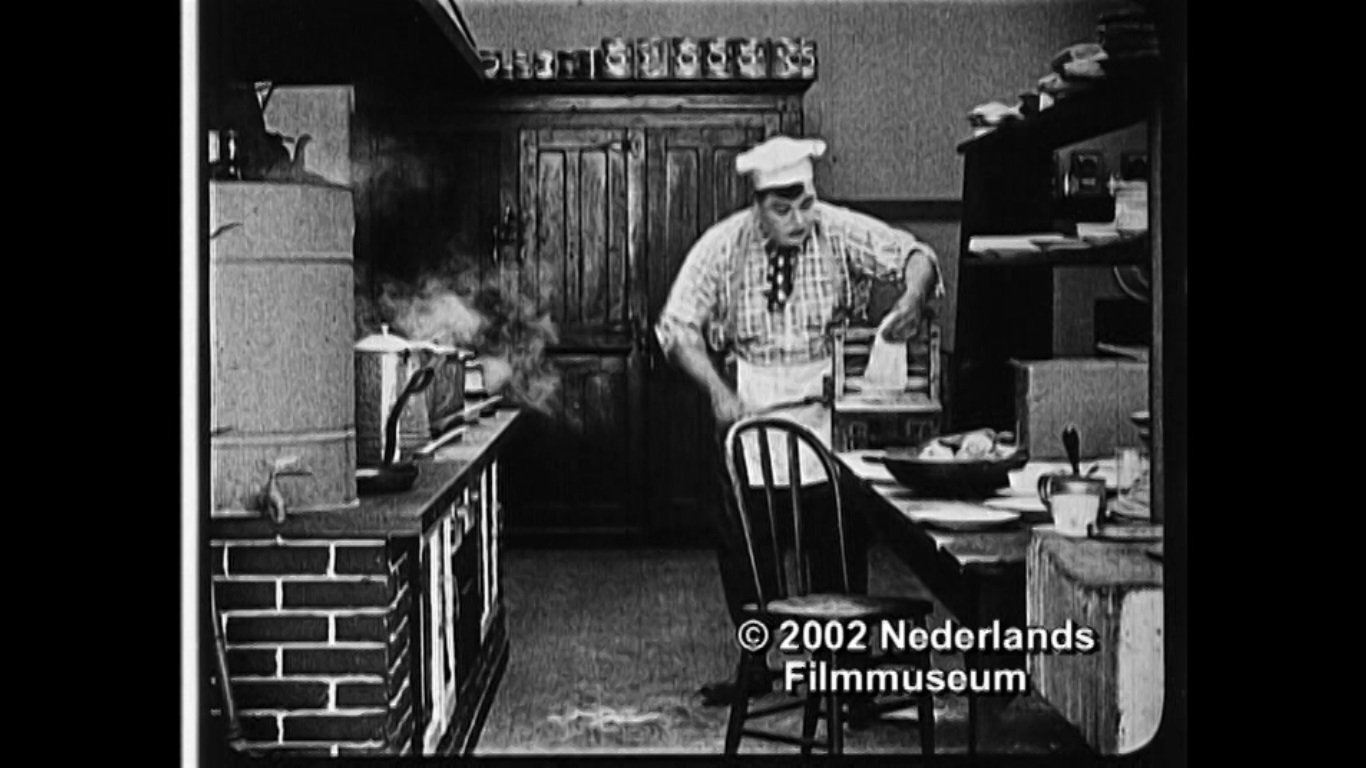 Ah. Of course. He puts it through a clothes wringer, just like you do in your own kitchen.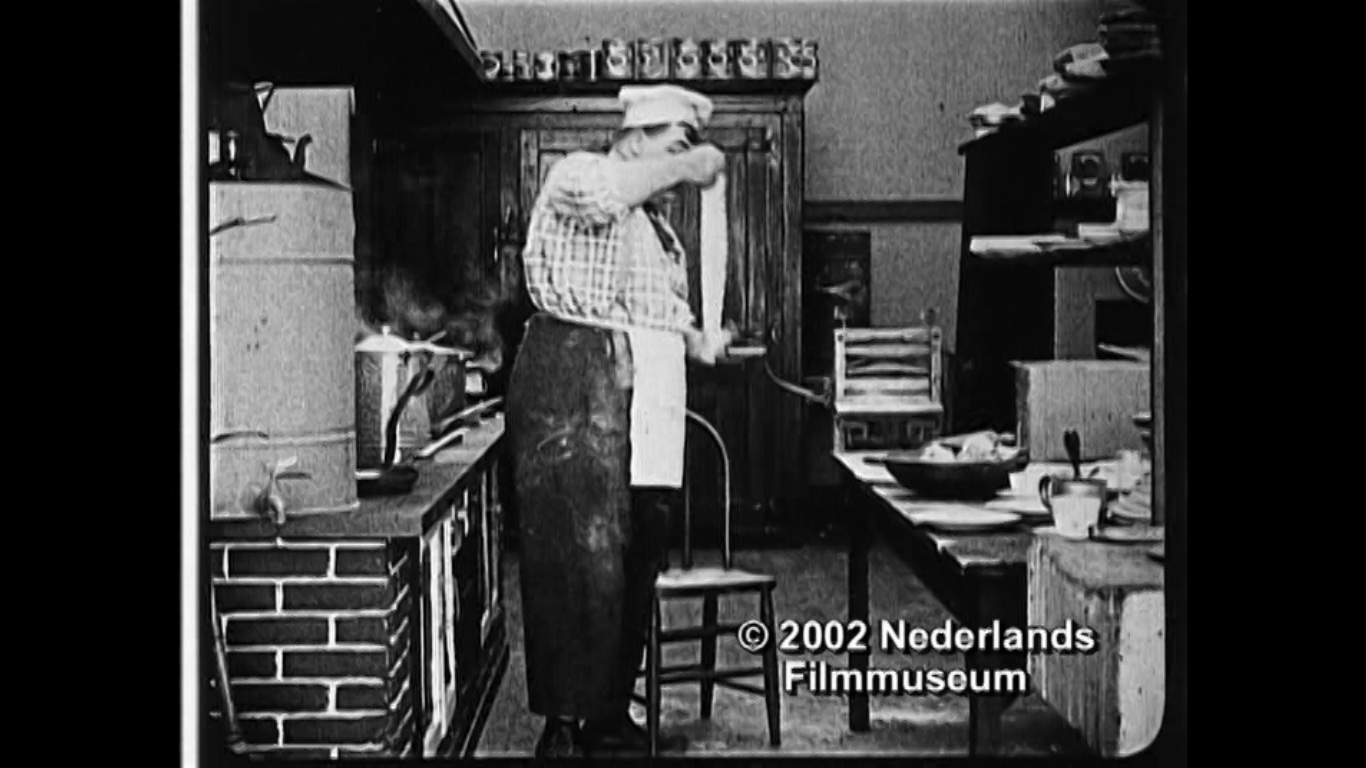 Perfectly wrung.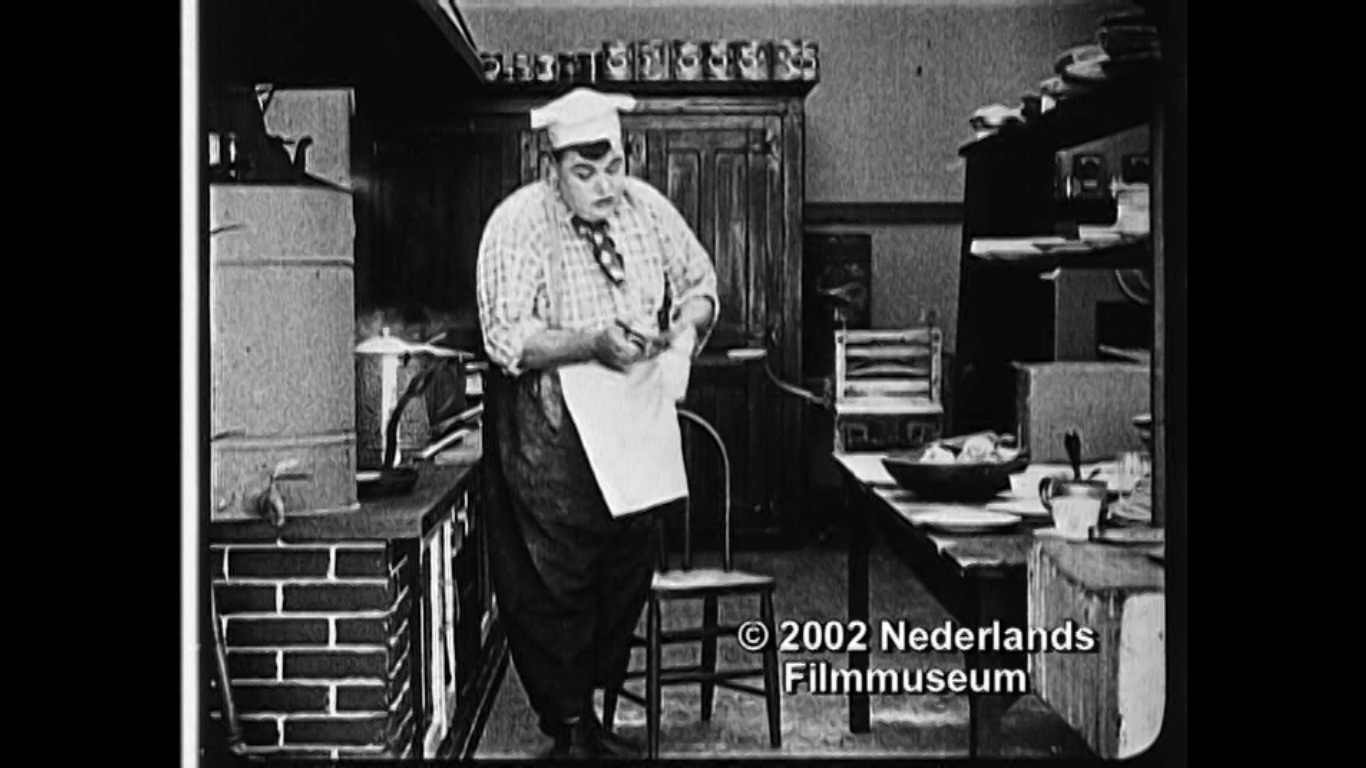 Now it's time to trim it with a large pair of scissors.
This is where the two reconstructions pick up the shot.
Also, Patty got more of Roscoe's attempt to grab a lifesaver that's unhelpfully padlocked to the dock, and she even noticed the flash-frame insert: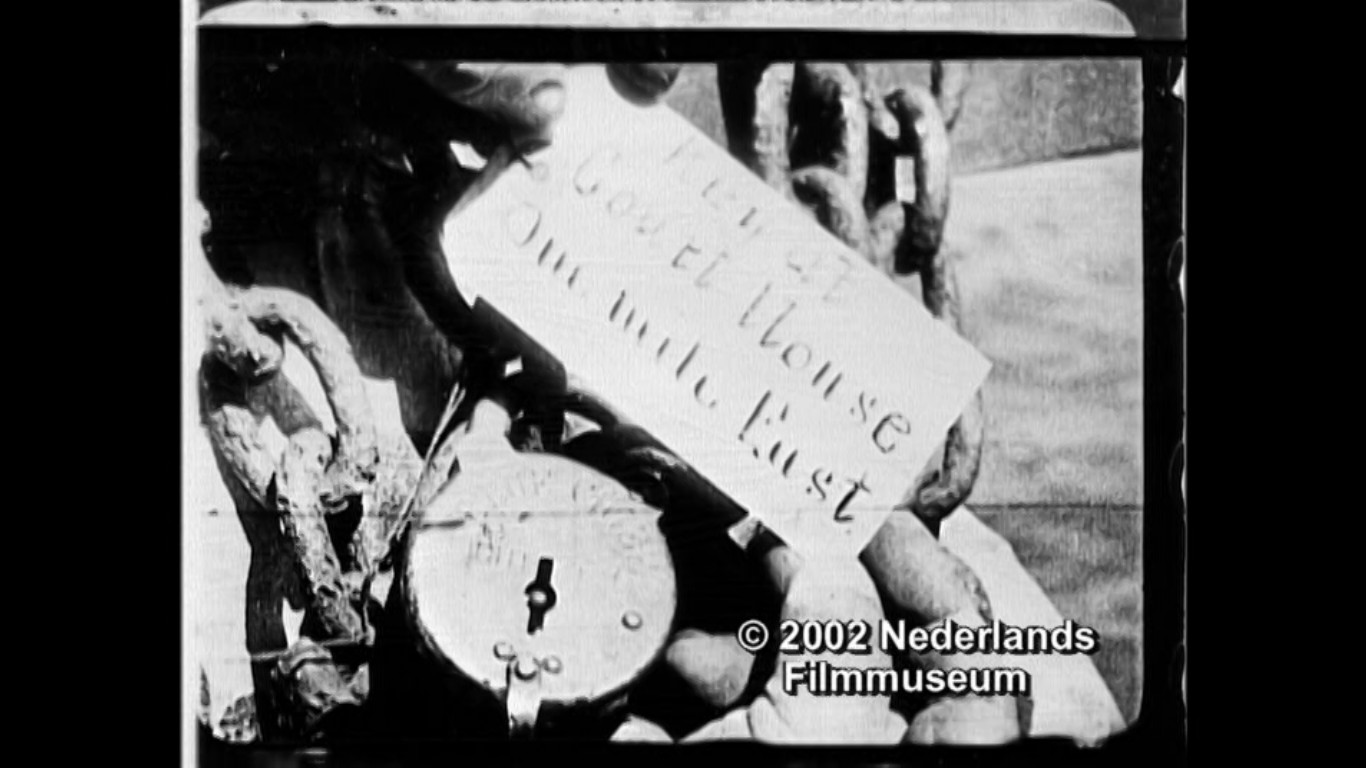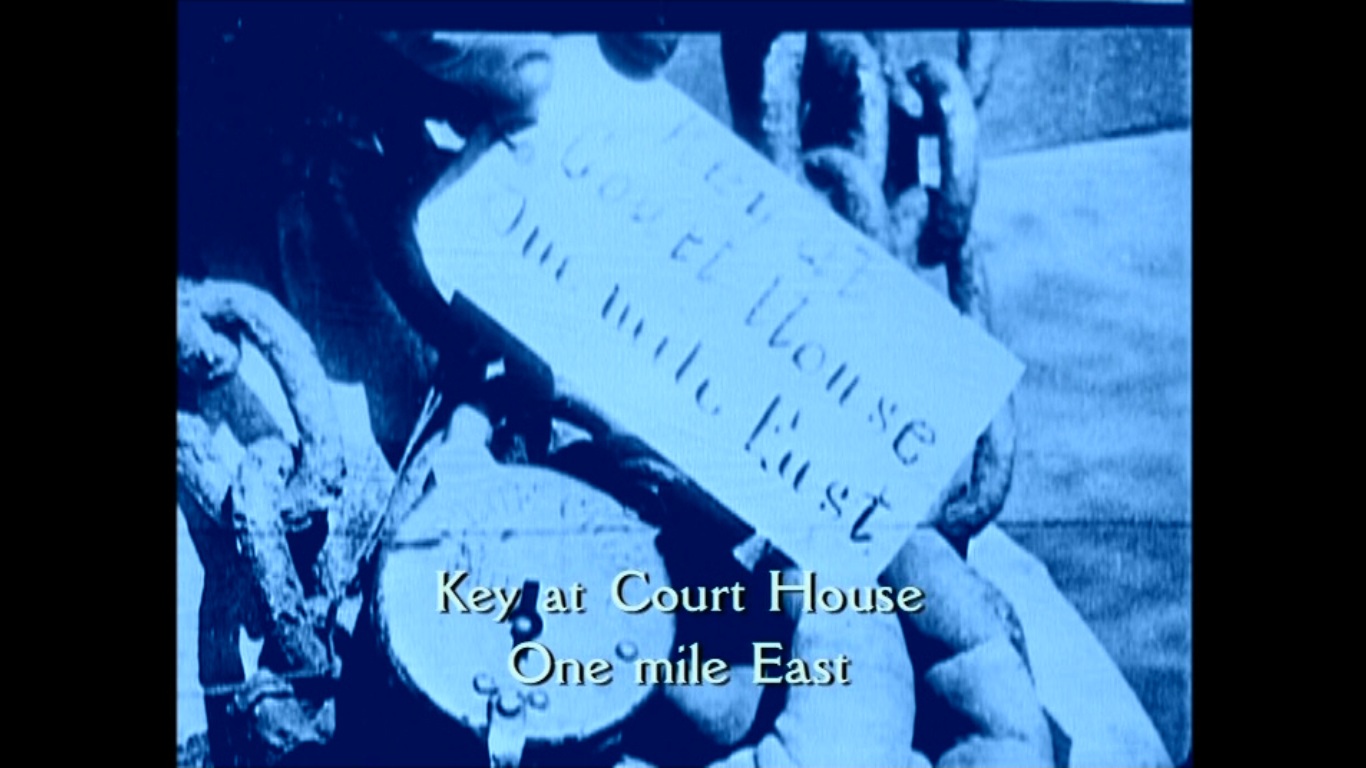 Okay. Yes. I know how it is. Editing a video of a movie that survives only in scattered fragments is monumentally confusing, and it's really easy to make mistakes like this. I shouldn't say it's easy. It's inevitable! Would I do any better? No, I wouldn't. My argument is simply that nine heads are better than eight. Let us just hope that when these movies are issued on Blu-Ray — if they are issued on Blu-Ray — they'll be repaired.
THE GARAGE : Jack Dragga informs me that "the print of The Garage that is on the Kino VHS tape has more footage than what was used in the Kino DVD set. At least I'm pretty sure."
For your reference only:
Title
Rel Date
Kino
Arte
Image
The Butcher Boy
12 Apr 1917
Disc 1 title 2
Disc 1 title 1
Disc 1 title 1
The Rough House
25 Jun 1917
Disc 2 title 4
Disc 1 title 2
Disc 1 title 2
His Wedding Night
20 Aug 1917
Disc 1 title 3
Disc 1 title 3
Oh, Doctor!
30 Sep 1917
Disc 1 title 4
Disc 1 title 4
Coney Island
29 Oct 1917
Disc 2 title 3
Disc 1 title 5
Disc 1 title 5
A Country Hero
10 Dec 1917
If you can find this movie, please contact me. Thanks!
Out West
20 Jan 1918
Disc 1 title 3
Disc 1 title 6
Disc 1 title 6
The Bell Boy
18 Mar 1918
Disc 1 title 1
Disc 1 title 7
Disc 1 title 7
Moonshine
13 May 1918
Disc 1 title 4
Disc 1 title 8
Disc 1 title 8
Good Night, Nurse!
8 Jul 1918
Disc 2 title 2
Disc 1 title 9
Disc 2 title 1
The Cook
15 Sep 1918
Disc 1 title 10
Back Stage
7 Sep 1919
Disc 2 title 1
Disc 2 title 1
Disc 2 title 2
The Hayseed
26 Oct 1919
Disc 1 title 5
Disc 2 title 2
Disc 2 title 3
The Garage
11 Jan 1920
Disc 2 title 5
Disc 2 title 3
Disc 2 title 4
---
Buster's Comique Short Subjects
Released through Metro
Ditto above. Must add, though, that THE HIGH SIGN is usually now seen in its preview form. Its release version contained different/more footage, which is seldom seen and which is not on video. Here's what Buster said to Paul Gallico of Esquire in 1954, as quoted by Rudi Blesh in Keaton (New York: Macmillan, 1966), pp 141–142:
...So we do a simple scene; there's a street with a corner and a guy goes by eating a banana and drops the banana peel. Then I come on the other way, turn the corner and walk into the camera. Everyone knows that I'm going to slip on the banana peel — only I don't. I walk right over the peel and and give the high sign into the camera. Okay, so we preview the picture. The scene doesn't get a titter. Not a titter and nobody can figure out why. Finally I get the idea and we go back and shoot the scene over again. We do it exactly the same, only this time, after I walk over the banana peel and into the camera, giving the high sign, the camera follows me and I slip on another banana peel that I haven't seen and down I go. Yaks. The audience wants his comic to be human, not clever.
Now, Oliver Scott told me that he saw all that. And here speaks Ed Watz:
Oliver Scott is absolutely correct about the follow-up gag in The High Sign. I also saw it. It was a long shot of Buster continuing to walk down the street when he falls on the second banana peel. This shot was in The High Sign prints when Rohauer ran his first NYC Keaton festival. I saw it at this NYC showing at the Elgin Cinema in October 1970.
CONVICT 13 : David Robinson had something interesting to say in Buster Keaton (Bloomington and London: University of Indiana Press, 1969), p 45:
The visual quality of this is extraordinary, particularly when it is found in original amber-tinted copies. The hard contrasts of the black-and-white convict stripes have a physically disturbing effect of dazzlement.
THE HAUNTED HOUSE : Jack Dragga had an interesting comment: "Kino's Haunted House is missing some stuff that exists in a French print that has circulated. Notably when Buster is being chased and someone takes a shot at him with the shotgun. In Kino's print there is a jump cut so you only see the end of Buster's reaction to the blast. The French print shows Buster run down the road, stop and turn to see who is chasing him. The guy with the shotgun enters the frame and fires the gun. Buster's legs go bowed to let the buckshot go through and then he continues to run." Hmmm. That's intriguing. So let's look at both the Kino edition as well as the French Arte edition. Here are the first few frames of this brief shot as it appears on the two videos. In both, the sequence opens abruptly, and we can see the cement splice made by a projectionist. So I'm sure Jack is right about something missing. And when we make this comparison, we notice other things too.
Kino "Art of Buster Keaton"
Arte Vidéo
"Buster Keaton:
L'integrale des Courts Métrages"
HARD LUCK, long thought lost, is popping up here and there, in fragments, and the Kevin Brownlows and Bruce Lawtons and Serge Brombergs and David Shepards of the world are piecing it back together, little by little. I don't think anyone has yet found the opening scene of the movie, though, the scene where Buster gets fired from the zoo. There have been a few video releases, no two alike. But the ending is strange. I can't find Buster's quote right now, but basically he said that he jumped off the high dive and went through the false wax floor in the pool's patio, only cutting himself a little bit in the process. Just look at the set-up and imagine performing that stunt yourself. You wouldn't do it. Climb up that high-dive and look down at a concrete patio and dive into it. It doesn't matter that you know there's a false wax surface in the middle of it. It looks too dangerous. You wouldn't do it, would you?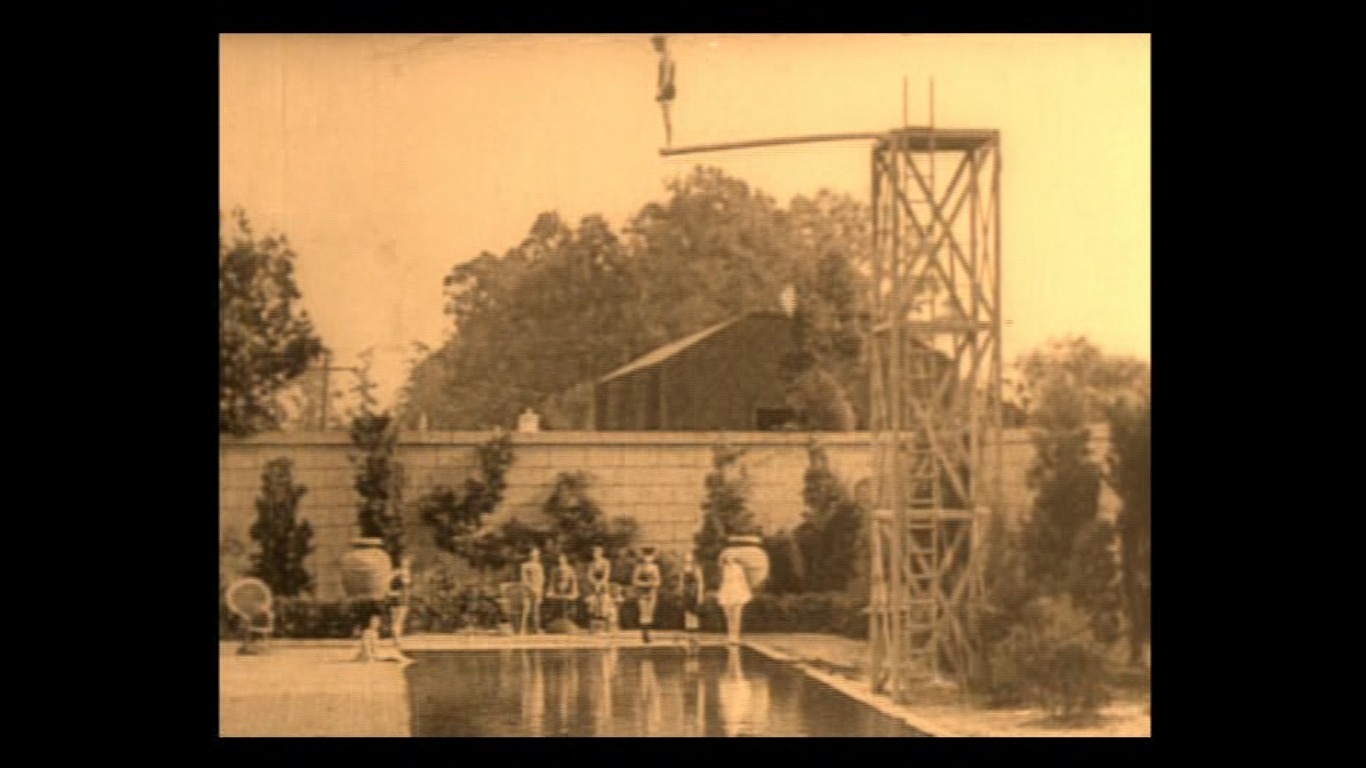 Ready.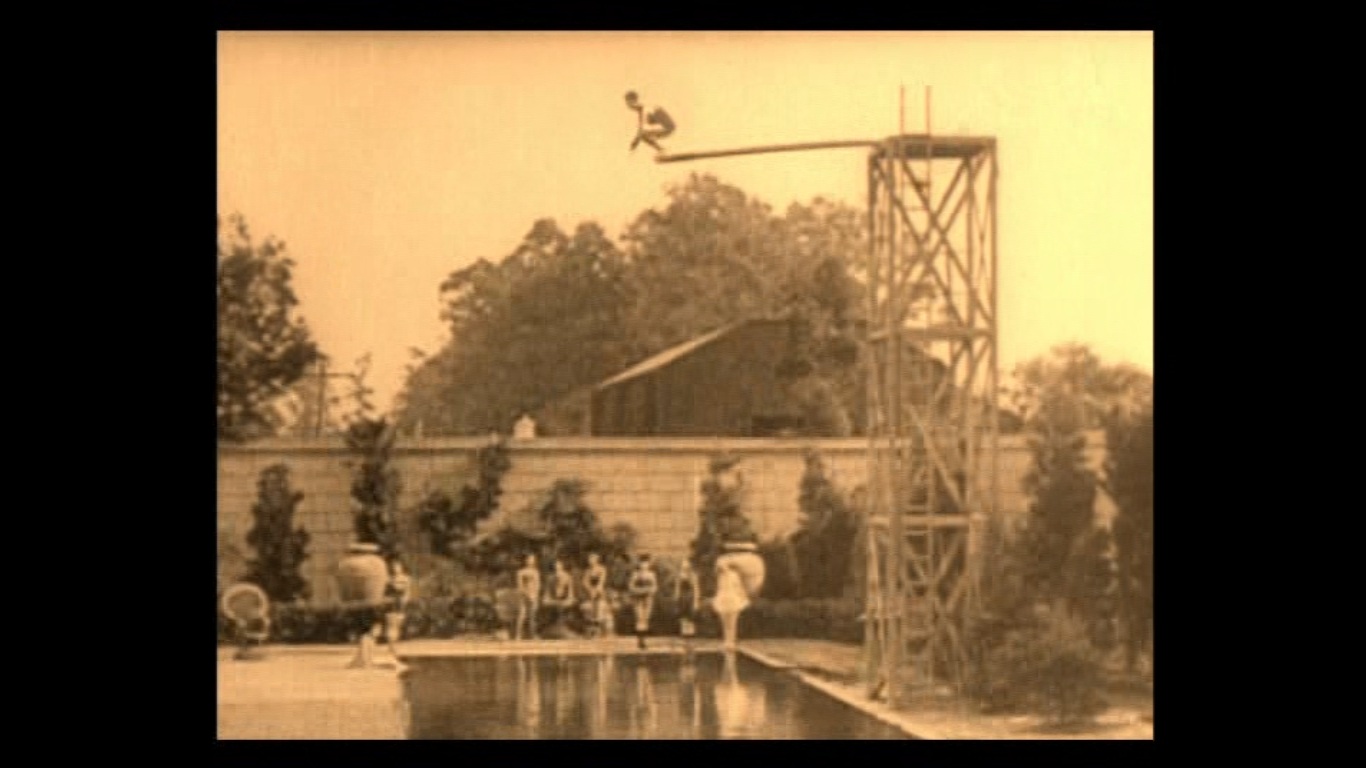 Set.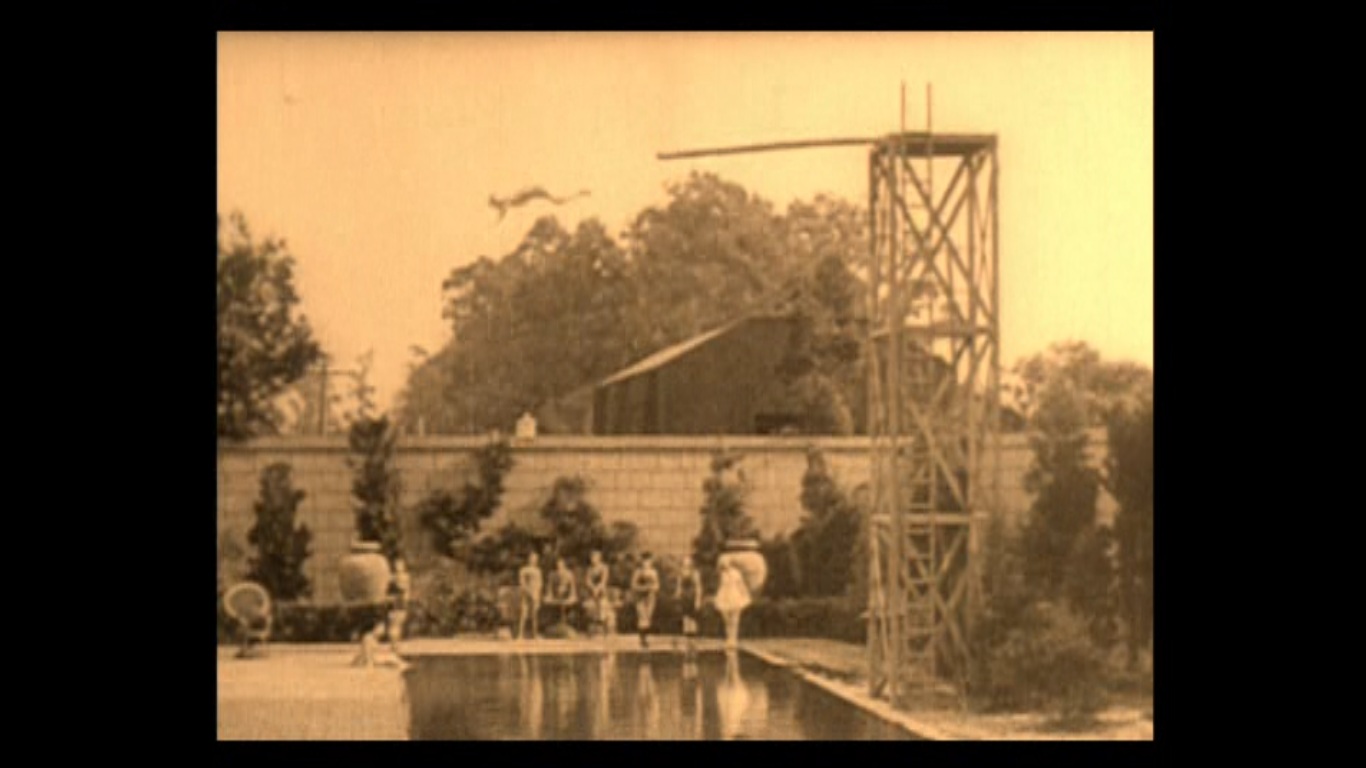 Switch to cartoon.
Now, when you watch the movie on DVD, if your copy has this scene, you'll see something entirely different. Buster does not dive at all. There is a cut to a blurry grey animation to give us the illusion that Buster jumped. Zo, what's the story? Was Buster lying to us? No, I don't think so. In the Metro and First National days, Buster used only one camera, and to create the negative for the European prints, he had to do two perfect takes of each shot. Can you just imagine? After Buster nearly kills himself doing this stunt, he is shaking and trembling, and his coworkers have to calm him down with a brandy and he has to sit down for half an hour to recuperate. And then his cameraman Elgin Lessley says, "Okay Buster, now let's do that again for the European version." How do you think Buster would respond? So that's why they did the cartoon. Can anyone find the American footage for that scene?
| | | | |
| --- | --- | --- | --- |
| Title | Rel Date | Kino Art of BK | Arte |
| The High Sign | 12 Apr 1921 (delayed) | Disc 1 title 2 | Disc 3 title 3 |
| One Week | 1 Sep 1920 | Disc 1 title 3 | Disc 2 title 4 |
| Convict 13 | 27 Oct 1920 | Disc 10 title 2 | Disc 2 title 5 |
| The Scarecrow | 22 Dec 1920 | Disc 6 title 2 | Disc 2 title 6 |
| Neighbors | 3 Jan 1921 | Disc 5 title 2 | Disc 2 title 7 |
| The Haunted House | 10 Feb 1921 | Disc 7 title 2 | Disc 3 title 1 |
| Hard Luck | 16 Mar 1921 | Disc 9 title 3 | Disc 3 title 2 |
| The Goat | 18 May 1921 | Disc 2 title 2 | Disc 3 title 4 |
---
Buster's Comique Short Subjects
Released through First National
THE PLAYHOUSE : Jack Dragga again: "The Playhouse from Kino is missing a close-up shot of a rifle bending as the Zouave Guards try to raise Big Joe Roberts over the wall. Also the monkey sequence has some shots out of order. I personally fixed the monkey scene for Rohauer on one of his prints but obviously that wasn't the print used by Kino. The most complete and correct print of The Playhouse is Bruce Lawton's version that was released on 'Industrial Strength Keaton.' I also corrected the monkey sequence for him."
When it comes to DAY DREAMS, if only someone would stitch together the different video releases, we'd have almost the whole movie. Busterholics, and even restorationists, who claim that much footage is missing would be surprised to check the Kino and Arte DVD versions against one another. There's only one shot missing, as far as I can discern. Jack Dragga, who knows much more than I do, is apparently is disagreement. He might be right: "Day Dreams obviously is truncated but what is currently missing other than the known dream sequences is open to conjecture and theory."
THE BLACKSMITH : You just must contrast the American print with the reconstruction issued by Serge Bromberg. Serge's print is a composite of several sources, and some parts are radically different. Radically different. You always thought the American print was complete, didn't you? Well, it isn't, as you'll discover when you watch the European print, which has more material but which is obviously fragmentary and incomplete.
Jack Dragga knows even more: "Glenn Photo Supply used to sell a Super 8 print that had some really poor-quality segments that were reinserted into a good-quality print. One shot showed Big Joe escaping from the sheriff by biting through his handcuffs and then there was a choppy sequence where Joe comes back to the shop and it's not real clear what happens but Buster escapes on the back of a lumber truck. Putting these shots back in made the print seem even more incomplete and the quality was such that it made me think they were picked up off the cutting-room floor."
NOTE ADDED 28 MARCH 2015: Well, as we all know, there's been much news about this movie over these past few years. Serge went through his collection and found an original release print, which differs radically from the version we all grew up with, because the version we all grew up with was the preview version, which is all that was found in Buster"s shed all those years later. When the preview version flopped, Buster went back to the old drawing board and reconcocted much of the story. I haven"t yet seen this new restoration.
THE FROZEN NORTH : Let's take a look at Rudi Blesh's book on Keaton (New York: Macmillan, 1966), p 206:
"I didn't name Hart," Buster says, "but I was Two-Gun Bill all the way through. He didn't speak to me for a year."... Bill Hart had cleaned up the rowdy, roistering frontier and made it fit for women and children.... And, of course, he never stole, so he could hardly have enjoyed Buster's holdup of the Klondike saloon. Not only did he heist the illegitimate mazuma, but, in addition, at his command "Hands up!" all hands obeyed, even those shyly concealing ones of the famous bare-skinned calendar beauty September Morn, who hung framed behind the bar. Buster had this choice bit of pop art specially copied from the Chabas painting but with mobile arms. "I know Hart didn't like it a bit," says Buster, "but a lot of people had been waiting for it to happen."
You don't remember that in the movie, do you? Apparently some censor chopped it out. So let's examine this. Here is Paul Émile Chabas's "September Morn," first presented in 1912: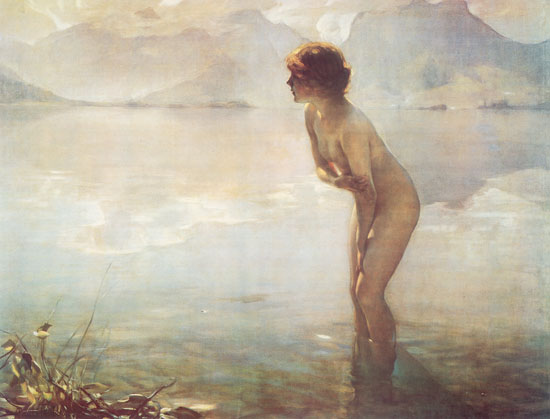 US politicians, especially Anthony Comstock, went apoplectic over this painting's existence. Hollywood movies could get away with things sometimes. Off-hand I can think of Lois Weber's movie from 1915 called Hypocrites featuring Margaret Edwards as "The Naked Truth." There were also the soldiers showering in The Big Parade from 1925 (deleted from the 1930 reissue) and Helen Carruthers continually losing her top in Chaplin's His Prehistoric Past from 1914 (though this is in extreme longshot and almost unnoticeable). Buster himself appeared nude in The Cameraman in 1928. I've seen plenty more, too, but I just can't remember what and where at the moment. For the most part, though, movies had to be fit for grandmothers and their young grandchildren. I'm sure that's why this moment of the movie vanished. But let's take a look at what remains: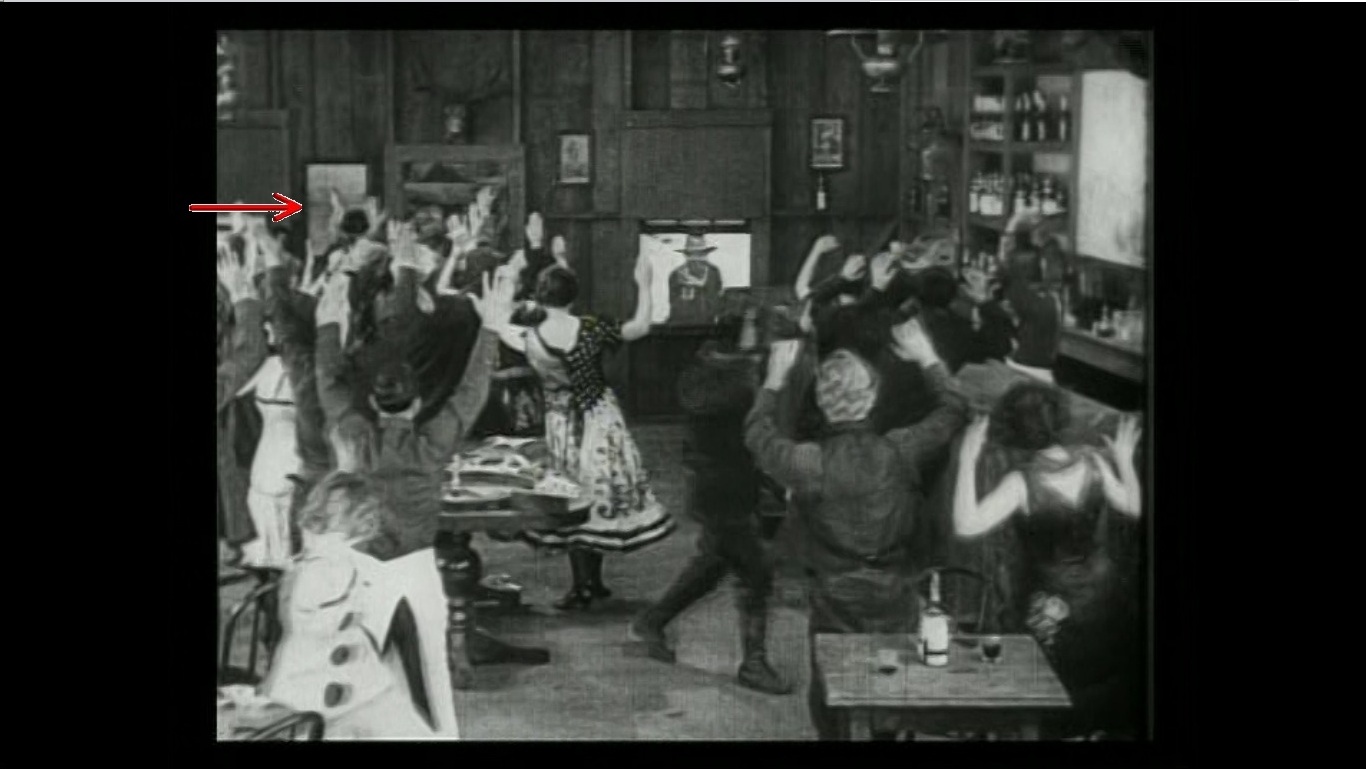 It looks to me like she hasn't yet raised her hands. The next bit must have been Buster saying "I said everybody!" and then a close-up of the painting taking heed. I always feel grateful that the censors are protecting us.
Let's ask Jack Dragga again: "Of Buster's shorts I have always felt that this one needs to be restored if another print could be found. Rohauer felt it was complete so stopped actively searching for new material. A friend of mine found a review that suggested that the film started with the poem 'The Shooting of Dan McGrew' much like The Blacksmith."
| | | | |
| --- | --- | --- | --- |
| Title | Rel Date | Kino Art of BK | Arte |
| The Playhouse | 6 Oct 1921 | Disc 8 title 2 | Disc 3 title 5 |
| The Boat | Nov 1921 | Disc 4 title 2 | Disc 3 title 6 |
| The Paleface | Jan 1922 | Disc 6 title 3 | Disc 3 title 7 |
| Cops | Mar 1922 | Disc 8 title 3 | Disc 4 title 1 |
| My Wife's Relations | May 1922 | Disc 2 title 3 | Disc 4 title 2 |
| The Blacksmith | 21 Jul 1922 | Disc 9 title 4 | Disc 4 title 3 |
| The Frozen North | Aug 1922 | Disc 7 title 3 | Disc 4 title 4 |
| Day Dreams | Sep 1922 | Disc 10 title 3 | Disc 4 title 5 |
| The Electric House | Oct 1922 | Disc 9 title 2 | Disc 4 title 6 |
| The Balloonatic | 22 Jan 1923 | Disc 5 title 3 | Disc 4 title 7 |
| The Love Nest | Mar 1923 | Disc 4 title 3 | Dist 4 title 8 |
---
Three Ages
David Shepard did a really good job in piecing the fragments together for the Kino video release. He worked with at least two different source materials. One was a full-frame copy of an original release print, and the other was a Raymond Rohauer sound reissue, apparently with some cropping. David used the Rohauer reissue to fill in a missing title ("Let's go back to the church!"). But then in 2004 or 2005 or thereabouts I saw a full-frame print at UCLA, which was complete, with all original titles, and with no cropping. I asked the projectionist to give me the print number, which he did, but maddeningly I lost it. Anyway, it was from the Rohauer Collection/Douris Corporation, and so better material does exist. Really. Incidentally, when Buster switched to features, he was under contract to deliver a series of three 5-reelers. When we browse through the old issues of Variety we discover that in its first run, Three Ages was five reels. It was not until a few months later that it was six reels. Were the five reels simply overcrammed? Or was the five-reel edition an abridgment? I don't have a clue. All that seems to survive now is the six-reel edition. NOTE ADDED 27 MARCH 2015: The complete full-frame print made it to the Blu-ray. Hooray!
Let's turn to Jack Dragga again: "Kino print also has shot of Wallace Berry's mug shot that for some reason is a negative image instead of a positive one. That should be fixed. As far as I know only two prints of this film were ever found. One was the one that Buster had in his garage and the other that was found in Japan I believe." It was fixed for the Blu-ray.
---
Our Hospitality
We all know and love this movie and we treasure the Brownlow/Gill presentation with Carl Davis's beautiful score. The Kino presentation is also good, but it comes from a different source, which is better in some ways and worse in some ways. But now let's read what Eleanor had to say about this movie:
The first time I ever saw it was in the Museum of Modern Art in New York, and they had — they may still have, I don't know — a sepia-tone print; instead of black and white it was brown and white, and it looked like old Courier and Ives prints, early American photographers. It was a beautiful film to look at. I've never seen another sepia print. [Oliver Scott, Buster Keaton: The Little Iron Man, p 169]
What's more, somewhere (and no, I cannot remember where) I learned that the original German release, which is still extant, is longer and has more scenes. Who wants to hunt for it? (Jack Dragga's response: "Not familiar with anything you stated.")
The Blu-ray contains an interesting supplement. Among the holdings in Buster's shed was a five-reel print under his original proposed title, Hospitality. That print turned to dust, but just before it disintegrated, somebody made a very poor 16mm dupe. Most fascinating. It was a trial version, and it includes a few frames here and there deleted from the release edition. Apparently what happened was that Buster had made the movie too long. His contract called for five reels, and his rough cut was seven reels. Somebody at the studio made a cheap copy of the rough cut and attempted to chop it down. The result was entirely laughless, and Buster was permitted to continue polishing his rough cut on his own. It was the seven-reel version that was released to cinemas, and the five-reel edition was abandoned. Surely exhibitors received a letter of apology for this breach of protocol, but I'm sure nobody was upset, because the movie made a mint.
---
Sherlock, Jr.
The video is missing an important shot in the billiard scene, when a ball starts off in a straight line, then suddenly switches direction and goes around the 13 ball, and then returns to its original straight trajectory. How Buster did that, I don't know, but he did it — without using a trick table. You won't see it on the videos issued so far, though it should be included in the upcoming Blu-Ray release from Kino. I have seen this movie more times than I can count, in 35mm and 16mm, at universities and repertory cinemas and art galleries and movie palaces and all over the place, and I can't remember which presentations included that shot and which didn't. What I do know is that every print I have seen came from the Rohauer Collection; so some Rohauer prints contain that shot and other Rohauer prints don't. Yet they all contain the same canned music. No, I don't understand how/why/when. But this I do remember for a certainty: When I saw it at Jackman Hall at the Art Gallery of Ontario in Toronto on Saturday, 6 May 1995, that shot was there. Definitely. So if someone wants to trace down which print showed at the AGO in 1995, we could trace down this supposedly missing footage.
Also, I don't know why, but parts of the video version have the left and right sides lopped off, resulting in an image that's much too narrow. I'm totally flummoxed. I really don't understand the reason for this at all, because in every print I've seen the entire width is there. Here are two random screen captures, so that you can spot the difference in size and proportion: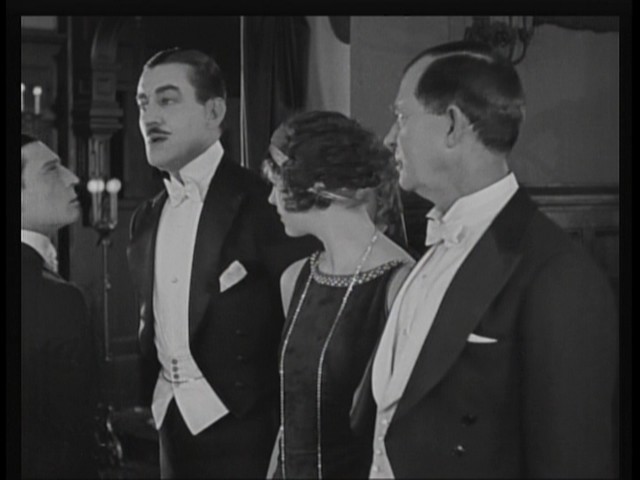 Now, the Blu-ray includes the missing billiard shot, pulled from an inferior 16mm print from a private collector. It also includes a lengthier shot of the auditorium, also from that same 16mm print. When we check the Blu-ray against the DVD, we learn more. Yes, Buster did mask off the left and right sides in some shots, and for the 35mm sound reissues, those shots were enlarged so that the entire frame would be filled. Of course, that meant that the top and bottom were missing. So the DVD shows more height in some shots, and the Blu-ray shows more width in some shots. Both are cropped. Bizarre.
That's not all, though. Here's what Daniel Moews said about the movie (pp 327–328):
In a 35mm print of Sherlock Junior released by Raymond Rohauer during the summer of 1975, some editing had been done. I assume also that the editing was relatively recent, since the 16mm prints distributed by Audio-Brandon, which I have seen in the past, differ. The changes were minor, evidently carried out in an effort to modernize the film, to give it a slicker surface and a more uninterrupted visual flow. My impression as I watched was that up to five titles may have been removed (all those that were not absolutely necessary to an understanding of what is happening), and also that the rather primitive original editing of the film, with its casual jump cuts and raggedly joined pieces of action, had been touched up. The one point where memory and notes are detailed enough to allow me to speak with certainty is near the end of the final chase.
The criminals having been disposed of with a grenade, Sherlock Junior and the girl continue to race along in their car. Then she says, in a title, "Oh, we forgot Gillette. Shouldn't we go back for him?" In the Audio-Brandon print, there follows some awkwardly edited action. In the shot immediately after the title, Sherlock continues to drive. There is a cut to a new shot as he approaches a curve and slams on his brakes. The awkwardness is caused by a visual ambiguity in the action, an uncertainty whether his slamming on the brakes is a response to the girl's question and signals an intention to turn around, or whether he has ignored her and is simply responding to the curve. Since the car chassis detaches and flies over the curve and into the water, the uncertainty is quickly obliterated in laughter. In the 35mm print, however, it is removed altogether. The title is gone and perhaps a few frames of action, so that now Sherlock drives uninterruptedly from the moment of the grenade throwing to the moment of slamming on the brakes. After the car is in the water, one further title is also removed. Sherlock's assurance to the girl, "Don't be afraid. I'm an experienced sailor." With this additional title deletion, the entire conclusion of the dream chase, from the moment when Sherlock enters the villains' cabin to its waking end, now proceeds without titles, a pure flowing action sequence.
My opinion about such editing as this is mixed. Since it may have been recently done, after Keaton's death, it could be considered a violation of the integrity of his work. But then, it also seems reasonable. The cuts were minimal, discreet, and sensibly managed; the awkward action described might have resulted from damage to whatever surviving print lies behind present ones rather than from original intention; and with the titles removed, the film does have a more modern and therefore more accessible look to it, even a more Keatonesque look (critics, including this one, have perhaps too often applauded Keaton's ability to construct long action sequences that need and use no titles). The editing could also be compared to the handling of an early book in which dated spelling and punctuation (and also occasional misprints) are apt to be silently changed by modern editors to conform to present usage. And if such changes help preserve the film as a viable one, one that is more likely to be accepted, watched, and enjoyed by present-day audiences, they are to be encouraged. But then again, part of the charm of Sherlock Junior, it seems to me, is its deliberately casual, deliberately primitive look. To re-edit out all the rough spots is to destroy this level of the film's effectiveness. There is also the fact that the missing titles contain a pleasant laugh, so that to remove them is to make the film less funny than it once was.
Relying only on memory, and without the hours and hours of leisure time necessary to delve through all my boxed-up sources, all I can say is that somewhere I read that the version Moews described ran eight minutes longer than the current version(s). I cannot vouch for the accuracy of that claim. We do know something from the numerous production stills of scenes that are nowhere in the movie: Buster's original rough cut was longer than five reels! But this time he kept to his contract. When the movie was cut down to five reels, it still had laffs galore. No prob.
Jack Dragga has something to say about all this:
That pool shot is supposed to be in the new Blu-Ray according to the documentary about the movie that will be on the disc. (They previewed it in Muskegon last month.) As for the Moew's statements, I've always been perplexed by them as every print I have ever seen did not have these titles. If anything, I would say the titles he talks about were more likely added by Rohauer rather than removed by him. Rohauer's penchant for creating titles in order for him to copyright something as a new work usually were not very well thought out and flattened the comedy rather than enhanced it.
There is a section where footage is missing but it also has been this way in every print I've ever seen so it might have been something cut to move the story along. In the scene where they search everybody's pockets and they go into Buster's pocket and pull out the pawn ticket. If you look at the Handyman's hands at this point you see that he is holding a handful of stuff (suckers, string, etc.) but we never see where it came from. Obviously, there was an extended sequence of all this stuff coming out of Buster's pockets.
---
The Navigator
We all know what Buster said in " 'Anything Can Happen — and Generally Did,' Buster Keaton on His Silent-Film Career," Image 17 no 4, pp 19–29, esp p 27:
...I had a beautiful gag in The Navigator. I'm tryin' to fix the stuffin' box of that ocean liner, and here's a school of fish goin' past and there was a big jewfish tryin' to get through the school of fish, and he couldn't make it. So I reached down there and pulled a starfish off of a rock, and let it grab my breastplate and I stepped in the middle of the school of fish and brought 'em to a stop and then turned like a traffic cop and brought the big fish through. And when he went through, then I turned and brought the traffic on its way again. And the gag folded right up [went smoothly] like a million bucks. It was perfect. And it was a son-of-a-gun to do. It took us three days to get the gag. We had somethin' like 1200 rubber fish, all around 10 inches long, and they had to be solid rubber so they wouldn't float and hang 'em all with violin string, catgut. And a piece of apparatus built by the Lewellyn Iron Company, and sink four telegraph poles under water up there to operate this apparatus overhead, to control the school of fish. But the gag photographed perfect. And we previewed this picture, and not one giggle did it get. We didn't trust that preview. Says, "We'll keep it in for a second [preview]. Somethin's wrong." We kept it in for a second. And the same thing. It finally dawned on us — I had gone down there to fix that stuffing box. The girl and I both are at the mercy of cannibals off of a cannibal island. I had no license in the world to go help a fish go through a school of fish. I quit what I went down to do.
...[People were worried about the situation.] And also get mad at me for doin' it. Anything else could happen to me. That was all right. Like a lobster gettin' on my pants. And I used his claws for a clipper, for a pair of pliers. A swordfish tryin' to interfere with me. That was all right. Now, to prove the gag, I put the gag in our "Coming Attraction" runner. We used to call 'em runners. The theater would say: "Coming Next Week." And they'd just show you flashes of a picture that was goin' to come. I put that gag in it, and it was an out-and-out belly laugh. [That's because it was out of context.] No story....
But at a Busterfest in Muskegon back in I think October 2000, I heard ex-projectionist Wendy Warwick White describe that scene with some more details than Buster did. She had shown the movie at a university in London, and that sequence was most assuredly there. You think she's lying? Well, here's what Oliver Scott and Eleanor Keaton said in The Little Iron Man p 194:
OLIVER SCOTT: But I've never seen the trailer, yet I remember seeing that scene in the print I saw in England; it was one of the first things that impressed me.
ELEANOR KEATON: Maybe in the European version they kept it.
Jack Dragga responded: "Never heard of this scene being in existence but I thought Billy Bevan did this gag in one of his films. Perhaps A Sea Dog's Tale but don't have a copy of it to check it out."
And there's more too. Here's what David Robinson wrote in Buster Keaton (Bloomington and London: University of Indiana Press, 1969, p 195:
| | | |
| --- | --- | --- |
| | (originally tinted) | |
---
Steamboat Bill, Jr.
This is the one that bothers me the most. Apparently I've lost my mind. The magnificent movie I distinctly, clearly, vividly remember is not the mediocre movie we now have. But the movie I distinctly, clearly, vividly remember exists only in my disordered imagination.
I first saw it back in the late 1970s on Albuquerque television, probably on the PBS outlet, KNME-TV 5, and if memory serves it was a bit of local programming from a 16mm print, and not a feed from PBS. I loved it. I adored it. And then I didn't see it again until the Buster centennial in 1995 when Kino on Video released the bulk of Buster's independent works on laserdisc and VHS.
So I saw it again. And I didn't like it at all. One difference was this charming little scene, which I remembered so clearly. William Canfield Jr has just arrived in town to see his father. They continually miss each other, and Senior (Ernest Torrence) is horrified, mortified, finally to discover his son, badly dressed as a college dandy, with a silly mustache, a pathetic beret, and a ukulele. Junior performs a song and dance to calm a crying baby in a carriage. Senior watches the song and dance in utter disbelief.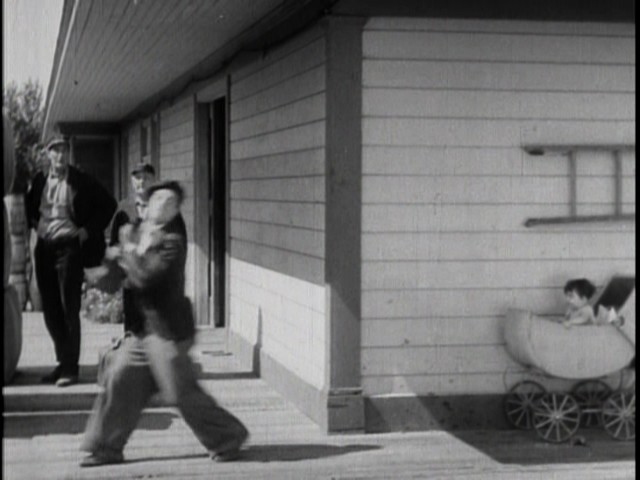 My memory, which is only a memory, and which like all memories cannot be relied upon definitively, is that there was a reverse shot, showing the song and dance from Senior's point of view. When I first saw the movie, I thought that was one of the funniest things I had ever seen. If it was ever there, well, it's gone now. I mentioned this to a few fellow Busterholics, and each went silent for a few moments, trying to conjure up a stunned memory, and then said, "I think you're right!
Also, when I saw the movie again in 1995, I was dumbfounded by a truly pathetic stunt. During a cyclone, Junior grabs onto an unconvincing prop tree for safety, but the soft breeze uproots the prop and drops both tree and Junior into the calm river.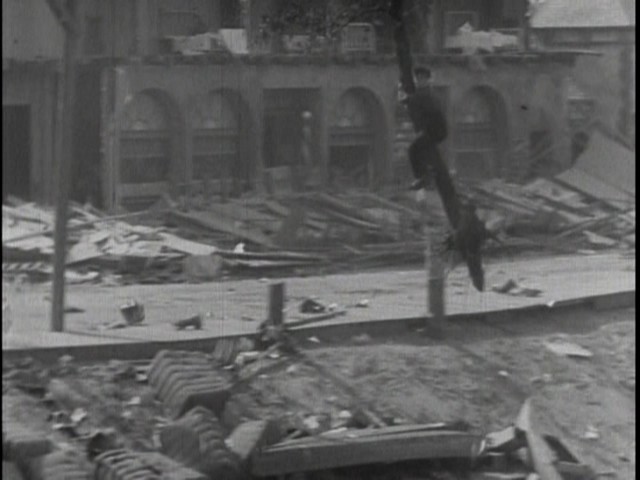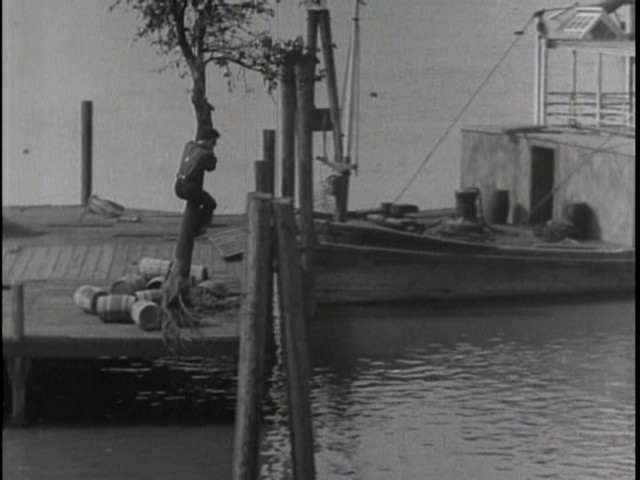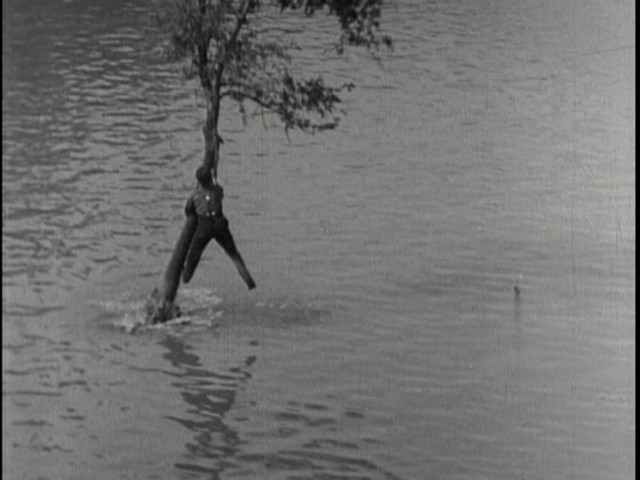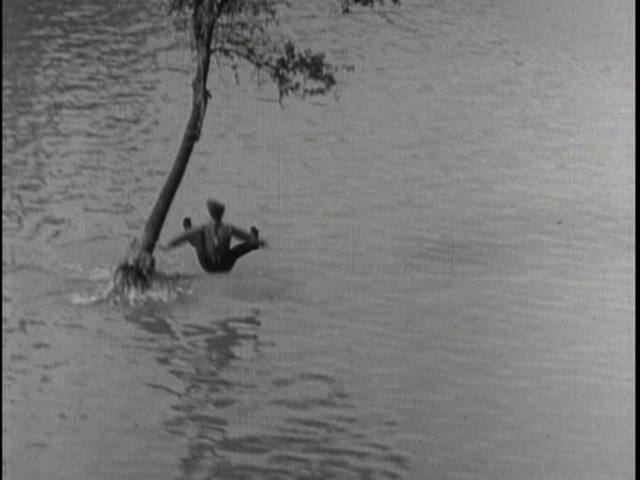 Yes, I remembered the sequence, but that's not how I remembered it. What I saw in 1995 was awful. Clearly the tree was a prop dangling from a crane. This doesn't even look like a poor take; it looks like test footage made in preparation for the actual stunt. My memory, though, was that when I had seen the movie in the 1970s, I was startled by its realism. But there was nothing at all realistic about what I saw in 1995.
Was my mind really going? Or had I in fact seen two different editions of the movie?
Back in October 2002 I attended the annual Buster Keaton Festival in Muskegon, Michigan, and David Macleod, avid Busterphile from London, gave a lecture entitled "Have You Ever Noticed...?" Among the interesting clips he presented was the above moment from the cyclone scene. He showed us a snippet from the Kino DVD, which he called "the Rohauer version" (as it was licensed from the Rohauer Collection), which shows a prop tree dangling sadly from a crane. Then he showed us the correlative snippet from a French VHS, which he called "the Killiam version." A ha!!!!! That was it!!!!! So my memory was NOT playing tricks on me after all!!!!! That French DVD showed a frighteningly, terrifyingly realistic version of that same scene. In a fiercely raging wind, the very convincing tree uproots Buster and smashes him into the turbulent river. It was only a fraction the length of the usual version seen nowadays, and it will scare you half to death. Unforgettable. Absolutely unforgettable. It is that brief scene, more than the famous falling-house scene, that really made the movie stand out.
The only problem, of course, is that I was undoubtedly hallucinating.
So I set out on a hunt and purchased every video of Steamboat Bill Jr that I could find, taking especial care to locate editions from the Killiam Collection. The hunt ended in utter defeat. The Killiam version seemed to be identical to the Rohauer version in every way, and that beautifully frightening cyclone scene was neither beautiful nor frightening, but laughable — in a bad way.
My hopes were raised when Kino announced a new Blu-Ray with TWO versions of this movie:
So I purchased it and was the same as it had always been. But nobody who saw David's presentation remembered what I had remembered. Finally I called my friend Molly, who was sitting by my side during David's presentation. I asked what she remembered, and she said that she remembered the differences were only slight and subtle, interesting as a curiosity, something she had indeed never noticed before. So that settles it. I saw something that never happened. End of story.
That doesn't mean we should stop looking, though. Never stop searching. There's a surprise around every 143rd corner.
---
More to come later... after I get more-pressing things out of the way
Oh, and there's also the blasted issue of the Part Titles, deleted from all the video versions. Almost nobody still breathing knows exactly what those Part Titles were originally used for. That's because almost nobody still breathing has ever run silent movies on vintage equipment. But I have. And unless you've done that, you won't know why those Part Titles are there. But they're there for a reason and they should not be edited out. And as for the vexing issue of the proper speeds, I promise to murder the next person who says that in the silent days speed was controlled on projectors via rheostats. And if you crank by hand, which was common in the 1910s and earlier, you're not going to crank at 90'/min or anywhere close to that. If you're as strong as Zeus, maybe you can do that for a reel (and make the projector wobble violently), but you'd give out quickly after that. If you're not as strong as Zeus, you'd give out after three seconds. I guess I'll have to write about that too. Oh heavens....
---
Write to me, write to me, write to me if you know more and if you know the whereabouts of any footage not included in the DVD edtions. Thanks zo much!