---
NOTE: Google Chrome does not like this page. Please open this page with Internet Explorer or Firefox.
---
The Mystery of
STEAMBOAT BILL JR
This is one of those movies I simply don't understand at all. I first saw it back in the mid- or late 1970s on Albuquerque television, probably on the PBS outlet, KNME-TV 5, and if memory serves it was a bit of local programming from a 16mm print, and not a feed from PBS. I loved it. I adored it. And then I didn't see it again until the Buster centennial in 1995 when Kino on Video released the bulk of Buster's independent works on laserdisc and VHS.

Released on laserdisc and VHS in 1995, and on DVD a few years later
So I saw it again. And I didn't like it at all. It wasn't the movie that I remembered seeing twenty or so years earlier. Was my memory going, or had something happened? One difference was this charming little scene, which I remembered so clearly. William Canfield Jr has just arrived in town to see his father. They continually miss each other, and Senior (Ernest Torrence) is horrified, mortified, finally to discover his son, badly dressed as a college dandy, with a silly mustache, a pathetic beret, and a ukulele. Junior performs a song and dance to calm a crying baby in a carriage. Senior watches the song and dance in utter disbelief.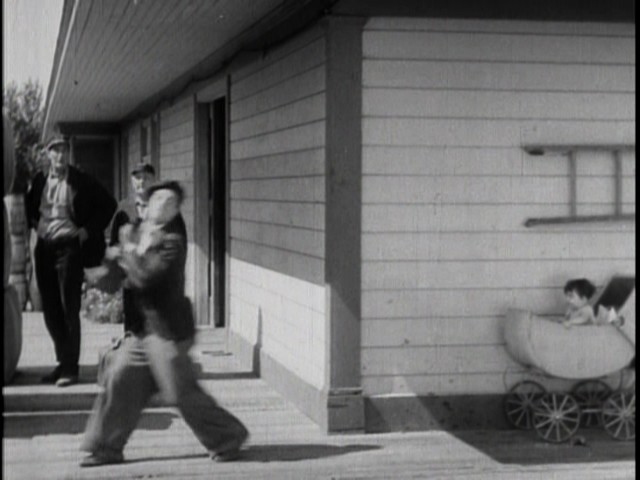 My memory, which is only a memory, and which like all memories cannot be relied upon definitively, is that there was a reverse shot, showing the song and dance from Senior's point of view. When I first saw the movie, I thought that was one of the funniest things I had ever seen. If it was ever there, well, it's gone now. I mentioned this to a few fellow Busterholics, and each went silent for a few moments, trying to conjure up a stunned memory, and then said, "I think you're right!
Also, when I saw the movie again in 1995, I was dumbfounded by a truly pathetic stunt. During a cyclone, Junior grabs onto a tree for safety, but the wind tears a prop tree from its roots and drops both tree and Junior into the calm river.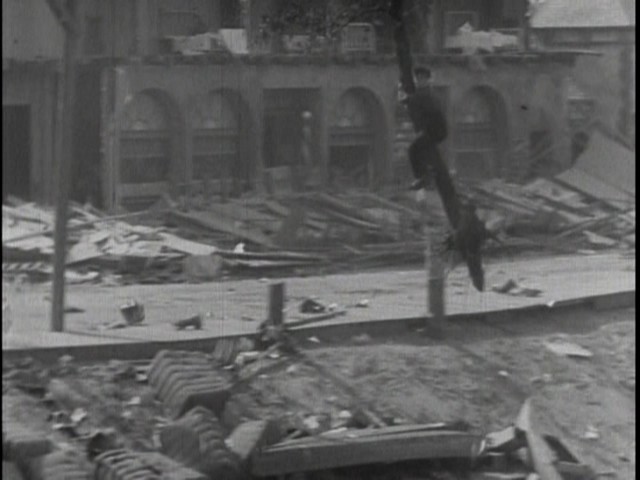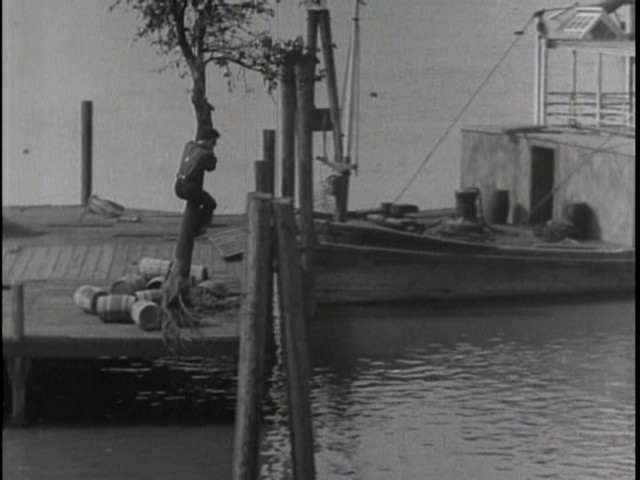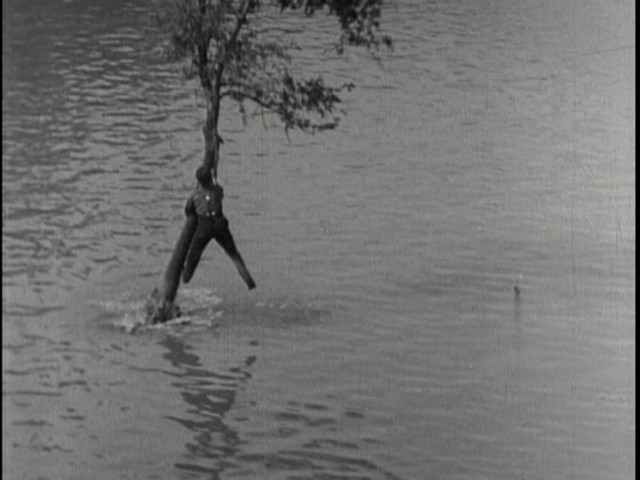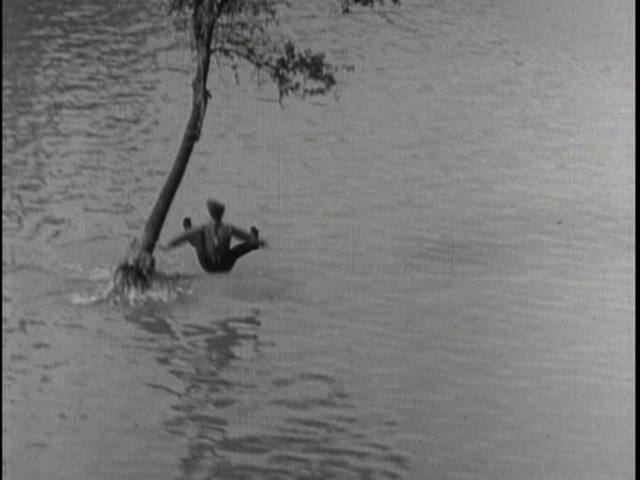 Yes, I remembered the sequence, but that's not how I remembered it. What I saw in 1995 was awful. Clearly the tree was a prop dangling from a crane. This doesn't even look like a poor take; it looks like test footage made in preparation for the actual stunt. My memory, though, was that when I had seen the movie in the 1970s, I was startled by its realism. But there was nothing at all realistic about what I saw in 1995.
Was my mind really going? Or had I in fact seen two different editions of the movie?
Back in October 2002 I attended the annual Buster Keaton Festival in Muskegon, Michigan, and David Macleod, avid Busterphile from London, gave a lecture entitled "Have You Ever Noticed...?" Among the interesting DVD clips he presented was the above moment from the cyclone scene. He showed us a snippet from the Kino DVD, which he called "the Rohauer version" (as it was licensed from the Rohauer Collection), which shows a prop tree dangling sadly from a crane. Then he showed us the correlative snippet from a French DVD, which he called "the Killiam version." A ha!!!!! That was it!!!!! So my memory was NOT playing tricks on me after all!!!!! That French DVD showed a frighteningly, terrifyingly realistic version of that same scene. In a fiercely raging wind, the very convincing tree uproots Buster and smashes him into the turbulent river. It was only a fraction the length of the usual version seen nowadays, and it will scare you half to death. Unforgettable. Absolutely unforgettable. It is that brief scene, more than the famous falling-house scene, that really made the movie stand out.
So I set out on a hunt and purchased every video of Steamboat Bill Jr that I could find, taking especial care to locate editions from the Killiam Collection. The hunt ended in utter defeat. The Killiam version seemed to be identical to the Rohauer version in every way, and that beautifully frightening cyclone scene was neither beautiful nor frightening, but laughable — in a bad way.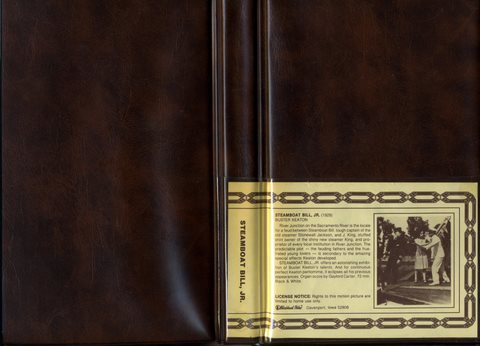 First up was the most obvious choice: the Blackhawk VHS, which was licensed from the Killiam Collection. Same as the Rohauer version.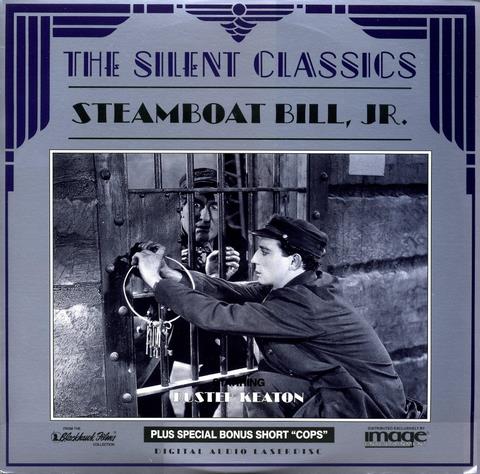 Well, there's always the Image laserdisc, also licensed from the Killiam Collection. Nope. Same old thing.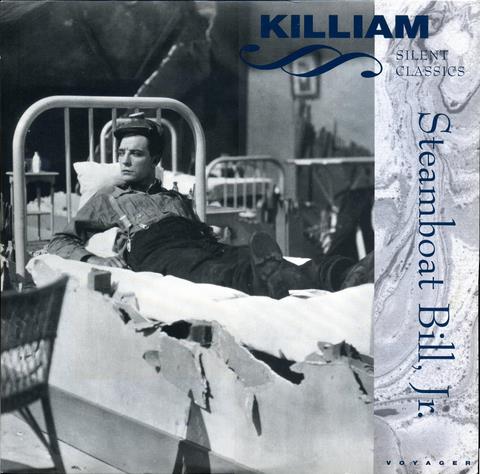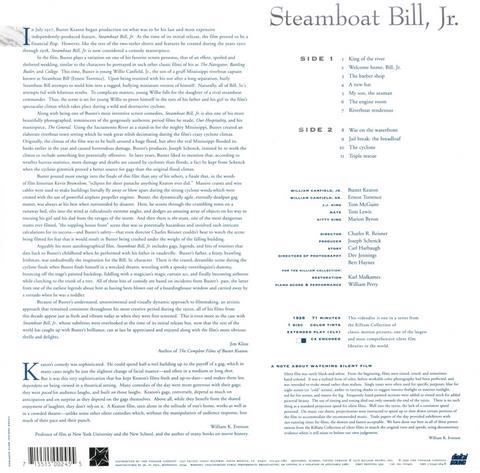 Surely the Voyager laserdisc edition, which has the name KILLIAM plastered all over it, would provide what I so desperately sought. Nope.

I asked David where he had gotten that wonderful DVD that he showed us. All he could remember was that it was French. He had given it away and could not remember the manufacturer or cover art or anything else.
So I purchased the only four French DVDs of Steamboat Bill Jr that the vendors would ship outside of France:
No luck at all. The same old dreary, embarrassing version.
Why was this, though? It is common for movies to be issued in multiple versions, but this is too extreme. What happened? I don't know how things worked precisely, but here's an educated guess about standard operating procedure. Buster, assisted by J Sherman Kell, would take the movie to the shed in his back yard and edit it together. Once the definitive preview version was assembled, the negatives from the second camera would be bicycled over to United Artists, where the gals in the cutting room would piece together a European version, trying to match the original American version as closely as possible. This second edited negative would then be shipped off to some place in Europe. By the time the Euro neg was on the boat, the US edition would be previewed. Buster and his colleagues would attend the shows and pay attention to audience reactions. They would then re-edit the movie slightly for better effect, and possibly even do some retakes. As for the European version, well, it was too late. The die was cast, and that was the end of that.
But that's clearly not what happened with Steamboat Bill Jr. It will probably be a few years before I can finish my book on the change in Buster's career (1927–1929); nonetheless, my research has shed a little light. I shan't give all the details here, for I don't want to scoop myself. Suffice it to say, though, that for political considerations it was not in United Artists' interest to have Steamboat Bill Jr be a major hit. UA delayed its release for many months, and then, instead of opening it at the luxurious downtown first-run houses, in many or most markets UA opened it in the neighborhood houses. Did the movie make money? Of course it made money! But it was considerably less successful than Buster's earlier movies. With previous movies, Buster had been careful to destroy all the footage he did not need. Before he finished Steamboat Bill Jr, though, he had lost control of his studio. My guess is that the negatives were confiscated by the stockholders, who then shipped Buster's original US version off to Europe and instructed the cutting gals at UA to piece together a new American negative incorporating the worst of the few surviving outtakes. So that's what we're left with now... until, of course, we can trace down that superior version released in Europe!
If you can shed any more light on this matter, or if you know where the superior version is hiding, please write to me!!!!! Thanks!
Here are two more French DVDs that I just discovered, thanks to eBay, but I suspect they're even more recent, and probably the same old same old same old: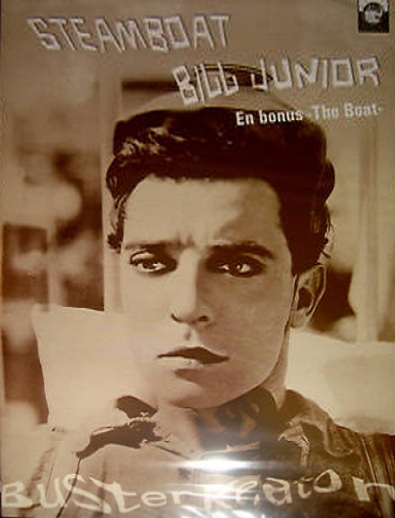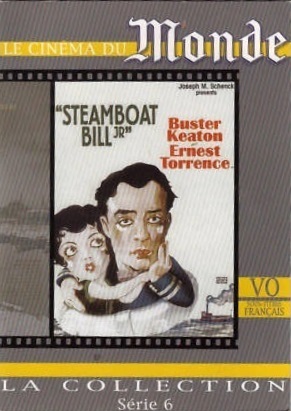 If any of you wonderful French people would like to order one for me, I would happily pay you the full cost plus an honorarium.
NEWS FLASH! On Thursday, 20 May 2010, Kino announced the forthcoming DVD and Blu-Ray release of TWO versions of Steamboat Bill Jr. Hmmmmmm. This looks interesting! Or does it? Above is the amusing little hat sequence. I had never noticed that the Rohauer and Killiam editions of that sequence had derived from different takes. And why should I have? If you were to watch the Killiam version one week and the Rohauer version the next week, would you notice any difference? Of course not. The two takes are remarkably similar. Now, I can't know for sure, but I suspect that what Kino will release will be the same two versions that I already have in multiple copies. The accompanying organ score by Lee Erwin is from the Rohauer release and the accompanying piano score by Bill Perry is from the Killiam release, and my videos of the Rohauer and Killiam releases both have a pathetic version of the uprooted-tree scene. The hopeful news, though, is that prior to creating this new video, the Kino people spoke with my friend David Macleod. And David told them explicitly about that brilliant tree sequence that he once had on a French DVD. So maybe it will turn out well after all. The person most responsible for the release of this dual-edition video is Bret Woods, who gave a fascinating interview to DoBlu, in which he mentioned that Tim Lanza of the Rohauer Collection/Douris Corporation provided him with four different elements!!!! Doesn't that sound tasty? Oh how I would love to examine all those elements. But would I ever be permitted?... Also, it appears to me that somebody at Kino read this essay of mine, as well as my page on The General, as preparation for the new video releases. That's nice, but I sort of wish that someone would contact me directly, because I could touch things up a bit. Maybe I should at last do what I've been wanting to do for more than a decade: write a separate essay on each Buster silent, detailing the problems and peculiarities with all the videos and 35mm and 16mm prints that I have seen. If I were to do that, then maybe Kino would get excited, initiate an archæological dive through the vaults all over the world, and release improved versions of everything. Wouldn't that be nice? But the time it would take for me to write those essays! My heavens!
NOTE ADDED TUESDAY, 2 NOVEMBER 2010: I just received the Kino Blu-Ray and I can confirm that NEITHER version of the film contains the storm scene that David showed us back in 2003. So there are definitely more than two versions of the movie floating around.
---
P.S. Oh! It was released on laserdisc in Japan too! Must get it: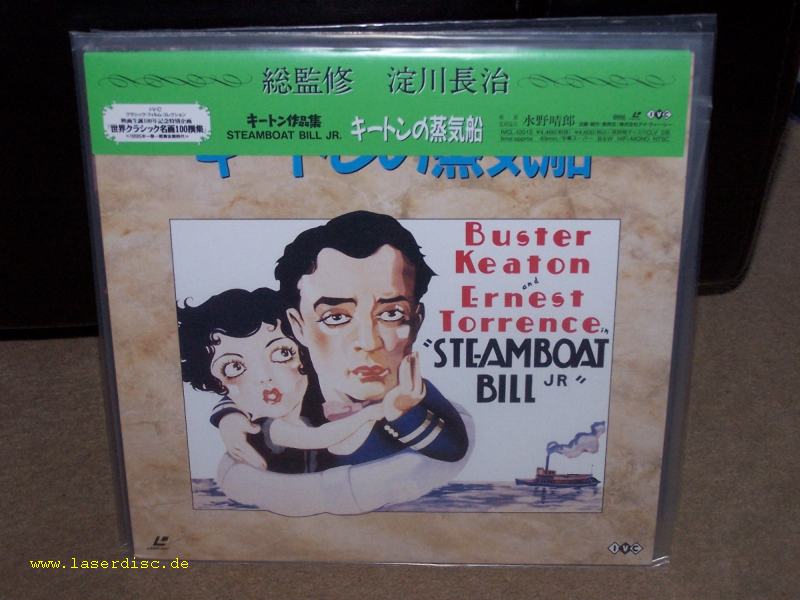 P.P.S. The story is set in River Junction, Mississippi, wherever that might be. I've never been anywhere near Mississippi, but I don't think it looks at all like what we see in this movie. Also, does it bother anyone else that there were no books in the library?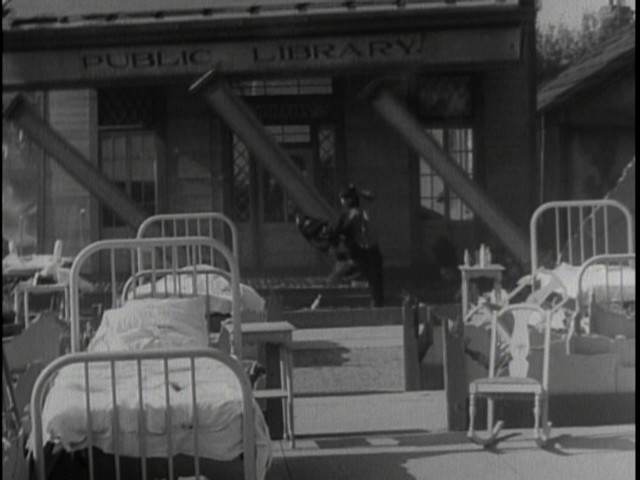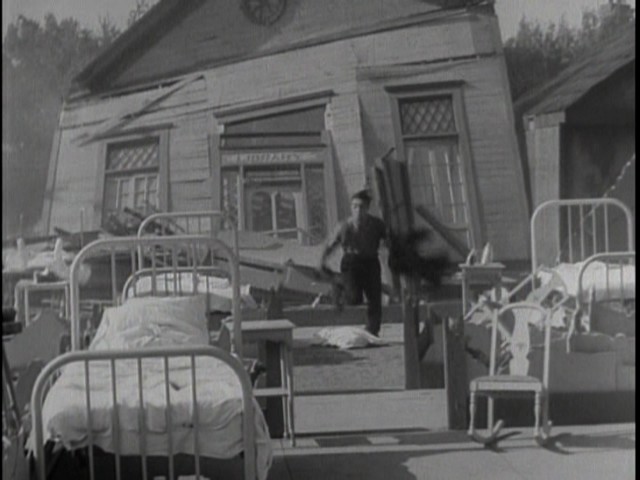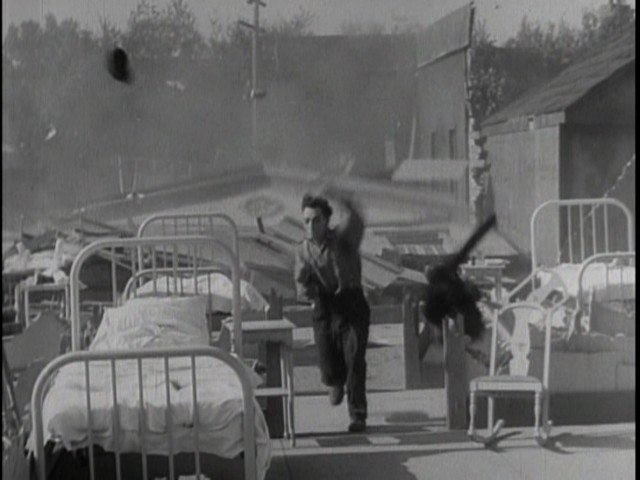 P.P.P.S.: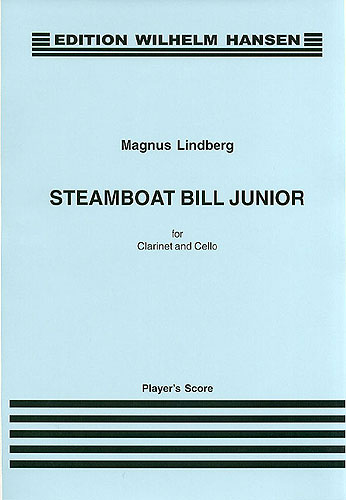 ---
Original research and commentary copyright © 2009–2010 by Ranjit Sandhu. All rights reserved.
---