If you own the copyright to these images, please contact me. Thanks!
One reason I never want to see my films after I've completed them is they exist in my memory as I shot them, with all the footage I wanted to include. In my memory, my films exist in a different running time than the exhibitor's version. Many times, I had to cut fast, under duress by the producer, who always wanted less, to save money. If I were to see my films as the audiences are seeing them in theaters around the world, I would be sitting there and saying, "Where is the scene about this?" and "Where is the scene about that?" and I would feel destroyed for the sake of my poor creature, as it has been destroyed. When the film is complete, I must cut the bond. Or I must try to.


---
| | |
| --- | --- |
| | |
| The DVD | The poster |
LUCI DEL VARIETÀ / VARIETY LIGHTS
(1950)
---
| | |
| --- | --- |
| | |
| The DVD | The poster |
LO SCEICCO BIANCO / THE WHITE SHEIK
(1952)
---
| | |
| --- | --- |
| | |
| The DVD | The poster |
I VITELLONI / THE YOUNG AND THE PASSIONATE / THE SPIVS
(1953)
---
| | | |
| --- | --- | --- |
| | | |
| The Italian VHS, no English subtitles (PAL system, which will not play on US/Canadian equipment) | The new DVD of the Italian version with optional English subtitles. (Region-2 PAL, which will not play on most US/Canadian equipment.) | The poster |
AMORE IN CITTÀ / LOVE IN THE CITY
(1953)
---
| | |
| --- | --- |
| | |
| The DVD | The poster |
LA STRADA / THE ROAD
(1954)
---
| | | |
| --- | --- | --- |
| | | |
| The very short US DVD | The poster | The somewhat longer UK DVD |
IL BIDONE / THE SWINDLE
(1955)
As it turned out, the whole picture was too ambiguous for audiences, according to my producer, who said I had to cut the original two-and-a-half-hour version, which did not make it less ambiguous. I was told it was necessary so it would have a better chance at the Venice Film Festival of that year. That was not an argument of consequence for me, but producers seem to love film festivals. Parties. Girls. When it was ignored there — worse than ignored — I was forced to cut it some more, down to 112 minutes, and then 104, finally even shorter for its belated American appearance.... Cutting Il bidone was a sad experience for me, and certainly hurt the film. I didn't want to cut it. When I completed Il bidone, it was my film, the film I had made. Forced to cut more, I wasn't certain at all about what to cut.... Whatever I had to cut, I knew I would have regrets. I had the "final cut" of my film, but it didn't matter. Orson Welles told me later how he had felt about what was done to The Magnificent Ambersons. Sad. I thought it was such a great film; I didn't realize what they had done. It is not imaginable what his film would have been if we could have seen it as he intended it to be.


A great many meaningful scenes were cut from Il bidone and, along with them, important strands of the story which develop the characters. I couldn't save my favorite scenes because I had to concentrate on the story making sense after the loss of so much footage. One scene I tried to save, but couldn't, was the one in which Iris, who has left Picasso, confronts Augusto, blaming him for her husband's life of crime, and he defends himself with his own warped, but deeply ingrained, logic.


In this scene, Augusto encourages her to take her husband back. Once he has his freedom, he warns her, Picasso won't be coming back to her and their child, because "freedom is too beautiful." His theory is that Iris wouldn't have left Picasso, even though he was supporting her in a dishonest way, if he'd been more successful. He tells her that a man who has money has everything and a man who doesn't have it is nothing. As he extols the beauty of money, Iris stands up to him.


Originally, this was a key scene, but as I cut the film, this scene along with others disappeared. Story lines and character development ended abruptly without explanation, creating in the minds of some critics a deliberate stylistic intention that never existed. Professionally, I knew I would be unable to face the finished Il bidone. Personally, it was hard for me to cut so much of Giulietta's fine performance. She was so good, especially in the parts I cut. I hoped she would be understanding, because she is my wife. But she was not understanding, because she is also an actress....


---
| | |
| --- | --- |
| | |
| The DVD | The French poster |
LE NOTTI DI CABIRIA / THE NIGHTS OF CABIRIA
(1957)
---
The US DVD
The poster
The Italian DVD
(PAL Region 2,
which won't play
on most US
equipment)
LA DOLCE VITA / THE SWEET LIFE
(1959)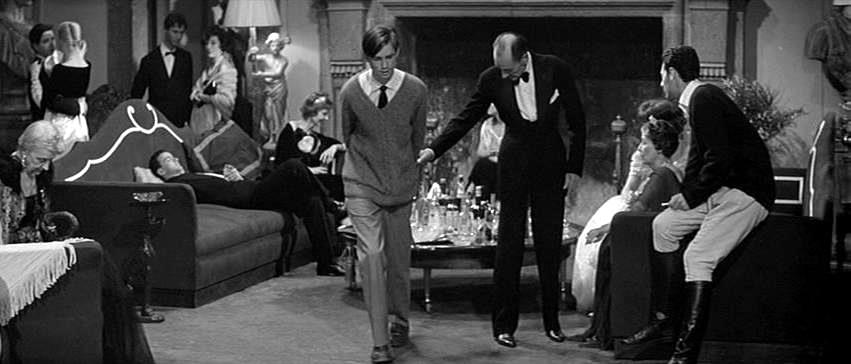 There he is, in riding gear, seated on the arm of the sofa.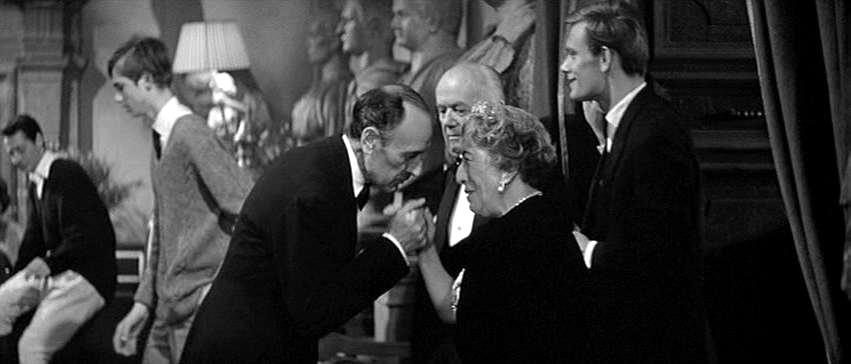 And there he is again, out of focus in the background, on the very left. Isn't this exciting?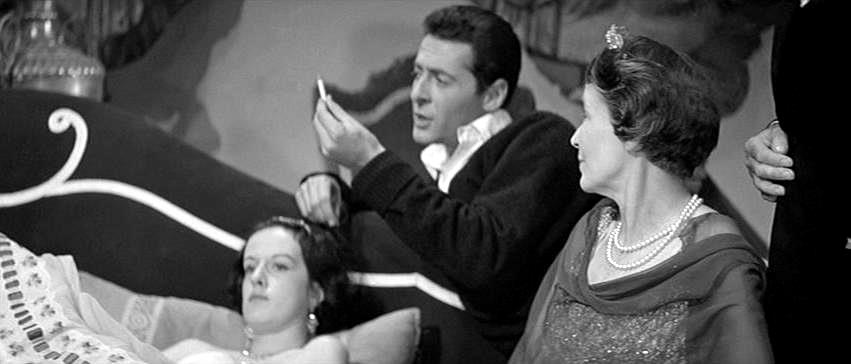 Never able to stop smoking. Killed him in the end, you know.
---
| | |
| --- | --- |
| | |
| The DVD | The poster |
BOCCACCIO '70
(1962)
---
The DVD
The poster
A documentary on
the lost original ending
(PAL system. Won't play
properly on most US
equipment.)
8 ½
(1963)
...the rotten color in 8 ½ which — perhaps it's not well known — was stupidly decided by the production unit against my will, with the simple-minded idea of making it easier for the audience to understand the film by distinguishing dreams from reality (Giovanni Grazzini, ed, Federico Fellini: Comments on Film, tr by Joseph Henry. Fresno: The Press at the California State University, 1988, p 222).


---
| | |
| --- | --- |
| | |
| The DVD | The poster |
GIULIETTA DEGLI SPIRITI / JULIET OF THE SPIRITS
(1965)
---
THE HUMBLE LECHER
(1968)
---
The Italian DVD
(PAL system,
which won't play
properly on most
US equipment)
The French poster
The British VHS
(PAL system,
which won't play
at all on US equipment)
The US one-sheet poster
What on earth is this
VHS release from
the UK?
TRE PASSI NEL DELIRIO / HISTOIRES EXTRAORDINAIRES /
SPIRITS OF THE DEAD / TALES OF MYSTERY AND IMAGINATION
(1968)
| | |
| --- | --- |
| ORIGINAL DONALD SUTHERLAND VERSION: | INAUTHENTIC LASERDISC VERSION: |
| At 22 years of age, Frédérique, Countess of Metzengerstein, became heir to a vast family fortune. Seldom had a noble of her country possessed an estate of such magnificence. She ruled capriciously; day was night, or night day, according to her fancies. That morning, haunted by the nightmare of the dawn, she decided to take her guests to the castle where she had spent her childhood. | At the age of 22, Frédérique, Countess of Metzengerstein, inherited the entire family fortune. Rarely had a noble of this land come into such a legacy. She ruled over it capriciously, both night and day, according to her whims. That morning, still haunted by her dawn nightmares, she decided to take her guests to the castle where she had spent her childhood. |
| | | |
| --- | --- | --- |
| ITALIAN VERSION | FRENCH VERSION | ENGLISH VERSION |
| | | |
| | | |
| | | |
---
A DIRECTOR'S NOTEBOOK / BLOCK-NOTES DI UN REGISTA
(1969)
---
| | | |
| --- | --- | --- |
| | | |
| The DVD | The poster | Dyslexia |
FELLINI-SATYRICON / FELLINI-SATYRICON
(1969)
---
Oh. It is available on DVD, but in PAL-system Region 2, which won't play on American equipment.
No English. French subtitles.
Oh. Even better news. As of March 2011 it's available in the US with English subtitles, and it's a beautiful transfer.
I CLOWNS / THE CLOWNS
(1970)
1:1.33 as shown on TV, and as it appears on the Raro USA DVD
1:1.85 as shown at the cinema (a simulation)
Osiride Pevarello, or, as the credits simply state, "PEVERELLO."
There's no set spelling of his surname.
See? If you show this in widescreen, you chop off Osiride's head.
Yes, the action is all there, but the composition is completely ruined.
Marcello Di Falco, who played the title rôle in Roberto Rossellini's L'età di Cosimo de' Medici and who also appeared briefly as Tiberius' orgy master in Caligula.
That's Jean-Baptiste Thiérrée. According to the movie, he was a real-life shrink, but who knows? If he was a shrink, we can thank heaven that he gave up shrinking to go full-time into the circus, a much more honorable profession, and a much more ameliorative and therapeutic one as well.
Why do I concentrate on him? Well, look who his partner is!
Victoria Chaplin! The daughter of you-know-who.
Well, maybe not. As I've discovered over these past few decades, she's the daughter of you-don't-know-who-you've-never-heard-of-him-and-you-don't-care. In any case, her dad wanted to star her in his next movie, The Freak, about a child born with angel wings. But she wrecked his preproduction by eloping with Jean-Baptiste. Dad was planning another movie, too, about which I know nothing except what was reported in the weekly edition of Variety on Wednesday, 27 September 1967, p 2: The Doll and the Old Man from the Irish novel by Alpha de Monté. He must have read the novel in manuscript form, for it has yet to be published or even completed.
Anyway, Jean-Baptiste and Victoria ran Le Cirque Bonjour, Le Cirque Imaginaire, and Le Cirque Invisible, and their son James Thiérrée is also a circus performer.
Take a look at Jean-Baptiste Thiérrée and Victoria Chaplin's LE CIRQUE INVISIBLE.
Fantastic, isn't it? That's the only sort of life that's worth living.
An enchanting smile. There's no question of her paternity. She looks strikingly like her mother too.
And to my eyes, her mother and her father looked strikingly like each other.
That's Pierre Étaix, clown, actor, filmmaker, who collaborated with Jacques Tati and Luís Buñuél and who also worked with Serge Bromberg on the restoration of Buster Keaton's short films. If you're familiar with any of this stuff, the world is beginning to get small, isn't it?
And that's his wife, Annie Fratellini of the renowned circus family (and who was also in Zazie dans le métro, another one of my favorite movies that flops wherever it's shown).
Can someone, anyone, please identify this actor?
We know that his first name was Roy, but that's all we know.
Gathered together in the Étaix apartment. Look at the photos on the table!
Did the world just get a tiny bit smaller again?
Remember, Buster was Fellini's favorite of all, followed closely by Laurel & Hardy.
Most people I encounter have never heard of Buster or Laurel & Hardy either.
They give me blank stares when I mention the names.
Oh well, I give them blank stares when they talk about ball games and the latest celebrity gossip.
The Fratellinis performing at a looney bin.
The shrink on duty shows who's boss.
Bario on the right, visited by you-don't-know-who on the left.
You've never seen that photo published anywhere else, have you?
A rare fragment showing Rhum. Yes, there really was a Rhum.
Here's a little note that ties lots of things together:
In Paris, they worked with Buster Keaton, whose flagging film career had led him to try his luck in Europe's circus rings. A few days after the Austin troupe opened at Medrano, the circus's star clown, Rhum (Enrico Sprocani), suddenly died. Spider Austin was chosen to take Rhum's place in his famous sketch 'Adam and Eve.' "
Osiride Pevarello and Alberto Sorrentino at Fischietto's funeral. Remember Alberto? He was in Boccaccio '70 and Tinto Brass's underrated Action, among other things.
Tino Scotti as the notary. He was a famous variety comic and had appeared in Tinto Brass's L'urlo as the armed guard at the hotel who was eaten by The Greatest Philosopher (Osiride Pevarello) and family, only to be resurrected as The Intellectual during the definitive war. That was a fun movie too. But like I clowns, it leaves most people cold for some reason. But like I clowns, its fans are diehards.
---
---
| | |
| --- | --- |
| | The Italian DVD from Istituto Luce lists Alberto Sordi and Marcello Mastroianni on the front cover, but, alas, they are deleted, as this is the short version. Phooey! Italian audio only, with optional English subtitles. (Region 2 PAL system, which won't play properly on most US/Canadian equipment) |
| The long-out-of-print Italian PAL VHS from Istituto Luce | |
ROMA
(1972)
Some months later I was summoned to a studio to dub my voice. On a large screen there was my scene. Fred looked contented. Since he had lost the soundtrack of the original scene, nothing but odd noises could be heard on the screen. I asked, "Don't you have a transcript of what was said?" Fred winked. "No, Gorino. We just make up something else." For two hours I sat trying to match words to my own lips on the screen. Fred was quietly triumphant at this victory in his war against direct sound. Finally I cobbled together three sets of words in English, French, and Italian. Then we started to record. There was a white ball that bounced along the top of the screen and when it stopped you stopped speaking, your dialogue presumably in place. I got through the French and the English easily, but Italian is longer than English and after the ball had stopped I was still speaking — outside the scene. There were long sentences, with complicated structures that I'm not used to speaking in the language. I just couldn't get them out in time for the synchronization. Fred was gazing beatifically out the window as I struggled to keep up with the ball. After the third ruined take, I said, "Fred, you're supposed to be a great director — help me say the line so I get it out on time."


"Oh, is there trouble?" His eyes were wide with innocent concern. "Oh, is so easy. Before you talk, you take deep breath." I took a deep breath and it came out exactly right. "See," he said. "I am a great director."


---
| | |
| --- | --- |
| | |
| The DVD | The poster |
AMARCORD / I REMEMBER
(1973)
Magali [Noël] was glad to be working with me again. She is one of the most coöperative actresses I have ever known. She would do anything I asked. Anything. For a scene that was later cut, I asked her to bare her chest, which she did without hesitation.


I had to cut her favorite scene as Gradisca, and I'm not sure she has ever forgiven me. I hope she has. The scene is in front of the local cinema at night with the camera moving in slowly until it reaches Gradisca standing beside a poster of Gary Cooper. She is gazing up worshipfully at her hero as she files her nails. He was a man any woman would love. I had to cut the scene. It would have made Gradisca the central character, and this was not a picture about Gradisca.


When I asked Magali if she liked the picture, she bit her lip and bravely tried to smile, but her eyes were still red from crying.


---
| | | | |
| --- | --- | --- | --- |
| A beautiful poster | An evocative poster | A boring poster | In 2003 or thereabouts it finally came to DVD! PAL system and Region 2, which won't play on American equipment. It has both the English and Italian tracks, and optional English subtitles and Italian captions. 1:1.85. |
FELLINI'S CASANOVA / IL CASANOVA DI FEDERICO FELLINI
(1976)
At three and a half hours, the film demanded severe editing. Almost every supporting actor lost his or her major speech. Those that remained were extensively rewritten for the English-language version by novelist Anthony Burgess. Some sequences disappeared altogether, including Chesty Morgan's entire rôle as the maid Barbarina, and an Arabian Nights idyll in which Casanova is brought by gondola to a Venetian seraglio, watched by adoring harem girls, then enjoys a homosexual dalliance with a beautiful black man. Casanova admits to a few homosexual acts in the memoirs but Fellini, typically, believed that the great lover's compulsive womanising was, in part at least, a flight from homosexuality. 'You do not know women and you do not know yourself,' Casanova is lectured in the original screenplay. 'You do not pursue women; you flee them. Loving that many means that what you are seeking is probably a man.' The speech, like the homosexual encounter in the harem, was cut.


Neither Grimaldi nor Universal was happy with the result. Universal representatives flew to Rome from Hollywood in the hope of convincing Fellini to cut an hour. The film was not erotic, they complained. 'Casanova is life!' one of them chided. 'Is strength, courage, faith. He is the joy of living. Understand, Fefé? Why have you made him a zombie?' Fellini had already cut a number of major scenes to get the Italian running time down to 165 minutes. Now Ruggero Mastroianni and his team went through the Italian version and removed another fifteen [sic] minutes for the French and English markets without deleting a single scene.


MINIMUM ASPECT RATIO 1:1.375
MAXIMUM ASPECT RATIO 1:2.00
PREFERRED ASPECT RATIO 1:1.85
---
| | |
| --- | --- |
| | |
| The DVD | The poster |
PROVA D'ORCHESTRA / ORCHESTRA REHEARSAL
(1979)
---
| | |
| --- | --- |
| | |
| The DVD | The poster |
LA CITTÀ DELLE DONNE / THE CITY OF WOMEN
(1980)
| | |
| --- | --- |
| Original version, as seen on the VHS from New Yorker Films | Revised version, as seen on the DVD from New Yorker Films |
| | |
| | |
| | |
| | |
| | |
---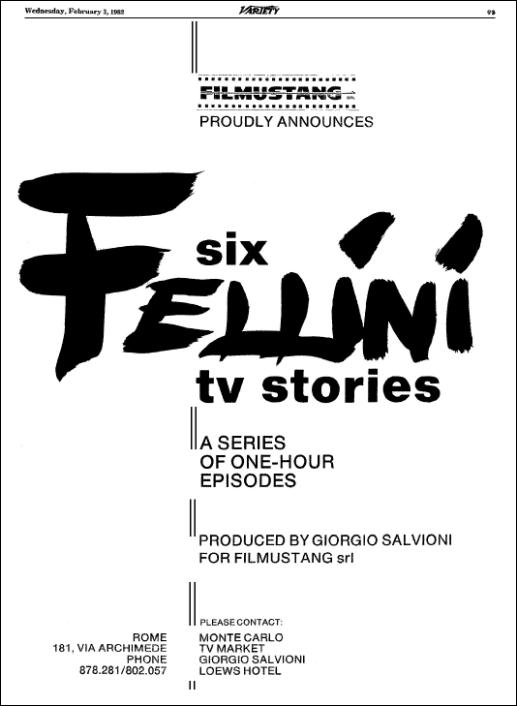 The ad from Variety (weekly) 306 no 1, 3 February 1982, p 95
---
| | |
| --- | --- |
| | |
| The DVD | The poster |
E LA NAVE VA / AND THE SHIP SAILS ON
(1983)
---
BITTER CAMPARI
(1984)
---
| | | |
| --- | --- | --- |
| | | |
| The full-screen VHS | The needlessly "widescreen" DVD | The poster |
GINGER E FRED / GINGER AND FRED
(1985)
---
ALTA SOCIETÀ RIGATONI BARILLA
(1986)
---
| | | |
| --- | --- | --- |
| | | |
| The "widescreen" DVD | The poster | The full-screen VHS |
INTERVISTA / INTERVIEW
(1987)
---
As a stand-alone title, this is out of print. PAL system. In other words, it won't play properly on American equipment. No English subtitles.
But it's still available as part of a box set.
LA VOCE DELLA LUNA / THE VOICE OF THE MOON
(1990)
---
BANCA DI ROMA
(1992)