THE WORKS OF TINTO BRASS
---
Così fan tutte
(All Ladies Do It, 1992)
Experimenting with the sex-film genre once again, Brass tried something a little more American. He wrote a story about wealthy, fashionable people, each of whose wardrobes costs more than my annual gross salary, who live in high-rise flats whose bathrooms are larger than my entire apartment, and who fritter away their time attending mind-numbingly posh parties. Brass would never do this again — well, at least not so blatantly. Oh God is this film silly. Paolo uses jealousy to increase his marriage's excitement, wanting to hear Diana tell him of her flirtations and her fantasies about making it with other guys. But one day he discovers that one of Diana's turn-on tales was actually true, and he splits. In a rampage, Diana lures every guy she can. But after a mere few days the couple are reconciled, as Paolo recognizes the error of his ways, and accepts his wife's infidelity as a legitimate and valuable part of their marriage.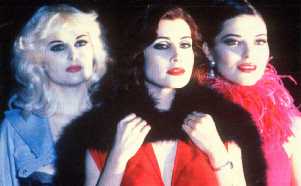 A friend in Milano, who never understood why I liked Tinto Brass, after 12 years finally caved in to my unending pleas and offered to send me Brass videos. "Would you like a copy of
Così fan tutte
?" "Of course I want a copy of
Così fan tutte
!!!!!!" I screamed back. The out-of-print L'Espresso VHS edition arrived in the mail a few days later. At that time I had never seen any of Brass's post-1983 works. I had heard that his later films were not up to the level of his earlier ones. As a matter of fact, I had heard they were pretty gawd-awful. Well, hey, people said the same thing about Pasolini's later works, and I knew how wrong they were. So I plopped the tape into my machine — and my heart sank. My God, I thought, the critics were right! But eventually I began to see things. I saw that, despite its thousand and one faults, it's a milestone, for in
one long scene
it combines three aspects of junk culture — namely, discos, rap music, and Ecstasy raves — into a magnificent work of art. I was hypnotized, and watched the scene dozens of times, undoubtedly to the consternation of my neighbors who could surely hear the loud music through my walls. Even more effectively than Fellini, Brass captures the desperate loneliness that underlies such bursts of restless energy. And a few minutes after this scene, Brass has one of his funniest cameos. Then, as a
coup de grâce
, my buddy followed this up a week or so later with Cine Video Corporation's VHS release of
Paprika
. My heart sank again — and even further. I guess he was trying to be nice while still twisting the knife. Oddly, I've come to sort of like both these movies, though they ain't Tinto's best, to be sure.
SECOND THOUGHTS:
After writing the above, I had the opportunity to see the previews for
Paprika
and
Così fan tutte
, in which Tinto Brass himself appears on camera. Okay, now I get it. These films were not failures in any sense. They were exactly what he wanted to make. He wanted to make light-hearted, easy-going fluff, and he wanted
Così fan tutte
to be a bit preachy. And now that I've seen him plugging these movies, I can see how much fun he had making them, and how much affection he has for them. And so now I've grown remarkably fond of these movies too.
NOTE: Watch for the plug for Cipriani olive oil.


WARNING ABOUT THE INTERNATIONAL VERSIONS:
The Italian version, much to my initial surprise, appears to be hardcore, though a careful second viewing reveals that it isn't at all; and we see that dear old Tinto is a master at faking things so perfectly that he fools nearly everyone. But the fakery was enough to cause considerable worry. In response, the international distributor decided to anticipate the various censor boards of the world and began to hack away mercilessly. Thus the international releases, invariably dubbed into English, are cut to ribbons. Interestingly, Brass had dubbed his own voice before the cutters got to work. Now, if you know where the uncut master English dialogue tapes are hiding,
please write to me
. We
MUST
rescue those tapes!!!!
FOR WHAT IT'S WORTH: This is the movie in which Brass confessed to the entire world his obsession with the feminine backside. The focus is so absurdly obsessive that it quickly becomes hilarious.


SILVANO IPPOLITI. This was the last film that the great cinematographer shot. He died either during the filming or shortly afterwards, and Massimo Di Venanzo, son of the great Gianni Di Venanzo, had to take over.


THE VALUE OF TRADER JOE'S.
I thought the rave song was invented for the movie. So imagine my surprise when, while shopping, I heard it on the music system at a grocery store! That got me to searching for 90 minutes or so on Google and YouTube to discover what it was. It began with a hit called "
Gonna Make You Sweat (Everybody Dance Now)
" by C & C (which I had never heard of) that was adapted into "
Take Control
" by an Italian group called Digital Sappers (which I had never heard of) and which was then adapted yet again by
DJ Liberty
(which I had never heard of). How do I get mired in all of this?
---
CVC DVD
PAL

Dutch FilmWorks/Arrow DVD
PAL

Cult Epics DVD
NTSC converted from PAL via the Alchemist PhC which compensates for the difference in frame rates by dissolving each frame into the next.

The Region-0 NTSC DVD from the US, with the same scrap footage as an extra. (Cult Epics long ago withdrew the censored-and-dubbed version and replaced it with this uncut Italian edition with optional English subtitles.)

Jean-René Lemoine as the honest novice
artisti associati international
Giovanni Bertolucci e Achille Manzotti presentano
un film di Tinto Brass
Così fan tutte
Copyright © 1992
San Francisco Film S.r.l. - Faso Film S.r.l.
Soggetto (original story)
Tinto Brass
Sceneggiatura (screenplay)
Tinto Brass, Bernardino Zapponi, Francesco Costa
Fotografia (directors of photography)
Silvano Ippoliti, Massimo Di Venanzo
Musiche di (music by)
Pino Donaggio
Dirette da (directed by)
Natale Massara
Scenografia (art direction)
Paolo Biagetti
Arredamento (set décor)
Bruno Cesari
Ideatore dei costumi (costumes created by)
Jost Jakob
Collaborazione al montaggio (assistant editor)
Fiorenza Müller
Segretaria di edizione (continuity)
Carla Cipriani
Fotografo di scena (still photographer)
Gianfranco Salis
Organizzatore amministrativo
(accounting manager)
Mario Sampaolo
Direttore di produzione (production manager)
Vittorio Fornasiero
Organizzatore della produzione
(general manager)
Stefano Rolla
Diretto e montato da
(directed and edited by)
Tinto Brass
Aiuto regista (assistant director)
Germano Tarricone
Assistente alla regia (asst. to the director)
Maurizio Martinoli
Assistente al montaggio (assistant to the editor)
Emanuela Lucidi
Assistenti operatori
(assistant camera operators)
Ettore Corso, Andrea Doria
Steadycam
Carlo Montuori
Aiuto operatore (assistant camera operator)
Giorgio Freudenstein
Fonico (sound)
Roberto Alberghini
Microfonista (boom operator)
Marco di Biase
Assistente scenografo (assistant art director)
Luigia Battani
Costumista (costume designer)
Luigi Bonanno
Assistente costumista
(assistant costume designer)
Monia Carraretto
Parrucchiere (hairdresser)
Jole Cecchini
Assistente parrucchiere (assistant hairdresser)
Carla Indoni
Truccatore (make-up)
Bruno Vasco Tarallo
Assistente truccatore (assistant make-up)
Massimiliano Lucci
Coreografa (choreography)
Gabriella Borni
Assistente coreografa (assistant choreographer)
Rosa Russo
Maestro d'armi (stunt coordinator)
Giorgio Ricci
Sarto (tailor)
Amedeo Monti
Capo elettricista (gaffer)
Sergio Spila
Elettricisti (best boys)
Marcello Cardarelli, Franco Gubbiotti, Franco Cardarelli
Capo Macchinista (key grip)
Massimo Galiano
Macchinisti (grips)
Vittorio Rocchetti, Maruizio Benvenuto
Capo Attrezzista (prop master)
Roberto Magagnini
Attrezzisti (props)
Walter Gatti, Marco Davoli, Paolo del Grande, Giancarlo Sensidoni, Barnaba Pagliarini
Ispettori di produzione (unit managers)
Matteo Rolla, Alessandro Mancini, Vincenzo Guglielmi
Segretari di produzione (production secretaries)
Francesca Deodato, Filippo Deodato, Giancarlo Lanzeri, Annamaria Severini, Mauro Babini
Amministratore (production accountant)
Giulia Saccucci
Cassiere (paymaster)
Stefano Pietropaoli
Ufficio stampa (publicity)
Lucherini-Pignatelli
English-version dialogue adaptation and supervision
Ted Rusoff
Teatri di posa - laboratorio (studio - lab)
Cinecittà
Pellicola (raw stock)
Kodak S.p.A.
Tecnico del colore (color technician)
Stefano Giovannini
Sonorizzazione (recording studio)
Fonoroma Fillm Recording
English-version sound technician
Sandro Pallottini
English-version sound mixer
Romano Checcacci
Fonico del doppiaggio (dubbing recorder)
Marco Lippi
Assistente al doppiaggio (assistant dubber)
Corrado Russo
Mixage (mixer)
Alberto Doni
Effetti sonori (sound effects)
Union Cineaudio, Fernando Caso, Alvaro Gramigna
Titoli e truke (titles and opticals)
Studio 4
Sartoria (wardrobe)
G.P. 11, Silvestri Wilma
Gioielli (jewelry)
L.A.B.A. - Roma
Calzature (shoes)
L.C.P.
Parrucche (wigs)
Rocchetti - Carboni
Tappezzeria (upholstery)
Artigiana Arredatori e Tappezzieri
Arredamento (set décor)
G.R.P., Dedalo, Rancati
Mezzi tecnici (technical equipment)
Arco Due, Petracca
Trasporti (transport)
Romana Trasporti Cinematografici
Assicurazione (insurance)
Assitalia
Biancheria intima (underwear)
Le Foglie
Edizioni musicali e registrazioni
(music publishers)
Bixio C.A. S.r.l. / BMG Ariola S.p.A.
Mixage delle musiche (music mixer)
Giorgio Agazzi
Musiche di repertorio (musical excerpts)
CAMMINANDO SOTTO LA PIOGGIA
di P. Frustaci - E. Macario / C. Rizzo
edizioni Curci
GOOOL!!!
di A. P. Piazzolla
edizioni Curci / Paganmusic
LOVE RAIDER
di P. Steffan - P. Donaggio
cantata dai Trash Company
edizioni Bixio C.A. / BMG Ariola
COSÌ FAN TUTTE
di Wolfgang Amadeus Mozart [uncredited]
EVERYBODY F CK NOW
by DJ Liberty (R Clivilles and F Williams)
(adapted from TAKE CONTROL
by Digital Sappers (Diego Abaribi, Mauro Marcolin, and Valerio Gaffurini)
which in turn was adapted from C & C Music Factory's GONNA MAKE YOU SWEAT) [uncredited]
Si ringraziano (we thank)
Intesa & Intesa s.r.l.
Cincotta s.p.a.
Francesco Elli eC. s.p.a.
Altrenotti s.p.a.
Fontana Arte s.p.a.
O Luce s.p.a.
KMP Italia s.p.a.
Un Jaron en Plus
Annibale Colombo s.r.l.
Mediterraneamobili s.p.a.
Vibieffe s.r.l.
Artemide s.p.a.
Mobili Berloni s.p.a.
Apple Computer s.p.a.
Sisal Tappeti Piacenza
CALP s.p.a.
Poltrona Frau s.r.l.
Minotti s.p.a.
Auras s.r.l.
Edra s.p.a.
Fiamitalia s.p.a.
Caporali
La Porcellana Bianca s.p.a.
Devone Devone English Supplies
Prodotto da (produced by)
Giovanni Bertolucci per la San Francisco Film S.r.l., Achille Manzotti per la Faso Film S.r.l.
| | |
| --- | --- |
| PERSONAGGI E INTERPRETI | |
| Diana | Claudia Koll |
| Paolo | Paolo Lanza |
| Nadia | Ornella Marcucci |
| Antonietta | Isabella Deiana |
| Sig. Silvio | Renzo Rinaldi |
| ??? | Jean René le Moine |
| ??? | Marco Marciani |
| Lello | Maurizio Martinoli |
| ??? | Luciana Cirenei |
| Commendator Scarfatti's niece | Rossana di Pierro |
| ??? | Antonio Conte |
| Passenger in bus | Osiride Pevarello |
| ??? | Rosa Maria Pezzullo |
| Poetess | Lucia Lucchesino |
| Tomasina? (trying on panties) | Pierangela Vallerino |
| Alphonse Donatienne | Franco Branciaroli |
| Comendator Scarfatti | Tinto Brass [uncredited] |