---
---
IN 1969 THERE WAS A MOVIE THAT WAS BARELY RELEASED
---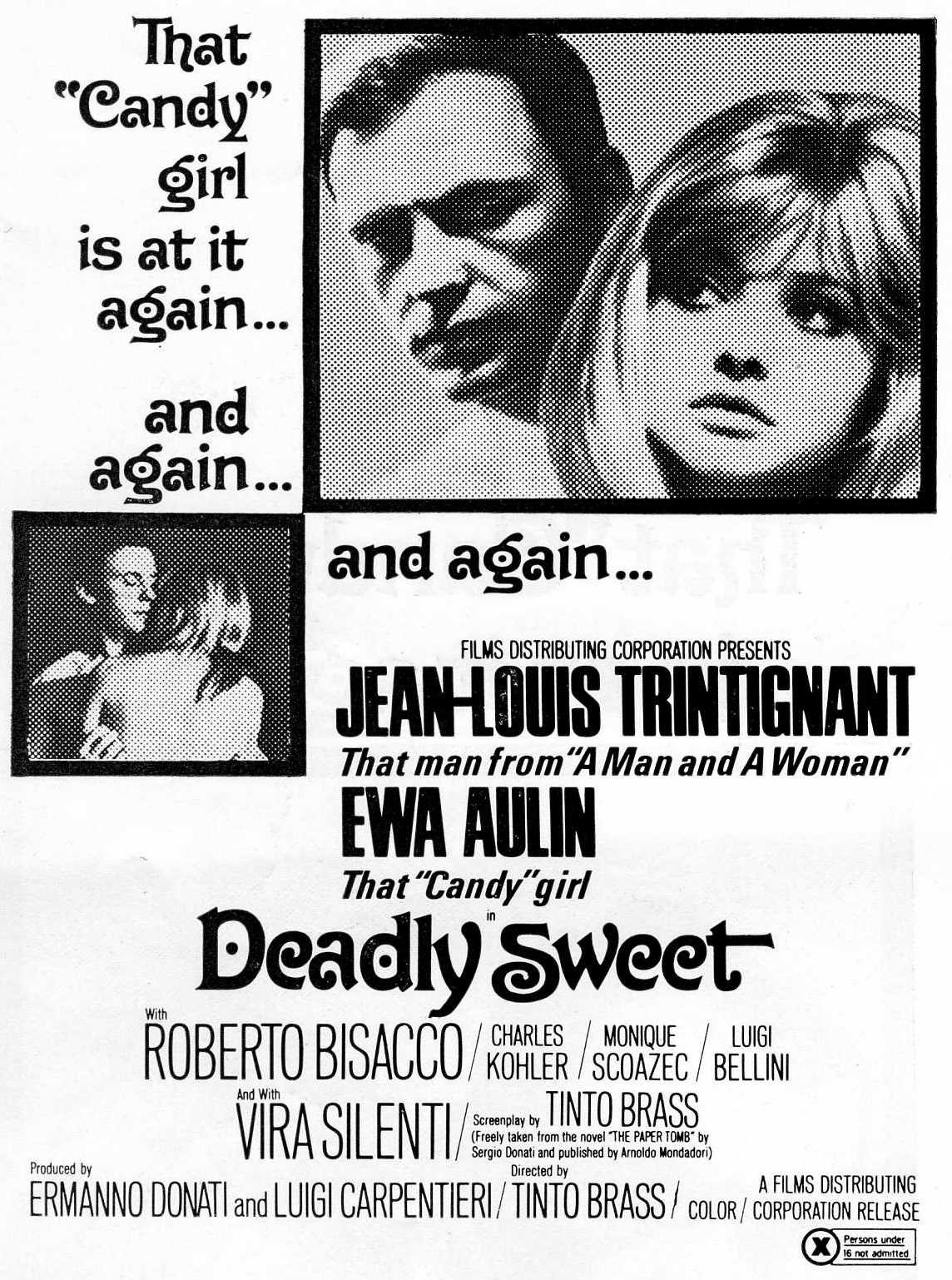 It was released by Paramount Pictures, but no Paramount logo and no mention of Paramount appeared anywhere on the film or on the publicity materials, for Paramount released it through a subsidiary called Films Distributing Corporation.
Deadly Sweet was shown as a second-bill to an exploitation movie called Sweden: Heaven and Hell at the Paramount Theatre in Portland, Oregon, from the 17th through the 30th of September 1969.
Later on, Deadly Sweet played as a second-bill to an exploitation movie called The Minx at the Paramount Theatre in Oakland, California, from the 11th through the 17th of March 1970.
Shortly afterwards, in April 1970, Deadly Sweet was withdrawn from release in the US.
DO YOU HAVE ANY INFORMATION ABOUT THIS MOVIE?
It probably played at several other cinemas as well between April 1969 and March 1970.
Did you see it?
Do you know anybody who saw it?
Do you know where the preview ("trailer") is?
If you have any information on the US/Canadian presentations of this movie in 1969/1970, please contact me right away!
Thank you! Thank you! Thank you!
If you need more clues, please see my web essay at DEADLY SWEET,
where I post literally everything I know about this obscure little movie.
Here are some illustrations and news stories that may amuse you: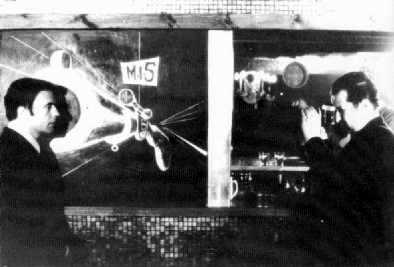 Director Tinto Brass souvenirs a moment with his lead
Betty Martin, "Movie Call Sheet: Burke, Bixby Given Roles," The Los Angeles Times, Monday, 14 March 1967, p D14:
Ewa Aulin, 17-year-old Swedish beauty and current Miss Teen International, will make her film debut opposite Jean Louis Trintignant in With Bated Breath, being produced by Panda Productions of Rome beginning March 27 in London under the direction of Tinto Brass. Miss Aulin will return to Hollywood this week for the Teen-Age Fair opening Friday at the Hollywood Palladium.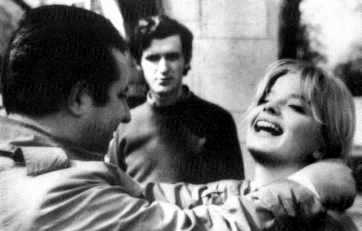 Tinto Brass and Ewa Aulin get along famously
Variety, Wednesday, 16 March 1967, p. 32:
...Following her screen debut in Alberto Lattuada's "Don Giovanni in Sicily," Sweden's Ewa Aulin teams with Jean Louis Trintignant in the Donati-Carpentieri production of "Heart in the Mouth" late this month in London under the direction of Tinto Brass.
Variety, Wednesday, 26 March 1967, p. 32:
ITALIAN FILM DIRECTORS
Tinto Brass—Now in London with Jean-Louis Trintignant and Sweden's Ewa Aulin filming "Heart in the Mouth" for Panda Film.
Variety, Wednesday, 26 March 1967, p. 41-D:
ITALIAN FILM PRODUCTION
PANDA Producers Donati and Carpentiere are no longer grinding out quickies for others and their current list of pix to come is decidedly more impressive. Tinto Brass is directing "Heart in The Mouth," on extended London locations with Jean Louis Trintignant and Swedish newcomer Ewa Aulin, while Damiano Damiani is preparing to film "Mafia Vendetta" from Leonardo Sciascia's novel, Knopf published in U.S.A. Final Panda project is tentatively called "Rififi in the Kremlin."
Hollywood Reporter, Thursday, 27 March 1967:
Ewa Aulin in Pic Debut
Ewa Aulin, 17-year-old Swedish for-
mer "Miss Teen International," will
make her film debut opposite Jean
Louis Trintignant in "With Baited [sic]
Breath," being produced by Panda Pro-
ductions of Rome. Film rolls today in
London under the direction of Tinto
Brass.
"International Sound Track," Variety (weekly), 6 September 1967:
"Italy not only has five entries in the running for main award Golden Lion of San Marco, but has a sixth getting a world-preem showcase here out of competition on the final afternoon. Film is Tinto Brass's 'Col Cuore Nella Gola' [sic] (Heart in My Mouth). Brass is a prominent Venetian, which only partially explains last-minute string-pulling to program the Panda production."
"Venice 1967," Films in Review, October 1967:
September 8. Today more attention was paid to rumors of what the jury was doing than to the films that were screened. In fact, the Italian thriller which Tinto Brass made in London and calls Col cuore in gola (Heart in the Throat) is merely a fatuous twiddling about "being with it."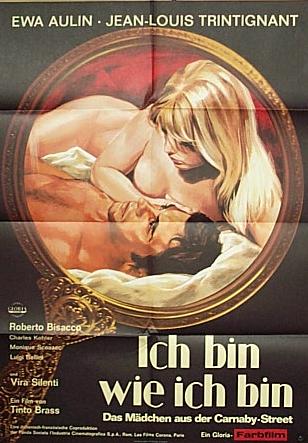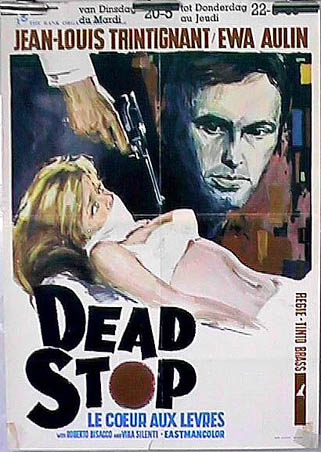 VHS, dubbed into Italian,
long out of print
DVD, dubbed into Italian,
released in December 2007
The London Underground
The guy in the middle is David Prowse (who played Julian in A Clockwork Orange and Darth Vader in Star Wars)
That many deer in Hyde Park?
Her only movie rôle: Monique Scoazec as Veronica Yassupova
Monique Scoazec, Jean Louis Trintignant, Charles Kohler
Who is this guy? Is he credited?
My old neighborhood
Was this guy credited?
I think this guy appeared again in Nerosubianco, but I'm not sure
Mr Leris, punished for his sins. Who is this actor? I've seen him somewhere, but I can't place him. He looks vaguely like Guido Crepax, but I doubt that's who it is.
THE FOLLOWING FEW FRAME CAPTURES ILLUSTRATE WHAT HAPPENS WHEN YOU DON'T HAVE SUFFICIENT BUDGET FOR NEGATIVE CUTTING
I can't compare these VHS frames with the Italian DVD, because the Italian DVD deletes them all. The action is all cut out. The techies took a few clean frames, froze them, and cut back and forth among them. Well, that gets rid of the messy tape edges, but it wrecks this sequence, as well as the other rapidly cut sequences throughout the movie. Drat!!!!! All the intricacy is gone, substituted with typical TV-show-type flashiness. This was my favorite bit in the whole movie, but now it's completely ruined. So if you've got the VHS, consider yourself lucky. Hang onto it! In all the sequences with rapid cutting, the VHS is authentic. You know, I've griped so much about business folks and techies altering other people's works that hardly anyone wants to talk to me anymore. And I've killed any chance of getting a career in showbiz. On the plus side, though, the forthcoming Cult Epics DVD will leave these rapidly cut sequences intact. Hooray!!!!!
Two samples from the eyelash scene, entirely re-edited — and entirely ruined — for the Italian DVD. Wait for the forthcoming Cult Epics DVD, which will be better.
In this shot, the VHS has more of the image. As for the DVD, see what happens when projectionists don't frame properly? But there I go, complaining again...
Most of the stuff at the happening must have been documentary shots of a real happening
This guy coming down the sliding board reminds me so much of Peter O'Toole
Below are frame grabs from the only love scenes, which are exceedingly brief and definitely not worthy of an X by any means: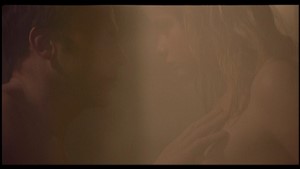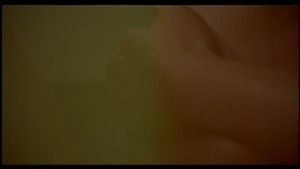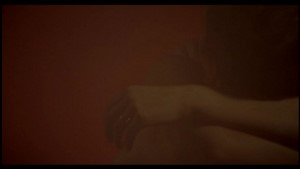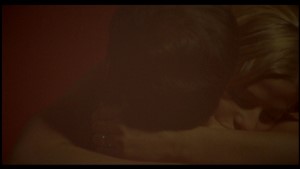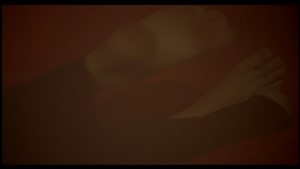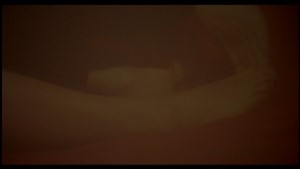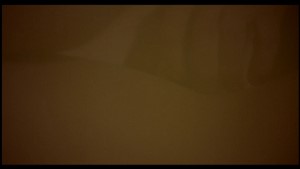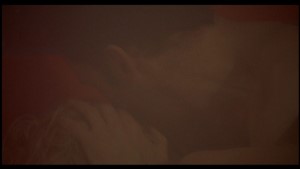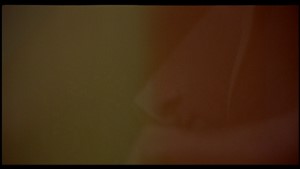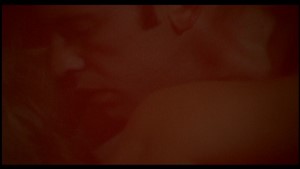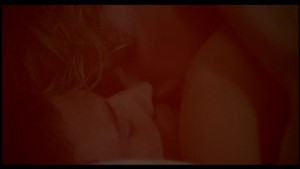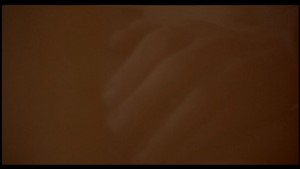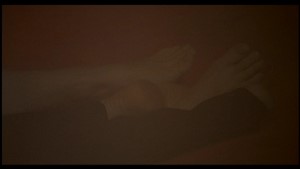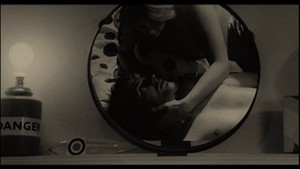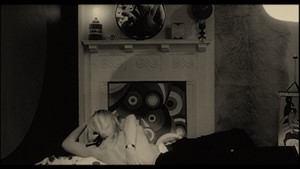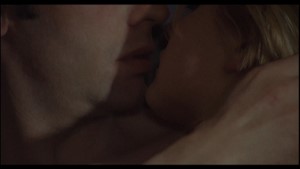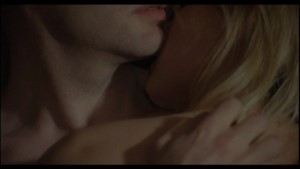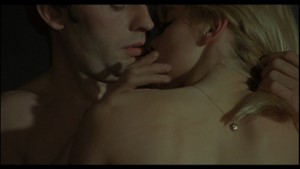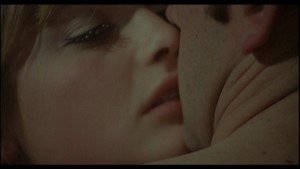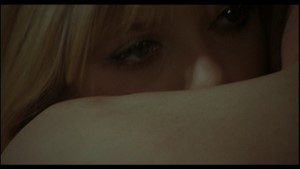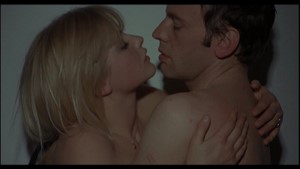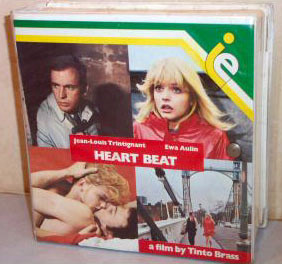 Super 8 abridgment
(Photo courtesy of Lee's Cameras of London)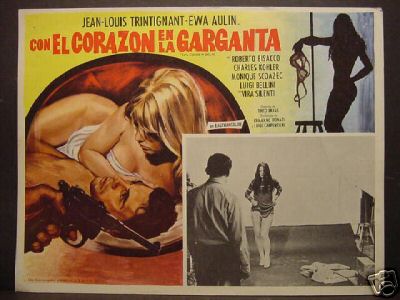 Méxican lobby cards
Excerpt from "The Jet Sounds of Nicola Conti," The Millionaire :
NC: And then I would say there's another very important movie, which is kind of a not-very-well-known movie, but I really suggest you to get a hold of it. It's a movie done by a director called Tinto Brass; now he is very famous for kind of sexploitation movies, erotic kind of movies and very stupid stuff.... In the '60s he was one of those experimental directors in Italy, and he made a movie called Col cuore in gola, which is... I don't know how to translate that. It means probably "Heart in Your Throat" or something like that. And it's a movie that's very much inspired by Blowup from Michelangelo Antonioni, but it's way ahead of that, because it has been shot with all the new techniques of the camera, and it's got a soundtrack from Armando Trovajoli, which is really outstanding. And he's got Jean Louis Trintignant and Ewa Aulin as the main characters. It was all shot in London and it's got two inserts from Guido Crepax who is a very famous Italian—
$$$: Yeah, the cartoonist, yeah.
NC: Yeah, yeah, yeah, yeah. So I mean, it's seriously a fantastic movie.
$$$: Wow, that sounds incredible.
NC: It's really... I mean, when I saw it the first time, I would say, I mean, this is a masterpiece, and no one really knows about it today in Italy....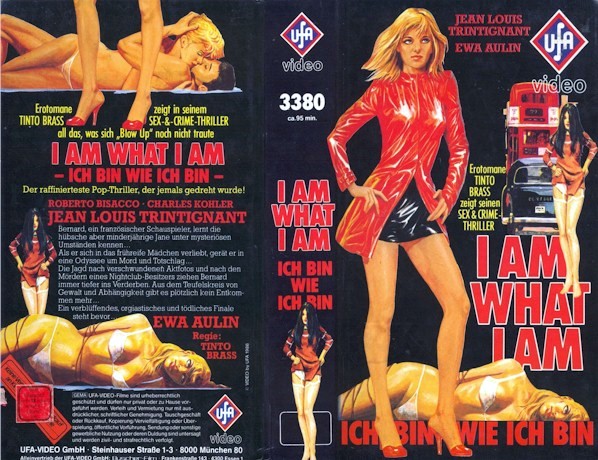 (I would love to acknowledge the guy who sent this scan to me, but I can't remember his name)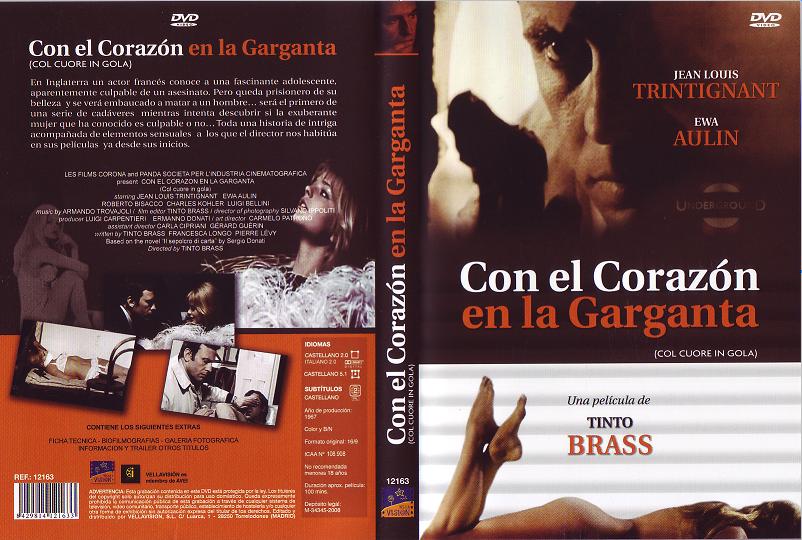 The nude woman on the cover is not in the movie.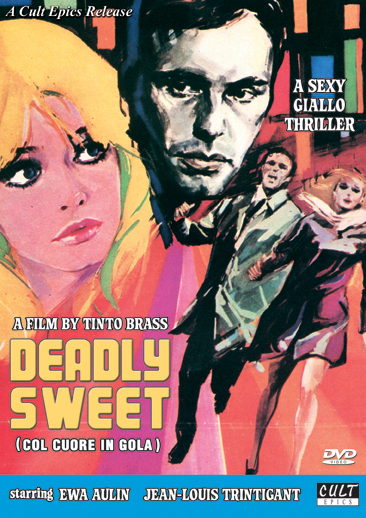 This is starting to get reviews:
Doomed Moviethon
DVD Times
10,000 Bullets
DVD Maniacs
Giallo Fever
DVD Holocaust
Blogcatalog Cult Reviews
---
Un film di Tinto Brass
Heart in His Mouth / Col cuore in gola / En cinquième vitesse / Deadly Sweet
Distributed by Rank
Running time: 104 minutes at 24fps, 100 minutes at 25fps
Released in Italy on 16 November 1967
Prodotto da (Producteurs delegues)
Ermanno Donati e Luigi Carpentieri
Per la co-produzione italo-francese (Une co-production)
Panda Società per l'Industria Cinematografica S.p.a., Roma; Les Films Corona, Paris
Soggetto di (story by)
Tinto Brass
Liberamente tratto dal romanzo (D'apres un roman)
Il sepolcro di carta di Sergio Donati (Edito dalla Arnoldo Mondadori Editore S.p.a.)
Sceneggiatura di (Adaptation cinematographique de)
Tinto Brass, Francesco Longo,
Pierre Levy-Corti
Suggerimenti grafici di (storyboards)
Guido Crepax
Hanno collaborato alla regia (assistant directors)
Carla Cipriani, Gerard Guerin
Alla produzione (assistant producer)
Franco Cuccu
Alla parte decorativa (art directors)
Carmelo Patroni [capo], Bice Brichetto e Ornetta Melaranci [assistenti]
Alla parte tecnica (technical assistance)
Enrico Sasso [operatore/camera operator], Giuseppe Gatti, Vittorio De Sisti (C.S.C.) [fonico/sound], Fulvia Armanni [aiuto montatrice/assistant editor], Augusto Diamanti, Sergio Spila [capo elettricista/gaffer]
Montaggio di (editing by)
Tinto Brass
Musiche di (Musique de)
Armando Trovajoli
La canzone "Love Girl" di
Trovajoli Nohra
è cantata da
Mel Ryder
Edizioni musicali
NazionalMusic, Milano
Direttore della fotografia
(Directeur de la photographie)
Silvano Ippoliti (A.I.C.)
Direttore di produzione
Lucio Trentini
Organizzatore generali
Piero Donati
Eastmancolor della
Tecnostampa
Stabilimento di posa studi (studio)
Dear, Roma
Stabilimento di sincronnizzazione (dubbing studio)
Fono Roma, Roma
Qualsiasi riferie realmente con fatte e persone realmente esistenti è puramente casuale
PERSONAGGI ED INTERPRETI
Bernard
Jean Louis Trintignant
Jane Burroughs
Ewa Aulin
David
Roberto Bisacco
Jeremy Burroughs
[Jerome in the Italian version]
Charles Kohler
Jelly-Roll
Luigi Bellini
Veronica Yassupova
Monique Scoazec
Bartender
Enzo Consoli (c.s.c.)
Martha Burroughs
Vira Silenti
Jelly-Roll's bodyguard
David Prowse
[uncredited]