THE WORKS OF TINTO BRASS
---
Heart in His Mouth
(Col cuore in gola, a/k/a Deadly Sweet, 1967)
A working title was Enigma
Also known as:
En cinquième vitesse (In Fifth Speed)
Dead Stop
Dead Stop: le cœur aux lèvres
Escalation
Heart Beat
I Am What I Am
Ich bin wie ich bin: Das Mädchen aus der Carnaby-Street
La séptima victima
If you saw DEADLY SWEET when it played at the Paramount Theatre in Portland, Oregon, in 1969, or at the Paramount Theatre in Oakland in 1970, or if you saw it at any other US or Canadian cinema in 1969 or 1970, I definitely want to talk with you.
So please write to me.
Thanks!
On the left is the first edition, 24 March 1956, published as a novel-length story for a mystery magazine. And on the right is a reprint from 28 April 1963 in what appears to be the same mystery magazine. So, at long last, that explains it. The American Film Institute Catalog listed this as "Source: Sergio Donati, Il sepolcro di carta (publication undetermined)," and now we know why the publication was undetermined. The AFI were looking for a book, and for 30 years I was looking for a book, but it wasn't published as a book after all. At least, it wasn't published as a book in Italy. (For all these years I thought these stories were called gialli because they were printed on lignin paper. Wrong! They were called gialli because the covers were yellow.)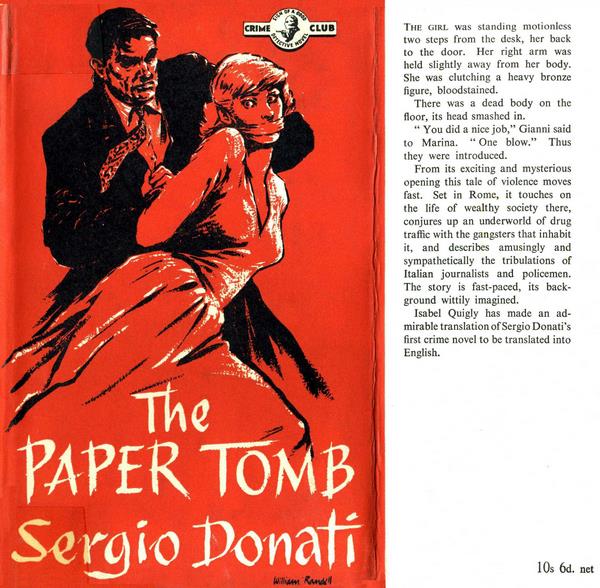 Above is the dust jacket of the English translation, which was published as a book.
(London & Glasgow: Wm Collins Sons & Co Ltd, 1958).
Apart from two or three scenes, the movie bears almost no resemblance to the book, though a few amusing quotes apply to the movie as well:
"Wherever you go, corpses sprout like mushrooms. Funny, isn't it?" (Chapter VIII, section 2);
"It's the instinct of self-preservation waking up" (ending of Chapter VIII);
"Everything depends on seeing things from another point of view" (concluding line).
Comic strips on the screen have not been limited to animated cartoons and serials. They have been the source of many feature films from the silent days to the present. "Skippy" almost won the best actor Oscar for little Jackie Cooper in 1930. Jiggs and Maggie, Joe Palooka, and Blondie and Dagwood have been the subjects of many films. In recent years the popular cartoons have been "Prince Valiant," "Up Front," "Lil Abner" and "Modesty Blaise."...


Betty Martin, "Movie Call Sheet: Burke, Bixby Given Roles,"
The Los Angeles Times, Monday, 14 March 1967, p. D14: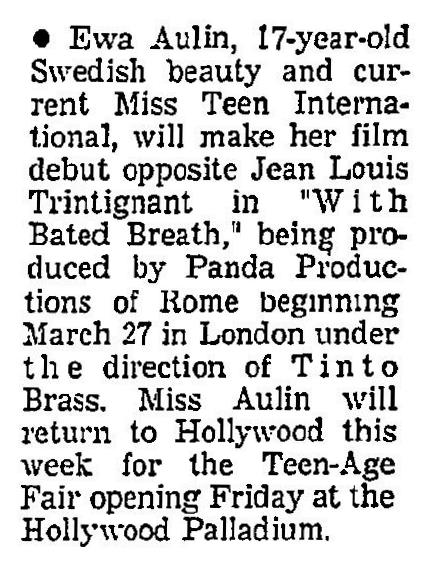 Variety, Wednesday, 16 March 1967, p. 32:


...Following her screen debut in Alberto Lattuada's "Don Giovanni in Sicily," Sweden's Ewa Aulin teams with Jean Louis Trintignant in the Donati-Carpentieri production of "Heart in the Mouth" late this month in London under the direction of Tinto Brass.
Variety, Wednesday, 26 March 1967, p. 32:


ITALIAN FILM DIRECTORS


Tinto Brass — Now in London with Jean-Louis Trintignant and Sweden's Ewa Aulin filming "Heart in the Mouth" for Panda Film.
Variety, Wednesday, 26 March 1967, p. 41-D:


ITALIAN FILM PRODUCTION


PANDA Producers Donati and Carpentiere are no longer grinding out quickies for others and their current list of pix to come is decidedly more impressive. Tinto Brass is directing "Heart in The Mouth," on extended London locations with Jean Louis Trintignant and Swedish newcomer Ewa Aulin, while Damiano Damiani is preparing to film "Mafia Vendetta" from Leonardo Sciascia's novel, Knopf published in U.S.A. Final Panda project is tentatively called "Rififi in the Kremlin."
Hollywood Reporter, Thursday, 27 March 1967: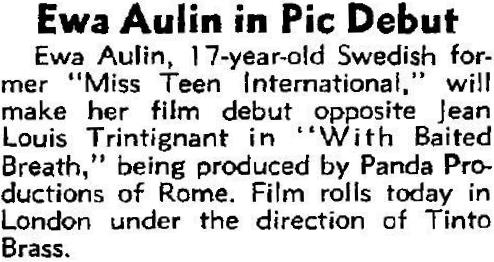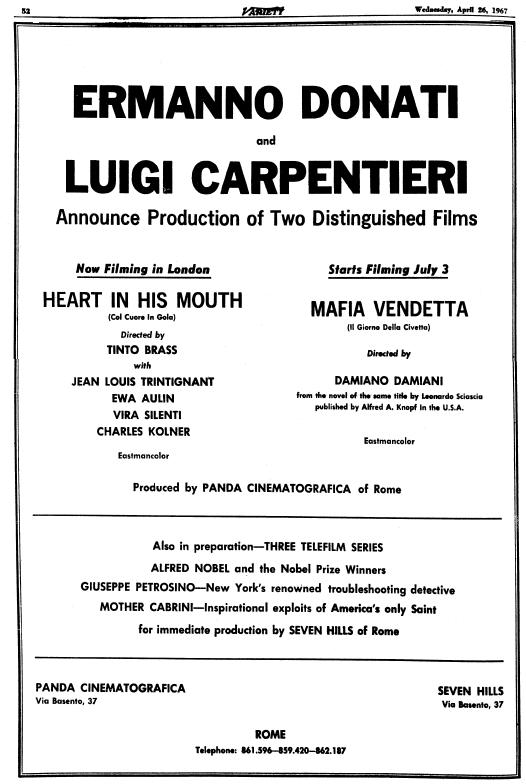 Though Heart in His Mouth is the correct title, the movie was never released under that English title anywhere. The Italian title, Col cuore in gola, is an equivalent phrase ("with the heart in throat"). "With Bated Breath" is a paraphrase and was surely never a proposed title for the movie; it was simply a journalist's creditable attempt to convey the meaning of the idiomatic Italian phrase "col cuore in gola" by use of a similar idiomatic English phrase.
He's reading Conrad, but probably only so that he can make himself appear to be trendy. The Bogey poster has a double meaning. Bernard fancies himself another Bogart. In reality, the press agents had already started putting out publicity calling Trintignant "the French Bogart."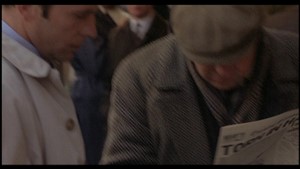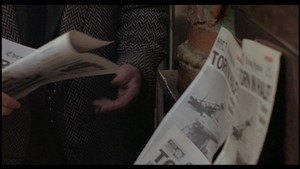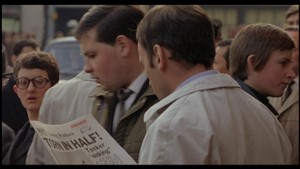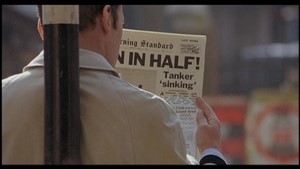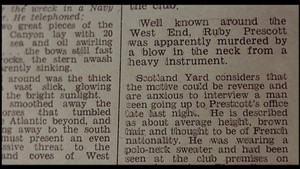 Do you like clues? I LOVE clues!!! I had always assumed this was a fake newspaper. Now I'm not so sure. I bet this was the day's real LATE EXTRA edition of the London Evening Standard, but that this one copy only was a prop. Click on the close-up of the news story about the murder of Ruby Prescott and look carefully. Note that you can see after-images of the painstaking handmade paste-up job. Then look at the other story on the page and you'll see that it looks rather cleaner, though even it shows evidence of handmade paste-ups. This was a mock-up based on a real edition of the newspaper. Now, who's in the mood to go to the library and sift through the LATE EXTRA editions of the Evening Standard of March and April 1967 to get the exact date?
The little guy in the black coat, to the right of Bernard, turns around for a second to get a better look at the star of A Man and a Woman.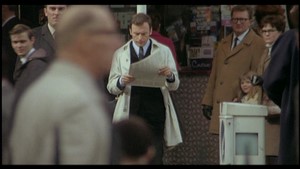 The family on the right have just noticed the camera.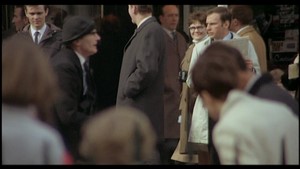 The wife then smiles, first at the sight of the busker, and then at the sight of the camera. You can tell that she thinks the camera is there only to record the busker.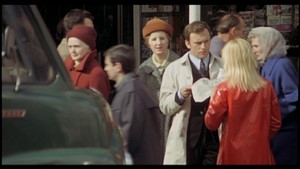 The woman just behind Jean-Louis Trintignant has figured out that someone is making a movie. She peers over to see if she can recognize the incognito actors, but she's never seen them before.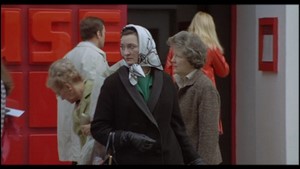 They lived their lives, and by now they've probably died, and they never knew they were in a movie.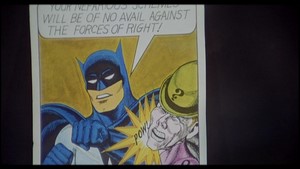 Bernard is deluded, divorced from all reality, obsessed with pretending to be another Bogart. Jane instantly recognized his certifiable lunacy. Nonetheless, by imitating Bogey's Philip Marlowe, Bernard has rescued her from assassins. Jane softens. She is completely won over. Bernard then ruins everything with his idiotic ideas about what has just happened.


A few of the countless "stolen shots" that are cut into this movie from beginning to end. For years I thought these were here just because the overly enthusiastic camera operators were having fun by capturing every image that caught their eye. No. I was wrong. These are intentional and serve a purpose. While Bernard cannot think outside of the contexts of the Wolfman and Bogart and Gable and Batman, surrounding him everywhere is reality, reality he never comprehends, reality which in this movie is true reality, captured surreptitiously. Do you need a frustrated guy? Go to Hyde Park and find one. Need to show some policemen? Go to Hyde Park and find some. Do you need shots of bus passengers? Take your camera onto a bus and film some passengers. Do you need people looking out of their windows? Point your camera at their windows until they notice.
When they arrive at Playland, what do they see? They see that everyone inside is looking outside at the camera crew and waiting for the approach of the two stars.
Do you need to shoot a chase on an escalator? Okay, just take your camera and crew and actors out to an escalator and shoot your scene. There will be people around who will be in shot? So what? There will be be people around. They can have fun watching the shoot and being in it.
Now we begin to understand why Bernard and David are friends: They have the same obsessions with pop art and comics. David, though, has a reasonable income thanks to his career as a fashion photog. Bernard is a lost cause.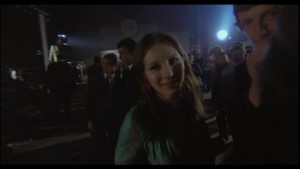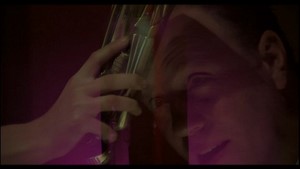 And now for the least-believable stunt in the movie. Why is it so unbelievable? Because it occurs only in Bernard's pathetic imagination. It is not a real event, it was not a real event, it could never possibly have been a real event. What's more, I doubt that this sequence was in the original cut of the movie. Tinto probably added it as an afterthought just prior to release, in an attempt to change and simplify the plot, half-hoping that we would accept it as a real event. Yes, that sounds strange and contradictory, but such a contradiction would enhance the ambiguity.
EUROPEAN RELEASES
"International Sound Track," Variety (weekly), 6 September 1967:


"Italy not only has five entries in the running for main award Golden Lion of San Marco, but has a sixth getting a world-preem showcase here out of competition on the final afternoon. Film is Tinto Brass's 'Col Cuore Nella Gola' [sic] (Heart in My Mouth). Brass is a prominent Venetian, which only partially explains last-minute string-pulling to program the Panda production."
"Venice 1967,"
Films in Review
, October 1967: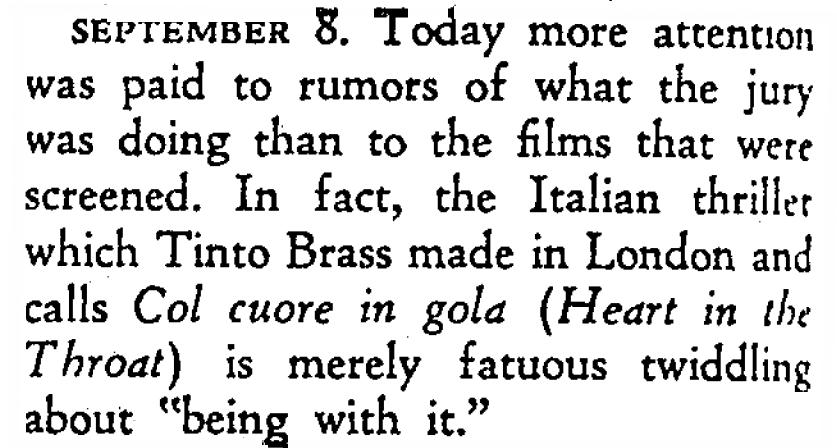 Above are six lobby cards that I purchased on eBay some years ago, and that ended up as a supplement in the Cult Epics DVD. Note that these include a deleted sequence in a bowling alley, surely located in Piccadilly Circus. Note also that the lobby cards, and presumably the poster and other advertising materials, give the title as:

whereas the opening credits spell it out:

I just dread the thought of people searching for years for materials on this movie and coming up empty-handed only because they didn't think to check both spellings.
Why was the French version of the movie called En cinquième vitesse? Why did Bernard drive like a race-car driver, and why did he disguise himself as one? Probably for the same reason that he played a race-car driver in Un homme et une femme (A Man and a Woman): He really was once a race-car driver in real life.

Here's a capture from the Video Search of Miami VHS that I purchased back in the early 1990s. The watermark, or bug, at the lower right corner of the frame seems to read RTL or something like that. It is on view throughout the entirety of the movie. Should we assume that's Radio Télévision Luxembourg? If so, that places this broadcast between 2 January 1984, when RTL began operations, and sometime in 1988, when it moved to Köln and effectively became a German station.

Please let me know if you know more.

Thanks!
If you have a nice copy of En cinquième vitesse for sale or rent, in any format, or if you know where I can view a 35mm copy, please write to me. Thank you!!!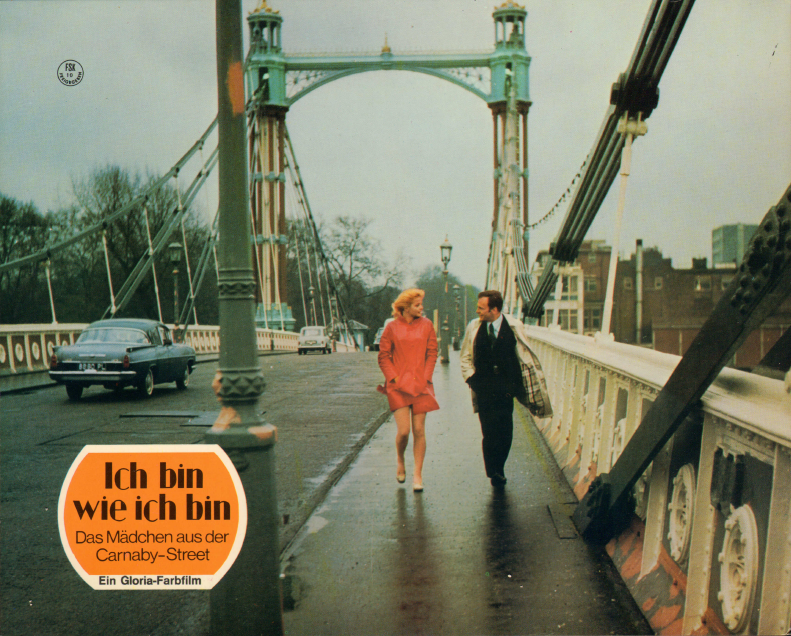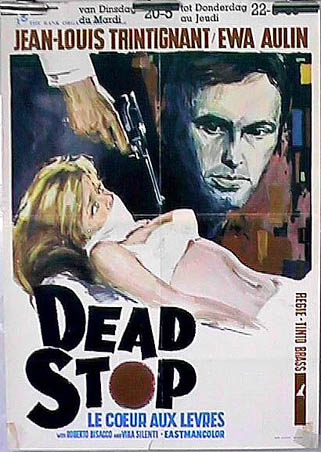 MY DESPERATE PLEA:
Where can I find a copy of
Dead Stop: le cœur aux lèvres
? Is it housed at an archive? Does a distributor have it available for rental on film or on video? If so,
please write to me and let me know
. Thanks so much!!!!
THE MINIATURE UK RELEASE
Luigi Bellini as Jelly-Roll shouting Italian in a close-up: "Sputa!" ("Spit it out!") In the English version, he says "Where's the diary?" and somehow it looks almost perfectly convincing. The more I watch it, the less I can understand how that was done. By the way, isn't that a great cinematic face? Hawk's nose and hawk's eyes, with a Chaplin/Hardy/Hitler toothbrush mustache, topped by a bowler and a pink shirt. Putting him against a green background is simply the perfect finishing touch. Luigi Bellini was in only one other movie that I know of (
Le bal des voyous
), which is a shame because he's a powerful presence. Apart from that, I know nothing about him. Was he perchance part of the
Bellini circus family
? (Many moons ago I was on a crew — follow-spot I think — when a circus came to town. Harry Von Zell — no, not
that
one, but his nephew — was the MC, and a number of the performers were from Italy. I have a vague memory that some of them were named Bellini, though it was quite a while ago and I didn't think to keep notes. Drat! I could well be wrong about this. I felt so sorry for the big cats, by the way, confined as they were to microscopic cages when not performing, so small they could barely move. Terrible life for a big cat. Cruel. Traditional, yes, but, when you think about it, cruel. Circuses would be so much more entertaining without the big animals.) There's a different
Luigi Bellini
associated with the Museo Bellini in Florence, but he's five or ten years younger than
Jelly-Roll
. The slight physical resemblance, though, leads me to suspect that the two might be related.
---
THE MADDENINGLY MYSTERIOUS US RELEASE
---
What Paramount Did
---
---
---
| | |
| --- | --- |
| In the original, we are too far away to hear what is being said. So someone at Paramount either got hold of the production transcripts or hired a lip reader and dubbed in the dialogue. | A guy with a thick accent gets out of the car to ask Jane if she can give him directions. |
| Jane looks confused, and uneasily approaches the car. (Look at that! I never noticed before! The car is no longer up on the curb. This was done over at least two takes. Could it be that a traffic officer told them to move the car, and that when the officer left the area for a minute or two they rushed to do this shot again and couldn't worry about continuity?) | He repeats his question several times, and then asks her to look at the calling card that a guy in the back seat is holding. And I think the guy in the back seat also is heard to ask her for help with directions. |
---
TENANT: "Who is it?"
BERNARD: "Gas inspector."
TENANT: "But the inspector was just here yesterday!"
BERNARD: "I'm the inspector's inspector."
TENANT: "Who is it?"
BERNARD: "Gas."
TENANT: "But you were just here yesterday!"
BERNARD: "I need to check the reading."
---
---
---
---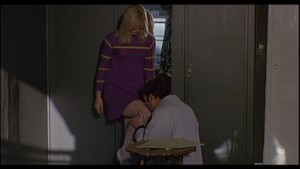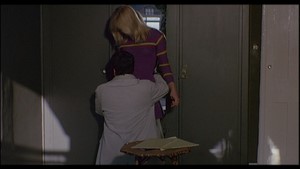 In the original: no dialogue at all.
In the Paramount version, when Bernard faces away from the camera, he says:
"You're trembling,
mon chère
. What's wrong? You all right?" That dialogue is supposed to help us? How does it help us? It adds deadweight to the narrative and leads us to an incorrect conclusion. Whoever wrote it didn't quite understanding the story.
In the original: no dialogue. In the Paramount version, while Bernard's face is off-camera, he says to Jane: "He must have been killed last night. That proves the kidnappers were acting on their own." Terrible addition! True, the kidnappers were acting on their own, and the people who murdered Leris were surely some of Prescott's remaining men. We never know for sure what exactly happened. By now we've figured out that Leris was not really an art dealer, but something else altogether, and so an assassination should hardly be surprising, especially in this volatile context. On the other hand, it is clear that Leris was killed not long before Bernard and Jane entered the room. Had he been killed the night before, the smell would have been overpowering, but neither Jane nor Bernard noticed. The blood clot has dried and darkened, true (without blood flow, that would hardly take long), but yet his eyes are still clear and full and properly formed, and his blood has not sunk down by force of gravity. In Paramount's defense, though, this is precisely the misinterpretation that will haunt Bernard later that evening.
---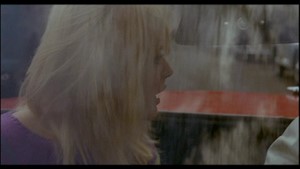 The British dialogue was straightforward:
JANE: "Who was that?"
BERNARD: "His name was
Jelly-Roll
. I think he worked for Prescott."
The Paramount version was something like:
JANE: "Who was that?"
BERNARD: "He's one of Prescott's men."
I find it a bit baffling that though
Jelly-Roll
is referred to by name in the British and French versions,
he is never referred to by name in the Italian and Paramount versions. It would help if we knew his name, and it would help if we knew that Bernard knew his name. Why? Because from the time the story begins, the night previously, to this car chase, Bernard had no opportunity to learn
Jelly-Roll's
name. So if he knows the name, he learned it earlier, which would indicate that he had been hanging around the club for rather a while, and which would further indicate that he knew Prescott well enough to pick up on his henchman's nickname, which couldn't possibly have been common knowledge.
---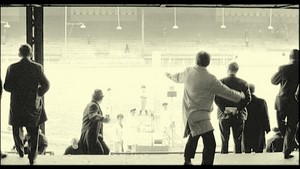 On the left is a frame grab from the Medusa DVD, in which the black-and-white shots are truly black-and-white. On the right is my manipulation of that frame grab to match my memory of what I just saw a few hours ago in the Paramount version, in which all the black-and-white shots are tinted various colors.
---
---
Finally, the last several changes. The final shot we see in the Paramount version is of Jane's feet at the railing: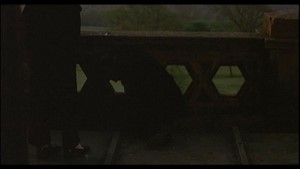 Screenings at Commonwealth: Paramount
will screen "Deadly Sweet" Thursday (20),
1:30 p.m. . . . Shows last week: "Seven
Golden Men" (WB-7A), Tuesday (11); "The
White Colt" (WB-7A), Thursday (13); and
"100 Rifles" (20th-Fox), Friday (14).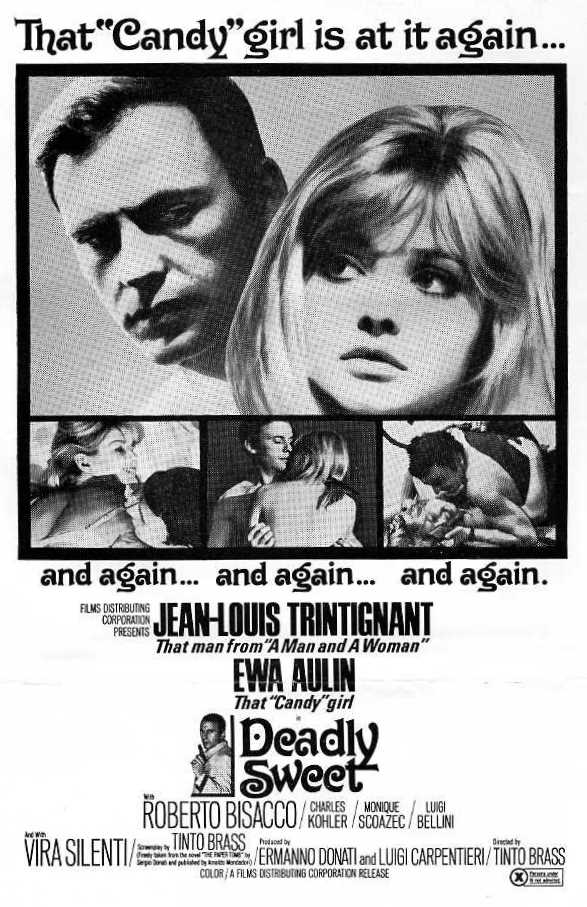 The above is from one of the press books (yes, there was more than one), this one being only a single sheet, two-sided. Click on the image above to see the whole thing. It's quite interesting. What's most interesting is that it is in mint condition, as it was never used. Probably few press books for this movie were ever used. The one-sheet poster was once available for viewing on the
Learning about Movie Posters
site but it was taken down a few years ago, probably to conserve on space. It's now up on MoviePoster.com: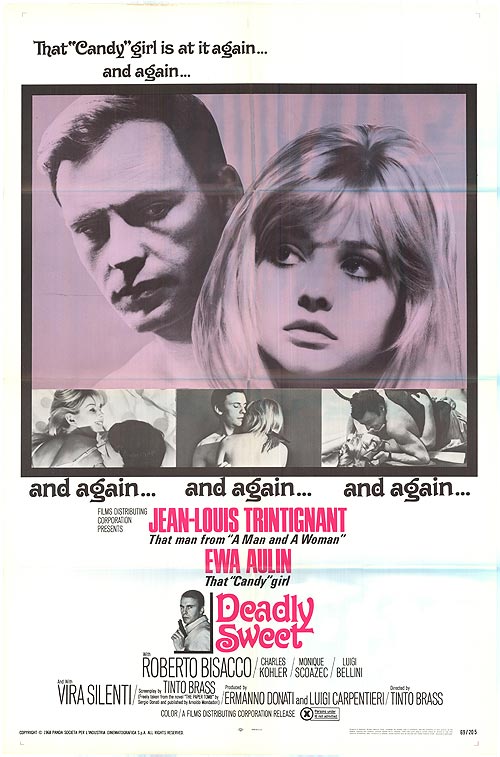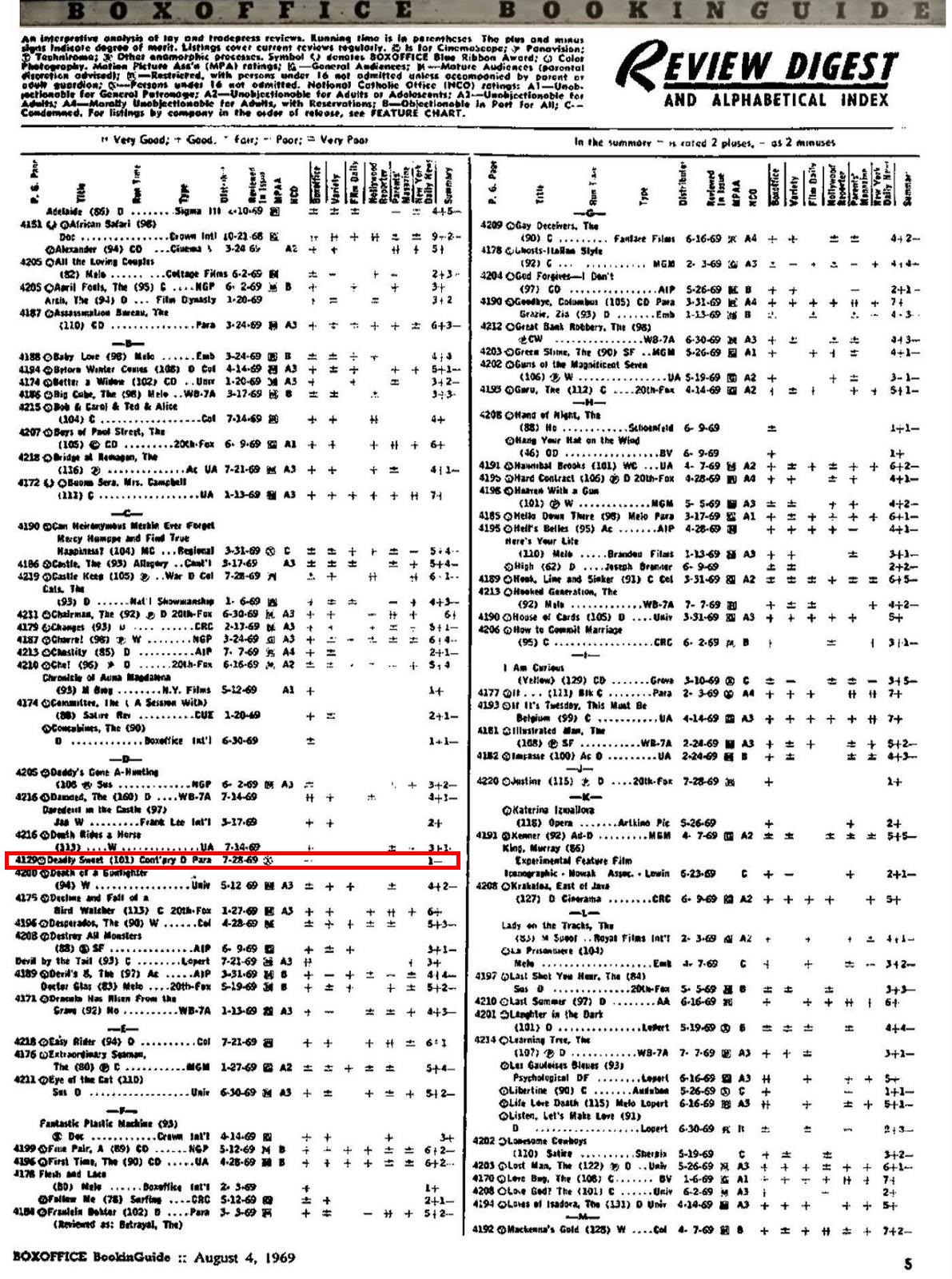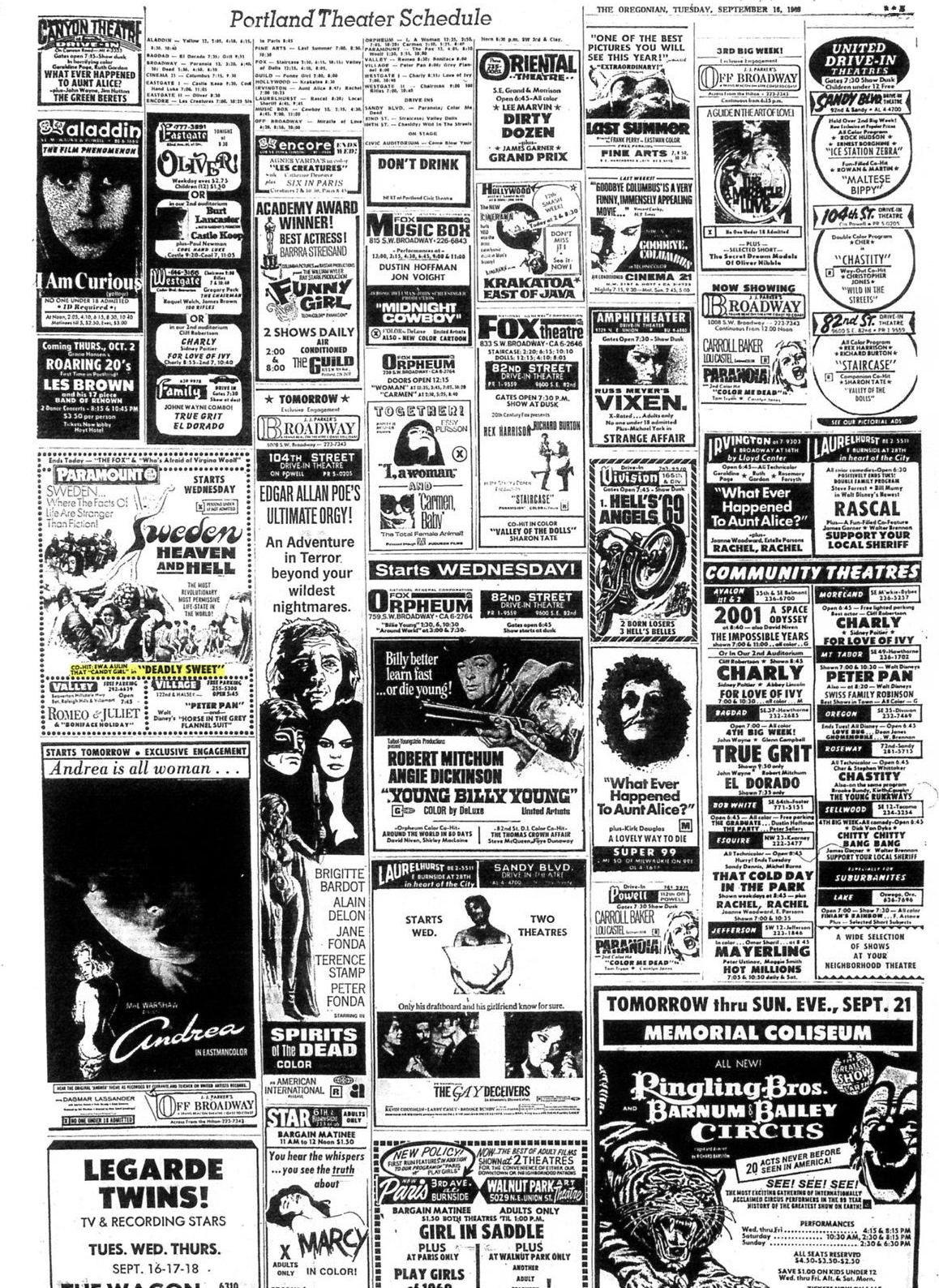 ---
OTHER RELEASES?
---
---
AFTERMATH
NC: And then I would say there's another very important movie, which is kind of a not-very-well-known movie, but I really suggest you to get a hold of it. It's a movie done by a director called Tinto Brass; now he is very famous for kind of sexploitation movies, erotic kind of movies and very stupid stuff.... In the '60s he was one of those experimental directors in Italy, and he made a movie called Col cuore in gola, which is... I don't know how to translate that. It means probably "Heart in Your Throat" or something like that. And it's a movie that's very much inspired by Blowup from Michelangelo Antonioni, but it's way ahead of that, because it has been shot with all the new techniques of the camera, and it's got a soundtrack from Armando Trovajoli, which is really outstanding. And he's got Jean Louis Trintignant and Ewa Aulin as the main characters. It was all shot in London and it's got two inserts from Guido Crepax who is a very famous Italian—

$$$: Yeah, the cartoonist, yeah.

NC: Yeah, yeah, yeah, yeah. So I mean, it's seriously a fantastic movie.

$$$: Wow, that sounds incredible.

NC: It's really... I mean, when I saw it the first time, I would say, I mean, this is a masterpiece, and no one really knows about it today in Italy....