---
THE WORKS OF TINTO BRASS

ALMOST MAINSTREAM — Continued
---
Heart in His Mouth
(Col cuore in gola, a/k/a Deadly Sweet, 1967)
A working title was Enigma
Also known as:
En cinquième vitesse (In Fifth Speed)
Dead Stop
Dead Stop: le cœur aux lèvres
Escalation
Heart Beat
I Am What I Am
Ich bin wie ich bin: Das Mädchen aus der Carnaby-Street
La séptima victima
MIDNIGHT SCREENING AT THE SILENT MOVIE THEATRE IN HOLLYWOOD ON FRIDAY, 17 APRIL 2009!!!!!!!
Click here to read a really nice promo piece
If you can watch MP4 files, click here for a preview.
THE ITALIAN VERSION IS NOW AVAILABLE ON DVD FROM CULT EPICS.
If you saw DEADLY SWEET when it played at the Paramount Theatre in Portland, Oregon, in 1969, or at the Paramount Theatre in Oakland in 1970, or if you saw it at any other US or Canadian cinema in 1969 or 1970, I definitely want to talk with you. So please write to me. Thanks!
Yankee was the perfect training ground for Heart in His Mouth. In Yankee Brass wanted to tell a straightforward western story in the most abstract manner possible. The Italian dialogue was never direct, but always roundabout, as no one ever stated anything forthrightly, but danced around the topic. In order to understand what all the cryptic comments mean, we in the audience have to become quickly adept at reading between the lines. Brass further reduced the visuals to synecdoche, in which a part would represent a whole. Instead of a person approaching, he would show a pair of spurs approaching. Instead of a horse, we would see a horse's ear. Infuriatingly, the producers were infuriated and disfigured the movie. They trashed the bizarre close-ups and replaced them with footage from the cameras that were catching the main shots. That's a terrible pity. Had the film been left in its original state, it would now be regarded as one of the great groundbreaking cinematic achievements. As it currently stands, it's an above-average western, but nothing earth-shattering. But all was not lost. Brass used what he had learned on that movie to go even further and do something even more challenging — and far more elliptical. His next film would tell its story almost entirely by clues — clues that are never pointed out to the audience, never emphasized, never explained. Audiences would be free to accept the movie as being nearly plotless, or they could become curious enough to watch the movie multiple times to begin to unravel the story.
Brass had just moved to swinging London, where he would make a film a year over the next four years. During his stay there, Panda Cinematografica, a poverty-row studio, hoped to gain some stature by hiring renowned filmmakers, and thus proposed that Brass make a trashy crime thriller almost guaranteed to turn a profit. The script was based on an obscure giallo (pulp-fiction) novel, Il sepolcro di carta (The Paper Tomb), by Sergio Donati, which is really not very good, no matter how you look at it. It's just a silly little crime story. It's clever; there's no denying that, but it's not particularly engaging or memorable. Do I hold that against Donati? Far from it! He's a writer earning a living. He does what he needs to do, just as we all do our boring nine-to-five jobs to earn our living, right? Yes, he has genuine talent, but this book reflects only his craftsmanship, not his talent.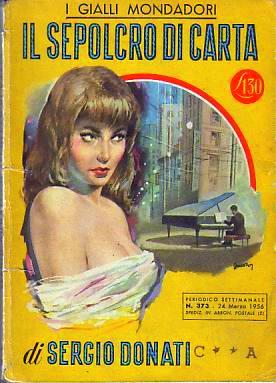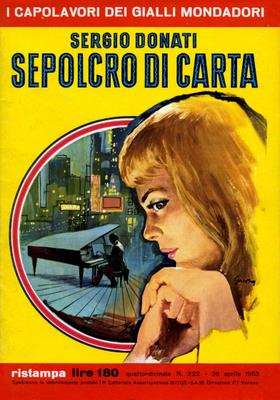 On the left is the first edition, 24 March 1956, published as a novel-length story for a mystery magazine. And on the right is a reprint from 28 April 1963 in what appears to be the same mystery magazine. So, at long last, that explains it. The American Film Institute Catalog listed this as "Source: Sergio Donati, Il sepolcro di carta (publication undetermined)," and now we know why the publication was undetermined. The AFI were looking for a book. And for 30 years I was looking for a book. But it wasn't published as a book after all. At least, it wasn't published as a book in Italy. (For all these years I thought these stories were called gialli because they were printed on lignin paper. Wrong! They were called gialli because the covers were yellow.)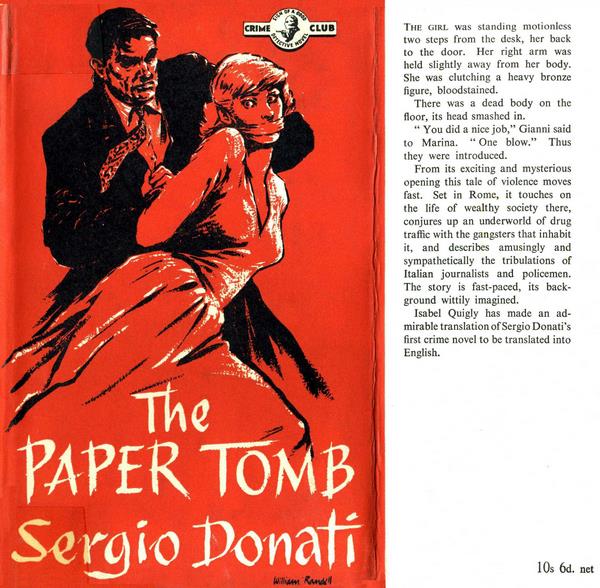 The English translation, which was published as a book.
(London & Glasgow: Wm Collins Sons & Co Ltd, 1958).
The movie bears almost no resemblance to the book, though a few quotes are interesting in their amusing way:
"Wherever you go, corpses sprout like mushrooms. Funny, isn't it?" (Chapter VIII, section 2);
"It's the instinct of self-preservation waking up" (ending of Chapter VIII);
"Everything depends on seeing things from another point of view" (concluding line).
The co-producer, another Donati — Ermanno — may have been related, and that may partly explain the background here. Though the story was not Brass's style at all, he enthusiastically accepted the assignment, realizing that he could do something new and challenging with the genre. He recognized in the story a concept about emotional transformation. He started to concentrate on this aspect as he wrote his original treatment. He had been informed that respected stage actor Jean-Louis Trintignant had expressed an interest in working with him, and so they met and talked, and Trintignant liked what he heard and agreed to appear in the movie. But then further contributions changed the conception of the movie.
To convert a crime thriller into a dazzling work of cinema, Brass started hiring collaborators. He got famous jazz composer Armando Trovajoli (sometimes spelled Trovaioli) to do the score, a score very much of its time, but not quite what one would expect in a crime drama.
| | |
| --- | --- |
| | |
More importantly, Brass hired Guido Crepax. Comic buffs will recognize the name instantly. (As a non-buff, I had to do a bit of research.) Crepax had been one of the first comic-book creators to use the new, angular style, and one of the first to have his images imitate storyboards. He went one further by imitating movie editing as well — rapid shots represented by small frames, shots held on screen for a long time represented as large frames looming over the other images on the page. Further, his comics, most notably the sumptuous hardcover series about a character named "Valentina," who was styled after the image of Louise Brooks. These comix were quite outrageously sexy and did much to lead the way to comic books strictly for adults. Brass asked Crepax to draw the storyboards and to create pop art to fill the sets. Crepax obliged, and the result became one of the earliest examples of a short-lived genre that came to be known as cinema fumetto (comic-book movie). It was soon followed by Mario Bava's Diabolik (a/k/a Danger: Diabolik, generally regarded by connoisseurs as the very first "true" cinema fumetto) and Roger Vadim's Barbarella, though neither of those two movies seems to have used Heart in His Mouth as a guide. The ideas were in the air and so a bunch of people independently invented the same thing at the same time. Of course, in cinema, as in anything, there's never any first. Diabolik had predecessors, in Italy and elsewhere. Interestingly, when Boxoffice reviewed Diabolik on 13 May 1968, it made a point of establishing that the new movie was not at all unprecedented:
Comic strips on the screen have not been limited to animated cartoons and serials. They have been the source of many feature films from the silent days to the present. "Skippy" almost won the best actor Oscar for little Jackie Cooper in 1930. Jiggs and Maggie, Joe Palooka, and Blondie and Dagwood have been the subjects of many films. In recent years the popular cartoons have been "Prince Valiant," "Up Front," "Lil Abner" and "Modesty Blaise."...
A recent reviewer also pointed out a comic-book-based Italian movie called Kriminal, which had been released at the end of 1966. There was also Fantomas from 1964 which I think was based on pulp novels rather than comics but which is nonetheless regarded by some as a cinema fumetto, but I can't judge because I haven't seen it. And heaven knows what all else there was. We could trace the form back to Charley Bowers or perhaps even earlier. I'll leave this for the experts to hash out. Whatever people agree or disagree on, though, Heart in His Mouth is not a typical cinema fumetto, as it is not simply based on an already published comic book, but is a non-comic story seen through the prism of comic-book-like imagery, in order to comment upon comic-book culture.
Trintignant found himself most perplexed when he was sent the script, which bore no resemblance to what he and Brass had verbally agreed upon. Trintignant asked the director what on earth had happened, and then agreed to do the movie anyway. And it worked out well. In some publication that I can't find but that must be around here somewhere, Trintignant made mention of his delight at discovering that Tinto was different from all other directors he had worked for or knew of in that he never used a megaphone.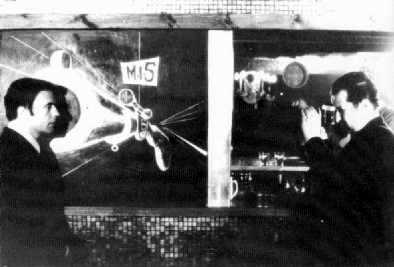 Tinto Brass souvenirs a moment with his lead
A few years ago I picked up the DVD of a later cinema fumetto, Baba Yaga, released by Blue Underground, since I discovered via the Web that it includes a fascinating 12-minute documentary entitled Freud a fumetti, as well as an "Easter egg": Choose the "Extras" menu, and you will see a table of contents on the left and a photo of a mouth-watering Franke & Heidecke twin-lens reflex camera on the right. Move the cursor down to "Theatrical Trailers," and then move the cursor to the right to light up the camera lens. Press "Enter," and you'll see a brief interview with Tinto Brass, who talks about working with Crepax. Then, when you watch the Freud a fumetti documentary, pause and go frame-by-frame in the to examine samples of the storyboards, and you'll see that Brass followed those drawings almost exactly.
If you want to study this more, here are some of Crepax's unused illustrations for this movie. (This was originally at http://www.orf.at/orfon/kultur/991116-2440/2443txt_story.html but the link is dead as a doornail — however dead that is. Fortunately, I saved a copy. If you own the copyright to that old page, or if you know who does, please write to me. Thanks!)
Brass reached a minor crisis when it came to the cinematographer. Bruno Barcarol, who had done such a wonderful job photographing In capo al mondo, La mia signora, and Il disco volante, died. (Brass would pay him a tribute almost four decades later in Senso '45.) So now Brass set about searching for a replacement. As he told Nick Brown in the supplement to the Cult Epics DVD release of Così fan tutte, his interview consisted of a single question: How would you photograph a smoker well enough to show the burning ember on the tip of the cigarette? The candidates came up with various complicated methods of accomplishing the task, including planting a resistor in a prop cigarette. Ippoliti answered simply: "Have someone smoke a cigarette and I'll shoot it." He demonstrated — and he got the job. He would be Brass's faithful cinematographer until he died in 1991. (As we can see in various behind-the-scenes documentaries, Brass exercises a great deal of control over the cinematography of his films, going so far as frequently to operate the cameras himself. That's why the visual style of his films is so similar, no matter who the cinematographer is.)
When it came time to cast the femme fatale, though, Brass was simply open to suggestions. The suggestion that someone (who?) gave to him was to hire 17-year-old "Miss Teen Sweden 1965," Ewa Aulin (sometimes known as Eve Aulin). He did, feeling indifferent about the choice, but luck was with them both. Aulin was as far removed from the film noir crime-drama stereotype as could possibly be, and so she was perfect in the part. It is difficult to imagine anyone else handling it half as well.
Betty Martin, "Movie Call Sheet: Burke, Bixby Given Roles,"
The Los Angeles Times, Monday, 14 March 1967, p D14: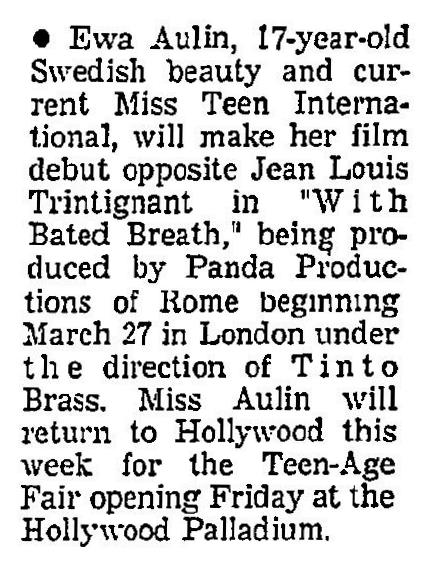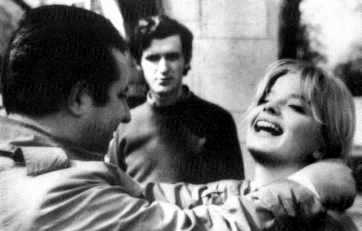 Variety, Wednesday, 16 March 1967, p. 32:
...Following her screen debut in Alberto Lattuada's "Don Giovanni in Sicily," Sweden's Ewa Aulin teams with Jean Louis Trintignant in the Donati-Carpentieri production of "Heart in the Mouth" late this month in London under the direction of Tinto Brass.
Variety, Wednesday, 26 March 1967, p. 32:
ITALIAN FILM DIRECTORS
Tinto Brass—Now in London with Jean-Louis Trintignant and Sweden's Ewa Aulin filming "Heart in the Mouth" for Panda Film.
Variety, Wednesday, 26 March 1967, p. 41-D:
ITALIAN FILM PRODUCTION
PANDA Producers Donati and Carpentiere are no longer grinding out quickies for others and their current list of pix to come is decidedly more impressive. Tinto Brass is directing "Heart in The Mouth," on extended London locations with Jean Louis Trintignant and Swedish newcomer Ewa Aulin, while Damiano Damiani is preparing to film "Mafia Vendetta" from Leonardo Sciascia's novel, Knopf published in U.S.A. Final Panda project is tentatively called "Rififi in the Kremlin."
Hollywood Reporter, Thursday, 27 March 1967: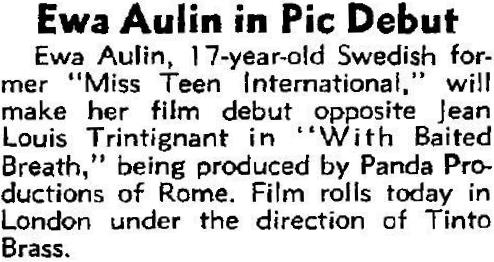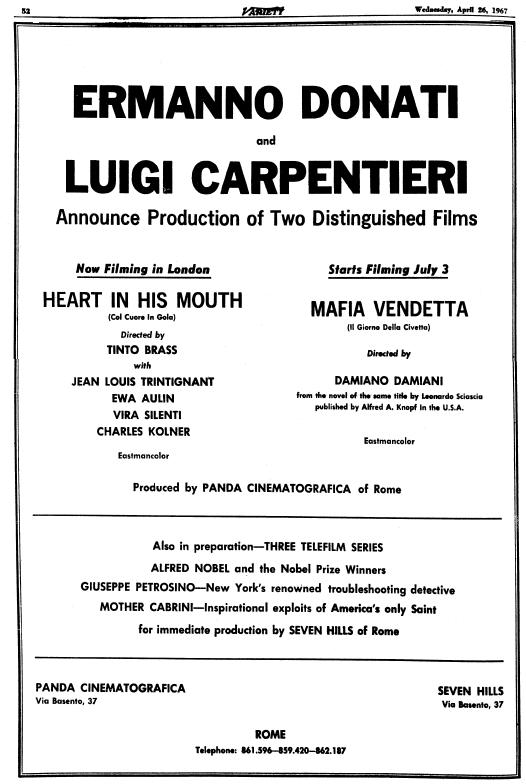 Though Heart in His Mouth is the correct title, the movie was never released under that English title anywhere. The Italian title, Col cuore in gola, is an equivalent phrase ("with the heart in throat"). "With Bated Breath" is a paraphrase and was surely never a proposed title for the movie; it was simply a journalist's creditable attempt to convey the meaning of the idiomatic Italian phrase "col cuore in gola" by use of a similar idiomatic English phrase.
DATES AND LANGUAGES Filming began on 27 March 1967 and finished probably the first week of May. As you can see from the above ad, though it was an Italian/French coproduction, it was shot in London, which led to a typically European phenomenon of a multilingual cast. Jean-Louis Trintignant sometimes spoke French on camera, as his English was halting at best. He did deliver a few scenes in English, though he must have learned the lines phonetically. Luigi Bellini (Jelly-Roll) spoke Italian, and it seems that Vira Silenti (Martha Burroughs) did too. Roberto Bisacco (David) seems to have spoken English and French, at least in some takes. So let's think this through. The movie was shot entirely in London, with many English performers, with nearly all the actors speaking English on camera. From various visual clues in the movie, especially the close-up of the London Evening Standard article which we are supposed to read, it is beyond any question that the intention was to issue this movie in English. So what was the original version? The answer should be obvious. The original version was Italian. It seems that Tinto was somehow involved in the recording of the Italian dialogue track in some studio in Rome. Perhaps he even helped write and direct it. Once the Italian dialogue track was recorded, Tinto's work ended. Later on some English dialogue tracks were indeed recorded, but Tinto had nothing to do with them at all, and may well have never even known about them. That may sound awfully strange, but the more you study this movie in its various versions, the more obvious that conclusion becomes.











A tribute by someone who loves this movie as much as I do.
ANALYSIS. So much for the background, but what about the movie itself, you ask? Well, I first saw it in 1991 or thereabouts, and I was deeply impressed by the filmic techniques, which I found dazzling. But as for the story, I didn't see the point of it at all. It seemed trite and trivial and insignificant and shallow, merely a lame excuse to play around with pop art and mod music and psychedelia and scene design and colors and editing. I thought that, overall, it was one of Tinto's weakest movies. Beginning in April 2009, though, I was compelled to watch this movie a thousand times under the microscope, and now I think it's one of his finest and most brilliant works. It's every bit as rich and complex as La dolce vita and Performance. Yet it's not so much like those two movies. This is a bit more like the Bogart version of The Big Sleep. Have you seen The Big Sleep? Could you follow the story? As a matter of fact, not only could you not follow it, neither could the staff writers who were brought in to polish the dialogue, and neither could the author of the original story, Raymond Chandler, when he finally saw the end result. Nonetheless, there is a story, and no amount of studio interference and no amount of rewrites erased that story. The interference and rewrites just defaced it and made it nearly impossible to follow. But it's all there, and it can be followed. To follow it, though, you need to watch it at least a dozen times, or you have to take notes, or both. Heart in His Mouth is even more difficult to follow, because the evidence whizzes by us. The characters never say much about the evidence, at least not much that's of any value, because they're as confused as we are. Again, though, the story is all there, and it can be followed, but not in a single casual viewing. Why is it so difficult to follow? You asked the right question. Originally the movie contained the entire plot, explaining who the gangsters were and what they were doing and how and why, and the movie explained how Jane and Bernard unwittingly got trapped into all this drama. I'm certain — absolutely certain — that the original cut of the movie was like that. But the only evidence I can base that conclusion on is the evidence contained in the current editions of the movie, which are all but incomprehensible. And now that I've watched this movie so many times, over the course of so many years, it finally occurs to me why Tinto chopped the movie to pieces prior to its world première. In its original version, it would have been too challenging, and audiences would have been exhausted. So he cut out all the background story, all the explanations, which distracted attention away from what he found most interesting, which was the personal story of Jane and Bernard and their emotional transformations. The plot per se was not as interesting to Tinto as the exploration of how the violent situation altered the two protagonists and affected their personal lives. And I'm almost certain that the unconvincing flashback of Prescott's murder was a last-minute add-on, shot weeks or perhaps months after the movie had been completed.
The result of this tampering is that a casual viewing makes the movie look like so much silly fluff, something along the lines of a cheap mid-1960s TV crime series. A casual viewing, actually, makes us think that we understand the story, which appears to be rather simple and simplistic: A blackmailing mobster is murdered by one of his victims, other mobsters give chase, and at the end the person we suspected all along turns out to be the killer. The problem with this interpretation is that that's not what happens in this movie at all. But we won't catch on to that unless we watch this movie fifty or a hundred times. And when we study it that much, we can catch the remnants of the original storyline, and we can piece it together, painfully, tediously, but we can do it. And when we do it, we can see that the movie in its original form must have been brilliantly plotted. The movie in its current form is also brilliant, but in a somewhat different way. Numerous narratives play against one another all the time, and we have the option to follow not only what we can piece together of the story, we can choose to figure out what the various characters know and what they think they know, and compare that against what yet different characters think they know, and compare it all against what we think we know. Since we ourselves catch only glimpses of what's going on, in order to follow the story we need to be attuned to the two hours' worth of nonstop brain-teasers. Few people will notice any of this, though, partly because for two hours we pay no attention to the clues, as we're too busy being constantly being distracted by playful in-jokes and pop art and mod music and psychedelia and flashy editing, done in a semi-noirish crime-thriller style. Altogether, we are completely fooled, from beginning to end, and we focus most of our attention on the wrong things, much as we generally do in real life. (I read once, somewhere, that the original working title for this movie was Enigma, and that's certainly an apt name.) So let's now look at it more carefully and see if we can tease out the brilliance.
In a book entitled Italian Production 1967 (a paperback trade annual published by Unitalia Film in January 1968) is a summary surely written by Tinto Brass and translated into English. To read the summary you would think that the movie is a meditation on the effects that external events have upon private emotions: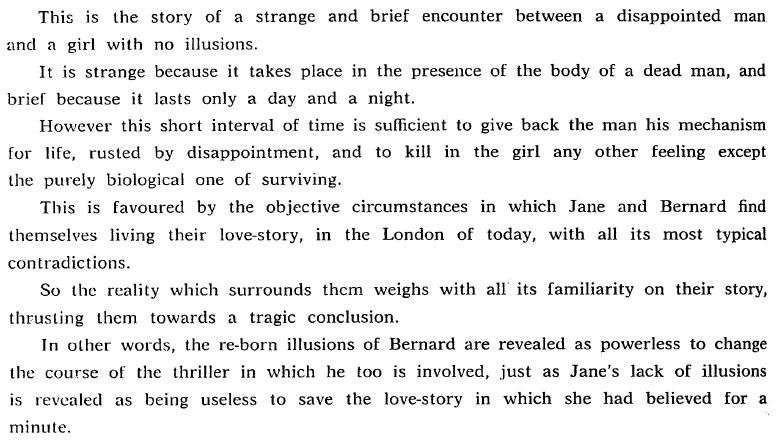 Might that be the summary that Tinto originally showed Trintignant? Peculiarly enough, after you read Tinto's summary, you can watch the movie again and see that he was right. Those ideas are all there, and they are the foundation of the story. But you would never have noticed otherwise, would you have?
Now it's time to study the clues. Here is the scene of the first of the many crimes: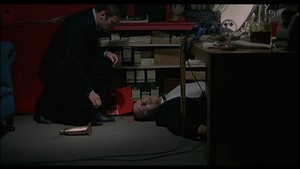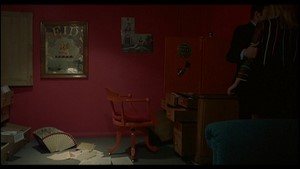 Jane and Jeremy leave the dance floor in a huff and pass by Bernard on their way out. Bernard watches them leave and turns around to ask for another drink, only to discover that club owner Ruby Prescott is no longer honoring his credit, and so he immediately heads up the hallway to confront Prescott about this. This is all done in what seems to be "real time." We later learn that this scene was not done in "real time" after all. (Tinto fooled us by deleting footage and having the music play continuously.) After dashing out of the dance room, Jane leaves the club for a while and returns later on to see Prescott. So there's a lot that we don't see — probably twenty minutes or more. Bernard enters Prescott's unlocked office and sees that Jane is there, looking over Prescott's cadaver. Is Jane the killer? At first glance, it certainly looks that way, and she acts guiltily. We don't have enough time to piece the evidence together, but when we ponder it later, another narrative emerges. We see evidence of a violent struggle. Prescott had been bludgeoned to death only minutes before, and his blood is still fresh, though it quickly stopped flowing. The trophy that bashed his skull is bloodied. The lamp has been toppled, the coin box forced open and dropped onto the floor. The murderer or murderers were looking for something. But what? The safe has been raided by someone who knew the combination. Every drawer has been opened. Many files have been searched, but not all, because the search was abandoned when footsteps were heard in the hall. Whose footsteps? Jane's. The timing was perfect. The killers abandoned the room just in time for Jane to walk into a trap. She has the motive, she's at the scene of the crime, just moments after it happens, and she's about to be caught. Unfortunately for the conspirators, someone else catches her first and ruins the plans. Clues are all over the place, but throughout the course of this story, nobody will ever bother to make any sense of them.
Because we think that screenwriters are obliged to spell everything out for us, we never bother to make any sense of these clues either. We simply sit back and wait for a character to explain to us whodunnit. But if we don't bother to make sense of these clues, we'll completely misunderstand the narrative. Eventually someone will tell us whodunnit, but the solution will be entirely wrong. This movie is not a whodunnit. This movie is something else altogether. This movie shows us a story in which it does not matter at all whodunnit. What matters is how people respond to dramatic events, and why they respond the way they do. (If we can pay attention to the clues in this movie, we can pay attention to the clues everywhere else in life. Politicians and journalists long ago learned that we all wait for someone to tell us whodunnit, and that we never bother to figure these things out for ourselves, no matter how much evidence is right in front of our noses. That, for instance, is why politicians invariably get away with accusing others of their own faults, and that is why the majority of prison inmates in the US are entirely innocent. We let it happen, because we refuse to think. But I digress....)
Is Bernard frightened? Does he go for help? No, he acts like a detective. Jane is terrified, and has no idea who or what Bernard is. Bernard takes a diary (date book), some money, and a gun from the open safe, and when they hear approaching footsteps, he escapes with Jane. Why does Jane follow him? What is her choice? If she stays, she'll have to confront the people who belong to those approaching footsteps, and that prospect is far from comforting. At least Bernard seems protective rather than threatening, and he knows how to escape from the office through a back entrance. But what is Bernard? Is he a detective? Is he a criminal? We don't yet know. Soon we are taken to his flat, and we begin to learn the embarrassing truth. He is a two-bit French actor renting a pathetic ill-lit attic space in London. His cheap wicker furniture was never designed to entertain guests, and Jane is probably his first visitor. (We can infer from David's comments at the disco that Bernard has had plenty of dates, but we now see why they all came to nothing.) He has filled his walls with memorabilia, rather childishly. Enamored of Gable movies and Bogey movies and pulp crime novels and Batman comix, he fancies himself a sleuth.
He's reading Conrad, but probably only so that he can make himself appear to be trendy. The Bogey poster has a double meaning. Bernard fancies himself another Bogart. In reality, the press agents had already started putting out publicity calling Trintignant "the French Bogart."
Jane really doesn't know what to make of it all. She is so confused and disoriented by what she has just been through that she breaks down and tells what she knows. Is she telling the truth? Right now, we can't tell. Her story makes sense, but she does not tell it comfortably. Why? But her story reveals something: Jane's brother Jeremy, or her stepmother Martha, or both, seem to have some sort of involvement with organized crime. Martha had only just a week earlier lost her husband. Already she has a new boyfriend, Mr Leris, who tries to pass himself off as an art dealer, though he probably earns his living by other means. After putting all these pieces together, are we supposed to suspect that maybe Jane herself has some criminal connections? Jane speaks of compromising photos. Are they photos of Martha or of Jeremy? In the French and English versions, Jane mentions incriminating photos of both Martha and Jeremy. In the Italian version, Jane mentions incriminating photos of Martha, and Bernard gets confused and thinks they are incriminating photos of Jeremy. (In the Italian, German, and Castilian versions of this movie, Jeremy is called Jerome.)
Bernard, trying to imitate Bogart's version of Philip Marlowe, pays a visit to the late Prescott's luxury London dwelling. Curiously, the doors are all open. What's more, Bernard is hardly the first uninvited guest:
Not only were all the doors unlocked, the books were toppled and the cheap reading table was overturned, the safe was opened and raided (again, by someone who knew the combination), and files and notebooks were strewn about onto the floor. Who did this? And why? And what were they looking for? We should be welcome to surmise that the people who raided Prescott's apartment were the same as those who had raided Prescott's nightclub office and murdered him. Jelly-Roll and his thugs, who are/were Prescott's hired hands, are outwitted again and again by this other group. Though we never witness anything about this raid, we do know something about the perpetrators. They are not rivals. They are looking for something to protect themselves. Incriminating photos, maybe? They are not trying to take over Prescott's business or even to expose or examine it. If they had any such interest, they would have taken the diary/date book. And now that the diary is missing, what do Jelly-Roll and his fellow thugs conclude about Bernard? Remember, they saw him earlier that night when he was on his way up to Prescott's office. The next thing they knew Prescott was dead and his office raided, with no trace of the diary. So as soon as they can, they head out to Prescott's house in hopes that Prescott's diary is there and that they can rescue it, and what do they find? They find that the house has been raided and this same Frenchman is there. So what do they think? What would you think if you were in their place?
In addition to all of the above clues, we also learn that Prescott and Bernard were of like minds, for Prescott was a childish connoisseur of Stan Lee comix and Nazi memorabilia and toy soldiers and whatnot. When Jelly-Roll and his bodyguard compel Bernard to fight, he does so cleverly and successfully. His fighting skills are simply astonishing and not what we would expect of an immature comix fan. Where did he learn to fight? You have two guesses. Anyway, we are spared the images of violence. Instead we see other images:
Is this playfulness? Yes. Is Tinto in love with comic books? Yes. Is this pointless and gratuitous? No. These bubbles tell us precisely how Bernard interprets the situation. When the episode is over, does he report on what has happened? No. Does he feel at all nervous or shaken? No. He feels that, as in the comic books, it's time to make love.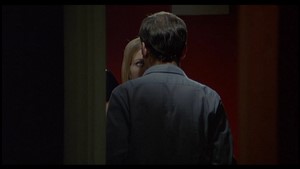 He returns home while Jane is in the shower. Alone in the living room, he caresses her boa which is hanging on a clothes hook. When she emerges from the shower, does he tell her about the criminal-underworld thugs he encountered? Does he tell her what he did? No. Throughout the course of this story, Jane will never know anything about what happened at Prescott's apartment, nor will she suspect that there should be anything worth knowing. Bernard doesn't bother her with this vital information. Instead, he seduces her with a line of poetry: " 'Water on a woman's body is like dew on the petals of a rose' — Lao Tse." Jane has never heard of Lao Tse. Bernard follows that with a line from another poem: "Tell me about yourself, LSD." Jane asks if that's also Lao Tse. No, he says, it's by Nadine. Who on earth is Nadine? Have you ever heard of a poet who is referred to simply as Nadine? Well, I just recently learned that Trintignant's wife is named Nadine. (That was in the English and Italian versions. In the French version, there is no Nadine. Instead Bernard quotes a verse of his own: "Your mouth is like a sparrow's nest.")
Jane vanishes once Bernard is asleep. Is that so surprising? Why wouldn't she vanish? Wouldn't you? But then she does something unexpected: She calls and asks to see him again. Why? Why does she prefer Bernard to the police?
Out on the streets, a whole new technique comes into play, and, as before, it's there for a reason. We've learned that Bernard has no grasp of reality, that he's hopelessly fantasy-prone. We've even seen his fantasies from his point of view. Now we see him plunged into reality, and we see that he never registers it. The crowd scenes were shot in actual crowds, sometimes with hidden cameras. Even when the cameras and crews were visible, few people noticed or cared, and instead just carried on with their business.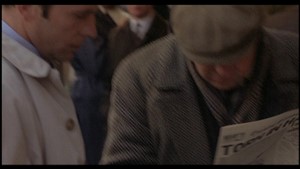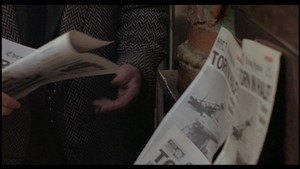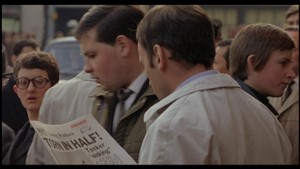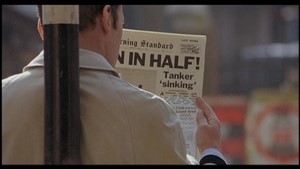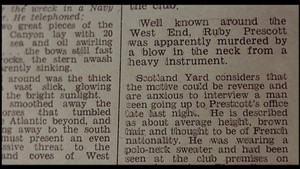 Do you like clues? I LOVE clues!!! I had always assumed this was a fake newspaper. Now I'm not so sure. I bet this was the day's real LATE EXTRA edition of the London Evening Standard, but that this one copy only was a prop. Click on the close-up of the news story about the murder of Ruby Prescott and look carefully. Note that you can see after-images of the painstaking handmade paste-up job. Then look at the other story on the page and you'll see that it looks rather cleaner, though even it shows evidence of handmade paste-ups. This was a mock-up based on a real edition of the newspaper. Now, who's in the mood to go to the library and sift through the LATE EXTRA editions of the Evening Standard of March and April 1967 to get the exact date?
When you watched the movie, did you read that news article when you had the chance? You won't get another chance to learn what it said. The police are "anxious" to interview Bernard. Since Bernard believes he is a hero in a comic book, he cannot accept the report at face value. His interpretation is more dramatic: "They're after me." In a sense, though, he's right. Someone had described this man of "average height" and "brown hair" and "believed to be of French nationality" going to visit Prescott's office the night before. Who had lodged that report with the police? Who? Think! Who? Think really hard!
Pay attention to the people in the crowd. Some of them notice the camera.

The little guy in the black coat, to the right of Bernard,
turns around for a second to get a better look
at the star of A Man and a Woman.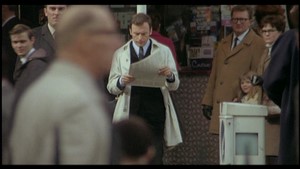 The family on the right have just noticed the camera.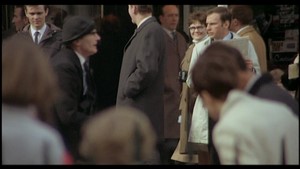 The wife then smiles, first at the sight of the busker,
and then at the sight of the camera. You can tell that she thinks the camera is there only to record the busker.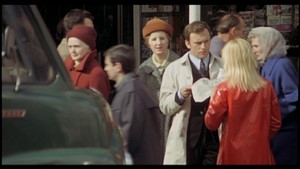 The woman just behind Jean-Louis Trintignant has figured
out that someone is making a movie. She peers over
to see if she can recognize the incognito actors,
but she's never seen them before.
Let's look more closely at the busker. He was in the movie only by stroke of luck, as he happened to be performing on the day of shooting. He was doing a sort of dance vaguely, ever so vaguely, inspired by Charlie Chaplin: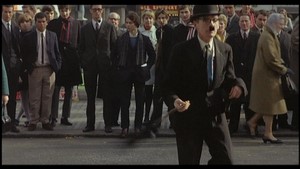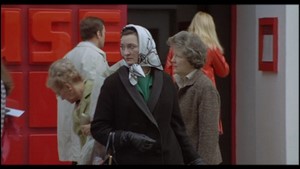 They lived their lives, and by now they've probably died,
and they never knew they were in a movie.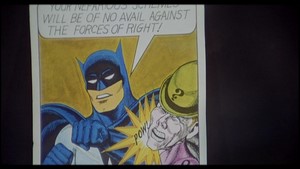 One of my favorite bits in the movie will mean nothing to most people. While wandering around in the shops in Piccadilly Circus, trying to hide in plain sight, Bernard finds an arcade with a peep show. He drops in his shilling and impossibly sees a decaying original 1890s(?) film loop.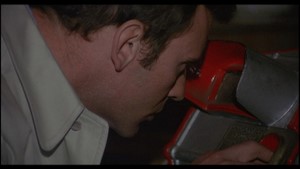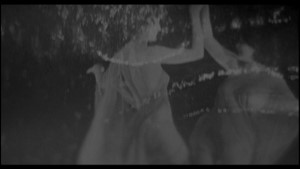 I think I've seen this very short (one-minute?) film somewhere, but I can't remember precisely what it is.
I might have a copy of it on video somewhere.
And in the midst of Jane's inquiries about the whereabouts of her brother Jeremy, Bernard forgets his mission and loses himself in purchasing another poster for his room and in playing pinball machines. Jane is considerably more focused and gets a bit irritated with him.
They are followed. By whom? Why? We think the stalker is interested in capturing Bernard, because of the incident with Prescott. But we are being fooled.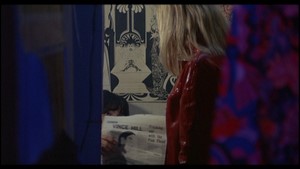 Another clue (not for the story, but for the date of the filming):
What was the date of that tabloid?
(Great use of deep blue.)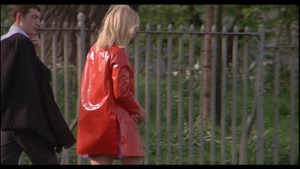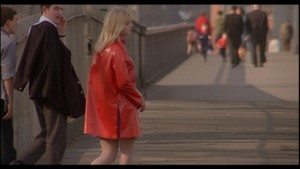 Ewa Aulin unknowingly catches this passer-by's attention.
As the passer-by turns around, he notices that he unknowingly caught the camera crew's attention.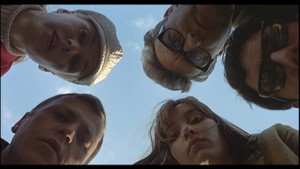 Were these people recruited by a casting agency?
Or did Tinto and his crew just round them up from the sidewalk?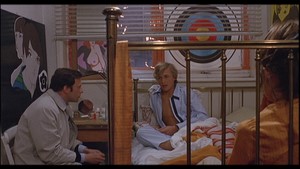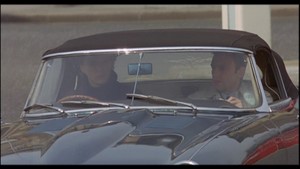 Why doesn't Jeremy want Veronica to call the police?
What does Jeremy conclude about the identity of the kidnappers?
How did he know this? How did the kidnappers know where to find Jeremy? What would be the kidnappers' motive?
(If we are guessing correctly, then what else had the kidnappers done, and why?
Should we now begin to suspect that maybe the incriminating photos were actually of Jane?
Where did those photos come from? And how did the kidnappers know about them?
Who is benefitting from this kidnapping, and how?)
What does Jeremy guess about where the kidnappers are hiding, and why?
These are all important clues, and if you're not attentive, you'll miss them.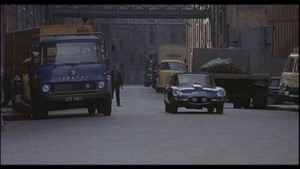 Actors in the little car, driving through a real factory lot,
with no one there understanding what's going on.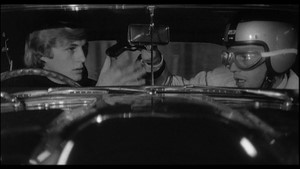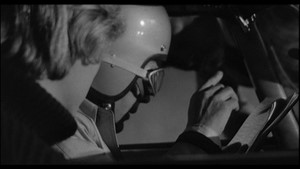 What does Bernard hand Jeremy?
How willingly does Jeremy accept it?
Does the frightening fellow recognize Jeremy?
What does Bernard show the frightening fellow?
Does the frightening fellow show even the slightest interest in it?
What does all this demonstrate?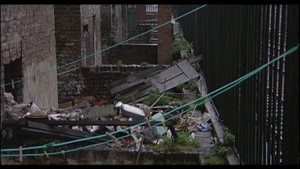 A real image of a real housing project, until recently inhabited (or still inhabited?) by real people.
An image that is alien to a superheroes comic book.
The confusing situation in this disused, dilapidated project is the motivation for yet another filmic technique: rapid editing, as multiple images race by at about a dozen a second. Each of those momentary images represents a thought in Bernard's mind, as he's trying to figure out what has happened and what he needs to do. The editing in this and the succeeding rapidly cut sequences is so frenetic that there was no time or budget to cut the negative properly. So instead we see a dupe of the work print, filled with messy six-perf tape splices. We see the dwarf playing with an automatic weapon. Why? What does he plan to do? And why?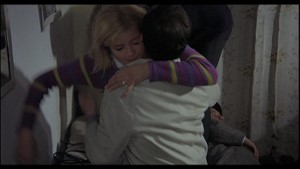 Bernard is deluded, divorced from all reality,
obsessed with pretending to be another Bogart.
Jane instantly recognized his certifiable lunacy.
Nonetheless, by imitating Bogey's Philip Marlowe,
Bernard has rescued her from assassins.
Jane softens. She is completely won over.
Bernard then ruins everything with his idiotic ideas
about what has just happened.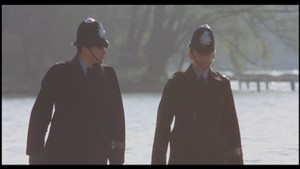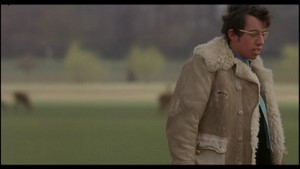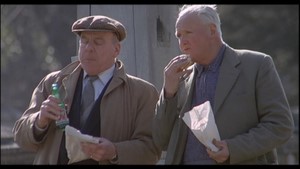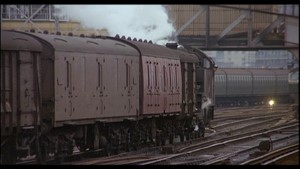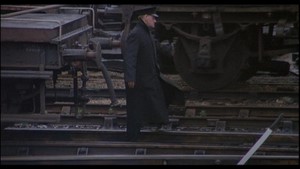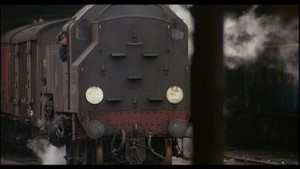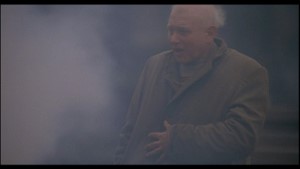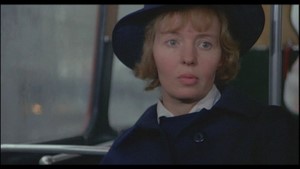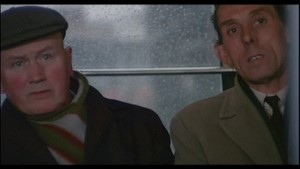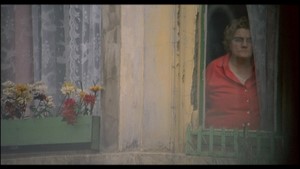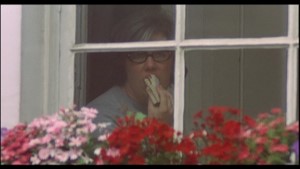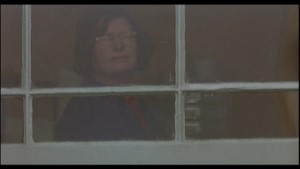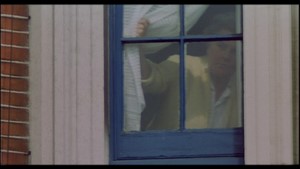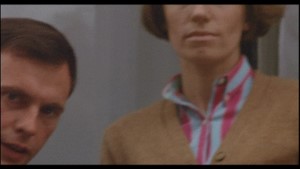 A few of the countless "stolen shots" that are cut into this movie from beginning to end.
For years I thought these were here just because the overly enthusiastic camera operators were having fun by capturing every image that caught their eye. No. I was wrong. These are intentional and serve a purpose. While Bernard cannot think outside of the contexts of the Wolfman and Bogart and Gable and Batman, surrounding him everywhere is reality, reality he never comprehends, reality which in this movie is true reality, captured surreptitiously. Do you need a frustrated guy? Go to Hyde Park and find one. Need to show some policemen? Go to Hyde Park and find some. Do you need shots of bus passengers? Take your camera onto a bus and film some passengers. Do you need people looking out of their windows? Point your camera at their windows until they notice.
And what to do after five murders, a kidnapping, several assaults, a criminal chase, and a lover's spat amidst London's worst squalor? What else? Do a fashion shoot and perform a striptease! Isn't that what you would do? In one of the movie's several meaningless references, Jane Burroughs performs her striptease (in silhouette) as Bernard yodels like Tarzan and swings on a cable.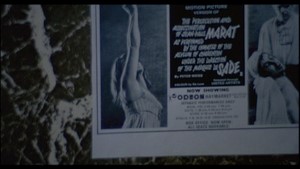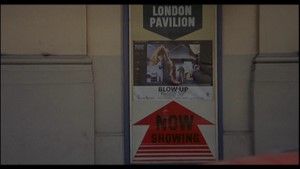 Homages? Jokes? Both? Now someone else has been freshly killed — in a bathtub, à la Marat. Apparently the assassins knew that Bernard and Jane were coming and so they planted evidence. The choice of this particular piece of planted evidence tells us who committed this latest murder, but we won't figure that out quite yet. Why might the missing photos be in this location? And why does Jane suspect that? Anyway, what to do after this latest murder? Run to your car and burn rubber until you screech to a halt at Playland. Of course! (I'm sure something was deleted in the final edit. There must have been a good reason for rushing to Playland. After all, whom do they literally bump into there? So it's some sort of hangout for underworld types. But the explanation probably slowed the movie down, and so it was chopped out.)



And when they arrive at Playland, what do they see? They see that everyone inside is looking outside at the camera crew and waiting for the approach of the two stars.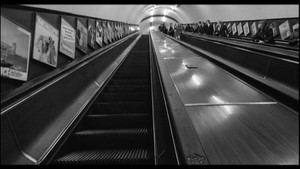 Do you need to shoot a chase on an escalator? Okay, just take your camera and crew and actors out to an escalator and shoot your scene. There will be people around who will be in shot? So what? There will be be people around. They can have fun watching the shoot and being in it.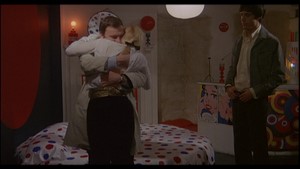 Now we begin to understand why Bernard and David are friends: They have the same obsessions with pop art and comix. But David has a reasonable income thanks to his career as a fashion photog. Bernard is a lost cause.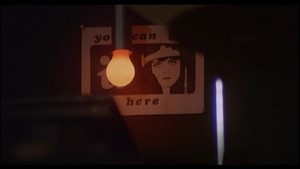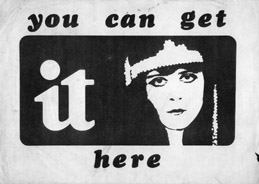 The sign on David's darkroom (according to www.beatbooks.com this was from circa late 1966 and was 21cm × 29.5cm). So nice to see a portrait of Theda even though it was Clara who was the "It" Girl. (Please write to me if you have this poster for sale for a reasonable price. Thanks!)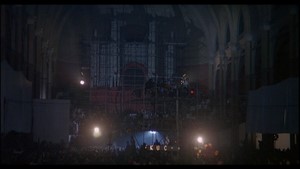 The "happening." But where did the "happening" happen? Tinto tells us in the commentary track that it's London's Alexandra Palace (a/k/a Ally Pally). No two ways about it, this was a real "happening" and the folks there probably thought the cameras were making a documentary. And in a sense, they were.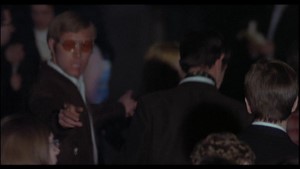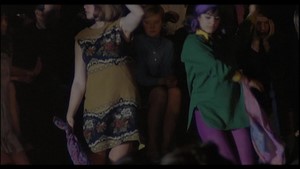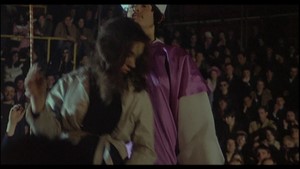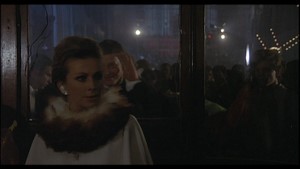 Oh! Look at that! They're making a movie in there!
Let me put my face against the window so I can get a better look at what they're up to.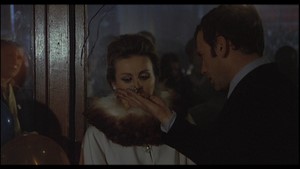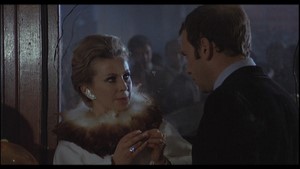 Hey! Everybody! Come over here and take a look!
They're making a movie in there!
Martha does not know Bernard; she never noticed him at the club. When he confronts her silently, she seems to think he wants a rendezvous, and she seems happy to oblige. But then she is caught by surprise over and over and over in this short scene. Finally she collects her thoughts as best she can in her state of shock, and she gives us a piece of information we never had before. But it makes no sense — it makes no sense at all. Yet she believes it, truly and completely, especially after hearing Bernard's news. Martha's story contradicts the evidence we have. (Remember: Jane had no idea at all who the kidnappers were, and she will never find out. After a lot of misleading clues, though, we eventually learned who they worked for. Put two and two and two together, and it just doesn't add up to Martha's story.) On the other hand, Martha has her reasons for believing the story. Sometime in the past, it did have some basis in fact: Leris had once had a night of fun with Jane, which explains where the photos came from, and which explains how he discovered that there was a desperate step-mom ready for the taking. How did Martha find out about the Leris/Jane one-nighter? What does this tell us about who really murdered Prescott? What does this tell us about who raided Prescott's house? What does this tell us about the timing of the raid? What does this tell us about who really murdered Jane and Jeremy's father, and the motive? What does this tell us about why Prescott asked Jane to pay him a visit in his office late at night when no one was looking? What does that tell us about why Leris and Martha visited the club on the same night that Jane visited? What does that tell us about why Jeremy accompanied Jane to the club that night? And what does Jeremy's silent departure tell us about the overall situation? And now what do we know about who else knew of Jane's secret appointment? And who belonged to those footsteps that were approaching Prescott's office? How does Martha's story inevitably influence events over the next few hours leading up to sunrise?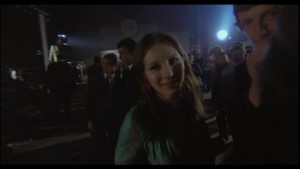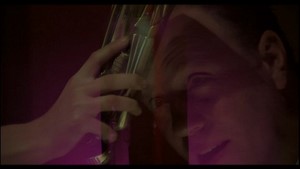 And now for the least-believable stunt in the movie. Why is it so unbelievable? Because it occurs only in Bernard's pathetic imagination. It is not a real event, it was not a real event, it could never possibly have been a real event. What's more, I doubt that this sequence was in the original cut of the movie. Tinto probably added it as an afterthought just prior to release, in an attempt to change and simplify the plot, half-hoping that we would accept it as a real event. Yes, that sounds strange and contradictory, but such a contradiction would enhance the ambiguity.
So why does the wrongly accused offer no defense? Why does the wrongly accused end up by committing an egregious crime? (How accustomed is the accused to handling the weapon? Where did the weapon come from?) There are reasons for this unusual behavior, but they are not spelled out for us explicitly. To discern the reasons, you really have to put a lot of thought into unravelling what you have just seen. I won't give any of that away, except to say that it's a good idea to compare what we know with what Jane thinks she knows. And remember: She's missing the two most crucial pieces of information. You can have fun with that one yourselves. You can do it. Really. You can really figure it out. It's a great puzzle, and you won't solve it in less than ten minutes. Actually, it will probably take you much, much more than ten minutes; it might even take you hours. Or days. Or weeks. And you might get painful headaches. But when you do solve the puzzle, it will make perfect sense. Then we can finish putting together the rest of the story. Why did Martha not understand Jane and Jeremy's resentment? Why did Jane jump off of the bus? Why did she come up with lame excuses not to go to the "happening"? Let's go a bit further. Who would have kept up the extortionate blackmail payments after Mr Burroughs's death? We never see the Burroughs' house, but what can we infer about it? Why did Leris prefer to live in a flat rather than a house? Was the kidnapping a red herring to throw the police off the trail of Prescott's assassins? (Ironic that the police never even learned about it, yes?) Why did Jelly-Roll have only two men with him when he needed at least three to abduct Bernard properly? How did Martha really feel about Leris? And how did she really feel about her husband? The answers to all these questions are in the movie, but they're all deeply hidden. In the movie's two hours, we see only a small fraction of the events, and we never see some of the major characters, who are always off somewhere doing something else, but who have monumental effects upon the people we do see. After you watch the movie with your pals, don't head right out for a beer. Stick around at the cinema for a while and talk about what you just saw. You'll be surprised by how much subliminal material you can actually pick up on when you think back on it all.
And now that I've pointed out all these clues to you, clues that you probably never noticed even if you've seen the movie 20 times, I should confess to you that it was not Tinto's intention that you pay attention to any of that. When all was said and done, Tinto again realized what he knew when he went in to this project: He doesn't like crime thrillers. So he chopped the plot out, relentlessly, and left the clues in only because there was no way to get rid of them all. He wanted you to sit back and relax and go along with the erroneous conclusions that Bernard draws. He wanted you to think of this movie as a delightful brainless two-hour time-killing pop-art experience. But if you're persistent in your insatiable desire to piece fractional evidence together, you'll have a lot more fun than Tinto ever expected you could have. You'll see that the movie was so confusing and complicated and demanding and perplexing that nobody even noticed that the story is a gigantic puzzle. Over the course of eighteen years of watching this movie now and again, I never noticed any of the clues. It was only by accident one day when that it finally dawned on me that Martha's spontaneous and uninformed accusation flatly contradicted what we saw in the bathroom scene. That's when everything finally started to come together for me, and it was exciting!
Like it or hate it, you'll almost certainly be compelled to admit that it's a one-of-a-kind experience. I've now seen the Italian version at the cinema twice. At the first showing the audience were okay with the movie, but thought it no great shakes. At the second showing, nearly everybody went wild with enthusiasm. One gal was so overwhelmed that she couldn't understand how the movie had escaped her notice. "How did I miss it? Why did I never hear about it before?" And two guys happily emerged from the auditorium, one of whom said to me, "I never heard of Tinto Brass before but now I'm a confirmed fan!" I felt so good that night.
THE COMMENTARY TRACK. Some months ago, prior to release, I heard Tinto's commentary track for the Cult Epics DVD. That was before I realized how complicated the movie was. I found some of his comments entertaining, though he hardly said anything I didn't already know. It was clear to me that he simply does not enjoy doing commentary tracks. He meandered and spoke of other movies and people and events that few of his listeners would know about, and without a basic knowledge of these things, many of his comments will seem incoherent. He made no mention at all of the story construction or of the subtle clues, and in the end he said that Bernard had at last solved the crime. Of course, that's total nonsense, but that's what we're supposed to conclude too. Since this was a commentary track, in which he was not only free to reminisce about all manner of background details, but was actually encouraged to do so, why did he make no mention of the narrative's extraordinary complexity? The answer, alas, is simple. He doesn't remember. He has seldom seen the film since he finished it, he has almost never thought about it again, and he misremembers nearly everything except the amusing little anecdotes of what happened behind the scenes. This becomes especially clear when he repeatedly misdescribes a major point of the plot as being the search for "a girl's body" rather than the search for some photos. He even admits that he can't remember many details of the story. He doesn't even remember that most of the film had been shot in English. And he says that the movie followed Sergio Donati's novel closely, though there's almost no similarity whatsoever. We should also bear in mind that he did not write this movie by himself. His collaborators, Francesco Longo and Pierre Levy-Corti, brought much to the table, but we can't ask them about their work, because I'm pretty sure they're both long gone. (Because several people have expressed extreme doubts about my claim that the movie is complicated, I have decided to publish a summary here, based on the remaining clues. Please do NOT read it unless you completely give up on the task of figuring it out yourself.)
EUROPEAN RELEASES
Heart in His Mouth, in its Italian version, received its world première on Friday, 8 September 1967, at the Venice Film Festival.
"International Sound Track," Variety (weekly), 6 September 1967:
"Italy not only has five entries in the running for main award Golden Lion of San Marco, but has a sixth getting a world-preem showcase here out of competition on the final afternoon. Film is Tinto Brass's 'Col Cuore Nella Gola' [sic] (Heart in My Mouth). Brass is a prominent Venetian, which only partially explains last-minute string-pulling to program the Panda production."
How the movie was received, I don't know. I have found only two contemporary reviews. The American one was hardly flattering:
"Venice 1967," Films in Review, October 1967: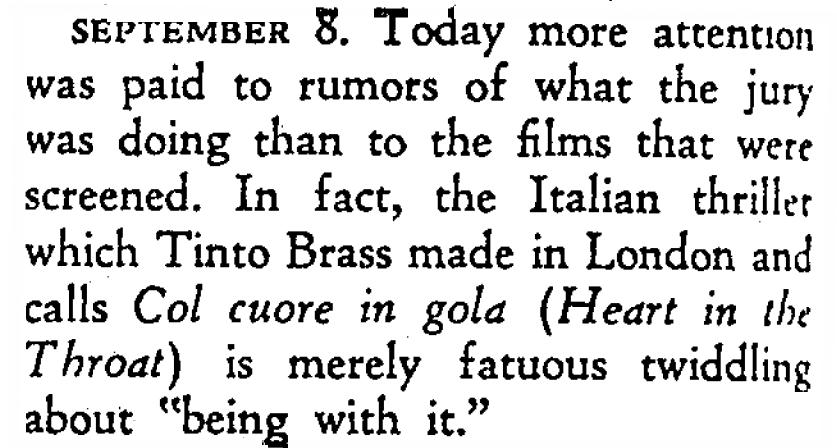 There was also a write-up in a French movie mag called Amis du film et de la television (October 1968, pp 13 & 35). Since I'm a moron who can't speak French, all I can say is that the bio seems positive but the review seems negative.
And that pretty much seemed to be the end of that. Because I'm not in Europe, I can't go through the newspapers of 1967 and 1968, but even if I were to, I doubt I'd find much of interest. Since the movie was a French coproduction, it was released in a French dub under a different title, En cinquième vitesse (In Fifth Speed). It was fascinating. Years ago I purchased a really lousy VHS from Video Search of Miami, which was a copy of a copy of a copy of a copy of a copy... of a censored telecast. (Video Search of Miami no longer sells that particular edition of the movie.) First of all, the opening credits were completely redone, and were completely better than the Italian originals. The credits slid and scrolled and flashed and blinked in the most unexpected ways. This was one of those rare times when reading credits was actually fun. More interestingly, in the French dub, when the Brits were talking among themselves, they usually spoke English (no subtitles). But when the Brits found they had to converse with Bernard (Trintignant), they spoke with English-accented French, the sort of French they were probably required to learn in school. My VHS copy is so poor that I sometimes cannot lip-read the actors, but it would not surprise me at all if they were actually speaking French some of the time. Again, I'm certain — absolutely certain — that Tinto had nothing whatsoever to do with this French dub, which in many ways is better than the Italian dub. Why am I certain he had nothing to do with it? Because there is one horrible, horrible mistake. Whoever wrote the script for the French dub either couldn't make out or couldn't understand "What — me worry?" and changed it. What a mess!
Above are six lobby cards that I purchased on eBay some years ago, and that ended up as a supplement in the Cult Epics DVD. Note that these include a deleted sequence in a bowling alley, surely located in Piccadilly Circus. Note also that the lobby cards, and presumably the poster and other advertising materials, give the title as:

whereas the opening credits spell it out:

I just dread the thought of people searching for years for materials on this movie and coming up empty-handed only because they didn't think to check both spellings.
| | |
| --- | --- |
| | |
| Why was the French version of the movie called En cinquième vitesse? Why did Bernard drive like a race-car driver, and why did he disguise himself as one? Probably for the same reason that he played a race-car driver in Un homme et une femme (A Man and a Woman): He really was once a race-car driver in real life. | Here's a capture from the Video Search of Miami VHS that I purchased back in the early 1990s. The watermark, or bug, at the lower right corner of the frame seems to read RTL or something like that. It is on view throughout the entirety of the movie. Should we assume that's Radio Télévision Luxembourg? If so, that places this broadcast between 2 January 1984, when RTL began operations, and sometime in 1988, when it moved to Köln and effectively became a German station. Please let me know if you know more. Thanks! |
If you have a nice copy of En cinquième vitesse for sale or rent, in any format, or if you know where I can view a 35mm copy, please write to me. Thank you!!!
There was also a German dub, Ich bin wie ich bin (I Am What I Am). Curiously, the poster included a subtitle: Ich bin wie ich bin: Das Mädchen aus der Carnaby-Street.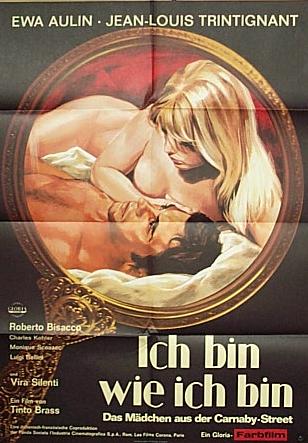 I have the above poster in my collection, and the staff of the cinema that once possessed it indexed it simply as Carnaby Street, which makes me think that was probably its original German title and that Ich bin wie ich bin was the title of a subsequent release. Incidentally, though the line "I am what I am" ("Sono come sono") is in the Italian dub, on camera Jane never said that. What she actually said was that she thought of herself as very much like Linus in the Charlie Brown comic strips, perpetually carrying a security blanket.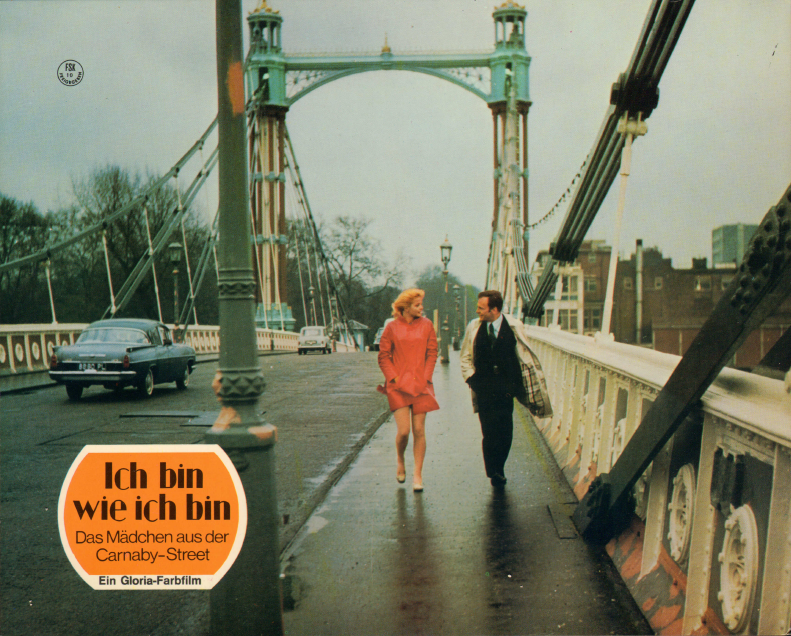 Apparently the movie was also released in Belgium, and the poster gave the title as Dead Stop: le cœur aux lèvres. I have reason to suspect that the on-screen title was simply Dead Stop and that the subtitle was used only on the poster for the sake of Francophone movie-goers.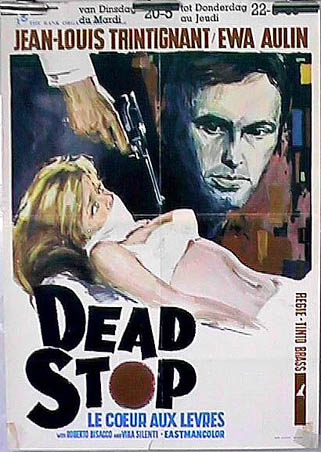 MY DESPERATE PLEA: Where can I find a copy of Dead Stop: le cœur aux lèvres? Is it housed at an archive? Does a distributor have it available for rental on film or on video? If so, please write to me and let me know. Thanks so much!!!!
THE MINIATURE UK RELEASE
Heart in His Mouth was filmed entirely in London, and the original intention was to have the movie in English; hence most of the actors spoke English on camera. Yet it was filmed silent, without even a scratch track, and the dialogue, music, and sound effects were all recorded later. After the Italian dub was completed, some outfit, probably in England, licensed the rights and hired voice actors to create an English version. I doubt that any of the actors in the movie dubbed in their own voices. The recording sessions happened no earlier than November 1967 and no later than early December 1968. But the release was abandoned for some reason, and the movie was never publicly screened anywhere in the UK. If you know anything at all about how the English edition came to be or why it was never released, please contact me and let me know. Many thanks! Since it was never released, imagine my surprise when I saw this listing on eBay: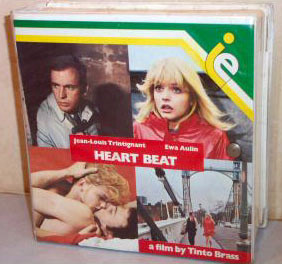 (Photo courtesy of Lee's Cameras of London)
I was flabbergasted. This was a three-reel (53-minute) condensation of the English-language version. Now that we can finally hear some of the English version, it is clear that Tinto had nothing to do with it. Some other crew created it, and worked too quickly. The English dubbing sessions were quick and dirty, with minimum time for rehearsal or retakes, and with no time for the mixers to do their work properly, which is why there was no adjustment to match room ambiance or distance or motion. All the voices sounded as though they were closely miked in a studio, which, of course, they were. Despite these faults, if we could ever locate the masters, it would be possible to remix and adjust and improve the quality immensely, making it sound acceptable, or even more than acceptable. This home-collectors' edition was released in the UK by IE International of Italy in Super 8 sound — and letterboxed to boot. The cover gives the title as Heart Beat, but the opening credits announce the movie as Dead Stop. The English titles, by the way, were all badly reset, pathetically attempting to mimic the Italian originals. They don't even scroll at a consistent speed, and it seems they were on a roll of paper that was cranked by an unsteady hand. If you know the story of how this home edition came to be please let me know. Thanks! I spent something like $75 on this film, and then a coworker loaned me his battered Super 8 projector, and so I sort of got to watch this, though the projector almost never held the loop and displayed more smear than image. (Click here for my plea for help re: Super 8.) Nico B of Cult Epics at last transferred this to DVCAM for me. That was about $380 or thereabouts. Then for another $92 I got Point.360 to transfer it to DVD-R for me. The Super 8 film was in pretty sad shape, jumping and rolling all over the place, and it was terribly mastered to begin with. The abridgment is awful, and it unintentionally changes the plot. Much dialogue is missing, which means that my dream of re-creating the English version is impossible unless more material turns up somewhere. As mentioned, much of the French version of this movie retains the original English dialogue, and some of that English dialogue is almost identical to what we hear in this 8mm English version. Some voices are different, but others are the same; yet even when the voices are the same, we can hear that the voice actors delivered their lines with considerably more polish for the French edition. Some of the dialogue is the same in the French and English versions, and some of the dialogue is different. Most curious.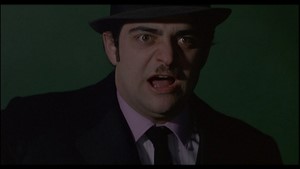 Luigi Bellini as Jelly-Roll shouting Italian in a close-up: "Sputa!" ("Spit it out!")
In the English version, he says "Where's the diary?" and somehow it looks perfectly convincing.
The more I watch it, the less I can understand how that was done.
To this day Tinto is probably unaware that there was ever any English version. He knows the Italian-language version, which is probably the only version he's ever seen. I wonder if this English version was ever shown on television. I wonder if a complete print still exists. I wonder if the masters still exist. I hope all the English materials still exist somewhere, for with them we could restore the movie properly. Without them, we can't. IF YOU HAVE ANY IDEA AT ALL ABOUT THE WHEREABOUTS OF A COMPLETE ENGLISH PRINT OR THE MASTER DIALOGUE TRACK, PLEASE WRITE TO ME AT ONCE!!! THANKS SO MUCH!
---
THE MADDENINGLY MYSTERIOUS US RELEASE
Not too long after Heart in His Mouth, Ewa Aulin scored a bit of a sensation in a movie called Candy, which opened in the US in December 1968. At its première in Manhattan the lines went around the block. So it was time to hop onto the bandwagon. Paramount Pictures Corporation immediately sought out any other movies with this popular young actress. They found Heart in His Mouth, licensed English-language US rights, and renamed it Deadly Sweet. Though the original negative had been shot on Eastmancolor, and though Paramount normally printed its movies on Eastman stock through Movielab, for Deadly Sweet they contracted with the Technicolor laboratory to make a matrix for Imbibition Technicolor ("IB Tech" or "dye-transfer") prints. Deadly Sweet became Title No R-7821 and a reference print was made of Reel 5 (rolls 9 and 10), dated 2/20/69 and initialled EJC. (Does anyone have access to the Technicolor files? Can you look up Title No R-7821 and identify EJC? If you can, please write to me. I simply MUST have a nice chat with EJC. Thanks so much!)
(NOTE: Technicolor is not identified anywhere on the film in any way, but the IB process, along with the leaders and tails all containing registration-check appearances of the letters "Y" for yellow, "C" for cyan, and "M" for magenta leave no doubt as to the print being made by Technicolor. And no, these letters do not refer to the YCM Laboratory, which would not be founded until 1983.)
IB Tech is brutally expensive, and a specialist in these things assures me that in order to amortize costs it would have been necessary to run off at least 100 prints. (From this we CANNOT draw the conclusion that at least 100 prints were actually made, though. Perhaps the costs were not amortized.) That Paramount would go to the length of printing in IB Tech demonstrates their confidence in this movie. They had more confidence yet. They hired voice actors to record a new English dialogue track. A producer friend who is highly knowledgeable about 1960s US releases of foreign films assures me that it was extremely common for US distributors to hire new voice actors to replace voices even in English-language movies. Often the English tracks recorded in Europe were inferior and the US distributors wanted something better. Even when the English track was perfect, it was simply company policy to do it over again, with voices and accents and delivery that the studios thought Americans would feel more at ease with, even if the result sounded hopelessly artificial and unconvincing. The company policy may well have been related to a contract with union actors, which guaranteed such work. That's just a guess, and I really don't know. It is true that the British track sounded phony. The problem was that the American track that replaced it sounded every bit as phony. Technically it was better, and it lip-synched better, and it had somewhat better spatial characteristics, but the voices were all wrong. The Paramount crew were thinking in terms of film noir, and overdid it. They didn't have any conception of Tinto's irony or naturalism or absurdism, of his goal of playing against type and against expectation. And a lot of the dialogue was delivered with phony British accents, which would be convincing to most Americans' ears but not to a British ear. I wonder who these voice actors were. I wonder who created their script. I wonder who directed them. I wonder who was on the sound and editing crews. If you know, for heaven's sake please let me know!!!!! Thanks! I would ask Paramount directly, but they made the horrible mistake of tossing all their records into the rubbish bin decades ago. Some of the dialogue that Paramount dubbed in had been rejected and had already been revised for the older English dialogue track. Some of the dialogue they dubbed in was not supposed to be heard. Further, some of the off-screen dialogue that Paramount dubbed in was translated somewhat awkwardly from the Italian edition. But Paramount went even further and added new dialogue to help explain the story to the audience. These new lines were spoken, of course, when actors's backs were to the camera or when their faces were off-screen.
By the way, if you're interested in seeing the Paramount version, please contact me. I cannot promise anything. I don't have the funds or the rights, but if five or ten of us pool together some funds, perhaps collectively we could license some limited rights and pay for a transfer. Perhaps. No promises. But definitely worth a shot, yes?
Another interesting project would be to locate all the master materials and record the English track anew, with new actors, and do it right this time, and maybe even hire Tinto to direct it. Such a project would cost a fortune and would never earn back its costs, but I think it would be worth doing anyway, don't you? Is anyone interested?
Paramount's revoicing sessions must have occupied about two weeks. And then after the revoicing sessions, the tracks were mixed and the elements were sent to Technicolor, where by 20 February 1969 they had a reference print of Reel 5 ready for inspection. So if we work backwards, work must have begun no later than late January, and if we work backwards from that, Paramount's licensing contract with Panda and Corona must have been signed in late December or early January.
How many trade screenings there were, I do not know. But we do know about this one, held on Thursday, 20 March 1969, in Kansas City, Missouri:
Screenings at Commonwealth: Paramount
will screen "Deadly Sweet" Thursday (20),
1:30 p.m. . . . Shows last week: "Seven
Golden Men" (WB-7A), Tuesday (11); "The
White Colt" (WB-7A), Thursday (13); and
"100 Rifles" (20th-Fox), Friday (14).
What was that about? I wish I knew. The story was included in the "Kansas City" page of Boxoffice magazine 94 no 22, Monday, 17 March 1969, p 37. Apparently there was some sort of trade convention going on at the time, and Commonwealth Amusement Corporation was the name of a regional cinema chain, but where precisely its screenings were held is a bit of a mystery. Help? (I assume this was the same Commonwealth that bought out Frontier Amusement in Albuquerque???) Do you live in or near Kansas City? Could you do some research for me? Many thanks!!!
In a vertical file at the Margaret Herrick Library at the AMPAS Fairbanks Center for Motion Picture Study is a form entitled "Data for Bulletin of Screen Achievement Records," signed on 24 April 1969 by Jan Hamilton, a Paramount official. This is a form that the Academy of Motion Picture Arts and Sciences requests that all US studios fill out for all movies "IMMEDIATELY AFTER THE SCREEN CREDITS ARE DETERMINED." The completion date of the production was given as "Not known" and the "1st ASST. DIRECTOR" was given as "GERARD GUERIN." This was quickly followed on 28 April 1969 in Boxoffice (p 18), which gave the past week's MPAA ratings: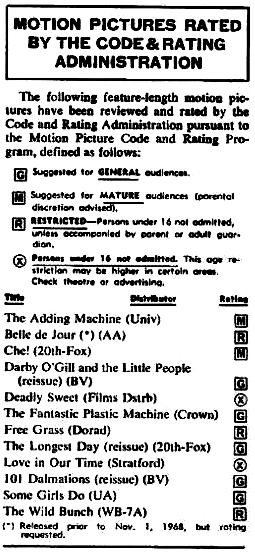 For those of us who have seen the usual version of the movie, the sensible reaction to the above is shock and confusion. There is nothing, ABSOLUTELY NOTHING in the movie worthy of an X, not even by 1969's standards. Oh yes, there were probably three briefest glimpses of partial nudity, so brief that they're hard to notice. Even in 1969 that would have qualified as a GP or at worst an R. Something odd was going on. But what?
The answer is revealed in a 35mm print of the Paramount version, which is available by appointment for flatbed viewing at an archive, and which I watched on Thursday, 23 April 2009. It is not the same as what we have come to know from the Italian and French and German and Spanish releases. A few of the takes were different. Here's one such instance. In most versions of the movie, this less-than-one-second nude shot is discreet and reveals no "naughty bits":
This above is NOT what was in the Paramount version. In the Paramount version we can see pubic hair. Clearly Tinto shot this scene two different ways: one for countries that allowed pubic hair, and one for countries that did not. And that's not all. In a later scene there's another glimpse, lasting only the smallest fraction of a second, of this forbidden imagery:
In every video I've seen, the above scene is perfectly discreet. In the Paramount version that I just watched in 35mm, there are maybe three frames in which we get to see pubic hair unobstructed by the large sheet of paper. Until I do a side-by-side comparison, I can't be sure, but I think the Paramount version was not more complete; it simply derived from a different take.
And that was it. In 1969 that was more than enough to qualify a movie as an X and to get it relegated to the exploitation circuit, where desperate DG's in raincoats would dash into a decaying cinema hoping not to be recognized, scouting out the fire exits to prepare for a quick getaway in the event of a police raid. (For what it's worth, you can click here to read my take on the ratings system.)
When we look through the publicity materials, and when we watch the Paramount version, though, we are struck by the complete absence of any indication that this is a Paramount release. Instead, the distributor is given as Films Distributing Corporation. Why? This was a subsidiary of Paramount. Why would Paramount release this movie under a different company name?
Let's examine the evidence. What do we know about Films Distributing Corporation? According to La Vanguardia Española, 28 February 1963, p 28, the vice president of Paramount's Films Distributing Corporation was Martin Davis. There was a passing mention of Films Distributing Corporation in "Supreme Court Upholds Viking Suit Dismissal," Boxoffice, 22 June 1964, p 5 and again in "Second Viking Trust Suit Dismissed by Court" Boxoffice, 13 September 1965, p 4, but yet it was not listed in the trade annuals. A few years later it was a litigant in Paramount Films Distributing Corporation v. State, 285 N.E.2d 695, 698 (N.Y. 1972) (which was referenced in Eileen Syms et al v Olin Corporation). So it had been around for a while and would remain for a while, and it had a number of credits, but the only other one I know of is the attempted US release of L'étranger (1969), which they retitled Sin with a Stranger. Maybe that should give us a little bit of insight into the company? My guess (only a guess) is that Films Distributing Corporation was Paramount's sexploitation arm, or at least that the corporate bosses were trying at that time to turn it into a sexploitation arm. Since Candy was wrongly perceived as sexploitation, Deadly Sweet was released as a tie-in.
Of course, the problem with marketing Deadly Sweet as a companion piece to Candy is that it's nothing at all like Candy. If DG's attended out of a desire to see displays of flesh, Deadly Sweet would only have succeeded in disappointing. (Worse, after a strong opening, Candy quickly cooled. It continued to do above-average business in the larger cities, but below-average business elsewhere.)
Let's explore a bit more. Deadly Sweet was National Screen Service (NSS) job # 690023. There was a press book, a one-sheet poster, a set of eight lobby cards, and a preview — or "trailer" as many people would still call it. (WE ARE LOOKING FOR THE DEADLY SWEET PREVIEW AND LOBBY CARDS. IF YOU KNOW WHERE THEY CAN BE FOUND, PLEASE CONTACT ME. THANKS!!!) Let's take a look at the advertisement that Paramount's Films Distributing Corporation created for Deadly Sweet :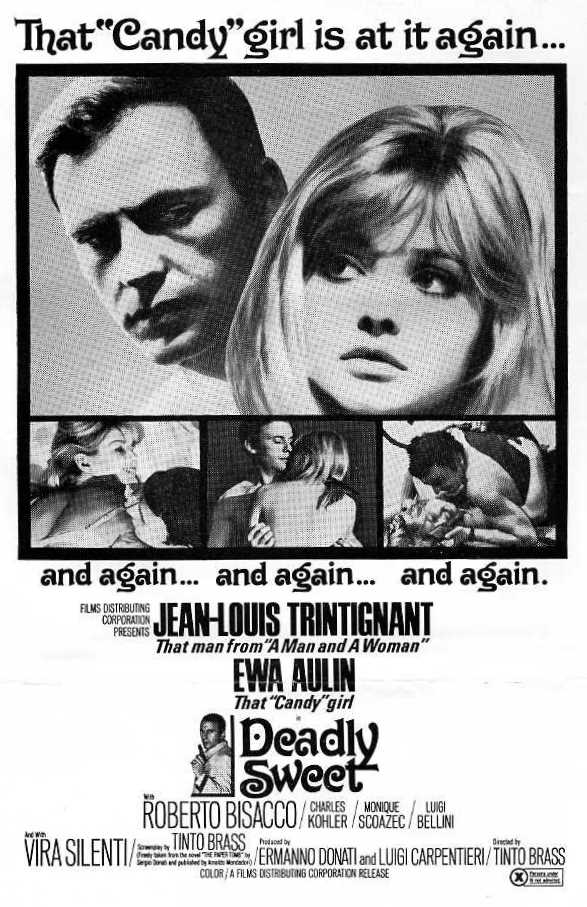 The above is from one of the press books (yes, there was more than one), this one being only a single sheet, two-sided.
Click on the image above to see the whole thing.
It's quite interesting.
What's most interesting is that it is in mint condition, as it was never used.
Probably no press book for this movie was ever used.
The one-sheet poster was once available for viewing on the Learning about Movie Posters site but it was recently taken down, probably to conserve on space.
I'll get mine scanned soon and will post it here.
In the meantime, here's an inferior photo of it, from the eBay listing where I purchased it: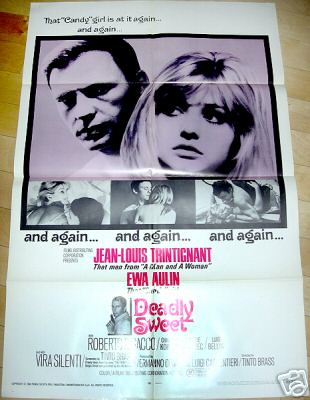 As you can see, the advertising campaign capitalized on Trintignant's A Man and a Woman, a few years old by then but just re-released in a popular English dub shortly before, on 1 July 1968. But more overtly, the advertisement tried to cash in on the presence of "That Candy girl," Ewa Aulin, and look how it tried to cash in. The poster utilized three publicity stills of the movie's exceedingly brief sex scene, which has to be the most discreetly shot sex scene in all cinema history. The design of the ad and poster implied that we should see the movie in order to see "That Candy girl" go at it "again... and again... and again... and again." Is that false advertising? Legally, probably not, but it's certainly misleading. On the off-chance that audiences did attend in order to see "That Candy girl" go at it "again... and again... and again... and again" they probably left the cinema bitterly frustrated. The more I think about it, the more irritated and offended I am about that ad. It's disgracefully dishonest and does a disservice to the movie and to the audience.
Here is another detail from that press book:

So apparently the MPAA really meant business
And what would audiences get for their money? The movie has one sex scene, two love scenes, and one striptease, in which there is essentially nothing shown that the raincoat crowd would want to see. Let's take a look at the sex scene, less than one minute long. It does not look at all like the publicity stills included in the ad and on the poster:
There is also a love scene that is by no means a sex scene, and which lasts about half a minute:
Then toward the end are some brief flashes either of memories or fantasies — or maybe memories of fantasies:
That's hardly salacious, is it? That's not what people who go to a "dirty" movie want to see, now is it? (And Candy was nearly as discreet as the stills above, which may have been the reason for its downturn in business.)
---
What Paramount Did
The print I saw was physically altered. It was definitely not a release print, and so I don't know if the release prints were similarly altered. In the original, there is a prologue in a morgue followed by Bernard emerging from the London underground. Then there's a fade-out into the main credits, which scroll right to left, the final words of which burst into the discothèque scene. In the print that I saw, the X rating was spliced in, then the credits were spliced in (completely rewritten and reset, and opening with "A Films Distributing Corporation Release"). The credits fade out (unlike the original Italian credits), and then there's a splice into the prologue in the morgue and Bernard emerging from the London underground. Then there's another splice into the discothèque scene. Of course, this does strange things to the song that no longer plays continuously. Also, in the archival print I saw, the sound in the first reel was slightly out of sync. Was that true for all the prints, or just this one?
I mentioned additional dialogue. Here's the first example, when Bernard first bumps into Jelly-Roll:
In the original there is no dialogue. The two simply stop and stare at each other. Paramount added dialogue, which went something like: "What about this one?" "He's okay." "All right, I'll let him go."
---
There was also a deletion. In this scene in the car, Bernard asks Jane: "Q'est-ce que c'est ton nom? Wie heisst du? ¿Como te llamas? Come ti chiami?" and I think a Portuguese version (sounds a bit like "Posso nome desses?" or something like that — please write to me if you know what he said. Thanks!). Finally he lands on "What's your name?"
In the Paramount version, the beginning is deleted and the scene picks up with "What's your name?"
---
There was a very strange deletion as well. The beginning of the scene in Hyde Park was cut out, and so we don't hear or see the Christian fanatic preaching against chocolates, liqueurs, women, and the Beatles: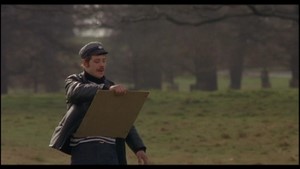 Was he scripted? Or did he just happen to be there?
---
The following sequence was also augmented.

In the original, we are too far away to hear what is being said. So someone at Paramount either got hold of the production transcripts or hired a lip reader and dubbed in the dialogue.

A guy with a thick accent gets out of the car to ask Jane if she can give him directions.

Jane looks confused, and uneasily approaches the car.
(Look at that! I never noticed before! The car is no longer up on the curb. This was done over at least two takes. Could it be that a traffic officer told them to move the car, and that when the officer left the area for a minute or two they rushed to do this shot again and couldn't worry about continuity?)

He repeats his question several times, and then asks her to look at the calling card that a guy in the back seat is holding. And I think the guy in the back seat also is heard to ask her for help with directions.
---
Here's another change, which I can only quote inaccurately from memory. To get into a secured building, Bernard rings a random buzzer.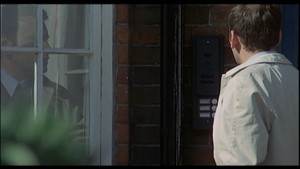 TENANT: "Who is it?"
BERNARD: "Gas inspector."
TENANT: "But the inspector was just here yesterday!"
BERNARD: "I'm the inspector's inspector."
In the Paramount version the dialogue was something like this:
TENANT: "Who is it?"
BERNARD: "Gas."
TENANT: "But you were just here yesterday!"
BERNARD: "I need to check the reading."
---
Interestingly, in this scene it is quite clear that Jean-Louis Trintignant was speaking English. He probably learned his lines by rote, as he had no ability to converse in English in real life.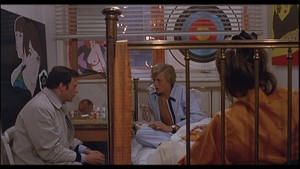 ---
They are looking for the Buick. They find the Buick.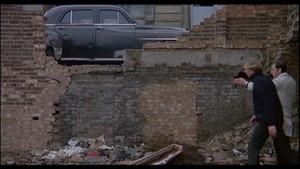 In the original: no dialogue. In the Paramount version, Bernard says something like "That's the car."
---
Yes, there's even more. In the original, Bernard and Jeremy hear the sounds of some gangsters playing dice in their room.
But in Paramount's augmented version, we hear the gangsters having a conversation off-screen, and it goes something like this: "What'll Leris think when he finds out we've got the bird?" "Who cares what he thinks? It's ten thousand quid. We can get out of this country." Whoever wrote that dialogue for Paramount was quite clever — but not clever enough. That dialogue was supposed to help clarify the plot. In fact, it distorts the plot.
---
Paramount also decided to help the audience by adding some lines to this scene: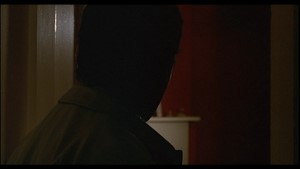 In the original, Bernard simply turns the knob and opens the door.
In the Paramount version, while we see him from the back he says "That's odd. The door's open."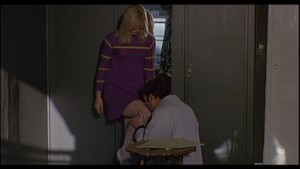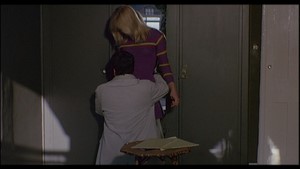 In the original: no dialogue at all.
In the Paramount version, when Bernard faces away from the camera, he says:
"You're trembling, mon chère. What's wrong? You all right?" That dialogue is supposed to help us? How does it help us? It adds deadweight to the narrative and leads us to an incorrect conclusion. Whoever wrote it didn't quite understanding the story.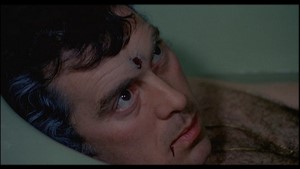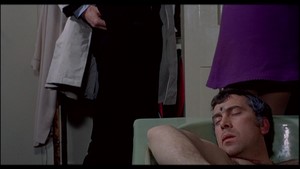 In the original: no dialogue.
In the Paramount version, while Bernard's face is off-camera, he says to Jane: "He must have been killed last night. That proves the kidnappers were acting on their own."
Terrible addition! True, the kidnappers were acting on their own, and the people who murdered Leris were almost surely some of Prescott's remaining men, ones whom we never see. We never know for sure what exactly happened. By now we've figured out that Leris was not really an art dealer, but something else altogether, and so an assassination should hardly be surprising, especially in this volatile context. But on the other hand, it is clear that Leris was killed not long before Bernard and Jane entered the room. Had he been killed the night before, the smell would have been overpowering, but neither Jane nor Bernard noticed. The blood clot has dried and darkened, true (without blood flow, that would hardly take long), but yet his eyes are still clear and full and properly formed, and his blood has not sunk down by force of gravity. In Paramount's defense, though, this is precisely the misinterpretation that will haunt Bernard later that evening.
---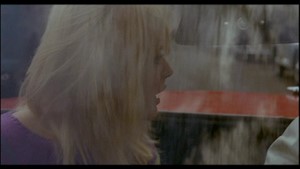 The British dialogue was something like:
JANE: "Who are they?"
BERNARD: "He's Jelly-Roll, one of Prescott's men."

The Paramount version:
JANE: "Who are they?"
BERNARD: "He's one of Prescott's men."

I find it a bit baffling that though Jelly-Roll is referred to by name in the British and French versions,
he is never referred to by name in the Italian and Paramount versions.
---
In the Paramount version, the background of this shot is almost entirely blown out. Was it supposed to be? I don't know.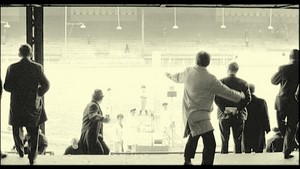 On the left is a frame grab from the Medusa DVD, in which the black-and-white shots are truly black-and-white. On the right is my manipulation of that frame grab to match my memory of what I just saw a few hours ago in the Paramount version, in which all the black-and-white shots are tinted various colors.
---
In both the British and Paramount versions, the dialogue in this scene was augmented:

Jelly-Roll: "Now I'm going to count your lashes
and you better tell me before I'm finished or you'll be dead."
Of course, "or you'll be dead" doesn't make much sense in this context. In the Italian version he simply says: "Hai tempo di parlare finché
ho finito di sfogliare le tue ciglia."
---
Finally, the last several changes. The final shot we see in the Paramount version is of Jane's feet at the railing: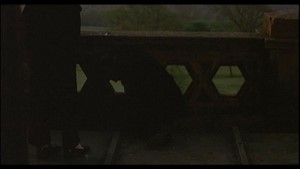 Paramount had it fade out here, and then they created a new credit roll. THE END fades in, in large yellow letters against a black background. The two words then retreat into the distance somewhat, and the credits, completely reset and somewhat reworded, appear under it and scroll up rather quickly. The credits are left-justified and the line breaks are where one would expect. Once the credits disappear, the song cuts off abruptly. The original credits were different. I'm pretty sure that the movie was originally prepared only with Italian credits at the beginning and end. Credits in any and all other languages were created afterwards by the local distributors. Here is what the original looked like:
Once Paramount modified the movie to its liking, it was time to ready the release. The pressbook spelled out the contractual billing, and noted that this had limited application: "FOR THE FOLLOWING TERRITORIES ONLY: United States, it's [sic] territories and possessions, Puerto Rico, Panama Canal Zone, Canada, Australia, United Kingdom, New Zealand, South Africa, South West Africa, Rhodesia, Zambe, Malawi". Did Paramount release this edition of Deadly Sweet in any of those other territories? I wish I knew. Let's scour Boxoffice a little more. In the 28 July 1969 issue (p 85–86), we find this:
That calls for considerable interpretation. First of all, the capsule review may have been written by an exhibitor (ie, a cinema owner or manager who had a subscription to Boxoffice magazine), but if so, which exhibitor? What was his/her name? Which cinema, or which cinema chain? On the other hand, a librarian in the know assures me that Boxoffice reviews were frequently submitted by stringers, and, indeed, this review seems to have the hallmarks of a stringer. Note that this supplies us with the Paramount release number. Do you happen to work at Paramount? Could you check on release # 6908 for me? And while you're at it, why not also check Technicolor Title No R-7821 for me? Thanks! Finally, pay attention to the release date ("Rel."). It was left blank. That means that the movie had not been released, that no release date had been set, and that the reviewer watched it at a trade screening, or a press screening, or a preview, or a test run. When we take press time into consideration, we can surmise that this screening took place sometime around the middle of July, probably between the 14th and the 22nd. But where? (Was this review based on the Kansas City trade screening back on 20 March 1969?) The plot synopsis printed under "THE STORY" clearly derived from a press release that in turn was badly paraphrased from Tinto's synopsis.
Capsule reviews were indexed in subsequent issues until the films were pulled from release: 4 August 1969, 11 August 1969, 18 August 1969, 25 August 1969, 1 September 1969. Here's a random sample: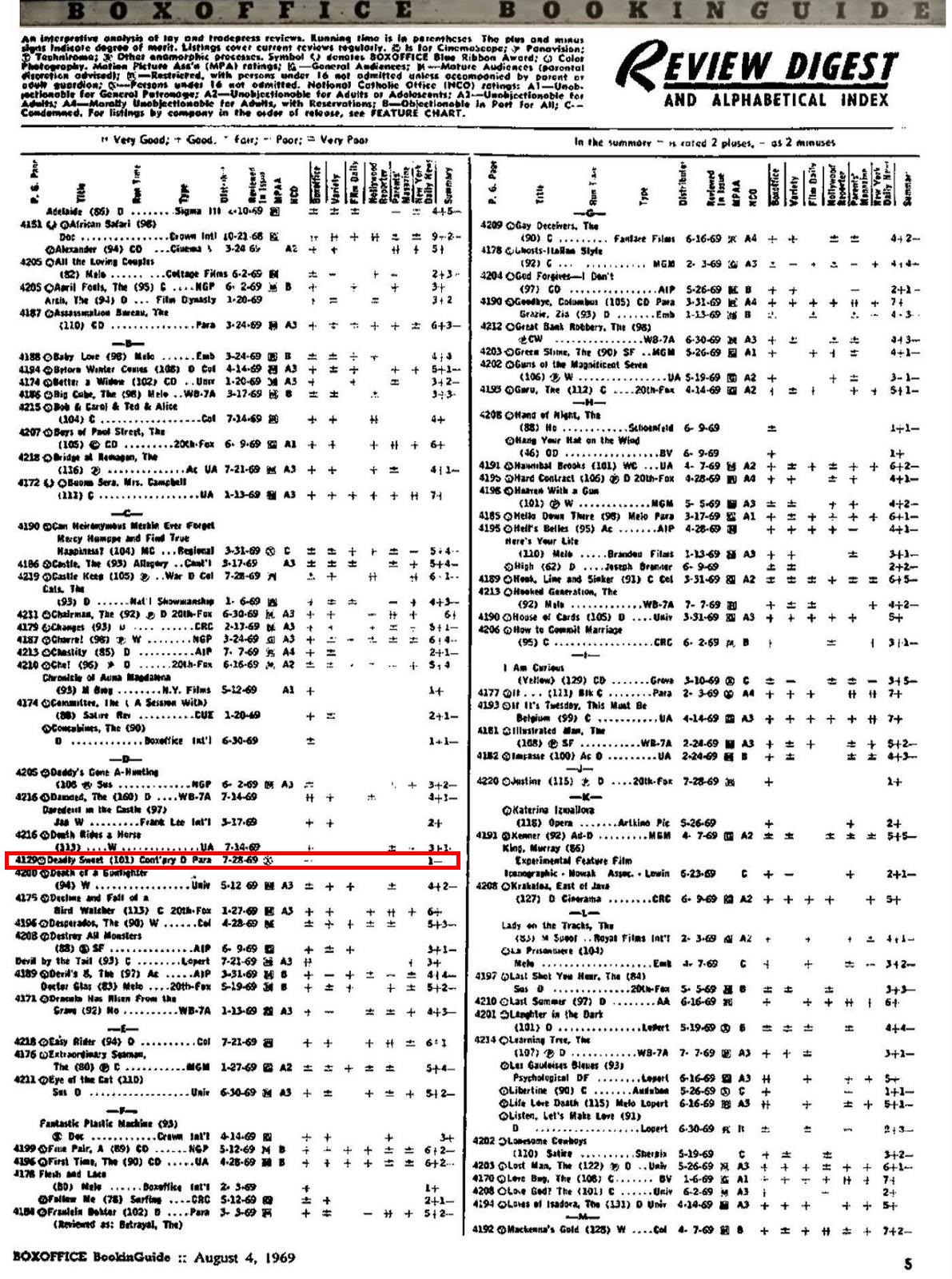 According to the American Film Institute Catalog: Feature Films 1961–1970, Deadly Sweet was released in the US in Technicolor. That much is correct. This Catalog further states that Films Distributing Corporation was somehow associated with Avco Embassy. That is entirely wrong. (That mistaken reference sent me on a 30-year-long wild-goose chase.) The Catalog also states that the première was Sunday, 7 September 1969 in Portland, Oregon, even though Sunday is usually not the day of movie premières: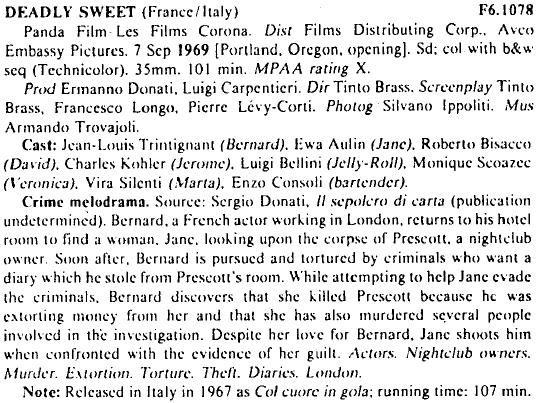 That drove me crazy for 30 years, but then a librarian at the Multnomah County Public Library checked around and assured me that no movie under the title Deadly Sweet ever played in Portland. I was completely satisfied with that Portlander librarian's research, and I have no objection to it, except that it was wrong. At long last, thanks to World Cat I learned that a library not too terribly far away has microfilms of Portland's newspaper, The Oregonian. I reserved some rolls for 16 April 2009 and the librarians retrieved them from off-site storage. Of the six rolls, I needed only three. One of the three had only been viewed maybe once. The other two had never been viewed before, and I was certainly the first person to open the boxes. I checked the 7th of September though I was not sanguine about the prospects of getting a hit. Then I had a hunch that, since the 7th was a Sunday, the date may have been a typographical error. Might it be a good idea to look at a nearby Wednesday or a Friday, the normal days for movie openings in the 1960s through the mid-1970s? Two Wednesdays later was the 17th, and — bingo! — there it was! Below is the teaser ad from the previous day. I highlighted it for you.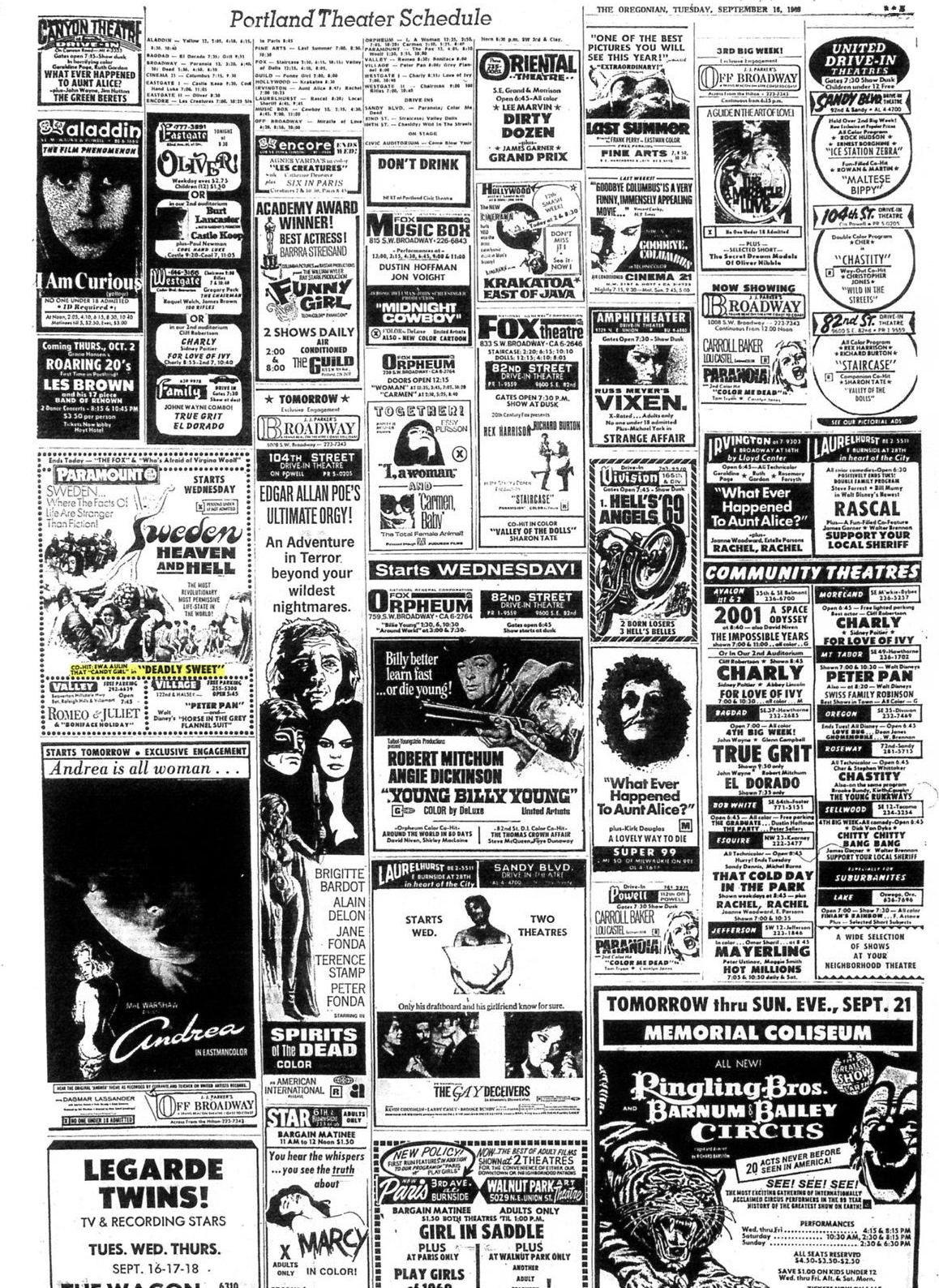 What are we to make of this? The venue was the 3,036-seat Paramount Theatre, originally opened in 1928 as the Portland Publix Theatre, designed by Rapp & Rapp, and now known as the Arlene Schnitzer Concert Hall.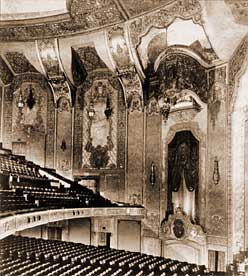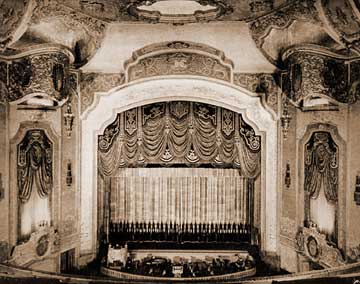 Interior of the Paramount in Portland
Though it was built as part of the Publix (Paramount/Famous Players) chain, by 1969 the Paramount Theatre was no longer associated in any way with Paramount Pictures. Further, this theatre/cinema did not specialize in "adult" fare. For instance, the previous double feature was the orignal R-rated edition of The Fox paired with Who's Afraid of Virginia Woolf? This ad, uncharacteristically, buries Deadly Sweet, which is effectively unadvertised apart from the plain listing underneath the ad for the main feature, Sweden: Heaven and Hell, an obscure movie that was being sold as salacious sexploitation. (Click here to see the insulting preview of what must have been an insulting movie.) Why on earth would anyone couple these two completely disparate movies? Why was there no display ad, no review, no press release for Deadly Sweet? The movie was brand new to Portland, and so why was it being buried, treated as a B-movie that had used up all its financial life and was about to be retired from circulation? Isn't this odd? This double feature ran for two weeks, through Tuesday, 30 September 1969. The following double feature was the G-rated The Italian Job and the M-rated Ace High.
The Portland showing was probably not the première. Deadly Sweet was probably being bicycled around here and there as a second feature paired with various sexploitation movies. The advertisement above, though, actually solves one minor mystery. Sweden: Heaven and Hell was distributed by Avco Embassy, as we can see from the one-sheet poster. So now we know that the AFI Catalog merely scrambled/combined the distrib data for the two movies.
So, it's time to keep ploughing away through Boxoffice in search of more clues. All we find are repeats of that same index listing (though sometimes with a typo reading "2–" rather than "1–"): 8 September 1969, 15 September 1969, 22 September 1969, 29 September 1969, 6 October 1969, 13 October 1969, 20 October 1969, 27 October 1969, 3 November 1969, 10 November 1969, 17 November 1969, 24 November 1969, 1 December 1969, 8 December 1969, 15 December 1969, 22 December 1969, 29 December 1969, 5 January 1970, 12 January 1970, 19 January 1970, 26 January 1970, 2 February 1970, 9 February 1970, 16 February 1970, 23 February 1970, 2 March 1970, 9 March 1970.
And then at long last we find some more evidence, and it's not from Boxoffice. The evidence comes from Oakland, California — from the palatial Paramount Theatre, to be exact. As with the venue in Portland, this Paramount Theatre was NOT associated in any way with Paramount Pictures at the time. Deadly Sweet had a one-week run beginning on Wednesday, 11 March 1970. But we see the same problem all over again. Are we to think that perhaps a mad executive was issuing irrational orders while suffering from delirium tremens? Or maybe that some earlier preview showings had gone over so badly that Paramount just wanted to kill the movie, write it off as a loss, and be done with it? I don't think either of those possibilities is too plausible. Before we try to figure out what really happened, let's look at some more evidence. Here is the very first advertisement for Deadly Sweet in the Oakland Tribune (I highlighted it, else you'd never be able to find it) :
---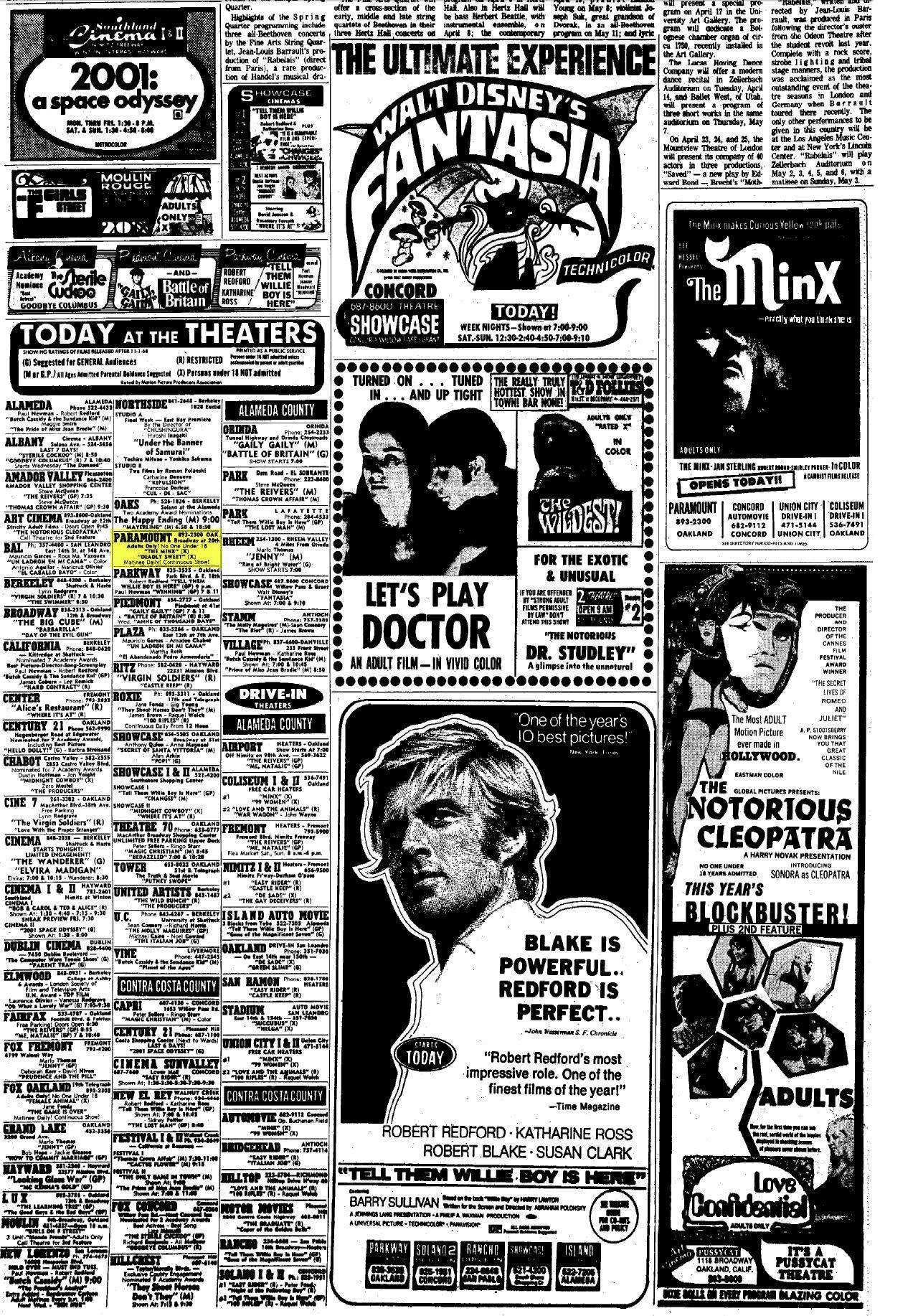 ---
Just leaps right out at you, doesn't it? Irresistible, yes? You sure wouldn't want to miss that one, would you? To be fair, though, the Oakland Tribune did indeed run a larger ad in the Saturday and Monday papers:


---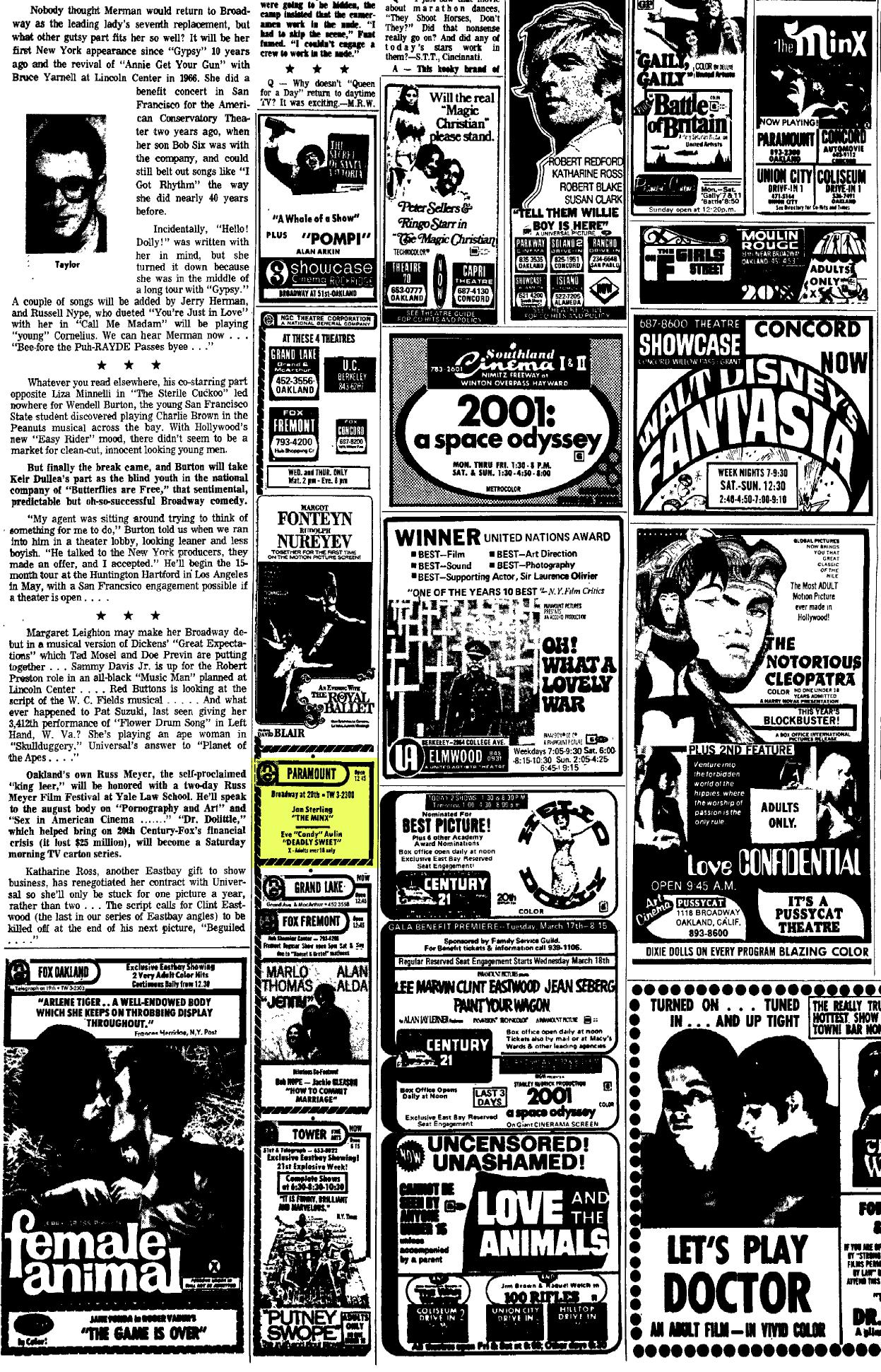 ---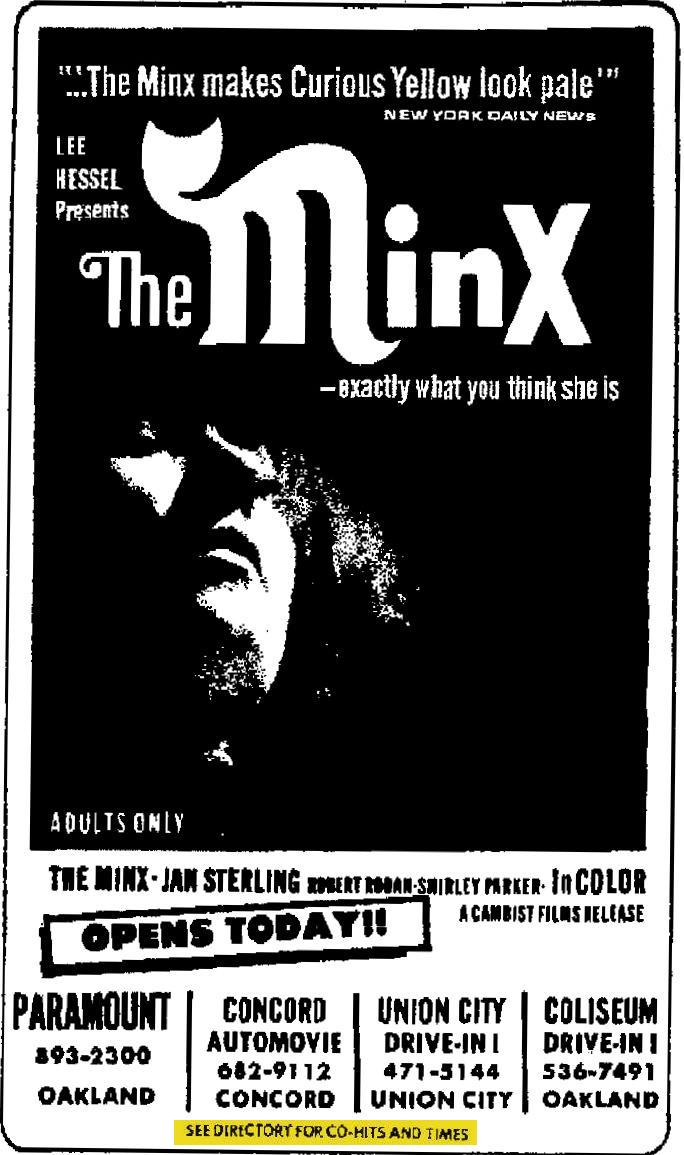 And that was it. As with the Portland showing, there were no display ads, no press releases, no reviews, nothing. Once again, it was the second on a double bill, this time with The Minx, originally produced, cowritten, and directed by freelance photographer Raymond Jacobs who was unable to find a distributor as it was so unreleasably dull. Then a year or two later an indie distributor called Cambist purchased all rights for a song and promptly shot new scenes to turn it into a sex movie, which then turned a profit as a sexploitation item. (Cambist regularly purchased rights to obscure and foreign movies and added sex scenes to them. I hear tell that it was not only Cambist that did this, but other distributors as well. If you know of any other examples, please let me know. Many thanks!) But in its favor, The Minx at least received an unattractive and poorly designed display ad, in which there was no mention at all of Deadly Sweet.
As you can see, not only were both The Minx and Deadly Sweet rated X, the listing made mention of "Continuous Show!", which implied, without stating, that these were showing in a "grind house." ("Grind house" was the term for a hole-in-the-wall tenth-run Grade Z cinema in which the projectors' gears never ceased grinding, as there were no intermissions between the movies. "Adult" cinemas were typically "grind houses." The 3,200-seat Paramount Theatre, designed by the staggeringly talented architect Timothy Pflueger, opened in 1931 as the most magnificent cinema/theatre in Oakland, but by 1970 it was on its last legs and ready to close down. Grind-house sexploitation was probably a last-gasp effort to keep solvent. Fortunately the building was soon rescued and thrives to this day as a performing-arts center.)
So what happened? Here's my educated guess: The original Heart in His Mouth was aimed at audiences who enjoyed offbeat movies, as well as audiences who enjoyed pop art and psychedelia. The X rating, the absence of any promotion, and the double-featuring with exploitation movies simply killed Deadly Sweet. The audiences who would have enjoyed it never knew about it. The audiences who attended in expectation of seeing more of Candy's anatomy would have been bored witless. I ran all this by a movie scholar, who hazarded a guess that Paramount received no bids at all for the movie, and then, to recoup a few of its lost dollars, dumped it off with some local indie distribs who then shipped it out only as an unadvertised second feature to the exploitation market. That could well be why a brand-new movie was treated as a worthless sub-run.
Were all the release prints of Deadly Sweet destroyed at the end of the license term? Or were they sent to Europe upon expiration of the license? Were a few prints forgotten about and left behind to collect dust in some warehouses somewhere? Does Technicolor still have elements of this film on hand? If you know the whereabouts of any 35mm US release prints of this movie, please write to me. Thanks!
So we keep on looking through Boxoffice for more clues, and there is only one: 16 March 1970, 23 March 1970, 30 March 1970, 6 April 1970, and 13 April 1970. And that was the final listing. Deadly Sweet was officially withdrawn from release probably during the first or second week of April 1970. The single minus sign indicated that the only known review was the anonymous capsule review from the 28 July 1969 issue.
---
OTHER RELEASES?
There was also a Castilian edition for Spain.
WEDNESDAY NIGHT, 29 JULY 2009 LATE-BREAKING NEWS! I just received these two images from Marcelo Ragone of Buenos Aires: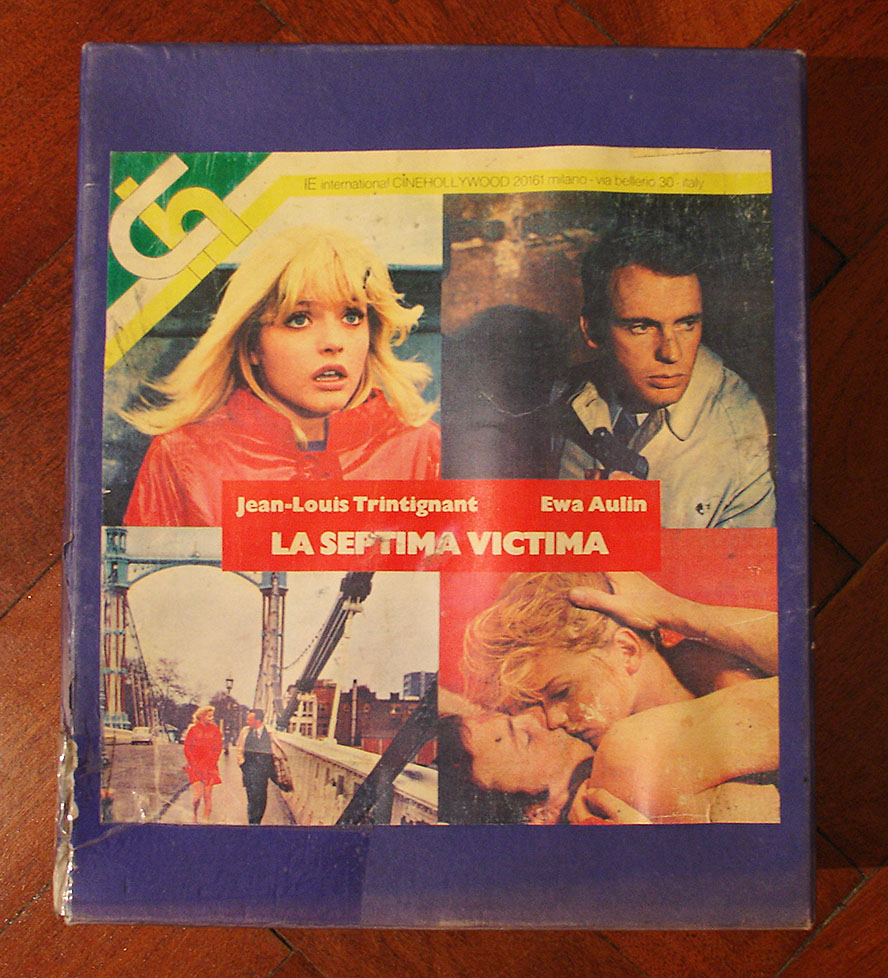 The Castilian version was also issued in a Super 8 condensation in Argentina.
Unfortunately, the original box was destroyed, and the cover was scissored out and taped to this new box.
But we still get the idea.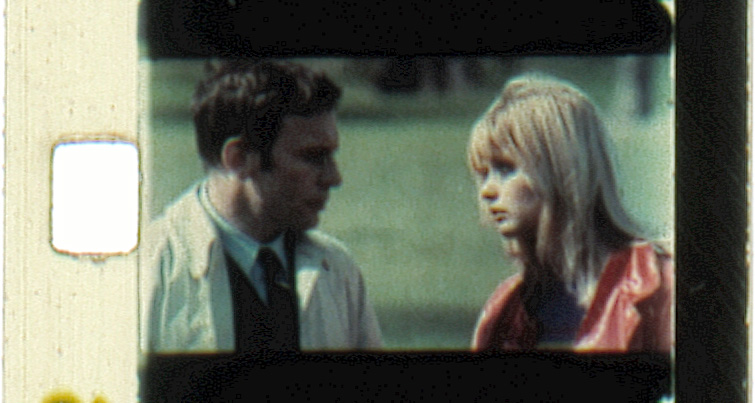 And here's a scan that Marcelo made of a frame.
---
It was also released in México. Whether the Méxicans saw the Castilian version, I don't know. Perhaps the Méxican version had that awful fake neutral Spanish dialect that native Spanish speakers hate so much.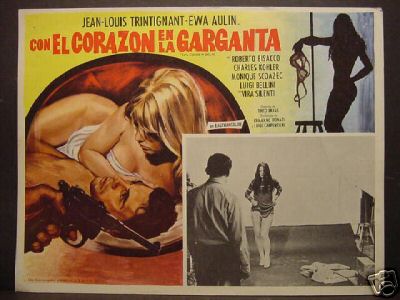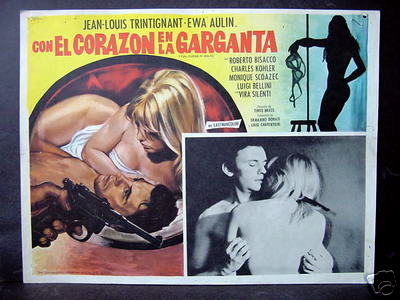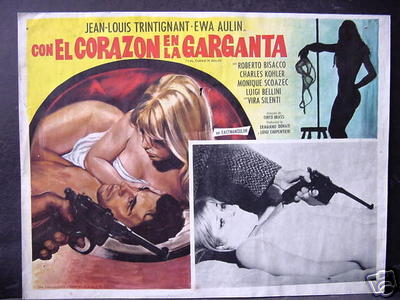 Méxican lobby cards
According to a Brazilian web site, this movie was released Escalation there.
---
AFTERMATH
LA MORTE HA FATTO L'UOVO. Heart in His Mouth turned out to be little more than an unintentional prologue for Trintignant and Aulin's next starring feature, La morte ha fatto l'uovo (Death Laid an Egg), which began filming just as Heart in His Mouth wrapped up. Interestingly, Brass's old-time friend Franco "Kim" Arcalli coauthored and edited La morte ha fatto l'uovo, and Les Films Corona coproduced both movies. La morte ha fatto l'uovo soon came to be considered a cult favorite — justifiably, in my opinion — though if it had been marketed well it would surely have attracted much more than a cult audience. It's one of those rarest of movies, one that actually has a narrative worthy of being called a narrative. What a concept! Heart in His Mouth was forgotten before it was even shown and was then completely ignored. There's something so unfair about that. By the way, I just discovered that when La morte ha fatto l'uovo was released in the US, under the title Plucked, it too carried an X rating ("ID's Will Be Checked"). According to the IMDb this X was not an official rating, but was self-applied by the distributor. Okay, let's see.... Yes, the main character had some odd sexual hang-ups, but they were never shown. Other than that, what? Nudity? I don't recall any. Sex? No. Violence? Eh, a smidgin, but nothing that would make anyone flinch. What else might it be? Blasphemy? No. Communism? No. Hmmmm. Well, I must be missing something. Was the distributor going after the raincoat crowd? Looks like it. But why? The raincoat crowd would hate this movie. And that's probably why Plucked bombed in the US. Ewa Aulin, despite youth and inexperience, was a natural-born performer who excelled in offbeat rôles. Incomprehensibly, she was marketed as a sex object as a result of Candy, though not even in that was she particularly sexy. (Lest we forget, Candy was an anti-authoritarian satire written by Buck Henry from a novel coauthored by Terry Southern, in which every authority figure — left, right, Eastern, Western, jingoistic, counter-cultural — was revealed as a fake and as a sexual predator bent on making sure that all the rest of us become and remain gullible morons. And that, basically, is my view of the world as well. Coincidentally Candy was coproduced by Les Films Corona. And it was John Astin's finest hour. The credits wrongly boasted "And Introducing EWA AULIN." Have film producers no shame? Some have criticized her poor acting in that movie. Candy was a shallow birdbrain, and so Aulin played her like a shallow birdbrain. How else should she have done it?) From what I have seen, Aulin's work was seriously comical and eminently respectable. Despite this, the ghastly Hollywood publicity machines advertised her as nought more than an flesh object to be ogled, which is just how the authority figures in Candy invariably saw her. That is almost certainly the reason she soon gave up on the profession and found a new career. I admire her integrity.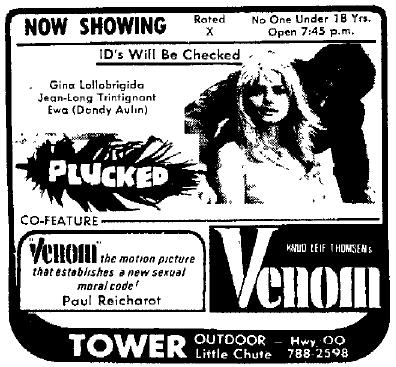 Appleton, Wisconsin, Post-Crescent, 15 August 1970, p B8
And speaking of integrity, I just ran across this NEA wire story from Rome, written by Tom A Cullen, and printed in the Burlington, North Carolina, Times-News on Friday, 26 April 1968, p 9A, which ran it under a grossly unfair title: "For Girl Watchers: Candy Is a Swedish Treat." It was an article/interview with Ewa Aulin, who said some thoughtful things. Worried about being typecast as Candy, she said, "For my next film I would like to do something entirely different, not another comedy, but a character rôle that has real guts." A press agent at this interview mentioned in passing that she was a star. Aulin was adamant: "I don't want to be a star. I want to be an actress. If I thought I was going to be a star I'd run away to some island and you wouldn't hear from me for the next 10 years." The press agent tried to persuade her otherwise, encouraging her with the prospect of the power that stardom brings. Aulin shot back a statement that was pure Tinto, verbatim Tinto: "I don't want to have power over anyone. To me power is immoral. I believe that people should be free to live their own lives without someone telling them what to do." Well, she certainly got that much right. She did not want celebrity; she wanted fulfillment. I hope she found it. She would never have found it in Hollywood, that's for sure.
FOR AN ECSTATICALLY FAVORABLE OPINION OF HEART IN HIS MOUTH, TAKE A LOOK AT "The Jet Sounds of Nicola Conti" from The Millionaire, which used to be at http://www.luxuriamusic.com/Feat_Page?featureID=5571. The site is long gone, but I just found the copy that I made more than six years ago. If you own the copyright, please write to me. Thanks! Here's the passage I liked:
NC: And then I would say there's another very important movie, which is kind of a not-very-well-known movie, but I really suggest you to get a hold of it. It's a movie done by a director called Tinto Brass; now he is very famous for kind of sexploitation movies, erotic kind of movies and very stupid stuff.... In the '60s he was one of those experimental directors in Italy, and he made a movie called Col cuore in gola, which is... I don't know how to translate that. It means probably "Heart in Your Throat" or something like that. And it's a movie that's very much inspired by Blowup from Michelangelo Antonioni, but it's way ahead of that, because it has been shot with all the new techniques of the camera, and it's got a soundtrack from Armando Trovajoli, which is really outstanding. And he's got Jean Louis Trintignant and Ewa Aulin as the main characters. It was all shot in London and it's got two inserts from Guido Crepax who is a very famous Italian—
$$$: Yeah, the cartoonist, yeah.
NC: Yeah, yeah, yeah, yeah. So I mean, it's seriously a fantastic movie.
$$$: Wow, that sounds incredible.
NC: It's really... I mean, when I saw it the first time, I would say, I mean, this is a masterpiece, and no one really knows about it today in Italy....
YOU CAN BALANCE THE ABOVE BY READING A ROTTEN REVIEW:
Robert Firsching, All Movie Guide
VIDEO CAREER: Heart in His Mouth was released on home video several times, but with no fanfare. Here are two Italian-dubbed PAL VHS editions that I know about, and they're getting to be rather hard to find:
The German-dubbed PAL VHS edition was released by UFA, and if you have one to sell, I want to buy it from you — even though my favorite sequence (the flashy editing when Bernard first notices the Underground entrance) was deleted: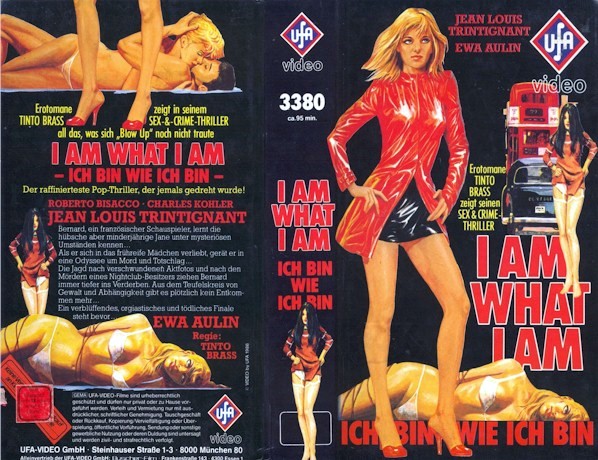 (I would love to acknowledge the guy who sent this scan to me, but I can't remember his name)
There's also this Castilian version on DVD in Spain. It's a one-light analogue transfer (if memory serves, almost all the video editions of this movie are one-light analogue transfers) and it seems to be copied from a VHS. So the darker scenes, of which there are plenty, are unstable with uneven density and they nearly vanish: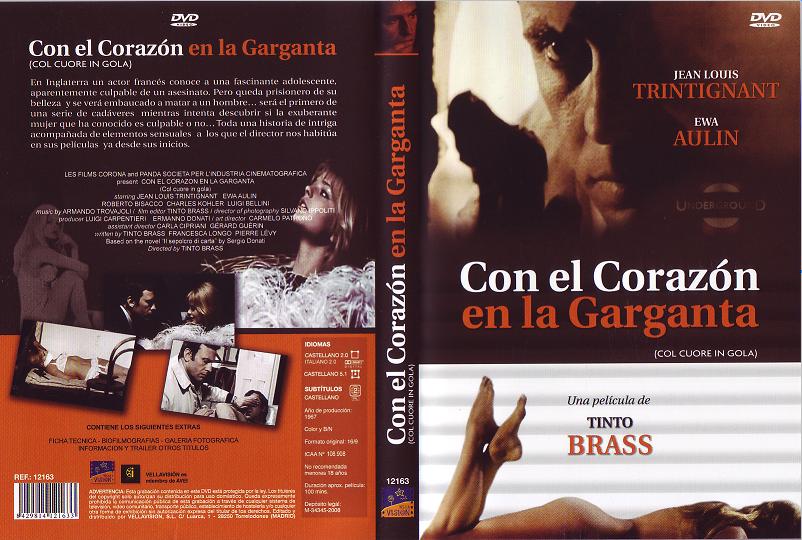 The nude woman on the cover is not in the movie. If you're interested in ordering this, first make sure that your DVD player can handle Region-2 PAL. If you live anywhere in North America, you're probably out of luck. Anyway, there are some really strange cuts in this edition. Nothing seems to be censored, but every once in a while the film just skips a few seconds. That's not because the master was damaged. That just seems to be some sort of carelessness in the video mastering/editing. Very odd.
The Cult Epics edition was released on the 28th of April 2009. It is complete, but in Italian with English subtitles: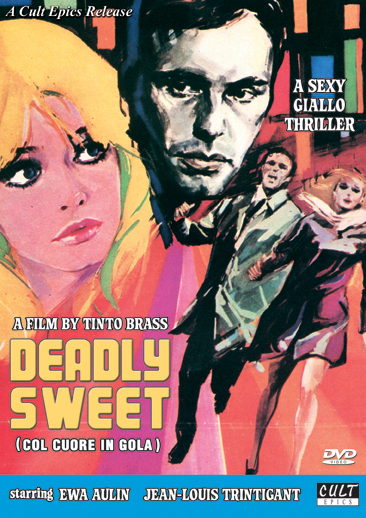 This is starting to get reviews:
Doomed Moviethon
DVD Times
10,000 Bullets
DVD Maniacs
Giallo Fever
DVD Holocaust
Blogcatalog Cult Reviews
Then there's the Italian DVD from December 2007. Oh heavens to Betsy. Yes, it's worth getting for the Tinto interview in the supplement, but apart from that it's a terrible disappointment. The transfer was considerably better than previous editions, but it was still so-so, a bit cropped and misframed at times, a bit dark at times, the vibrant colors are not as vibrant as they should be, but are a bit muted. The master was complete, but the distributor deleted the rapid cutting, probably because some executive didn't like the look of the splicing tape that was printed into the internegative. So they cut out all that beautiful intricacy and replaced it with rapid cutting back and forth among freeze frames. It's a small change, but as small as it is, it's large enough to kill all the entertainment value of the movie. People who would have liked the movie in its uncut form will decide that they don't like it if they're introduced to it through this video. Now, Cult Epics will release that exact same transfer on 28 April 2009, but will leave the film intact, and will improve the color saturation. It will again be the Italian-language version rather than the English. Nobody can find the complete English track. Drat!
VHS, dubbed into Italian,
long out of print
DVD, dubbed into Italian,
released in December 2007
The London Underground
Note that the top of the caption is cropped off in the video copies.
Now that I've examined a 35mm print, I can assure you that it is NOT cropped off on the film.
Below is how this frame appeared on the Video Search of Miami VHS:

That particular frame is deleted from the Super 8 abridgment, but here's the closest frame to it:

The guy in the middle is David Prowse (who played Julian in A Clockwork Orange and Darth Vader in Star Wars)
Yes, in the Paramount version and the VHS the black-and-white sequences are all tinted. In the newer DVD editions, they are not tinted. Which is right? I don't know. Probably the tinting is right, but I really don't know.
The poster and the toy tell us a bit more about Bernard, do they not?
That many deer in Hyde Park?
Her only movie rôle: Monique Scoazec as Veronica Yassupova
Monique Scoazec, Jean Louis Trintignant, Charles Kohler
Who is this guy? Is he credited?
My old neighborhood
Was this guy credited?
I think this guy appeared again in Nerosubianco, but I'm not sure
Mr Leris, punished for his sins. Who is this actor? I've seen him somewhere, but I can't place him. He looks vaguely like Guido Crepax, but I doubt that's who it is.
THE FOLLOWING FEW FRAME CAPTURES ILLUSTRATE WHAT HAPPENS WHEN YOU DON'T HAVE SUFFICIENT BUDGET FOR NEGATIVE CUTTING
I can't compare these VHS frames with the Italian DVD, because the Italian DVD deletes them all. The action is all cut out. The techies took a few clean frames, froze them, and cut back and forth among them. Well, that gets rid of the messy tape edges, but it wrecks this sequence, as well as the other rapidly cut sequences throughout the movie. Drat!!!!! All the intricacy is gone, substituted with typical TV-show-type flashiness. This was my favorite bit in the whole movie, but now it's completely ruined. So if you've got the VHS, consider yourself lucky. Hang onto it! In all the sequences with rapid cutting, the VHS is authentic. You know, I've griped so much about business folks and techies altering other people's works that hardly anyone wants to talk to me anymore. And I've killed any chance of getting a career in showbiz. On the plus side, though, the forthcoming Cult Epics DVD will leave these rapidly cut sequences intact. Hooray!!!!!
Two samples from the eyelash scene, entirely re-edited — and entirely ruined — for the Italian DVD. Wait for the forthcoming Cult Epics DVD, which will be better.
In this shot, the VHS has more of the image. As for the DVD, see what happens when projectionists don't frame properly? But there I go, complaining again...
Most of the stuff at the happening must have been documentary shots of a real happening
This guy coming down the sliding board reminds me so much of Peter O'Toole
LET'S PLAY WITH THE BRIGHTNESS LEVELS A LITTLE BIT AND SEE WHAT HAPPENS:
ANICA — Associazione Nazionale Industrie Cinematografiche Audiovisive e Multimediali
Un film di Tinto Brass
Heart in His Mouth / Col cuore in gola / En cinquième vitesse
Distributed by Rank
Running time: 104 minutes at 24fps, 100 minutes at 25fps
Released in Italy on 16 November 1967
Prodotto da (Producteurs delegues)
Ermanno Donati e Luigi Carpentieri
Per la co-produzione italo-francese (Une co-production)
Panda Società per l'Industria Cinematografica S.p.a., Roma; Les Films Corona, Paris
Soggetto di (story by)
Tinto Brass
Liberamente tratto dal romanzo (D'apres un roman)
Il sepolcro di carta di Sergio Donati (Edito dalla Arnoldo Mondadori Editore S.p.a.)
Sceneggiatura di (Adaptation cinematographique de)
Tinto Brass, Francesco Longo,
Pierre Levy-Corti
Suggerimenti grafici di (storyboards)
Guido Crepax
Hanno collaborato alla regia (assistant directors)
Carla Cipriani, Gerard Guerin
Alla produzione (assistant producer)
Franco Cuccu
Alla parte decorativa (art directors)
Carmelo Patroni [capo], Bice Brichetto e Ornetta Melaranci [assistenti]
Alla parte tecnica (technical assistance)
Enrico Sasso [operatore/camera operator], Giuseppe Gatti, Vittorio De Sisti (C.S.C.) [fonico/sound], Fulvia Armanni [aiuto montatrice/assistant editor], Augusto Diamanti, Sergio Spila [capo elettricista/gaffer]
Montaggio di (editing by)
Tinto Brass
Musiche di (Musique de)
Armando Trovajoli
La canzone "Love Girl" di
Trovajoli Nohra
è cantata da
Mel Ryder
Edizioni musicali
NazionalMusic, Milano
Direttore della fotografia
(Directeur de la photographie)
Silvano Ippoliti (A.I.C.)
Direttore di produzione
Lucio Trentini
Organizzatore generali
Piero Donati
Eastmancolor della
Tecnostampa
Stabilimento di posa studi (studio)
Dear, Roma
Stabilimento di sincronnizzazione (dubbing studio)
Fono Roma, Roma
Qualsiasi riferie realmente con fatte e persone realmente esistenti è puramente casuale
PERSONAGGI ED INTERPRETI
Bernard
Jean Louis Trintignant
Jane Burroughs
Ewa Aulin
David
Roberto Bisacco
Jeremy Burroughs
[Jerome in the Italian version]
Charles Kohler
Jelly-Roll
Luigi Bellini
Veronica Yassupova
Monique Scoazec
Bartender
Enzo Consoli (c.s.c.)
Martha Burroughs
Vira Silenti
Jelly-Roll's bodyguard
David Prowse
[uncredited]
The ANICA site, referenced above, gives the length as 2,180 meters, which equals 7,152 feet, which yields 79 ½ minutes. A different source, below, gives the original length as 3,030 meters, which equals 9,941 feet (including the part titles, which are deleted from all video editions), which yields a running time of 110 ½ minutes. So why is the running time given as 107 minutes? And remember, the running time of Paramount's Deadly Sweet, which was trimmed by about 30 or 40 seconds, was given as 101 minutes. Do you begin to understand why nobody ever knows how long any movie really is?
Peter Cowie, ed, World Filmography 1967
(London: Tantivity Press; South Brunswick and New York: A S Barnes and Company, 1977), p 303: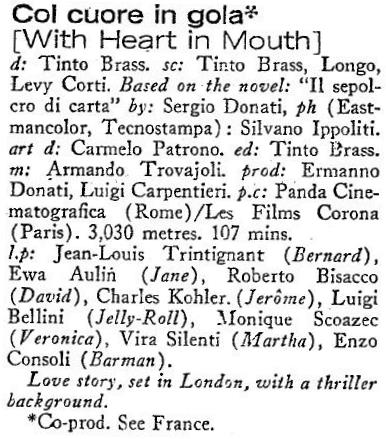 CLICK HERE TO CONTINUE TO THE NEXT SECTION
Click here to return to beginning



FOR THE RECORD, JUST IN CASE YOU EVER NEED TO PULL MATERIAL:


Bernard drives away from Prescott's house:
End of Reel One.
Start of Reel Two:

Bernard is back at his apartment.


Bernard and Jane leave the park, and the dwarf follows them:
End of Reel Two.
Start of Reel Three:

Outside Hyde Park. Jane: "What are you doing?" Bernard: "I'm going to call a friend."


The dwarf's come-uppance:
End of Reel Three. FINE PRIMO TEMPO. INTERMISSION.
Start of Reel Four: SECONDO TEMPO:

Jeremy, Jane, and Bernard dash toward the train yard.


Bernard is chased out of the station by Jelly-Roll's thugs:
End of Reel Four.
Start of Reel Five:

The chase continues at the race track.



"Leris is dead." They drive off.
End of Reel Five.
Start of Reel Six:

They arrive at the happening.

---
THE MPAA RATING SYSTEM:

Do you remember the late 1960s and early 1970s? That's when studios were under the really dumb impression that spicing up a dull movie with a sex scene to ensure an X rating would help sales. Gimmicks never work in the long run, and this one backfired bigtime. Also, those years were when the re-release of the 1922 silent movie Witchcraft through the Ages was given an X rating. And so was the Tennessee Williams/Gore Vidal movie The Last of the Mobile Hot-Shots, presumably because it momentarily showed a baby suckling at a breast. The Malcolm McDowell vehicles if.... and A Clockwork Orange were also awarded X ratings. Many people thought they deserved it. But then they were slightly re-edited, so slightly that the changes were almost imperceptible, and they were then awarded R ratings. What was the difference? Other X-rated movies of the time? Well, how about Donald Cammell's Performance, and remember Pasolini's version of The Decameron? Luchino Visconti's over-the-top The Damned (La caduta degli dei) also got an X, I guess because of the Ingrid Thulin/Helmut Berger scene, which, disturbing though it was, was discreetly shot. (By the way, the little girl hanging herself was deleted even from the X version.) Ken Russell's version of The Devils also got an X, and people pretended to be outraged by it, but for the life of me I don't see what the big deal was, and the R-rated version was essentially identical to the censored version that had previously gotten the X. The funniest story was the award-winning megahit Midnight Cowboy, whose intensely unpleasant subject matter probably deserved an X. But after its initial release UA contested the X and the movie was rerated R, without cuts. Audiences wrote angry letters to the editor complaining about the mutilations visited upon the film, though not one frame had been altered or deleted. It's all nutty. But wait a minute! At the same time as all these restrictions were being made, The Magic Christian earned an M rating ("MATURE: Parental Guidance Suggested; All Ages Admitted"). Did you see The Magic Christian? You might love it. You might hate it. But however you feel about it, you will certainly admit that it's more deserving of an R or an X, with Yul Brynner in drag putting the make on Roman Polanski, with a crowd of people plunging into a gigantic pool of excrement, and with Raquel Welch and her whip presiding over a galley of topless slave women. But no, that one got an M (later a GP, and finally a PG, which all mean the same thing, by the way). And then in the early 1980s the re-release of Napoléon vu par Abel Gance, despite its copious severed heads and limbs, and despite the banquet scene filled with topless women, got a G rating. I guess the censors didn't even bother to look at it because it was old and silent and must therefore be fit only for kids. So what's the story with the anonymous moms and dads who sit on the Ratings Board? Are they bribed? Are they drunk? Are they asleep? I really don't know. Once upon a time I read an interview with Fellini, who was asked about censorship. He said that, in principle, he was in favor of it, but the criteria should not be the usual ones. The sole criterion, rather, should be stupidity: Stupidity should be censored out of entertainment. You know, that would make much more sense.

Some anecdotes about ratings: When I was a projectionist, I was quite confused when I had to run The Royal Hunt of the Sun, because the rating strip read (and no, I'm not joking): "G — GENERAL AUDIENCES, Parental Discretion Advised." What did that mean? I remember getting the preview for Ernest Gets Stupid which announced that the film advertised was rated G. Then I got the movie and there was a PG rating on the end. So which was right? What's Up, Doc? was rated G, but when it was released on VHS there was a PG rating on the box, I suppose because Warner Bros didn't want customers to think it was a kids' movie. I ran a PG movie once that opened with a G-rated Simpsons cartoon. I distinctly remember the gals in the balcony being outraged, loudly outraged, that they had just spent their money to see a G-rated movie. That's when I decided that enough was enough. Because ratings usually come at the very end of the 10-minute credit roll and don't appear on screen until long after everyone has driven away or staggered to the nearest bar, I thought the best thing to do was to chop them all out and use them as leaders. After all, once a movie has been slaughtered by the projectionists at just one or two cinemas, the leaders are all cut too short, and purchasing new leader is too expensive. So I gave those ratings some tangible monetary value. (Click here to return where you left off.)
---
MY ROTTEN LUCK WITH SUPER 8: Oy vay. Super 8 film itself isn't bad, but without exception my experience has been that those blasted claw movements in the projectors are so terribly designed as to be useless — or worse than useless. And it doesn't help that the film traps are anything but gentle and have a tendency to shear the sides off the films and to jam, causing irreparable damage to the prints. Those machines are nightmares come to life. Was there ever a good Super 8 projector? One that doesn't have a claw, but an intermittent movement instead? Preferably an intermittent movement without sprocket teeth, but maybe a pinch-roller? One in which the Latham loop cannot possibly be lost? If so, I definitely want one. Help? (Click to return to the essay.)
---
Below is an article by Bob Polunsky from The San Antonio Light, Sunday, 12 April 1970, p 26, and I hope I don't get into trouble for reprinting it below. (Dear copyright holder: please contact me. I shall gladly pay to license the rights to this article.)
---
flicker footnotes
with Bob Polunsky
A poetic-minded movie critic recently stated that "intelligent drama in the movies today has already crossed the Pale." It was a lofty way of saying that good movies are death, as "Pale" has often been a symbolic word for "Death." This critic went on to deplore the emphasis on sex and violence, completely ignoring some of the quality films that have come about in recent years. But he did have a point, as many films are not successful today without that extra bit of sex and sensationalism. That's true of even the Class B films.
For example, a group of inexperienced film-makers made a glossy melodrama a couple of years ago to "expose" the sins of big business. The story was about some girls who run a spy ring to find out all the answers for business competitors. Those girls will lie in more ways than one to earn their money. In this particular film the girls were called "The Minx," and that became the title of the movie.
"The Minx" told the story of a man who wanted to gain complete control of his father-in-law's company. He hired the Minx girls to con the other stockholders into giving him control of all proxy votes in the company. This man was merciless and cruel, but he loved his women. That is, all except his poor wife whom he treated callously and disrespectfully.
There were plenty of suggested elements about "The Minx," especially in the sequence at a hunting cabin where the girls retired for a night of fun and games with hidden microphones picking up all sorts of promises and requests. The trouble with "The Minx," though, was that none of the action was actually photographed. As a result, the producers had a hard time selling "The Minx" to a distributor.
About a year ago, Lee Hessel, an importer of erotic foreign films, acquired all rights to "The Minx." He got them cheap as the movie had not really shown anywhere, but he intended to correct that by making the film "commercial." First, he cut out 20 minutes of the story — most of it including the only name star in the whole cast, Jan Sterling. Then he added 10 minutes of action to it.
The parts added were confined to three major scenes which could easily be cut out without disturbing the storyline. One scene was a brief hotel room escapade; another was a brief flashback of a highly charged college fraternity party; and another showed one of the Minx girls peeking through a keyhole in a motel to watch a teenage couple. The scenes were not only graphic, they were downright pornographic.
What's more, Hessell even released two trailers to promote the film — one "cool" (to be used with "G", "M", or "R" features) and one 'hot' (to be used with "X" pictures). The result was fantastic! "The Minx" was shown in major downtown theaters all over the country, causing a New York critic to comment, " . . . 'The Minx' makes 'I Am Curious (Yellow)' look pale!" That critic made an understatement, because "The Minx" also makes "Vixen," "Sister George," "Hieronymous Merkin," "Candy," and a few stag films look pale by comparison as well.
And that brings us right back to that poetic-minded critic who claimed that the movies have already "crossed the Pale." The only question remaining now is: What's left beyond the Pale?
---
Original research and commentary copyright © 2009 by Ranjit Sandhu. All rights reserved.
---