THE WORKS OF TINTO BRASS

In capo al mondo
(To the Ends of the Earth)
(1963)
Censored version: Chi lavora è perduto — in capo al mondo
(Whoever Works Is Lost — To the Ends of the Earth, 1964)
Window card for the pre-release edition
Poster with a revised title. Look carefully, and you'll see that the title is a paste-over. The little bit of the original "o" that peeks out from behind might not be the final letter of "mondo"; it might be the final letter of a title that was never used: Chi lavora è maledetto.
Lorenzo Nistri's poster design for In capo al mondo.
See below for the printed version.
(Reproduced courtesy of the Painted Cinema)

One of the posters. The red quadrangle was sprayed over with a new title for the general release, but you can still make out the original title beneath.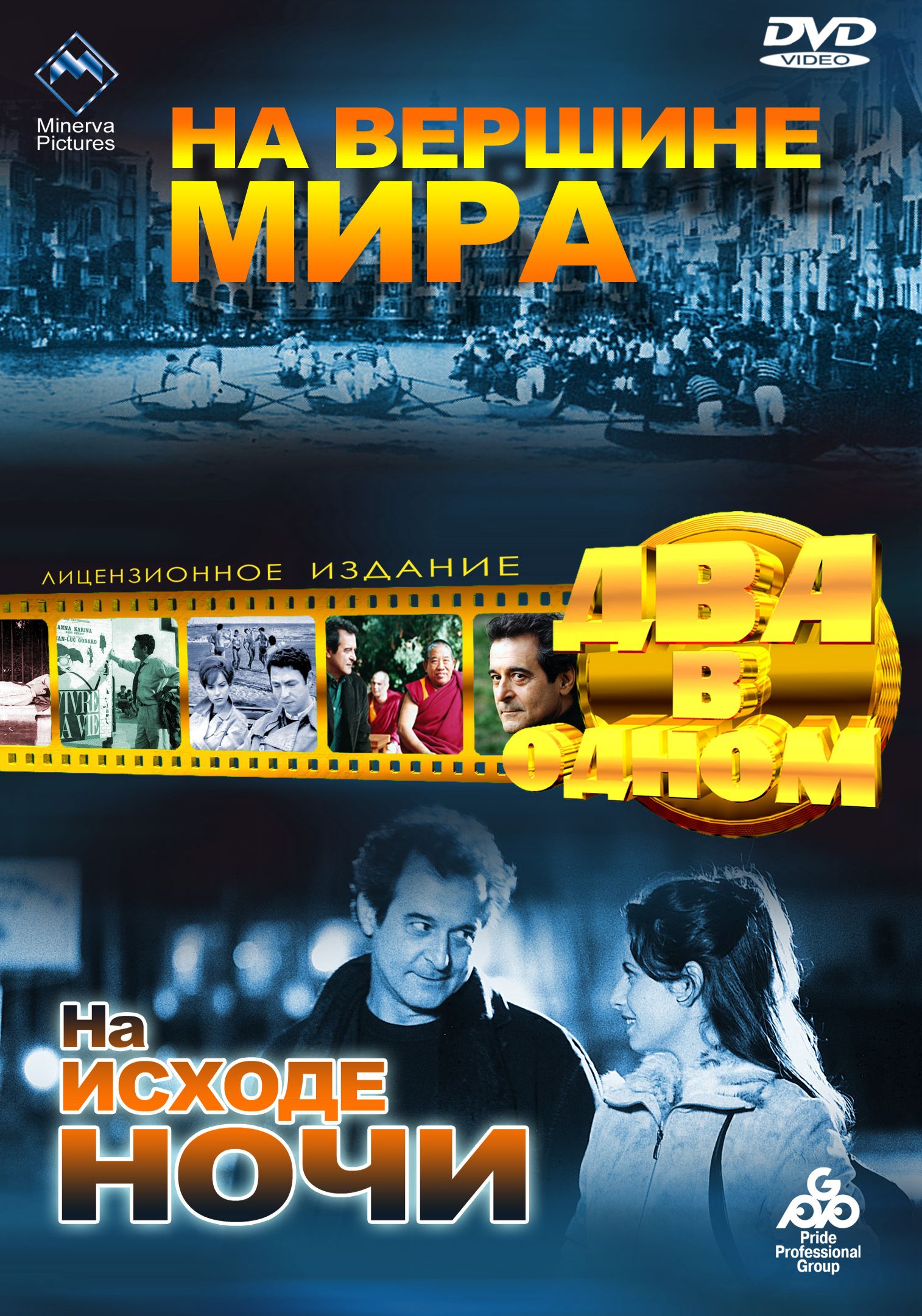 It's on DVD now in Russia, under the original title of
In capo al mondo
=
To the Ends of the Earth
=
На вершине мира
. Despite the title, it is the censored
Chi lavora è perduto
reissue version, entirely in black and white. Mysteriously, the sound is terribly out of sync. Available from
azuro.ru Мультимедиа
. Also available at
ozon.ru
and at
DVDDOM.ru
and at
odvd.ru
and at
СмотиДома.ru
and at
DVD-Video Интернет Магазин
and at
Интернет-Магазин DVD
and at
DVD video
and at
BLUEREY.ru
and probably a whole bunch of other places too. As you can see, it's double-billed with a much more recent Italian feature, Salvatore Piscicelli's
Alla fine della notte
(
To the End of the Night
), with Anna Ammirati, Ennio Fantastichini, and Ricky Tognazzi.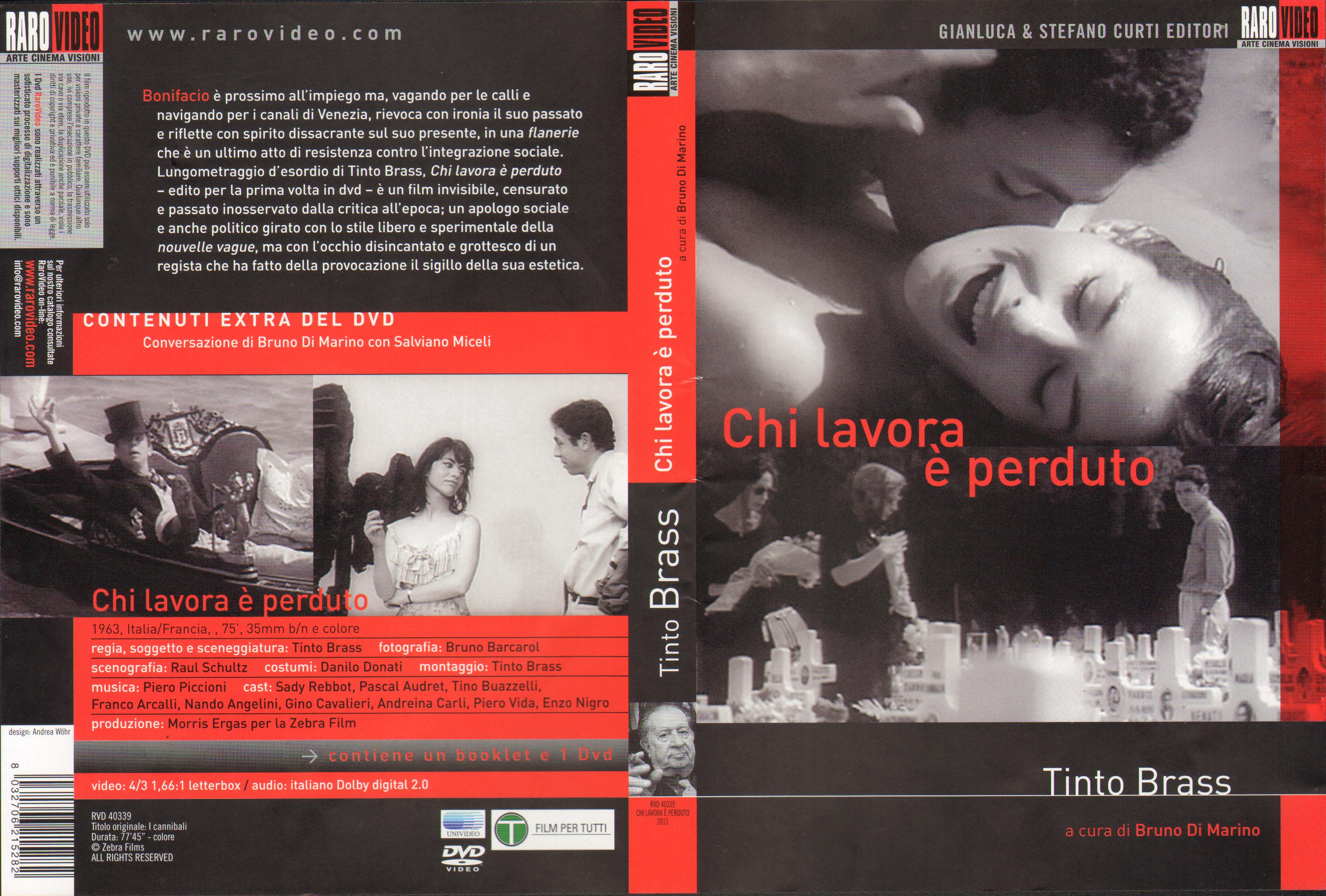 At long last it's available on DVD in Italy, and the source material and transfer are okay. The transfer is more or less 1.85:1 letterboxed 4×3 format. I would have preferred either 1.85:1 at 16×9, or open-matte at 4×3. Oh well.... Unfortunately, this is the reissue version, about 78 minutes (75 at PAL speed). Now, in several interviews, Tinto insisted that the general-release version was identical to his original festival version in every way except for the title change. The accompanying brochure quotes one of those interviews: "The commissioner deemed it an offense to morality, to family, to home, to everything, so much so that he told me, 'Do it over again, then we'll talk.' Rather than do it again I changed the title to Whoever Works Is Lost and in the meantime the government changed.... The government... was center-left and was thought to be more liberal. Moral: With the change in title, the officials pretended it was a different movie, and avoided ordering any cuts as well as the ban that had held back To the Ends of the Earth. The film was released, identical to the original version, and it didn't offend anyone anymore" (Franca Faldini and Goffredo Fofi, editors, L'avventurosa storia del cinema italiano raccontata dai suoi protagonisti (1960–1969), Milano: Feltrinelli, 1981, p 233). Well, that's what Tinto said in 1981. My guess is that he had never purchased a ticket at a boxoffice to see a showing of Whoever Works Is Lost, and simply assumed that since no cuts had been mandated, it was still his original movie. Then he must have seen a print, for he made a different report in later years. Stefano Iori in Tinto Brass (Rome: Gremese Editore, 2000, p 95) correctly notes: "...the film originaly entitled To the Ends of the Earth... had a delayed release, with cuts, modifications, and with a new, absolutely more provocative title, Whoever Works Is Lost." Not knowing what to make of those contrary claims, I asked Tinto himself, in April 2004 when I was flown to Rome to interview him for a DVD. He told me that Whoever Works Is Lost, which he was mysteriously convinced had been released on VHS, was a censored version. He gave me an example of a missing scene: the priest irritating the young Bonifacio during confession. I was surprised, because that scene was definitely included in the version I had seen. No, Tinto told me, the original in To the Ends of the Earth was considerably stronger and longer, with shots of the priest sticking his fingers in the boy's ear, and so forth. He told me that he still had a 35mm print of the original version. I was floored. Anyway, as soon as I got this DVD, I decided to check three things: subtitles (no), color sequence (yes), fingers in ear (no). Raro claims that the version on the DVD is the original edition, but Raro is wrong. The original, as I have confirmed, was 96 minutes (at 24fps), the general-release edition from 1964 was 82 minutes (at 24fps), and the current versions are a mere 78 minutes (at 24fps).
This picaresque stream-of-consciousness comedy follows a recently graduated draftsman, Bonifacio B. (Brass's newborn son was also named Bonifacio), who is offered a job by a large firm. The problem is that Bonifacio is a manic-depressive who is morally opposed to working for large firms — even morally opposed to performing any sort of work whatsoever. He must have been traumatized by a viewing of Ermanno Olmi's
Il posto
(1961), to which many an homage is paid here. (A fellow who is almost a dead-ringer for Bonifacio appeared in Olmi's film: the morning after the exam, when the successful applicants assemble in a waiting room. Look at the guy who argues that the test score counts more than nepotism.) Bonifacio wanders the streets of Venice, meeting friends and acquaintances, many of them leftist activists. One rebellious friend he can only visit at the local insane asylum, as the stress/futility of activism has shot his nerves. Bonifacio pursues his prankish thoughts, surrealistically remembering his outrageous fascist childhood and his military service, and wistfully recalling his brief but doomed engagement to the winsome Gabriella — doomed only because he can't face up to any form of responsibility and is, undeniably, a horrid jerk. Ultimately, in a jolt of an ending, he decides to reject the job offer.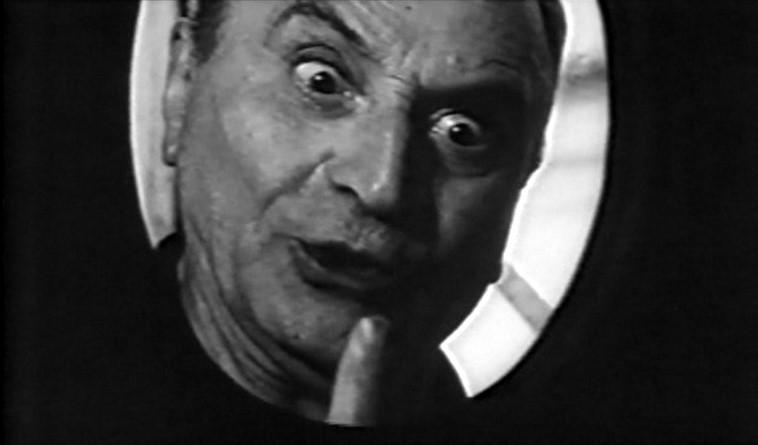 Bonifacio's father offers his wisdom
Despite the political and somber subject matter of this angry-young-man story, much of the film is hilarious, nearly all of it is good-natured and light-hearted. The actor who plays Bonifacio, Sady Rebbot, had recently made a hit as a murderous pimp in Jean-Luc Godard's austere
Vivre sa vie: film en douze tableaux
, which is excerpted here when Bonifacio fantasizes about being a glamourous criminal. Brass chose Pascale Audret to play Gabriella after seeing her in a French stage production of
The Diary of Anne Frank
. (She's my favorite of all the actresses in Brass's films.)
When
In capo al mondo
was first screened at the Venice Film Festival in late 1963 audiences and a fair number of critics alike went wild with enthusiasm and were certain they had witnessed the emergence of a major talent. (
Variety
's critic, "Hawk," called it "insouciant." I can't think of a better word to describe the dialogue.) Little could the critics have predicted what would happen next. The censors banned the film, and the church, especially in the person of the Patriarch of Venice, railed against it. No one in authority wanted to see family life, the Axis, the church, or the military treated in anything less than a heroic manner. To present such subjects humorously was more than the censors could bear. The film's worst crime was making a hero out of a fellow who thinks that work is evil. This was apparently a federal offense, in violation of Article 1 of the Italian Constitution, which states that Italy is based upon labor. The censor demanded cuts, and also demanded a new title. Brass wouldn't make the cuts, preferring to shelve the film instead. But he was willing to negotiate a new title. Did the censor have any suggestions? No suggestions at all, so long as it's different. So Brass chose
Chi lavora è perduto
(
Whoever Works Is Lost
). This new title was a play on Mussolini's adage that "chi si ferma è perduto," or "whoever stops is lost," by which he inspired his public to keep fighting and to keep the faith. (Mussolini's dictum had also been used as the title of a
1960 movie starring Totò
.) Just about two months later the political situation had cooled, and Zebra Film managed to clear the film for a 5 December 1963 release, but with 14 minutes chopped out, rendering at least one sequence senseless. Though the film earned enough of a profit to make Brass a marketable filmmaker, it never realized its full monetary value, for its box-office potential was crippled when the censors restricted it to adults only. (Today it would almost certainly get a PG.) Then the movie pretty much vanished, for reasons I have never learned. (The published stories are all wrong.) Mario Gagliardotto's book,
Obiettivo Brass
, reveals yet another controversy engendered by this film, one far more personal, and Tinto himself told the story in Micali's
Di papà ce n'è uno solo
: In one scene, an unsympathetic character utters a menacing line that Brass's father had often used to quite good effect: "I'll bend you like a piece of wire" (Ti torco come un fil di ferro). Brass's father was quite broad-minded and was not scandalized by the film's rebellious polemics, but he could not abide that one line. In revenge, father disinherited son! Fortunately, they reconciled, yet again.
Gian Luigi Rondi, Italian Cinema Today: 1952–1965 (New York: Hill and Wang, 1966), pp 214, 216: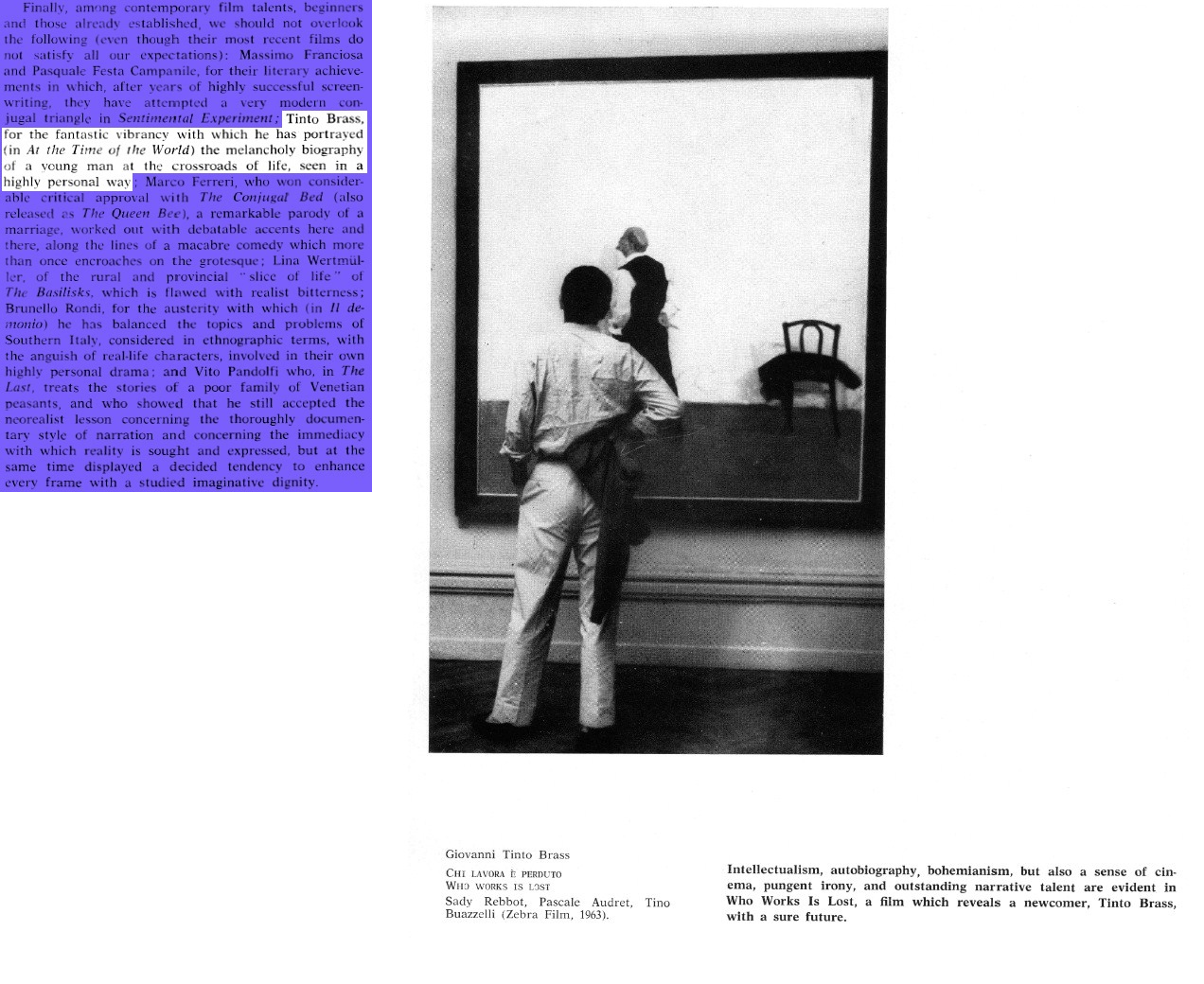 Bonifacio at the art museum

HISTORICAL CONTEXT: At the Cinémathèque Française, Brass had associated with Jean-Luc Godard, Claude Chabrol, Eric Rohmer, Jacques Rivette, and François Truffaut, the founders of the French New Wave (la nouvelle vague) movement. In capo al mondo, though filmed in Italy and Switzerland, can nonetheless be considered a New Wave work. It is perhaps the only New Wave work that's not French.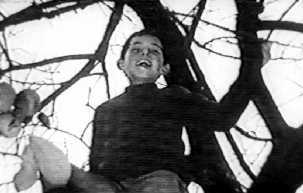 A young Bonifacio taunts his friends

POETIC INJUSTICE: Chi lavora è perduto had been unseen for decades when the Spazio Oberdan, a new film archive housed in an old movie palace in Milano, screened a 16mm print on Saturday, 30 September 2000, with Brass in attendance. The original 35mm prints were black and white, except for the funeral of the partisan, which was in color, filling the screen with red flags. But the 16mm revival print was entirely in black and white. This was almost surely the same print that was shortly afterwards shown on television.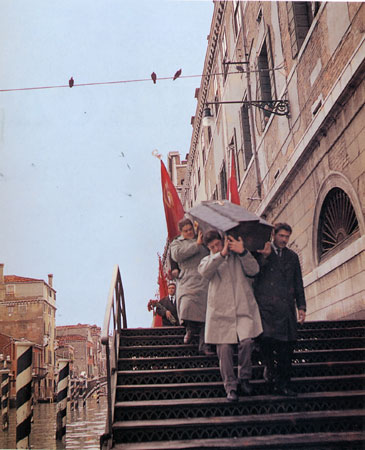 A moment from the only color sequence.
SIGNING THE FILM WITH HIS FACE:
This might have been Brass's first time in front of a movie camera. (Was he on camera in
L'Italia non è un Paese povero
? Take a look at the stills.) During Bonifacio's fantasy, we see a newsreel cameraman quickly approach him. From the back he looks like Tinto Brass. Then in the next shot we see the cameraman's face, and, no two ways about it, there he is! According to Antonio Tentori's book
Tinto Brass: Il senso dei sensi
, Brass also doubles for a boater earlier in the film, but I can't recognize him.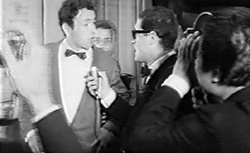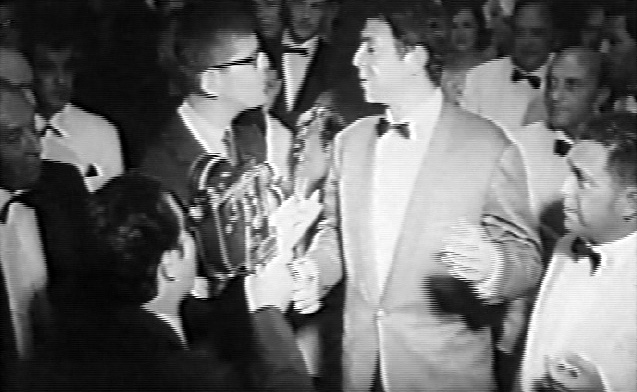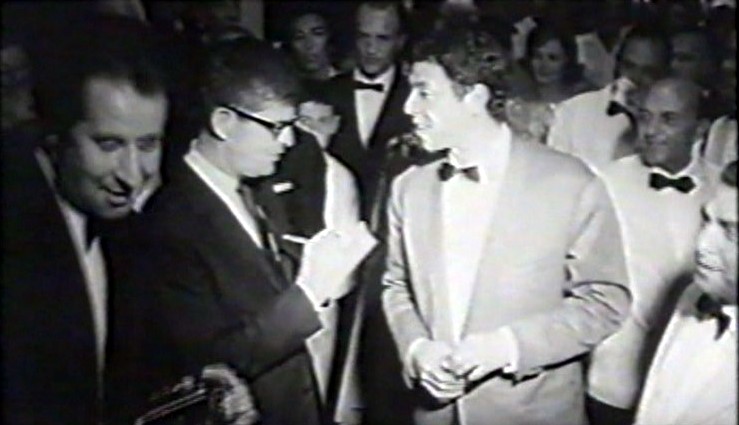 Bonifacio in the spotlight. Tinto Brass as a 16mm TV-news cameraman.
HOMAGES:
As noted above, homages are paid to
Il posto
and
Vivre sa vie
. Another homage consists of dupey-looking clips from Roberto Rossellini's breathtaking
Paisà
(a.k.a.
Paisan
). There are also a couple of blink-and-you-miss-it shots and edits deliberately reminiscent of the breakthrough 16mm American independent film from 1948 called
Dreams That Money Can Buy
. So that explains why Bonifacio's job interviewer speaks via speeded-up tape. Did anyone catch anything else? (If you've never seen
Dreams That Money Can Buy
, you owe it to yourself to rectify that situation. It's a collaborative effort by a bunch of the greatest artists of the 20th century, shot for next to no money on Kodachrome with a home-movie camera in a New York City loft. If your equipment can play
Region-2
PAL DVDs, you should purchase a copy from the
BFI
. Then you can sign up for the Louisa M. Alcott Chapter of the American Cheesebinders Union.)
| | |
| --- | --- |
| | |

MORTALITY: I was saddened to learn that Sady (a.k.a. Saddy) Rebbot died of cancer at the young age of 59, and that Pascale Audret died in a motor accident at the young age of 63. They weren't the only ones. Quite a few of the people who worked on this movie died prematurely. How fragile life is.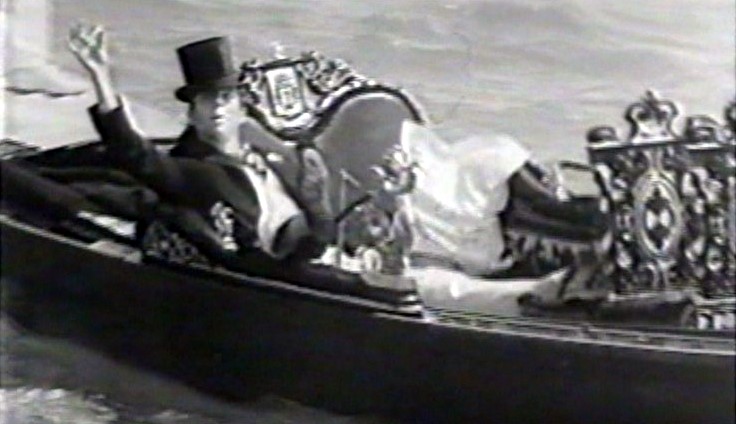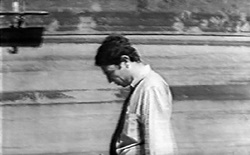 Bonifacio would like to be rich, but alas...
QUESTIONS FOR OUR READERS:
Who dubbed Sady Rebbot's, Pascale Audret's, and Monique Messine's voices? Can any of you Francophone lip-readers tell if they were speaking Italian or French? Tinto Brass dubbed Tino Buazzelli to give him a proper Venetian accent. It seems that this film was also shown in France as
Qui travaille est perdu
and in Germany as
Wer arbeitet, ist verloren
. Does anyone know if that's correct? Do the French and German dubs still exist?
THE MUSIC:
| | |
| --- | --- |
| | A mere 44 years after the première, the full soundtrack album is released. Well, what was the rush? |
---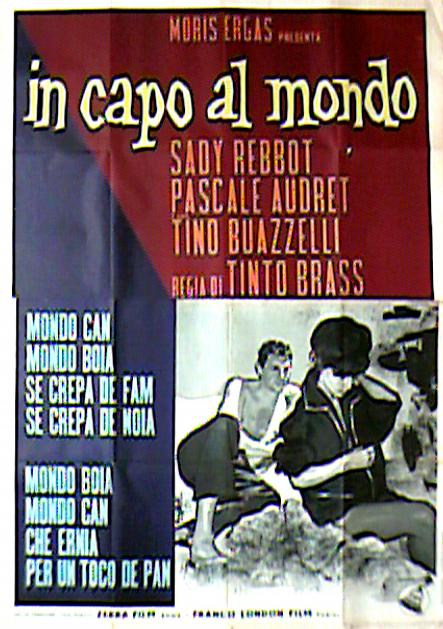 Now, at long last, I get to see Nistri's poster as published.
Not only that, but I can see even more clearly why I can't understand much of the dialogue or narration in this movie.
What on earth does that doggerel mean?

NOTE: Just after I posted the above, Italian-born Marco Fornier, bless him, came to the rescue. You see, I understood most of the words, but I didn't see how they formed sentences. Now that he has rendered it so sensibly, it all seems embarrassingly obvious. Here goes:


| | | | | |
| --- | --- | --- | --- | --- |
| | Mondo | = | World | |
| | can ( = cane) | = | dog | |
| | boia | = | executioner | |
| | crepa (from crepare) | = | die | [Note from RS: "croak" or "kick the bucket" might better convey the mood] |
| | fam (= fame) | = | hunger | |
| | noia | = | boredom | |
| | ernia | = | hernia | |
| | toco (= tocco) | = | slice | |
| | pan (=pane) | = | bread | |
| | | | | |
Thus:
Damn world
Nasty world
You die of hunger
You die of boredom

Nasty world
Damn world
What a hernia
For a slice of bread


Truly inspired verse. But it loses something in the translation.
---
Variety, Wednesday, 28 August 1963, p 5 col 1:
p 5 col 3: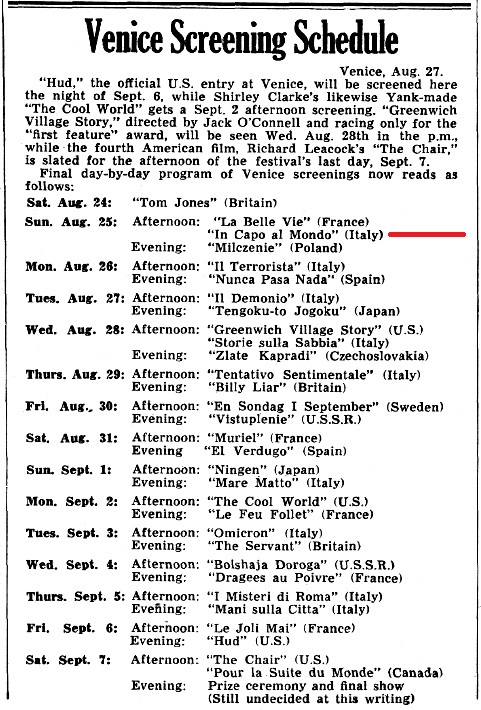 Variety, Wednesday, 4 September 1963, p 20 cols 1–2:

Gene Moskowitz, "Few 'Quality' at Venice: Emphasis on Art via Austerity," Variety, Wednesday, 11 September 1963, p 5 col 3: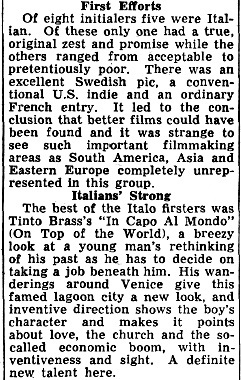 Daily Variety, Tuesday, 17 September 1963, p 5 cols 3–4: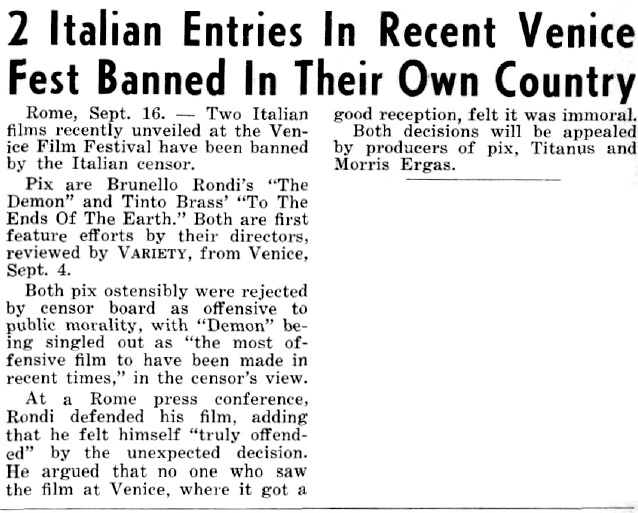 Daily Variety, Monday, 14 October 1963, pp 1, 10:
Daily Variety, Monday, 2 December 1963, pp 1, 4:
"International Sound Track," Variety, Wednesday, 18 December 1963, p 20 col 4:

"British and Yanks Each Send Pair to Berlin Fest," Variety, Wednesday, 21 June 1967, pp 15, 70: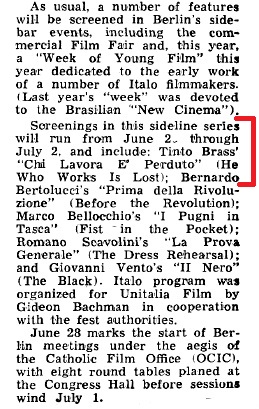 Moris Ergas presenta
un film scritto, diretto e montato da Tinto Brass
Chi lavora è perduto
—in capo al mondo—
World première at the Venice Film Festival on Sunday, 25 August 1963
Released on Thursday, 5 December 1963
Original running time: 96 minutes (at 24fps)
General-release running time: 82 minutes (at 24fps)
Current running time: 78 minutes (at 24fps) or 75 minutes (at 25fps)
[The 16mm print shown on cable television was transferred at 24fps rather than the usual 25
seemingly by the simple means of running the film on a standard projector and pointing
a primitive low-resolution video camera with after-image problems at the result.
The Russian DVD seems to derive from this same video master.]
Soggetto (original story)
Tinto Brass [uncredited]
Collaboratore alla regia
(assistant to the director)
Franco ["Kim"] Arcalli (1929–1978)
Operatore alla macchina
(camera operator)
Alvaro Lanzoni
Assistente operatore
(assistant camera operator)
Vittorugo Contino c.s.c. (author of Ezra Pound in Italy)
Ispettore di produzione
(unit manager)
Piero Sorteni
Assistente alla regia (asst. to the director)
Franco Campigotto
Segretaria di edizione (continuity)
Carla Cipriani
Scenografo (art director)
Raul Schultz (1931–1971)
Costumista (costume designer)
Danilo Donati
Stabilimento di sviluppo e stampa (lab)
Istituto Nazionale Luce
Tecnico (technician)
Enzo Verzini
Registrazioni sonore (sound studio)
International Recording
Tecnico (technician)
Cadueri
Effetti speciali (special effects)
Cinestudio
Musica (music)
Piero Piccioni
Edizioni musicali (music publishers)
R.C.A.
Musica di repertorio (music excerpt)
AMORE TWIST [uncredited]
cantata da (sung by)
Rita Pavone [uncredited]
Collaboratore alla regia e alla sceneggiatura (assistance in the direction and screenplay)
Franco ["Kim"] Arcalli (1929–1978)
Dialoghi (dialogue)
Giancarlo Fusco e Tinto Brass
Direttore della fotografia
(director of photography)
Bruno Barcarol
Un produzione di (a production of)
Zebra Film (Italia) and
Franco London Film (Londra)
PERSONAGGI E INTERPRETI
Bonifacio B.
Sady Rebbot (27 April 1935 – 12 October 1994)
Gabriella
Pascale Audret (12 October 1936 – 17 July 2000)
???
Nando Angelini c.s.c.
???
Andreina Carli
Padre
Gino Cavalieri (25 July 1895 – 15 October 1992)
Kim
Franco ["Kim"] Arcalli (1929–1978)
Gianni
Piero Vida (1938–1987)
Marietto
Enzo Nigro
Claudio
Tino Buazzelli (13 September 1922 – 20 October 1980)
Generale
Giuseppe Cosentino [uncredited]
Sergente
Sartorelli [uncredited]
Modella
Monique Messine [uncredited] (2 April 1940–11 July 2003)
Bonifacio as a boy
Carletto Chia [uncredited]
Newsreel cameraman
Tinto Brass [uncredited]
Letterboxed at 1.85:1, but on the +1 cablecast, if you looked really carefully, you would have seen that there was a faint image behind the black bars at the top and bottom. So Tinto shot this movie at Academy 1:1.375, or maybe even MovieTone 1:1.18 or perhaps even full-frame 1:1.33. The masking was then done in the lab.