L'Italia non è un Paese povero
(Italy Is Not a Poor Country, 1959–1960)
Joris Ivens
, the famous experimental Dutch filmmaker, spent his life traveling the world making documentaries. All are rare, and this is one of the rarest. I have seen only two Ivens films,
The Bridge
and
Rain
, both silent experimental shorts, and there is no question to my mind that Ivens's impressionistic editing left a mark on Brass. According to Carlos Böker's thesis,
Joris Ivens, Film-Maker: Facing Reality
("Studies in Photography and Cinematography, No. 1," UMI Research Press, 1978):
... Ivens was approached by Enrico Mattei, head of ENI, the Italian State Natural Gas Monopoly. Mattei, who died mysteriously in an air crash in 1962, and was the subject of a later film by Francesco Rosi (Il caso Mattei, The Mattei Affair, 1972), had been put in charge of ENI on the understanding that he would wind it up. However, he expanded its activities and investment programme against much internal political opposition and external opposition from the US-controlled multinational oil firms. Ivens's films, collectively entitled Italia non è un Paese povero, were to be shown on television. The first part, Fuochi della Val Padana (Fire in the Po Valley), deals with the extraction and distribution of methane in the Po Valley. The second part is divided in two: Due città (Two Cities), devoted to Venice (Porto Maghera) and Ravenna, is a treatment of the production of agipgaz and its by-products; and La storia di due alberi (The Story of Two Trees), set in Lucania, which contrasts the impoverishment of peasant life in a southern village, where seven families are dependent on one olive tree, with the future benefits to come through the newly exploited natural resource (mechanisms for controlling the gas outlets, lit up at night, are called "Christmas trees").


The third part, Appuntamento a Gela (An Appointment in Gela), is set in Sicily, and revolves around the marriage of a Sicilian, daughter of a fisherman, to a North Italian worker on an oil rig offshore. By the time the film was finished, Mattei was in a weak political position, and RAI-TV refused to show the films as they were, taking particular exception to the representation of peasant life in Lucania as being irrelevant to the main subject. From being three programmes each 45 minutes long, the film was cut down [by 25 minutes] and was shown, at Ivens's insistence, under the general description "Fragments of a film by Joris Ivens." He left the country secretly taking a complete copy with him, and this original version had its first showing at an Ivens retrospective in Modena in 1979.

(Actually, he left the country without taking a complete copy with him. But once he realized what was happening to his film, he telephoned Tinto Brass and told him where he could steal the original version, and asked him to smuggle it out of Italy. Brass did, but no one said a word about this until long past the expiration of the statute of limitations. This story demonstrates, once again, that it is to thieves that we owe so much of the preservation of our history.)


Many of the younger generation of Italian directors worked with Ivens on the making of Italia non è un Paese povero, including the Taviani brothers (Paolo and Vittorio, whose main success in England has been Padre Padrone, 1977), Valentino Orsini and Tinto Brass. A feature of the film is the consistent fun which is poked at TV documentary methods, in particular the technique of on-the-spot interviews.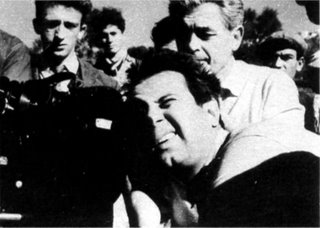 Brass at the camera, Ivens behind him.
We are offering a bounty for a good copy of L'Italia non è un Paese povero.
If you know where we can get one,
write to us
. It was filmed in 1959 and broadcast only once, in 1960. There are a few vague indications that it was also shown in France under the title
L'Italie n'est pas un pay pauvre
, but we haven't been able to confirm this. The cut version seems to be available for rental in 35mm from the Ivens Foundation. The original uncut version has since been revived for a single showing at the Cannes trade festival of 2000, with Tinto Brass introducing it in person. In 1997 documentarian Stefano Missio made a 43-minute black-and-white follow-up,
Quando l'Italia non èra un Paese povero
. For more information, see:
L'Italia non è un Paese povero
RAI broadcast, 1960
Original running time: 135 minutes (at 25fps)
Running time of currently circulating prints: 110 minutes (at 25fps)
| | |
| --- | --- |
| Directed by | Joris Ivens |
| Written by | Joris Ivens, Valentino Orsini, Paolo Taviani, and Vittorio Taviani |
| Commentary written by | Alberto Moravia and Corrado Sofia |
| Produced by | Federico Valli for PROA (Rome) |
| Broadcast by | RAI |
| Music | Gino Marinuzzi |
| Editors | Joris Ivens, Maria Rosada |
| Camera Operators | Mario Dolci, Oberdan Troiani, Mario Volpi |
| Assistant Directors | Tinto Brass, Paolo Taviani, Vittorio Taviani |
| Narrator | Enrico Maria Salerno |