---
THE WORKS OF TINTO BRASS
---
Part 3
ALMOST MAINSTREAM
---
Jump ahead to:
---
Il disco volante
(The Flying Saucer, 1964)
A gem! This is one of the last of the great movie comedies. Famous producer Dino De Laurentiis hired Brass to direct Rodolfo Sonego's satirical political parable, Il disco volante, starring Alberto Sordi in four rôles, along with Silvana Mangano and Monica Vitti. Brass's direction is flawlessly smooth, Sordi is at his most brilliant with his priceless doubletakes, and the film is screamingly funny. But since Brass did not write or edit it, Il disco volante is not a true-blue Brass film, though its anti-authoritarianism is certainly congenial to his outlook. The story concerns witnesses to some flying saucers that land in a village near Venice. They spin enough yarns that the police are brought in to arrest the visitors, but plans go awry when the aliens just want to party and when a few villagers start trafficking in Martians. Good movies are impossible to describe. Good comedies are even more impossible to describe. Take my word for it, though, you'll like it!
| | |
| --- | --- |
| | |
Problems: Since production insisted that someone other than Tinto Brass edit the film, some scenes are rather clumsily put together. For instance, the camera zooms in and out on Berruti as he's climbing the countess's stairs; obviously this shot was to have been intercut with some other now-missing material. And two scenes were re-ordered in a wrong-headed attempt to simplify the narrative.
NOTE ADDED ON 18 APRIL 2009: I think I begin to understand the reasons for some of the above. The movie as we see it now is not the movie that audiences saw at the first release. The original review in Variety (weekly edition, Wednesday, 10 February 1965) listed the running time as 93 minutes. But the Variety reviewers often saw pre-release editions, which were a bit longer than the final cuts. According to the Famous Film B.V. trade catalogue, the release version of The Flying Saucer (as it was listed) had a length of 2.498 meters, or 8,195 feet, for a running time of 91 minutes. The only copies of this movie I have ever found run 84 minutes at 24 frames per second. So about seven minutes are now missing, and publicity material of the time describes and illustrates sequences that are nowhere to be found anymore. Especially maddening is the comical resolution of Vittoria's tragic story, which is left hanging in the current edition. Also cut is what happens to Sergeant Berruti inside the flying saucer. I hope that the original version still exists somewhere. If you have any idea about where it might be, please write to me. Thanks so much!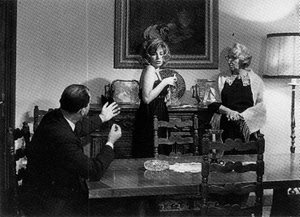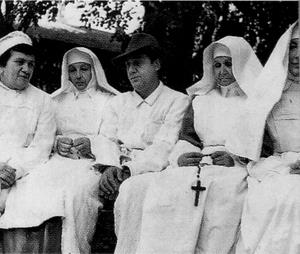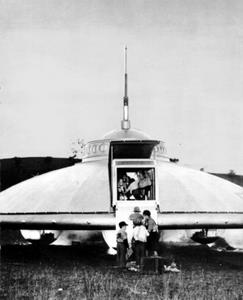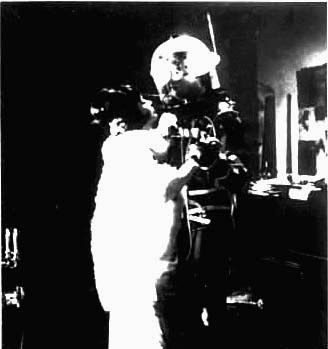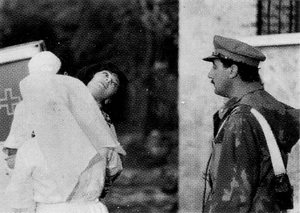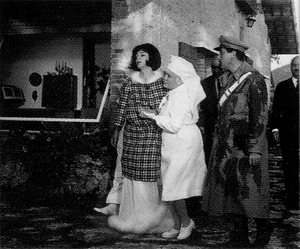 The above six images are from scenes missing from the currently available prints and videos of this movie

The cast of characters.
The international title was originally supposed to be The Martians, but wiser heads prevailed in time for the English dub to be entitled The Flying Saucer.
| | |
| --- | --- |
| | |
QUESTION: We know that Embassy Pictures released this film in the US, because we have a copy, with a 1967 copyright date. But no trade annual or other reference work that we have ever run across makes a mention of this. Does anyone have details about the whens and wheres? The Italian trade materials made it clear that no foreign-language dubs had been prepared, and that only the original Italian track was available for foreign release. So Embassy must have recorded their own English track. My guess, if I may infer from some comments on the Internet, is that Embassy picked up no bids for this movie, and so released it only to local television stations as a filler. Another reason to infer that this is probably what happened is the formatting of the English-language opening credits. The few people in the USA who have even heard of this movie seem to think of it as a grade-Z sci-fi cheapie. It's not grade-Z, it's not sci-fi, and it's not a cheapie. It's a grade-A comedy filled with some of Italy's finest performers, and it's a tour de force showcase for Sordi. At least the Italians went wild over it, and it's still fondly remembered there.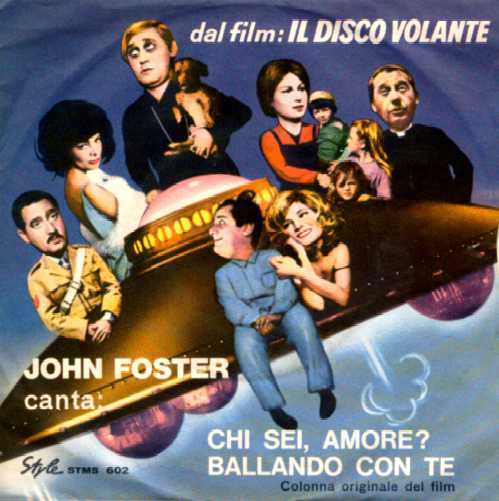 Sci-fi buffs who seek out this movie only to check out all its nifty sci-fi effects will be terribly disappointed. But if you're a comedy buff, you won't be disappointed at all. Believe me.
ANOTHER QUESTION: One of the doctors in the lunatic asylum sure looks like Alberto Sorrentino. Is it?
PERSONAL COMMENT: Like I say, I have memories of 1964, when I was all of four years old. And here's another maddening memory. As soon as Brigadiere Berruti approaches the countess's mansion, we hear the haunting strains of John Foster singing Ballando con te. I recognized it instantly. But I can't place it. Maybe it played on the easy-listening stations when I was four? Can anyone help me figure out where I heard it? I heard it more than once. And I surely heard it many, many times. There's no other way I would have recognized it so instantly. What's memory for if you can't use it?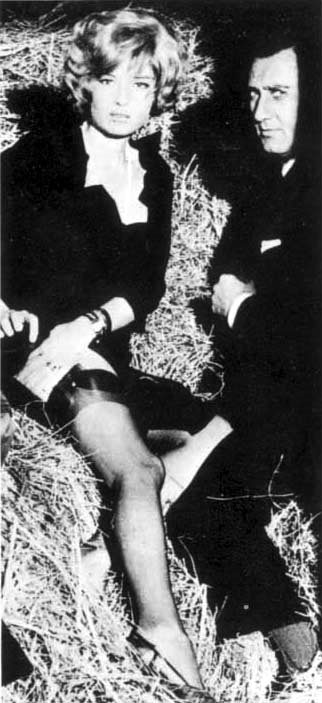 "Do you recognize me?"
"No, Signor Marsicano."
SOURCES:
Sci-Fi Made in Italy
DEAD LINKS:
http://www.kwalbertosordi.kataweb.it/biografia/biografia3_61-70.htm
http://www.ciak2000.it/bio/vitti_be.htm

A favorable response from the locals:
The Veneto in Films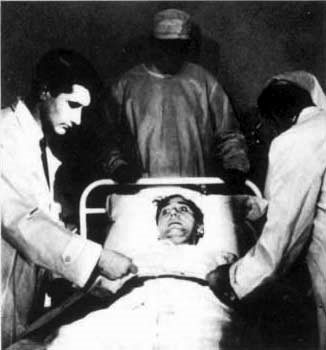 He should have kept his mouth shut


Screenwriter Rodolfo Sonego's views (he didn't like it?—huh?—maybe it was something he ate):
Caiuspace: Fantatesi
DEAD LINK:
http://www.sceneggiatori.com/ritratti/sonego/intervi.html, but click on it anyway because it turns out I saved a copy. If you own the copyright, please write to me. Thanks!
Beatrice, I beg of you, for the last time, will you please get down from that horse?
---
THOUGHTS ON HOW TO MAKE A COMEDY:


If you need actors who look like farm villagers, hire them from a farm village.


If you need a newsreel look, with locals in the background, shoot your movie as though it were a newsreel in the midst of crowds of locals.
If you need to characters in the distant background to be conscious of the presence of a stranger, hire locals who will be conscious of the camera.
If your comedy needs some dramatic relief, play it like a drama.
These shrinks offer almost as much comfort as US law enforcement would.
(Is the elderly chief doctor Alberto Sorrentino?)
If the screenwriter had a scene take place during a carnival, shoot the scene during a carnival.
If it would be funnier to have the Martian woman look ridiculously phony, have a guy play the part while wearing a rubber mask and rubber appendages. And if the locals at the carnival find this amusing and if they laugh and smile at the camera, all the better.
If you need people to wear local costumes, hire locals who normally wear local costumes. If you need to establish decadence without being decadent, take a break from the naturalism and be absurd.
How to diminish an authority figure by an even larger authority figure.
If you need debonair party-goers at a rural mansion, throw a debonair party at a rural mansion.
If you need a young American woman to be nervous about an arranged marriage to someone she doesn't know, like, or trust, hire an Italian actress who can barely speak English and then wrongly revoice her part.

Upper-class mirth brought about by the destruction of a working-class policeman's credibility.

If Jerry Lewis would play it like a low comedy, go in the opposite direction and play it like a contemplative drama, and choreograph it as though it were a ballet, and light it and frame it as though it were a mystical painting from long, long ago. It will be funnier that way.

And if the impossible schedule doesn't allow you to edit your own movie which has to come out in time for the Christmas season, and if your footage gets turned over to a staff editor daily during the shoot, and if the staff editor uses your rejected takes to create a prologue, oh well, don't worry about it, because it's still a good movie anyway.
ANICA — Associazione Nazionale Industrie Cinematografiche Audiovisive e Multimediali
---
These Italian-language PAL VHS editions (no English subtitles) still pop up on the used market. Try your luck. (PAL VHS will not play on US equipment.)
---
Una produzione Dino De Laurentiis Cinematografica S.p.A.
Il disco volante
Originally released on Wednesday, 23 December 1964
Regia di (directed by)
Tinto Brass
Prodotto da (produced by)
Dino De Laurentiis
Soggetto e sceneggiatura di
(original story and screenplay)
Rodolfo Sonego
Produzione organizzata e diretta da
Giorgio Adriani a.d.c.
Scenografia e arredamento
(art direction and set décor)
Elio Costanzi
Il "Disco Volante" e i costumi dei Marziani sono stati ideati da (the "flying saucer" and martian costumes created by)
Gianni Polidori
Direttore della fotografia
(director of photography)
Bruno Barcarol
Aiuti registi (assistant directors)
Gianni Nerattini, Carla Cipriani
Operatore alla macc. (camera operator)
Alvaro Lanzoni
Operatore ai fuochi (focus puller)
Giorgio Regis
Assistente operatore
(assistant camera operator)
Giulio Spadini c.s.c.
Segr. di edizione (continuity)
Silvana Sonego
Truccatore (make-up)
Amato Garsini
Parrucchiera (hair dresser)
Gabriella Scazelli
Tecnico del suono (sound technician)
Bruno Brunacci
Consulenza esterni
Raoul Schoultz
Ispett. di produzione (unit manager)
Claudio Agostinelli
Segr. di produzione (continuity)
Antonio Guadagnino
Segr. amministratore (secr. to accountant)
Fernando Caputo
Aiuto montaggio (assistant editor)
Paola Tassi
Capo macchinista (key grip)
Tarcasio Giamanti
Capo elettricista (gaffer)
Nunzio Colucci
Montaggio di (editing by)
Tatiana Casini [Morigi]
Musica di (music by)
Piero Piccioni
Edizioni musicali (music publishers)
"DINO" Roma
Il film e stato girato nel
Centro di Produzione della Dino De Laurentiis Cinematografica S.p.A.
Negativi positivi effetti ottici
(raw stock, optical effects)
S.P.E.S.
Dir.
E. Catalucci
Registrazione sonora (sound recording)
Westrex
Pellicola (raw stock)
Dupont-Kodak
Tutti i diritti riservati
Dino De Laurentiis Cinematografia S.p.A.
Ogni riferimento a fatti o persone della vita reale è puramente casuale
Le canzoni (songs)
"BALLANDO CON TE"
di Kramer - Pallavicini
"CHI SEI AMORE?"
di Piccioni - Pallavicini
Sono cantate da (sung by)
John Foster
e incise su dischi STYLE
---
Original research and commentary copyright © 2009 by Ranjit Sandhu. All rights reserved.
---
CLICK HERE TO CONTINUE TO THE NEXT SECTION