THE WORKS OF TINTO BRASS
---
Il disco volante
(The Flying Saucer, 1964)
A gem!
This is one of the last of the great movie comedies, and it's one of my favorite Tinto movies — even though it's not exactly a Tinto movie.
Chi lavora è perduto
, though not a major success, earned Tinto some credibility with Famous Film B.V. producer Dino De Laurentiis, who now hired him to direct Rodolfo Sonego's satirical political parable,
Il disco volante
, starring the beloved comic-singer
Alberto Sordi
and De Laurentiis's legendary wife, Silvano Mangano, along with Monica Vitti. Tinto happily accepted the assignment, but he refused to make it as a typical studio comedy. Having learned his craft on natural locations, with actors performing amidst actual crowds while hidden cameras recorded the proceedings, Tinto decided to approach
Il disco volante
the same way. He insisted, over De Laurentiis's initial objections, on shooting on natural locations throughout Asolo. To her credit, Silvano Mangano championed this decision, and she was surely instrumental in allowing this to happen. Tinto had a further idea: Why not have Alberto Sordi portray all four main characters? Sordi was thrilled by the idea and poured himself into the part.
Tinto's direction is flawlessly smooth, Sordi is at his most brilliant with his priceless doubletakes, and the film is screamingly funny. Lest we forget, though, Tinto did not write the script. At least, he did not write the original draft. As was his wont, he suggested changes, new lines and jokes, and ran these by Sonego. For whatever reason, Sonego did not respond to these suggestions, and so when it was time to shoot, Tinto went ahead with the changes anyway. That is why Sonego was quite disappointed with the result. Though Tinto did not write the story, its anti-authoritarianism is certainly congenial to his outlook, and, coincidentally enough, this movie fits in perfectly well with the films he wrote on his own. It's most interesting, by the way, to compare this movie with Gore Vidal's earlier Visit to a Small Planet and to his later Duluth. There was no copying at all, but the resonances are quite striking. I would hazard a guess that Sonego perhaps saw Visit to a Small Planet, or, if not, he probably at least heard a good description of it.


| | |
| --- | --- |
| | |

The production was rushed so that the film could be released in time for Christmas season. As a result, Tinto did not edit the film himself, though he surely had some significant say-so over Tatiana Casini Morigi's work. The result, Tinto freely admits, is "a good movie," but not as good as it could have been. Alberto Sordi's judgment was that the rush hampered what otherwise would have been one of his finest films. Sordi went on to state that Tinto's avant-garde sensibilities diminished rather than enhanced the comedy. My guess is that, had the film been a bigger success at the boxoffice, Sordi's final judgment may have been quite different. In a quote published in some magazine just after his death, Sordi referred to Tinto as "a genius, but a bit crazy." Unfortunately, I have only the clipping, and haven't a clue which magazine it appeared in. Can anybody help me identify that press cutting?


The rush led to a problem: Since there was no time for Tinto to perform the edit himself, some scenes are rather clumsily put together. For instance, the camera zooms in and out on Berruti as he's climbing the countess's stairs; obviously this shot was to have been intercut with some other now-missing material. Further, two scenes were re-ordered in a wrong-headed attempt to simplify the narrative. At least, this is true of the versions released on home video.


Before VHS was invented, though, things happened to this movie, and what we are seeing on our videotapes is not the original, but an
after-effect.
The original review in
Variety
(weekly edition, Wednesday, 10 February 1965) listed the running time as 93 minutes. But the
Variety
reviewers often saw
pre-release
answer prints, which were a bit longer than the final cuts. According to the Famous Film B.V. trade catalogue, the release version of
The Flying Saucer
(as it was listed) had a length of 2.498 meters, or 8,195 feet, for a running time of 91 minutes (at 24 frames per second). The only copies of this movie I have ever found run about 83 minutes 41 seconds at 25 frames per second, or about 7,845 feet, about four minutes short of the original. Publicity material from the première described and illustrated sequences that are nowhere to be found anymore. Especially maddening is that Vittoria's tragic story is left hanging — though in the original it had a comical resolution. Also cut is what happens to Sergeant Berruti inside the flying saucer. I hope that the original version still exists somewhere. If you have any idea about where it might be,
please write to me
. Thanks so much!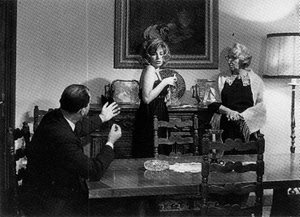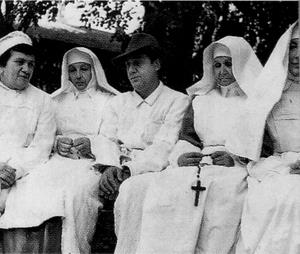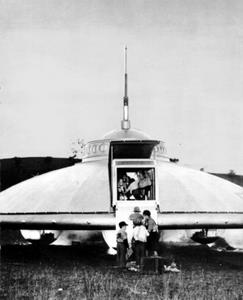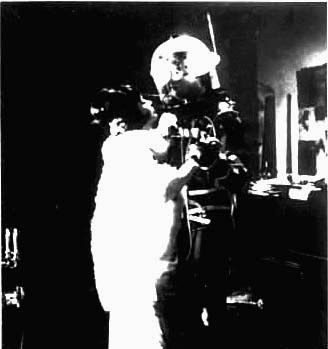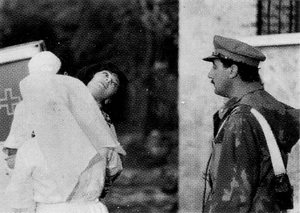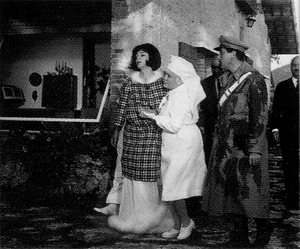 The above six images are from scenes missing from the currently available prints and videos of this movie

The cast of characters.

The international title was originally supposed to be The Martians, but wiser heads prevailed in time for the English dub to be entitled The Flying Saucer.



Back in the 1970's there was a book that consisted of a listing of sci-fi films released in the US. Sorry, I can't be more specific, because I'm relying on a four-decade-old memory of a book I only glanced at. If memory serves, it was printed from a typescript, and the only text consisted of title, director, principal stars, year of release, and distributor. This book contained a reference to The Flying Saucer having been released in the US in 1967 by Avco Embassy. That was not quite right. Some accidental detective work revealed a piece of the story. It was not Avco Embassy, but its predecessor, Embassy Pictures, that released this film in the US, and the prints do indeed bear a 1967 copyright date. No trade annual or other mainstream reference work that I have ever run across makes a mention of this, for the simple reason that The Flying Saucer was not released to cinemas. It was released only to television — and not to network television, but only to local stations, for use as a late-night filler, and it was issued surely in 16mm only, never 35mm. Indeed, the background images during opening credits were cropped to 1.33×1, and the text was reset to fit within that narrower parameter. The Italian trade materials made it clear that no foreign-language dubs had been prepared, and that only the original Italian track was available for export. So it was almost certainly Embassy that commissioned its own English track. There was little concern over lip-synch in the English dub, and little concern over precise translation. Whoever wrote the dubbing script added jokes and asides not in the original, and they don't help. Yes, the result is still funny, but subtitles would have been much better.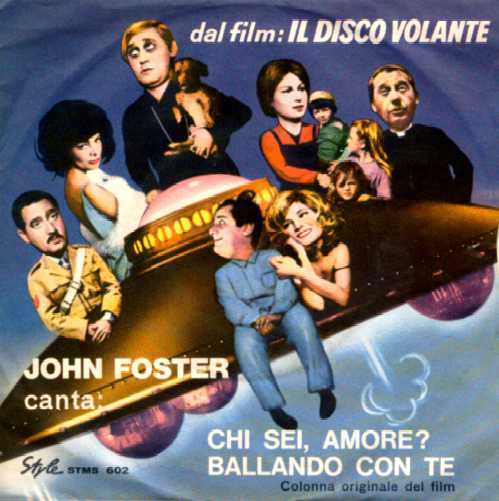 QUESTION: One of the doctors in the lunatic asylum sure looks like Alberto Sorrentino. Is it?


PERSONAL COMMENT:
Like I say, I have memories of 1964, when I was all of four years old. Here's another maddening memory. As soon as Brigadiere Berruti approaches the countess's mansion, we hear the haunting strains of
John Foster
singing
Ballando con te
. I recognized it instantly, but I couldn't place it. Maybe it played on the easy-listening stations when I was four? Can anyone help me figure out where I heard it? I heard it more than once, and I surely heard it many, many times. There's no other way I would have recognized it so instantly. What's memory for if you can't use it?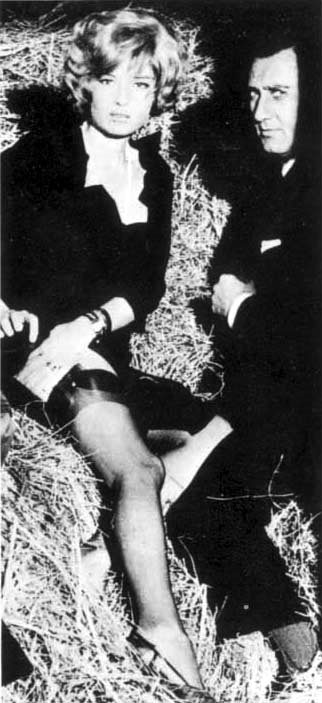 "Do you recognize me?"
"No, Signor Marsicano."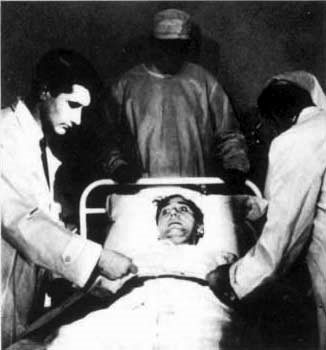 He should have kept his mouth shut


---
THOUGHTS ON HOW TO MAKE A COMEDY:




If you need actors who look like farm villagers, hire them from a farm village.


If you need a newsreel look, with locals in the background, shoot your movie as though it were a newsreel in the midst of crowds of locals.
If you need to characters in the distant background to be conscious of the presence of a stranger, hire locals who will be conscious of the camera.
If your comedy needs some dramatic relief, play it like a drama.
These shrinks offer almost as much comfort as US law enforcement would.
(Is the elderly chief doctor Alberto Sorrentino?)
If the screenwriter had a scene take place during a carnival, shoot the scene during a carnival.
If it would be funnier to have the Martian woman look ridiculously phony, have a guy play the part while wearing a rubber mask and rubber appendages. And if the locals at the carnival find this amusing and if they laugh and smile at the camera, all the better.
If you need people to wear local costumes, hire locals who normally wear local costumes. If you need to establish decadence without being decadent, take a break from the naturalism and be absurd.
How to diminish an authority figure by an even larger authority figure.
If you need debonair party-goers at a rural mansion, throw a debonair party at a rural mansion.
If you need a young American woman to be nervous about an arranged marriage to someone she doesn't know, like, or trust, hire an Italian actress who can barely speak English and then wrongly revoice her part.

Upper-class mirth brought about by the destruction of a working-class policeman's credibility.

If Jerry Lewis would play it like a low comedy, go in the opposite direction and play it like a contemplative drama, and choreograph it as though it were a ballet, and light it and frame it as though it were a mystical painting from long, long ago. It will be funnier that way.

And if the impossible schedule doesn't allow you to edit your own movie which has to come out in time for the Christmas season, and if your footage gets turned over to a staff editor daily during the shoot, and if the staff editor uses your rejected takes to create a prologue, oh well, don't worry about it, because it's still a good movie anyway.
---
These Italian-language PAL VHS editions (no English subtitles) still pop up on the used market. Try your luck. (PAL VHS will not play on US equipment.)
---
Una produzione Dino De Laurentiis Cinematografica S.p.A.
Il disco volante
Originally released on Wednesday, 23 December 1964
Regia di (directed by)
Tinto Brass
Prodotto da (produced by)
Dino De Laurentiis
Soggetto e sceneggiatura di
(original story and screenplay)
Rodolfo Sonego
Produzione organizzata e diretta da
Giorgio Adriani a.d.c.
Scenografia e arredamento
(art direction and set décor)
Elio Costanzi
Il "Disco Volante" e i costumi dei Marziani sono stati ideati da (the "Flying Saucer" and Martian costumes created by)
Gianni Polidori
Direttore della fotografia
(director of photography)
Bruno Barcarol
Aiuti registi (assistant directors)
Gianni Nerattini, Carla Cipriani
Operatore alla macc. (camera operator)
Alvaro Lanzoni
Operatore ai fuochi (focus puller)
Giorgio Regis
Assistente operatore
(assistant camera operator)
Giulio Spadini c.s.c.
Segr. di edizione (continuity)
Silvana Sonego
Truccatore (make-up)
Amato Garsini
Parrucchiera (hair dresser)
Gabriella Scazelli
Tecnico del suono (sound technician)
Bruno Brunacci
Consulenza esterni
Raoul Schoultz
Ispett. di produzione (unit manager)
Claudio Agostinelli
Segr. di produzione (continuity)
Antonio Guadagnino
Segr. amministratore (secr. to accountant)
Fernando Caputo
Aiuto montaggio (assistant editor)
Paola Tassi
Capo macchinista (key grip)
Tarcasio Giamanti
Capo elettricista (gaffer)
Nunzio Colucci
Montaggio di (editing by)
Tatiana Casini [Morigi]
Musica di (music by)
Piero Piccioni
Edizioni musicali (music publishers)
"DINO" Roma
Il film e stato girato nel
Centro di Produzione della Dino De Laurentiis Cinematografica S.p.A.
Negativi positivi effetti ottici
(raw stock, optical effects)
S.P.E.S.
Dir.
E. Catalucci
Registrazione sonora (sound recording)
Westrex
Pellicola (raw stock)
Dupont-Kodak
Tutti i diritti riservati
Dino De Laurentiis Cinematografia S.p.A.
Ogni riferimento a fatti o persone della vita reale è puramente casuale
Le canzoni (songs)
"BALLANDO CON TE"
di Kramer - Pallavicini
"CHI SEI AMORE?"
di Piccioni - Pallavicini
Sono cantate da (sung by)
John Foster [pseud. for Paolo Occhipinti]
e incise su dischi STYLE
---
Upon hearing from one of the rare people who became a fan of this movie by watching it on late-night-filler programming, I got curious and decided to see if it ever played in New York City. It did, a grand total of four times. Behold.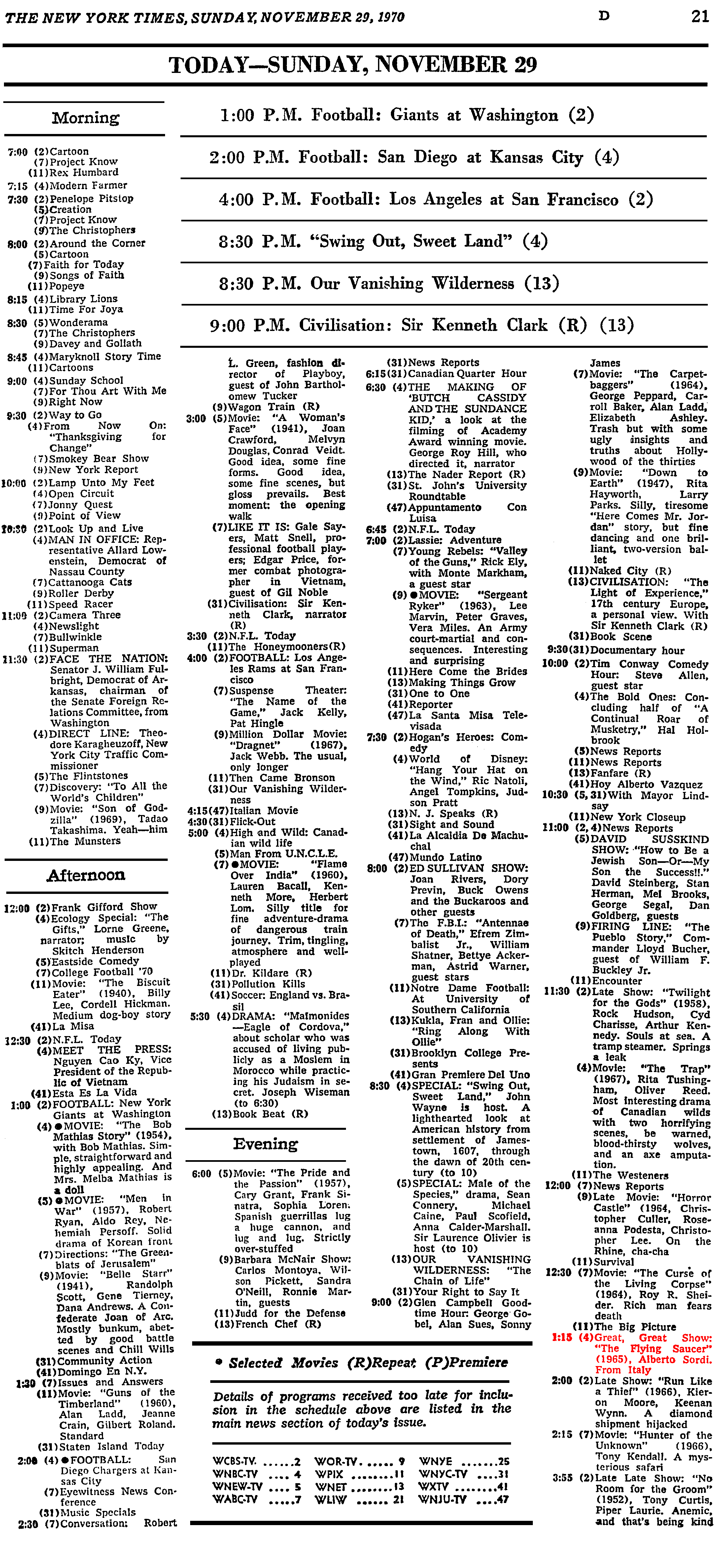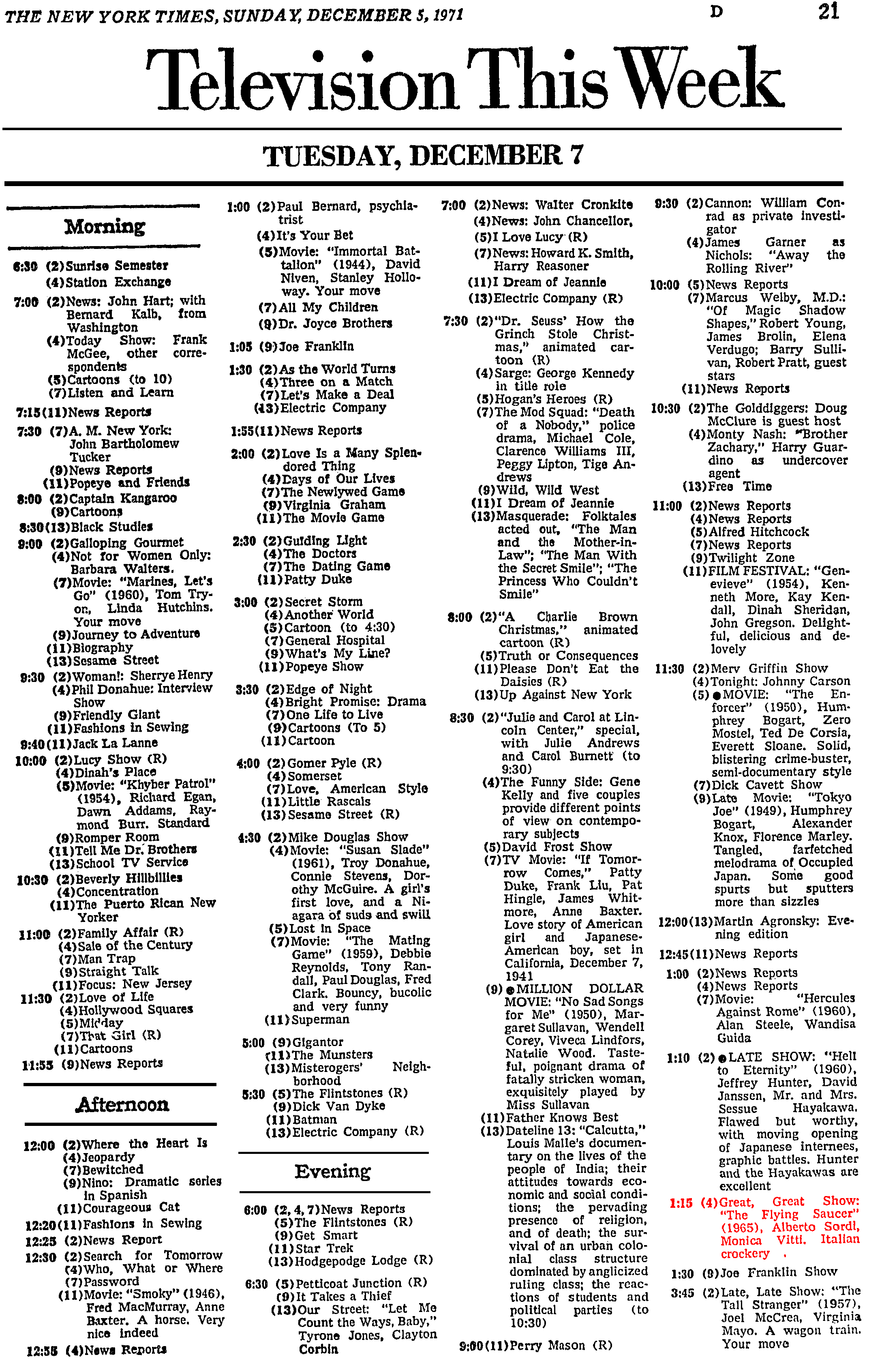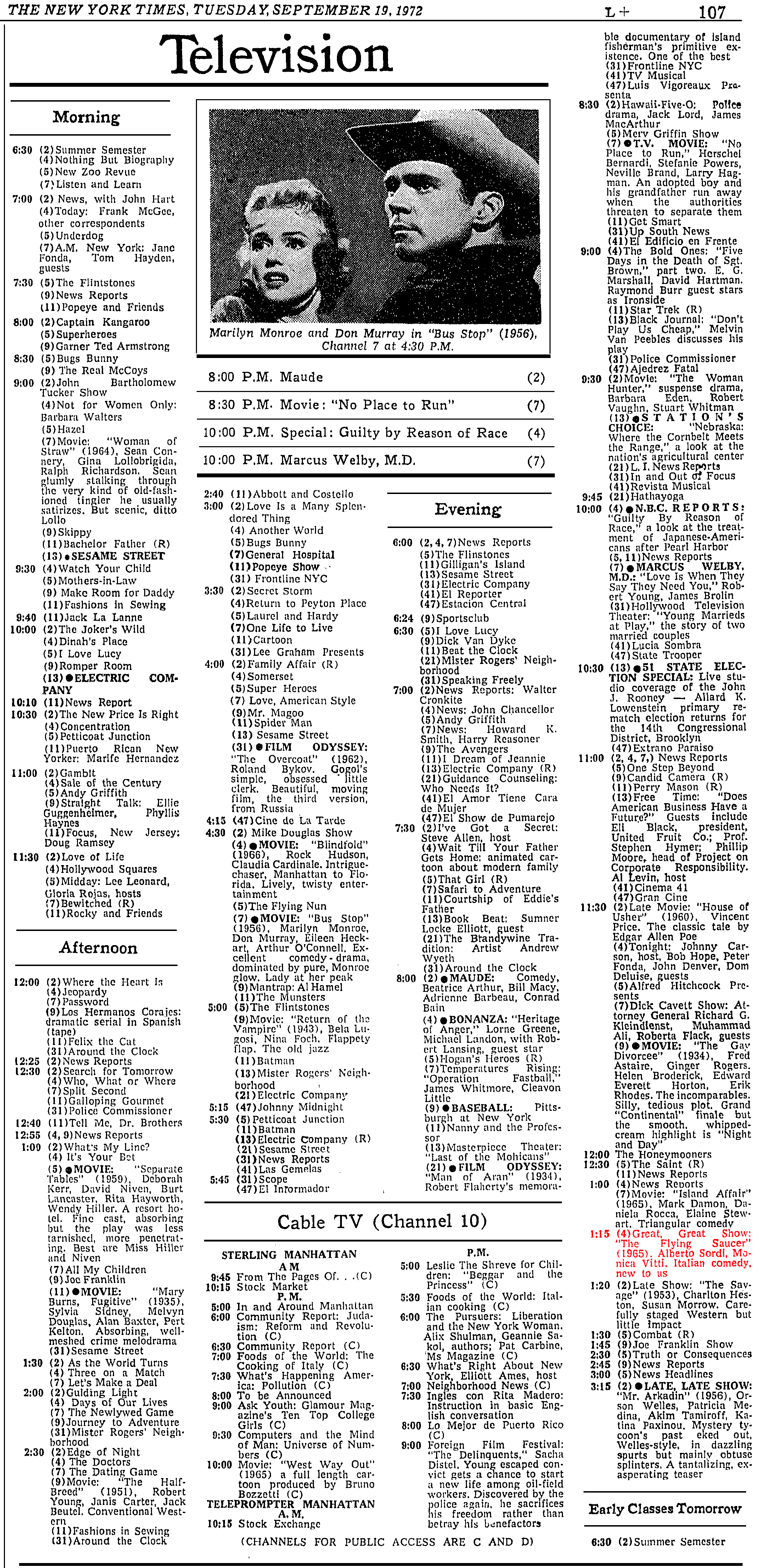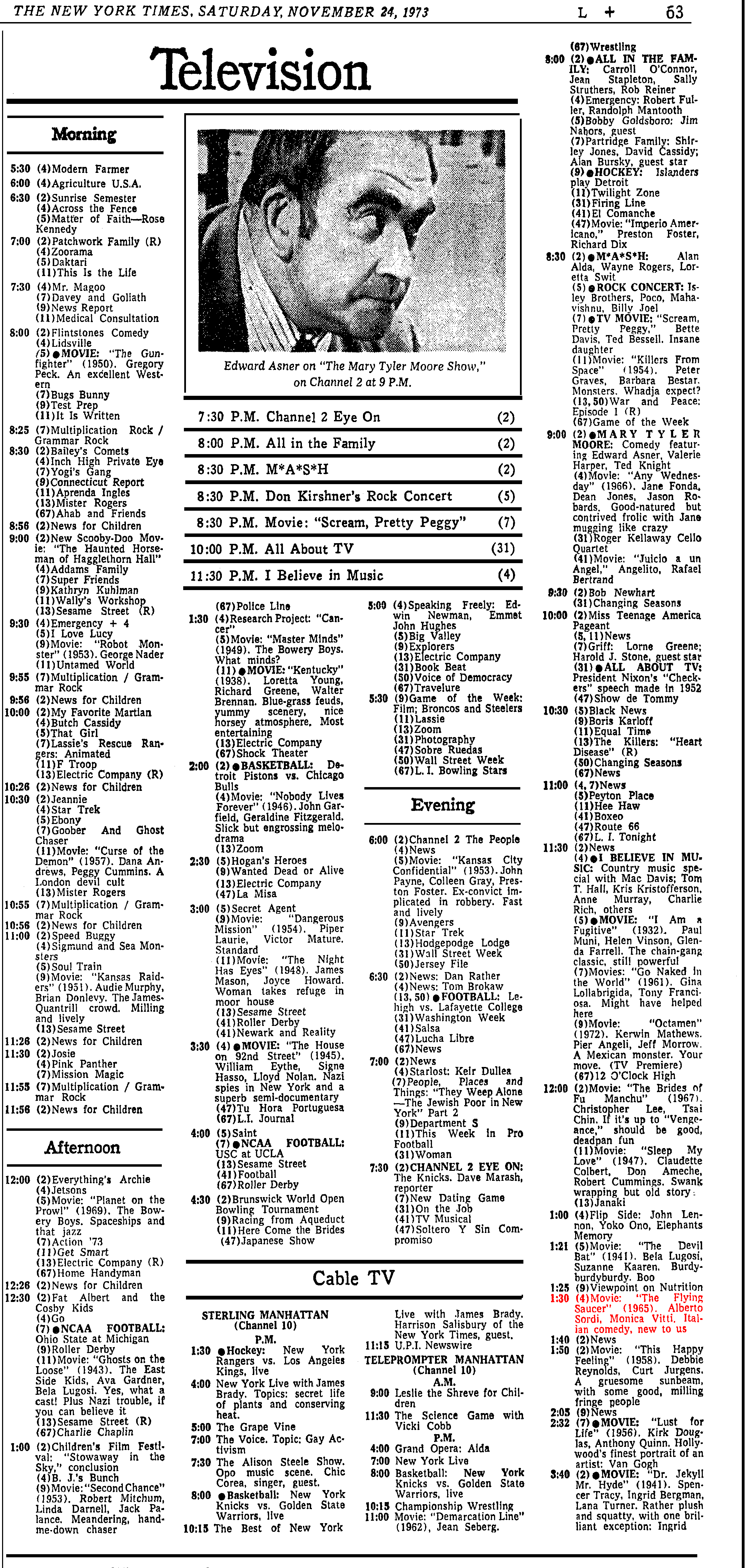 And now you can understand why it never found its audience.


Our brief email correspondence also got me to thinking. I found the English edition on eBay. It was a 16mm print that instigated a bidding war between myself and a rival. After I won the thing for $150, I contacted the losing bidder and asked what her interest was. That led to an email friendship. She was an elderly lady named Joyce Elliott, and she was a huge fan of Silvana Mangano. I also contacted the eBay vendor, who told me that this print was originally owned by a Chicago TV station. That's all he knew of the provenance. When the 16mm print arrived, it was in a thousand pieces. Sprocket holes were shredded, glue splices had peeled apart, and tape splices were stretching and going bad. I spent the better part of a day on a rewind bench in a projection booth repairing the thing with a Ciro splicer. Fortunately, I didn't need to chop anything out. I was able to rescue every surviving frame. In addition to being damaged, with noticeable jump cuts all over the place, the print had also been censored, with every hint of fake nudity deleted, as well as the finale of the friskiness between Don Mariscano and Dolores in the car, resulting in the deletion of the final line, "What gams!" ("Che gambone!"). Sheerest idiocy. There was no need to cut any of that. Nobody would have taken offense. Eventually I got a friend to run off an SVHS transfer, and with pathetic editing equipment at the office where I worked I was able to stitch it together with a horrid bootleg of the Italian version. The result was a total calamity. Unwatchable. But Joyce wanted to see it, and so I sent it to her. She was thrilled.


Anyway, the recent email correspondence got me to thinking again. More often than not, a license is good for seven years, after which the materials must be returned to the rights holder. So why was this print left behind after the license expired? Should it not have been returned to Famous Films B.V. or its successor? Yes, it should have, except.... You see, the station surely sent a message to Famous Films stating that the print was so badly damaged that it was being discarded. Someone then saw a pile of prints on a junk heap ready for pick up by the trash collector and decided he could probably make away with them and get a few bucks for each from collectors dumb enough not to demand a quality check prior to purchase. And that's how I got my print. Fascinating, isn't it?


With various licenses and assignments and transfers, the current licensor is StudioCanal+ in Paris. My damaged 16mm print is probably the only English-language print that is not in StudioCanal+'s possession.


Shall we explore some more? Shall we see if this ever played on television in Los Ángeles?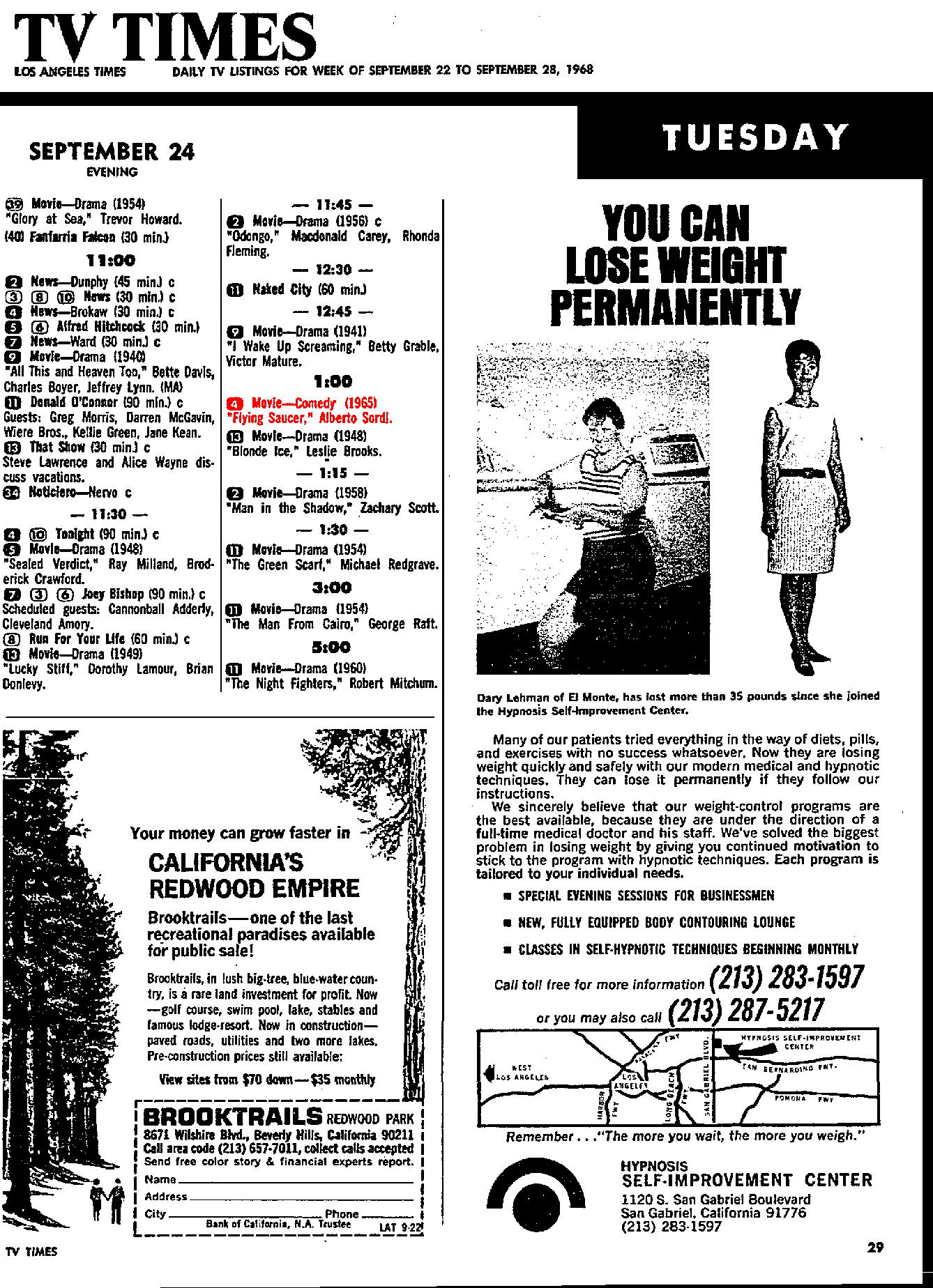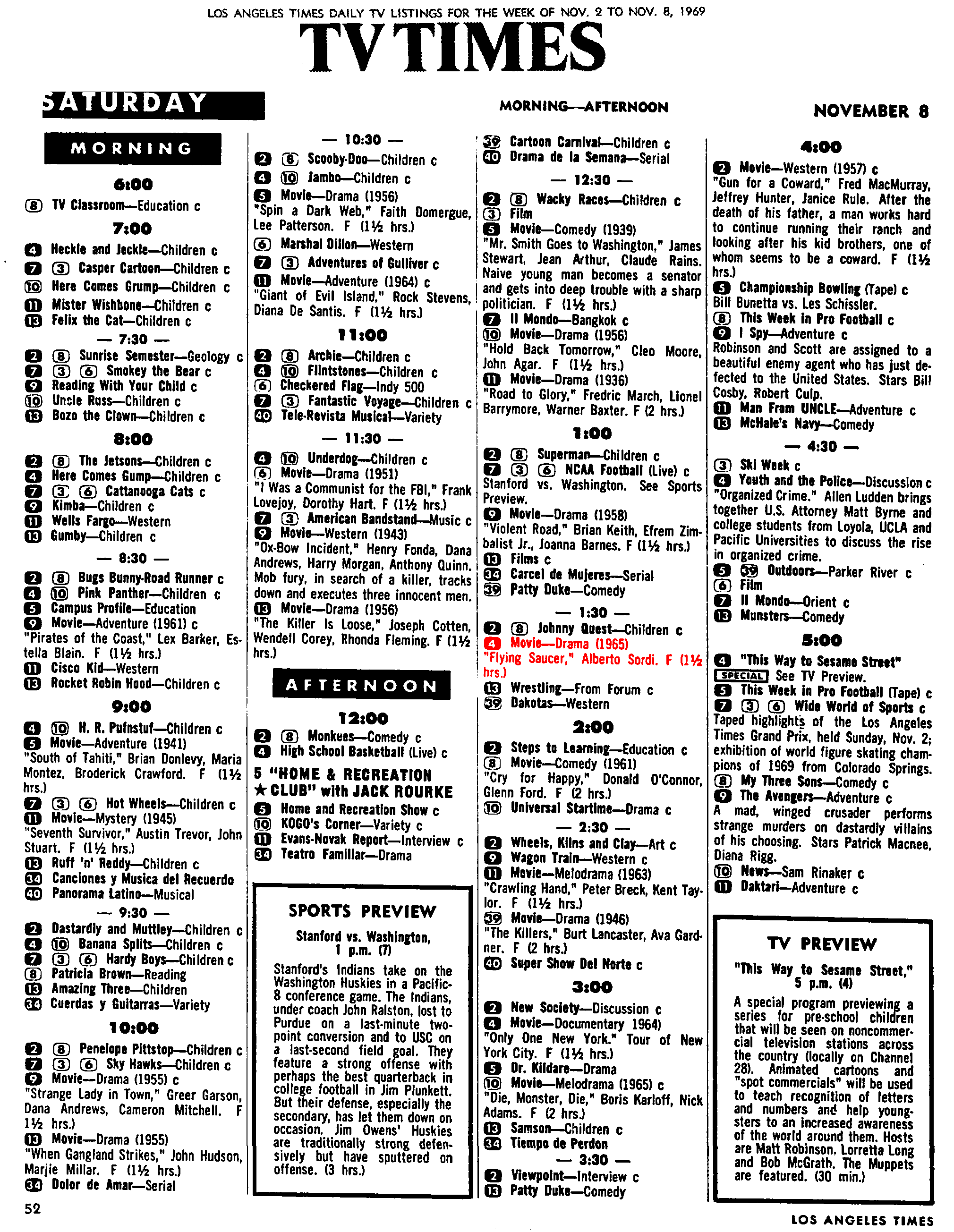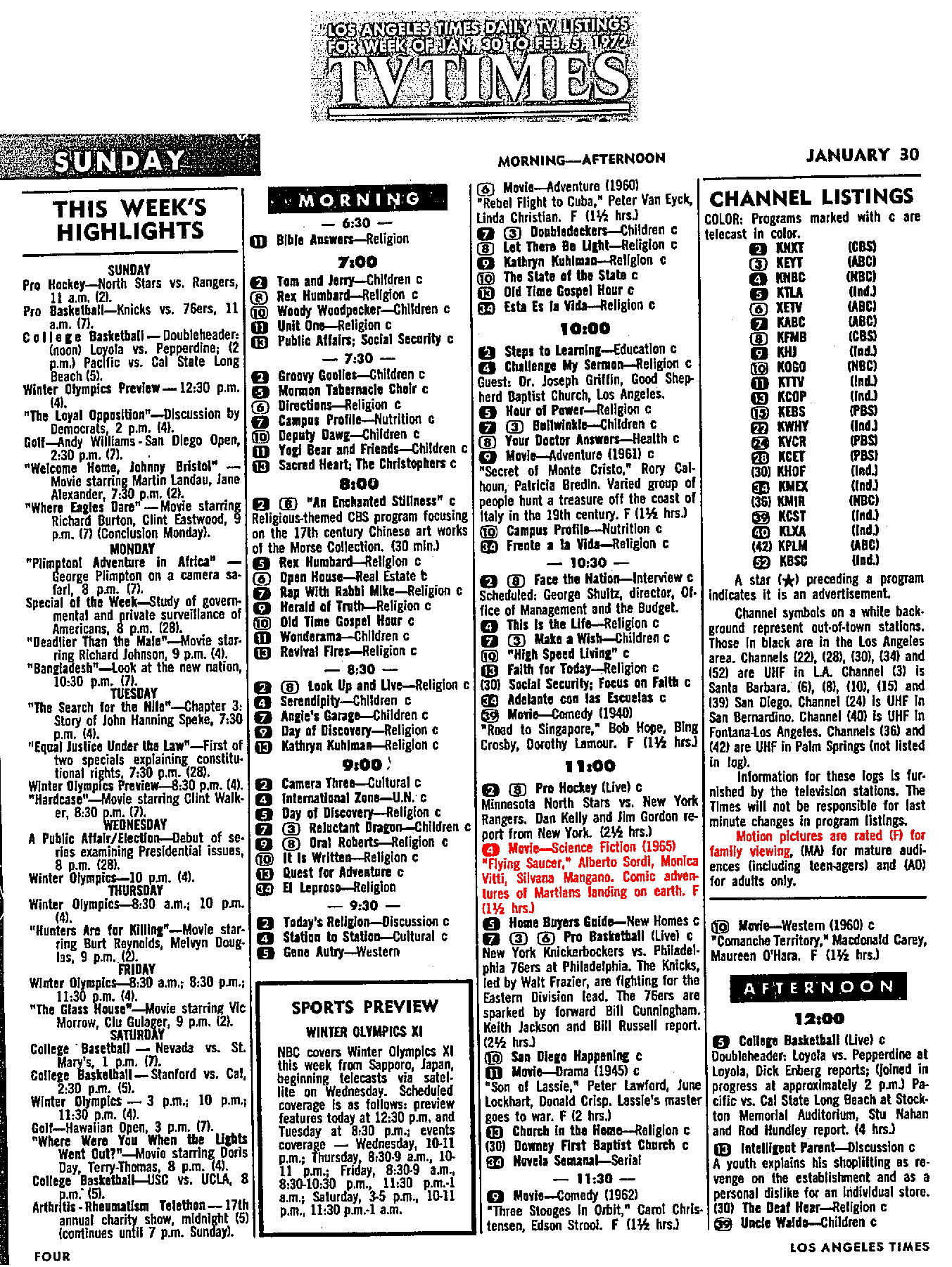 ---
Original research and commentary copyright © 2009, 2013 by Ranjit Sandhu. All rights reserved.

---