THE WORKS OF TINTO BRASS
---
La mia signora
(My Wife, 1964)
Another gem! Upon completion of
Il disco volante
, producer Dino De Laurentiis hired Brass to direct the two shortest episodes of this wonderful anthology film starring Mrs De Laurentiis, Silvana Mangano. This is a great example of writing and storytelling — punchy, tight, imaginative, and humorous. (Why can't anyone write like this anymore?) And
Alberto Sordi
is in top form in these five rôles. Americans don't seem to know
Alberto Sordi
. Well, suffice it to say that he was easily equivalent to Peter Sellers, but perhaps more physical (and not a real-life lunatic). He was discovered when he was still a kid, at an Oliver Hardy-impersonation contest, and later gained fame as Hardy's voice in the Italian dubs — and anyone who truly likes
Laurel and Hardy
can't be all bad, you know.

The fourth episode, "Luciana," by Rodolfo Sonego and directed by Mauro Bolognini, concerns Alberto Sordi and Silvana Mangano who meet at an airport after their spouses depart on a flight that immediately has trouble and needs to return, but only after using up all its fuel. While the plane spends the remainder of the day making circles in the sky, Alberto and Mangano start to comiserate but soon begin to fall in love, only to return to their unhappy marriages once the plane lands again. It's quite a touching 40-minute story. The third episode, "I miei cari" ("My Dear Ones"), inspired by a novella, is a blistering nine-minute story of a hospital visit, with a wife and mother-in-law nagging at Alberto for his shortcomings, rather than offering support. Perhaps my favorite episode was the second, "Eritrea," written by Luigi Comencini and Marcello Fondati. It's a wonderful 40-minute screwball comedy, with an onslaught of plot twists that will have your head spinning. When it comes to sheer direction, as opposed to writing, I give the first honors to the two short Brass-directed episodes. (Or am I just being prejudiced?) The opening act, "L'uccellino" ("The Little Bird"), has Alberto Sordi as a madly jealous husband — jealous of his wife's pet birds. The writing alone isn't funny. The acting alone isn't funny. Alberto's facial expressions alone aren't funny. The music by itself isn't all that funny. Put all those elements together, though, and this seven-minute sketch is a scream. The closing act, "L'automobile" ("The Car"), is an eight-minute sketch about a husband and wife filing a report with the police about their missing Jaguar. The delivery by the two leads makes an already funny script funnier. Apparently realizing that nothing could improve upon the original, Brass blimped the cameras and used the actual sound recorded on the set in the final film. (The usual practice at the time, of course, was to re-record all the sound later.)


| | |
| --- | --- |
| | |
QUESTION NUMBER ONE:
"Eritrea" uses a popular "twist" song that was also excerpted in
Chi lavora è perduto
. If you know what that song is, please tell me. I'm dying of curiosity.
ANSWER: "Amore twist"! Thanks to Banca Dati del Cinema Mondiale for answering my question!
QUESTION NUMBER TWO:
Who dubbed Silvana Mangano's voice in "L'uccellino"?

PERSONAL NOTE: The early 1960s were truly a different world. I have only the vaguest recollections of those times (I was four when this film was made), but this film, just like Fellini's La dolce vita, drives me crazy because it really seems that I was there, but that I can't completely remember exactly when or where or how. These two movies capture the period perfectly.


TECHNICAL NOTE FOR THE FEW WHO MAY BE INTERESTED: A few shots seem to have been masked in the camera, but the rest were masked in the lab at 1.85:1.


WARNING! The bootlegs available from Italian shops in Canada — and at least some of the bootlegs available through eBay — are incomplete! They cut "Luciana" down from 40 minutes to 20! Beware!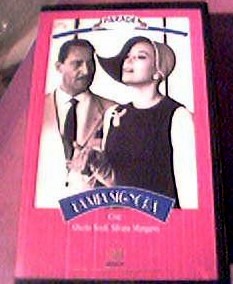 It was issued on video a few different times, many moons ago,
but it ain't easy to find — unless, maybe, you happen to be on the prowl in Italy's video shops.
Originally released on Thursday, 29 October 1964
Una produzione
Dino De Laurentiis
Cinematografica S.p.A.

Silvana
Mangano

e

Alberto
Sordi

Prodotto da (produced by)
Dino De Laurentiis
Organizzatore generale
(general manager)
Fausto Saraceni
Direttore della fotografia
(director of photography)
Otello Martelli
Direttore della fotografia per la sketch "L'automobile"
Bruno Barcarol
Scenografia e ambientazione di
(Set decoration)
Mario Garbuglia
Costumi per la Signora Mangano di
(Mrs Mangano's costumes by)
Piero Gherardi
Musica di (music by)
Armando Trovaioli
diretta dell'autore
Chorus
I Cantori Moderni di Alessandroni
[uncredited]
Trumpet
Michele Lacerenza [uncredited]
Edizione Musicali (music publisher)
R.C.A. Italiana — "Dino"
Registrazioni Musicali della
(music recording)
R.C.A. Italiana
Montaggio di (editing by)
Nino Baragli
assistente
Sergio Montanari
Aiuti registi (assistant directors)
Silvio Maestranzi
Leopoldo Machina
Giovanni Nerattini
Ispettore di produz. (unit manager)
Egidio Quarantotto
Segretaria di produzione
(production secretary)
Mario Milani
Ennio Di Meo
Segretaria di ediz. (continuity)
Maria Pia D'Arborio
Cassiere (paymaster)
Carlo Sallorenzo
Costumista (wardrobe)
Gabriele Mayer
Arredatore (set dresser)
Ferdinando Giovannoni
Operatore di macchina
(camera operator)
Arturo Zavattini
Assist. oper. (focus pullers)
G. Spadini c.s.c.
E. Fontana
Truccatore (make-up)
Giuliano Laurenti
Parucchiera (hair dresser)
Mirella Ginnoto
Fonico (sound)
Biagio Fiorelli
Teatri di posa e mezzi tecnici
(studios and equipment)
Dino De Laurentiis
Negativi e Positivi, Effetti Ottici
(raw stock, optical effects)
S.P.E.S.
Dir.
E. Catalucci
Sincronizzazione e Doppiaggio
(recording and dubbing studio)
Fono Lux
Cooperativa Doppiatori
(dubbers)
C.I.D.
La canzone (the song)
"Per una notte no"
("For One Night — No")
di (by)
Migliacci-Trovaioli
e inciso da (and recorded by)
Gianni Morandi su dischi R.C.A.
Musica di repertorio (music excerpt)
AMORE TWIST [uncredited]
cantata da (sung by)
Rita Pavone [uncredited]
Il film stato girato nel (filmed at)
Centro di Produzione
a ciclo completo della
(completed at)
Dino De Laurentiis
Cinematografica S.p.A.
EPISODE 1: L'uccellino (The Little Bird)
Soggetto e sceneggiatura
(story and screenplay)
Rodolfo Sonego, Alberto Bevilacqua
Regia di (directed by)
Tinto Brass
| | |
| --- | --- |
| PERSONAGGI ED INTERPRETI | |
| Settimo | Alberto Sordi |
| Sua moglie | Silvana Mangano |
EPISODE 2: Eritrea
| | |
| --- | --- |
| Soggetto (story) | Luigi Comencini, Marcello Fondato |
| Sceneggiatura (screenplay) | Marcello Fondato |
| Regia di (directed by) | Luigi Comencini |
| | |
| --- | --- |
| PERSONAGGI ED INTERPRETI | |
| Eritrea | Silvana Mangano |
| Sartoletti | Alberto Sordi |
| Onorevole | Claudio Gora |
EPISODE 3: I miei cari (My Dear Ones)
Soggetto tratto da una novella di
(story from a novella by)
Goffredo Parise
Sceneggiatura di (screenplay by)
Rodolfo Sonego
Regia di (directed by)
Mauro Bolognini
| | |
| --- | --- |
| PERSONAGGI ED INTERPRETI | |
| Marco | Alberto Sordi |
| Clara | Silvana Mangano |
EPISODE 4: Luciana
Soggetto e sceneggiatura
(story and screenplay)
Rodolfo Sonego
Directed by
Mauro Bolognini
| | |
| --- | --- |
| PERSONAGGI ED INTERPRETI | |
| Lucia | Silvana Mangano |
| Giovanni | Alberto Sordi |
| Roberta | Marisa Fiorio |
| Commenda | Maria Canocchia |
| Hostess | Laura Borei |
EPISODE 5: L'automobile (The Car)
Soggetto e sceneggiatura
(story and screenplay)
Rodolfo Sonego
Regia di (directed by)
Tinto Brass
| | |
| --- | --- |
| PERSONAGGI ED INTERPRETI | |
| Husband | Alberto Sordi |
| Wife | Silvana Mangano |
| | |
| --- | --- |
| Hanno inoltre partecipato | |
| ??? | Elena Nicolai |
| ??? | Laura Durell |
| ??? | Elena Fabrizi |
| ??? | Mino Doro |
| ??? | Lamberto Antinori |
| ??? | Alfredo Censi a.s.c. |
| ??? | Maria Tedeschi |