THE WORKS OF TINTO BRASS
---
NEROSUBIANCO
a.k.a. Black on White
a.k.a. Attraction
(1967–1968)
The Italian poster,
designed by Renato Casaro


Another Italian poster,
designed by someone or other


Here's yet another poster, which popped up on eBay (item 360102413543).

The Australian and German posters. The black man has been deleted, except for his hand, which has been changed into an indecipherable abstraction. (Don' want to put off the customers now, do we?)

The English-language export version, taken from Radley Metzger's only remaining US print, is finally available on DVD — from

Cult Epics

!!!
Tinto Brass directs the little old lady on how to machine-gun hippies.

The transformation begins.

Umberto di Grazia's consciousness laboratory

An unusual camera move.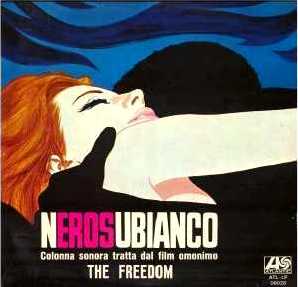 The original soundtrack LP, which Freedom didn't even know had been issued, was on the Atlantic label, ATL-LP 08028, and is now quite the collector's item. It was reissued on vinyl thrice, first in 1994 by Tenth Planet, a British/French label, in a limited edition of 500 copies, label TP011. The cover was monochrome, and the accompanying booklet amusingly stated the the film "appears to have been abandoned. Whether the film was complete or not is difficult to ascertain, but it does not seem to have received a general release (although given that de Laurentiis is alleged to have financed more than 500 films, it's unlikely that even he noticed its non-appearance). However, the intended soundtrack album eventually emerged in June 1969, a full eighteen months after the band had started work on the project." More recently there came a third issue, a limited edition of 1,000 copies from Merry-Go-Round Records of Japan, "Hidden Archives Series No.1," label MGRL 0001, taken from the master monaural (!) tapes, with the addition of two extra "dry" tracks. A fourth issue came out shortly afterwards, by Merry-Go-Round in collaboration with Comet Records, MIE 012/2.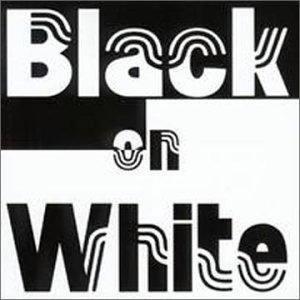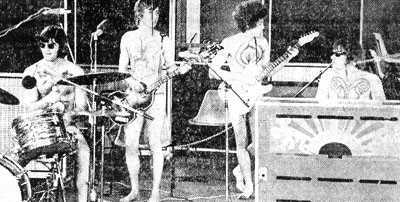 "The Truth Is Plain to See"
Left to right: Bobby Harrison, Steve Shirley, Ray Royer, Mike Lease
Radley Metzger, a tireless promoter of sensationalized sex movies, often with a wisp of artistic camouflage, has scraped a British barrel and come up now with something called "Black on White."... As entertainment or art, this Technicolor picture is garbage [actually it was Eastmancolor — RS].... The rock 'n' roll score, boinged out by some seedy-looking hippies we first see perched in a tree like a bunch of vultures, is terrible.... The exhibitors of "Black on White" themselves have given the import a rating of "X — persons under 17 cannot be admitted." Younger movie-goers can take that as a compliment. This time that X means excruciating.
Pretentious exploiter that fails to deliver enough sex or shock values to score.... The whole thing is punctuated by an utterly forgettable rock score.... The direction is strictly pedestrian.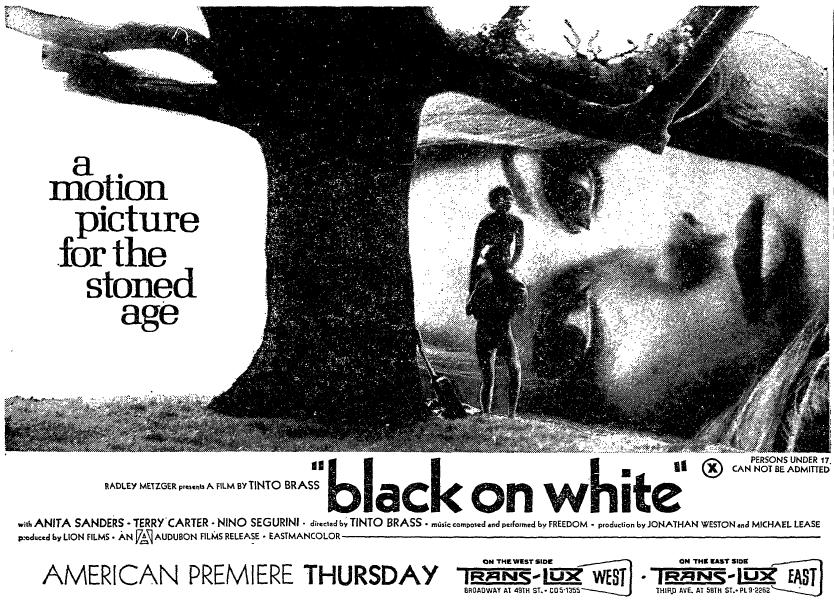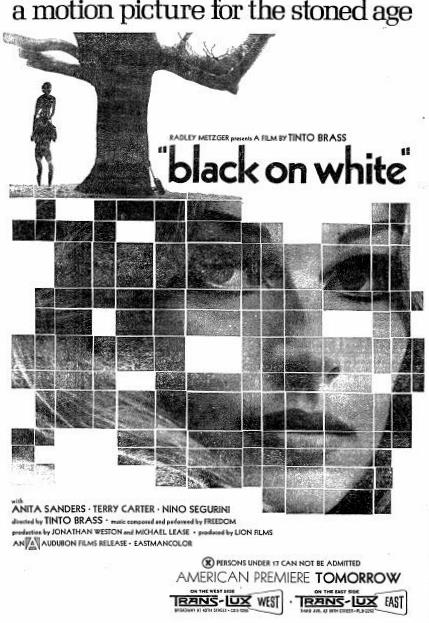 The tagline above was Radley Metzger's invention.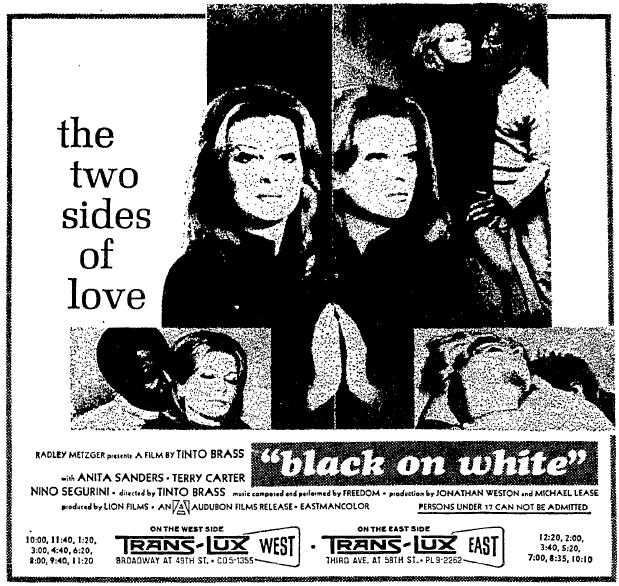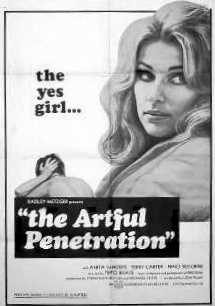 Summary posted on BFI site: Separation, scripted and starring Jane Arden, concerns the inner life of a woman during a period of breakdown — marital, and possibly mental. Her past and (possible?) future are revealed through a fragmented but brilliantly achieved and often humorous narrative, in which dreams and desires are as real as the 'swinging' London (complete with Procol Harum music and Mark Boyle light show) of the film's setting.

Summary posted on BFI site: Jane Arden's violent and powerful adaptation of her work with The Holocaust women's theatre troupe looks into the mind of a woman labelled schizophrenic and finds, not madness, but tortured sexual guilt created by the taboos of society.

Summary posted on BFI site: 'A complex and fascinating experimental exploration of time and identity. Anti-Clock is a film of authentic, startling originality. Brilliantly mixing cinema and video techniques, Arden and Bond have created a movie that captures the anxiety and sense of danger that has infiltrated the consciousness of so many people in western society. Filled with high tension and high intelligence, Anti-Clock is mysterious, disturbing, fascinating and exciting'. (Jack Kroll, Newsweek)

Separation is marvelous. I've not seen the others yet.
Variety, Wednesday, 18 October 1967, p. 24:


Italian director Tinto Brass shooting "Bianco Su Nero" ("White or Black") on London locations for Lion Films and Dino DeLaurentiis.


Variety, Wednesday, 8 May 1968, p. 48:


TINTO BRASS — is ready to show his "Black on White" — a modern musical without dialogue to producer Dino De Laurentiis.


Monthly Film Bulletin, November 1973, p. 230:


...Author of such works as Ca Ira, L'Urlo, Drop Out and La Vacanza, Tinto Brass — second only to Carmelo Bene in eccentricity of style — here employs a non-narrative cut-up technique involving all manner of editing devices, freeze-frames and negative effects, in a film shot on location in London by an obviously resourceful cameraman. One suspects that it must have been pretty incoherent in its original form, but as presented here with extensive cuts, it is an incomprehensible shambles, neither sexy enough for the exploitation market nor fashionable enough for art houses.... — John Gillett


(The caption is missing from my copy)
Lion Film presenta un film di Tinto Brass
NEROSUBIANCO
Distributed by Ceiad Columbia
Direttore della fotografia
(director of photography)
Silvano Ippoliti
Aiuto operatori (assistant camera operators)
Enrico Sasso, Renato Doria
Aiuto registi (assistant directors)
Alan Sekers, Giorgio Patrono,
Shaila Rubin
Soggetto (original story)
Tinto Brass
Sceneggiatura (screenplay)
Tinto Brass, Franco Longo
Collaboratore alla sceneggiatura (dialogue)
Giancarlo Fusco
Prodotto da (produced by)
Dino De Laurentiis
Musica (music)
Freedom
Prodotto da (produced by)
Jonathan Weston, Michael Lease
Trasformazioni elettroniche
(recording engineer)
Vittorio Gelmetti
Scenografia (art director)
Peter Murray
Costumi (costumes)
Piero Gherardi, Giuliana Serano
Arredamento (set décor)
Maricia D'Alfonso
Fumetti (cartoon drawings)
Guido Crepax
Organizzatore generale
(production managers)
Marcello Bollero (Rome),
Nick Saxton (London)
Aiuto montatrice (assistant editor)
Fulvia Armanni
PERSONAGGI E INTERPRETI
Barbara
Anita Sanders
American
Terry Carter
Paolo
Nino Segurini
Himself
Umberto di Grazia
(credited as Di Grazia Umberto)
Themselves
Freedom (Bobby Harrison, Ray Royer, Michael Lease, and Steve Shirley)
Hairdresser' receptionist
Janet Street-Porter [uncredited]
Test Subject / Gynecologist
Tinto Brass [uncredited]
---
---