THE WORKS OF TINTO BRASS
---
(Howl, 1968–1970)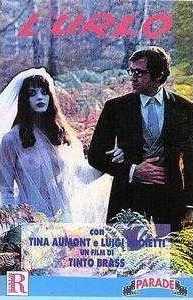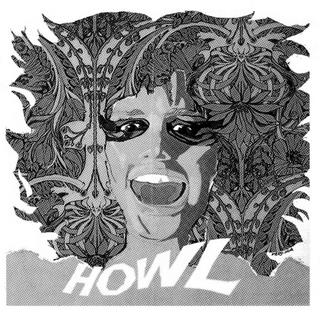 Artwork by
Piero Iaia
for what appears to be a proposed English-language release, which never happened. (From Dott. Lorenzo Codelli
et alia
's
Nerosubrass
, p 68.)
DVD NOW AVAILABLE! THANKS TO CULT EPICS! The 1:1.85:1 transfer at 16×9 is not the best, but don't blame Cult Epics! That was the best material available. Really. I'm not joking. So don't gripe. Just enjoy it. If you really feel compelled to gripe, then help out with a proper restoration, and cross your fingers and hope that the master elements still exist somewhere.


---
PRIEST: Can the bird of Paradise strike against the annihilated consumed tree of your sap without a parachute?
GROOM: Yes.
PRIEST: And can the tired turtle fly fast in the months of July on Wednesday?
BRIDE: Um.
PRIEST: Ergo I lengthen a box on tip-toe, figs and cloves of breath. Anise.
Stop. Don't play the game of the cemetery too. Block the communication circuit with barbed wire. Is he there? Will he be there? When will he be back? Clean-cut and resolute. An obol to the obelisk, a somersault in the middle of the night, piercing a syringe in the nose. Two perfumed fingers in the anus to draw syntactic, semantic and orthographic eggs. Hey, what are you doing? Pulling my leg? Then you didn't understand a damn thing. Stop or I'll eat you.
Interesting that these lobby cards illustrate so many scenes that never made it to the final film. I wonder if that footage still exists somewhere....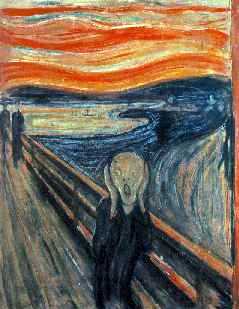 Edvard Munch,
Skriket
.
Hieronymous Bosch, Garden of Earthly Delights.
Yes, I know I's an ignoramus because I don't know who painted this. De Chirico maybe? What's the title?

Whatshisname catches someone's attention.

Escape.

Tinto Brass as the bus driver can take no more.

Remember those days?

The Keystone Kops come to the rescue.

Occupation.

Hitchhiking.

Berto is everyone.

Who is this? Bonifacio by any chance?

Hovering over...

Some of the hotel's guests.

Another motif that would pop up in later movies.

Tinto's predecessor, Tintoretto, also tried his hand at Leda and the Swan.

Taking dictation.

Tino Scotti as The Intellectual.

The hotel's confessional.

Guests in a hotel room.

And why not?

The gentle art...

The Greatest Philosopher.

Thanking Mother Nature.

Entering the home of The Greatest Philosopher...

...who prepares a meal.

Inside the philosopher's home.

How to rescue a deleted scene.


Who on earth is this actor?

Awakened from a dream.

Encountering Diogenes, the American (Edoardo Florio).

Commentary.

Geloni = chilblains = swellings caused by exposure to cold (to say nothing of the decapitated head mounted onto the cello).

Realizing that something is amiss.

The Intellectual resurrected.

Line-up for the firing squad. Goes by so quickly you can hardly make out what's happening: The musician plays a recorder and a member of the firing squad brings a chair for the little old lady.

At long last, they discover command headquarters...

Take over.

Anita ends the war.

Who wants to convince me that Richard O'Brien never saw these stills even though they were published in England in 1969?

Party time.

Mondo cattivo!

Rescue by roving minstrels.

A place of expiation...

...and a place of Redemption!




Why can't we dress like this at the office?




The Prison Warden and his lackey.

Anita liberates the prison.

(Where on earth was this filmed?)

NOTE ADDED ON FRIDAY, 24 NOVEMBER 2006:

As he so often does, Marco Fornier answered my question. This is the prison on the island of Santo Stefano, off Ventotene Island, which you can see and read about at

Ventotene & S.Stefano

and at

Wikipedia: Isola di Santo Stefano

. Remember back in school when we had to learn about Jeremy Bentham and his new Utilitarian idea for prison construction, which he called the

Panopticon

? The Panopticon simply demonstrated to me that Bentham was out of his bloody mind. Interestingly, there was also another

Panoptikon

, an invention by

Grey and Otway Latham, along with their father, Major Woodville Latham

— which, of course, leads us into the story of the Latham Loop and the Motion Picture Patent Wars which were settled in 1908. Why am I interested in this stuff? And why did Americans back then have such unusual names?

The wedding that never happened.

A deleted sequence.

"A ha!" I hear you scream at me triumphastically. "The frame captures above show that you're lying, because they prove that there

is

a better copy of the movie than what we get from Cult Epics!!! So what do you have to say to

that

,

Mister Know-It-All?"

This is what I have to say. The above frame captures are from an Italian cablecast, which was letterboxed 4×3 and with a rather soft focus and pixelation. The broadcast was from some sort of professional videotape, not from a film element. The videotape ultimately derived from a film element that cannot now be located, and which was censored, at times quite severely. Nonetheless, I would like to find that film element. If you know where it is,

please write to me

. Actually, I would like to find the camera neg and the master audiotapes. If you have any idea at all where they might be hiding, give me a holler. Trims would be interesting too, because so much was shot never made it into the final movie.
These Italian videos without subtitles are long out of print. Try your luck. They are PAL VHS, which will not play on US equipment.
Variety, Wednesday, 25 September 1968, p. 32:


Tinto Brass will soon direct "L'Urlo" (The Shriek) with Tina Aumont for Dino De Laurentiis.
Variety, Wednesday, 1 July 1970, p. 13:


One is bound to have mixed feelings about such a mixed grab-bag of a film as this latest by the unevenly talented Tinto Brass, a young Italian who's successfully rummaged through film libraries but lately come up with a style of his own. This irreverent nose-thumbing blast at modern manners and mores still has a familiar ring about it at times (Godard, Fellini, Pasolini and, inevitably, Buñuel) but a lot of it is fun once the spirit is assimilated and the intent becomes clearer. It could catch on here and there as a cult and college circuit item.


But the outlook is limited at best, despite such fillips as nudity, cannibalism, gang rape, anti-clericalism, masturbation, necrophilia — you name it: it's all derisorily there to be mocked by the writer-director. Story-wise, it's a jumble and hard to follow at first as Brass takes aud on a sort of odyssey through a present-day Dante's inferno by following a young girl (Tina Aumont) who runs off with a stranger (Luigi Proietti) on the eve of her wedding to a middle-class square (Nino Segurini). The anti-establishment messages are all there, graphically or symbolically, on their joint journey. Some are amusing, others over-stated. Pic is ultimately pretentious, but more winningly so than some of Godard's increasingly boring recent pamphlets.


Cast uniformly carries out director's intentions and Tina Aumont's disturbingly sultry beauty is an asset. Fiorenzo Carpi's music and songs fit well, and Silvano Ippoliti's camerawork (much of it on locations in England) is outstanding. — Hawk.
Variety, Wednesday, 8 July 1970, p 32:


Credits on the Italian entry at Berlin, "L'Urlo" (The Cry) should have read "Release not set," rather than "DeLaurentiis release."
Lion Film presenta un film di Tinto Brass
L'urlo
Distributed by Titanus International
World premiere on Saturday, 27 June 1970 — Released in 1974
Running time: 93 minutes (at 24fps)
Direttore della fotografia
(director of photography)
Silvano Ippoliti
Musiche di (music by)
Fiorenzo Carpi
Dirette da (directed by)
Bruno Nicolai
Organizzatore generale (general manager)
Marcello Bollero
Direttore di produzione (production manager)
Giuseppe Scavuzzo c.s.c.
Aiuto registi (assistant directors)
Franco Longo, Giorgio Patrono, Nico d'Alessandria c.s.c., Alan Sekers
Aiuto operatori (assistant camera operators)
Enrico Sasso, Renato Doria
Ispettore di produzione (unit manager)
Pierluigi Ciriaci
Segretario di produzione (production secretary)
Toni Melaranci
Segretaria di edizione (continuity)
Carla Cipriani
Costumi (costumes)
Maricia D'Alfonso
Arredamento (set décor)
Enzo Varano
Trucco (make-up)
Sandro Melaranci
Fotografo (still photographer)
Enzo Falessi
Fonico (sound)
Pietro Spadoni
Capo elettricista (gaffer)
Sergio Spila
Aiuto elettricista (best boy)
Valerio Garzia
Gruppista (generator operator)
Francesco Pandolfi
Capo macchinista (key grip)
Francesco Solitario
Aiuto macchinista (grip)
Paolo Anzellotti
Attrezzista (prop master)
Piero Paparozzi
Aiuto montatrice (assistant editor)
Fulvia Armanni
Effetti sonori speciali (special sound effects)
Luciano Anzellotti
Missaggio (mixer)
Fausto Ancillai
Sonorizzazione (recording studio)
Nis Film
Soggetto (original story)
Tinto Brass
Sceneggiatura (screenplay)
Tinto Brass, Franco Longo
Dialoghi (dialogue)
Giancarlo Fusco, Luigi Proietti
Liriche cinesi da (Chinese poems by)
Poesia cinese moderna a cura di Renata Pisu (Editori Riuniti)
Colore della (color by)
Tecnostampa
Prodotto da (produced by)
Dino De Laurentiis [uncredited]
Regia e montaggio
(direction and editing)
Tinto Brass