---
THE WORKS OF TINTO BRASS

Avant-Garde, Underground, and Guerrilla Filmmaking—Continued
---
Dropout
(1970)
| | | |
| --- | --- | --- |
| Italian poster designed by Ciriello | Lee, you wrote to me to tell me your experiences on the crew of Dropout, but Yahoo deleted all our email correspondence as well as the most recent version of my web site, and I no longer have your quotes or your contact info!!!! If you see this, please write back to me. Thank you so much!!!!! And anyone else who may have copied or printed out or saved my site, please write to me right away. Many, many thanks!!!!! (This is what little I remember from Lee's message. She was an assistant costumist for two weeks. She recalled that Franco Nero and Vanessa Redgrave had had a spat and as soon as any take finished, they would quickly walk away from each other. Frank Windsor wore elevator shoes. As he explained to Vanessa, "I don't do this because you're so tall; I do it because I'm so bloody short!") | |
---
If you know the whereabouts of any prints of this film, in any format, in any condition, in any language, please write to me immediately. Many thanks!
---
If you're in the US, you're in luck! Bicycle out to Los Ángeles CA in December 2012 and you can see this
and other nice Tinto movies on the big screen:
---
---
AN IDEA

Can we round up some money to license the rights to this movie, transfer it to video, and finally get it released? I just saw a horrible and censored copy of the Italian dub, with so many video problems that much of the image was meaningless. Nonetheless, I saw enough to recognize that this is truly a jewel of a movie. I had seen so many stills and read so many plot summaries, but none of that prepared me at all for the experience of actually seeing the movie, which was a 100-minute-long series of the most unexpected surprises. I figure that if about a hundred of us can each pitch in about €250 we can get this thing properly released. Will we make any money? Would we even earn our investment back? Of course not! Don't even go there. We'll do this only because this movie means €250 to us. I'm not joking. I'm really serious about this. If the prospect interests you, please write to me. Many thanks!!!
---
According to the interview that Tinto Brass gave to Mario Gagliardotto (Obiettivo Brass), the banning of L'urlo aroused considerable curiosity, and so Jane Fonda and some others asked if they could get a private screening. Brass obliged, and the Italian-language film, without subtitles, shown to a mostly non-Italian-speaking audience, elicited awe and laughter. Among those in the audience were Vanessa Redgrave and her then-boyfriend Franco Nero, who, when the lights went up, approached Brass and asked if he could write a script for them. This is what he concocted, in collaboration with Franco Longo. Carlo Ponti agreed to produce, but when he backed out, Brass said to Redgrave and Nero, "Let's do it anyway!" The three of them pooled what little money they could scrape together, presold distribution rights, and with the resulting funds, made this 16mm extravaganza in England, and partly in English. Brass later stated that Vanessa Redgrave was the finest and most brilliant performer he had ever worked with.
Before going on to learn about Dropout, let's first refresh our memories about another movie. I assume that if you're reading through this site, you've probably seen the movie version of A Clockwork Orange. Several images from that movie leave a lasting impression, including three pieces of art, which it turns out were not created for the production at all. They were pre-existing, and the movie company rented them for use on set. Here are the three pieces I refer to:
Remember those? Thanks to my friend Marco Fornier, I learned who did the sculptures: Herman Makkink. It took me forever to figure out who did the painting, but a query from a reader compelled me to check for the umpteenth time on Google, and there was the answer — on the same web site no less: Herman's brother Cornelis Makkink, who had a total of nine of his paintings in the movie. In case you don't know, A Clockwork Orange was filmed in 1971, a year or so after Dropout, and opened during the Christmas season, December 1971. According to the IMDb, Kubrick and his wife visited the Makkink studios at S.P.A.C.E. in 1969, and thus their discovery of this artwork perhaps preceded Tinto's discovery. (Perhaps. I think some of the plastic sculptures in Nerosubianco, filmed in 1967, were Cornelis's creations.) I had previously wondered if Kubrick, who served as his own projectionist in the screening room built into his house so that he could check out what every other filmmaker was doing, may have borrowed the idea to use these artworks for A Clockwork Orange only after having seen Dropout. Alas, the best explanation is probably that Stanley and Tinto separately discovered the Makkinks' work at about the same time, and each licensed the rights to use the same pieces. Life is nothing but coincidences. Remember also that back in 1968 Paramount Pictures, which then held the film-rights option on Burgess's novel, had hired Tinto to direct the picture, which was to have starred Mick Jagger as Alex and the Rolling Stones as the Droogs. Tinto's schedule couldn't mesh with Paramount's strict deadlines and so he lost the job. Life is nothing but coincidences.
And below, look carefully, not only at the sculpture on the right, but at the painting on the wall behind it

The painting on the left is "Odalisque as Big as a Truck" (1970) by Cornelis Makkink. The smaller painting, on the right, is our old friend from A Clockwork Orange, as is the sculpture in front of it. I assume that the images of hearts and cards are also the works of Cornelis, especially since you can see the letters "CORNELIS M" at the top. Hmmmmmmm.... Might this have been shot right inside the S.P.A.C.E. studios that Cornelis and Herman were renting in London at the time?
Dropout is one of the rarest and hardest-to-find movies on the planet. But from these stills we can gain a sense of things. It's interesting to study the compositions and framings, and this helps us understand why Stanley Kubrick is so widely regarded as a genius while Tinto Brass is widely regarded as a hack. My own assessments are not so extreme, but they certainly reverse the order. Kubrick, in collaboration with his cinematographer John Alcott, was after iconic visuals, and achieved those iconic visuals by licensing or commissioning other people's works of art, filling the screen with them, and holding on them for lengthy amounts of time. He also had a photographer's eye (as he should have, since he had begun his first photo business when he was still a school child), and shot moving images as though they were still photographs, perfectly lit, perfectly composed, perfectly framed. All else, including narrative, was secondary to the photographic perfection. Tinto, on the other hand, is an impressionist who's more concerned with emotions, confusion, disorientation, ambiguity, and a desire to inspire among his audiences empathy with his characters. A study of his earlier films, 1963 through 1979, reveals a fascination with messes, untidyness, lower-class squalor, dilapidated edifices, bleak landscapes, and the hopeless desperation to escape from all the madness. Yet his freest characters — Bonifacio and Kim in In capo al mondo, Vittoria in Il disco volante, the Yankee in Yankee, Bernard in Heart in His Mouth, Barbara and the American in Nerosubianco, Coso in L'urlo, Immacolata in La vacanza, Hans Reiter in Salon Kitty, Drusilla in Caligula, Ophelia in Action — will never escape. They are trapped. But it is only in being trapped that they can gain any sort of sane perspective on the society around them — or, if not a sane perspective, at least a poetic sensibility. Such content forbids iconic images, and you can search Tinto's entire canon in vain for the one singular image that sums up his body of work. You will find unforgettable characters, unforgettable situations, unforgettable gags, unforgettable insights, but no unforgettable images that could become popular poster items. Tinto litters his set with unusual objets d'art and objets trouvés to create a general sense of disorder. Stanley Kubrick, on the other hand, lights them brightly and displays them as though he were shooting a documentary on the artists. Critics and intellectuals (I am neither, I hope) tend to prefer order, or the appearance thereof, over randomness, and that's why slick images trump any other quality in a movie, as far as many people are concerned. We should also remember that Tinto's mentor was Roberto Rossellini, who in his own movies despised anything that looked well-made. He wanted his stories to be well-staged, but he never wanted them to look like professional studio products, and sometimes he went out of his way to make them look cheap and inept. That, surely, is why his movies were so hard to find, until just the past four or five years when he was finally rediscovered by a small coterie of admirers and his movies started being released on DVD. It is impossible — absolutely impossible — to have a good understanding of Tinto's movies until you've delved into the baffling, vague, occasionally painfully bad, occasionally debilitatingly boring, but ultimately brilliant works of Roberto Rossellini.
Dropout began shooting on Monday, 1 June 1970. According to the woefully unreliable Cinema X (vol. 3, no. 3 [1970?]) as well as a few other tenth-hand sources, Dropout has Mary (Vanessa Redgrave), a disillusioned English banker's wife, kidnapped by Bruno (Franco Nero), an Italian escapee from the lunatic asylum at Broadmoor. She is so fascinated by him that she chooses not to run away, but instead to travel with him throughout the land in search of the only witness who can prove his sanity. In the course of their peregrinations, they meet a rogue's gallery of outsiders — the unemployed, druggies, drag queens, alcoholics, anarchists, and so forth. Though they never locate their witness, they discover the wonders of life through society's dropouts. The amazing Gigi Proietti also appears in this film.
When I finally saw what little I could make out of this movie, I realized that the plot summary was overly simplistic. Tinto is a bit like me, in a sense. I was raised in a roach-infested apartment complex that was one small step better than a slum. But because everything fascinates me except for sports and pop culture, most people who meet me think I'm an upper-class intellectual. Little do they know.... After decades of living paycheck to paycheck and going mad from ever-mounting debt, and ceaselessly getting into terrifying trouble with the authorities, I suddenly found myself working in a solidly middle-class job. I live surrounded by horrendous poverty with countless people living on the sidewalks and drinking out of sewers and scrounging garbage cans, but I frequently get invited to upper-class get-togethers with some rather famous people. All that leads me to have perspectives different from the typical ones. Tinto seems to have the same perspectives on society. In this story he yanks an upper-class housewife out of her circle and plops her down into flop houses surrounded by meths drinkers and pimps and all the starving disenfranchised who camp out in garbage dumps, where she finds herself chased by the police. Those are the sorts of stories that form themsleves in my head nearly every day as I wander among the different strata in my existence. So I understand what he's doing. It amazes me, though, how energetically he tells this story. For the first hour or so there's hardly a moment for the audience to catch its breath. Wonderful. Absolutely wonderful. WE HAVE GOT TO RELEASE THIS MOVIE!!!!!!!!!
At long last, thanks to the Herculean efforts of Alexander Tuschinski who restored/reconstructed some films shown at the HRIFF retrospective in Los Ángeles, I was finally able to see Dropout all the way through, in the Italian dub, with English subtitles. The screener was derived from the only available copy, which was taken from a poorly made, blurry, murky 16mm print that had been battered almost to death through the years. Had there been access to the original camera neg and the original master tracks it would have looked dazzling. Unfortunately such sources are still locked away. It was nonetheless a little gem of a movie. Some people in the audience loved it and found it captivating. Some people in the audience (my friends!) loathed it and found it agonizing. There was no half-way-in-between opinion. I was surprised that nobody laughed at the song called "The Sun Is Shining," which I had thought was hilarious. Unlike any previous Tinto movie, there was no fast or challenging editing. The content determined the style, and the style consisted mostly of long takes. Very long takes. And that made the movie strikingly theatrical rather than cinematic. Visually it was done in a naturalistic, documentary form, but the story was frequently absurdist. I think my favorite sequence, which got no laughs, was when Gigi the Pimp led his wordless bodyguard, Mary, and Bruno over to see the "Prime Minister." They walk into a decrepit concrete tunnel underneath a bridge, and then, breaking any illusion of reality, instantly dash, one by one, behind a pillar. They leap out dancing in time to the overture to Bizet's Carmen. Two older gentleman, who I assume just happened to be walking by during the filming, join in the merriment. Gigi the Pimp's limp magically disappears ("The Miracle of San Gennaro!") as they all dance vigorously. Then after a few minutes Gigi the Pimp suddenly shouts out, "Have we all gone mad?" The music stops. The dancing ceases. Gigi resumes his limp.
Dropout was filmed partly in English and partly in Italian, and it was filmed in direct sound. There was apparently an English-language release presumably with most of the Italian sequences dubbed into English, and, of course, there's the Italian release with most of the English sequences dubbed into Italian. In the Italian dub we can frequently hear the original direct track, but just as an English speaker is about to be dubbed we can hear the soundtrack cross-fade to the Italian post-sync track. I presume the reverse held true for the English version. Dropout was shown here and there and screened at least once (in January 1975) in the US. The US distributor was an obscure and short-lived outfit called Scotia American, about which I know effectively nothing. The screening was probably just a one-day or one-week market test in a try-out town, and I have never been able to locate it. A Portuguese or Brazilian version was known as Os Desajustados do Amor, and a Spanish version was known as Al margen de la sociedad in Spain and as Tu, antes que nadie in México. There is also a highly doubtful rumor of a print retitled John and Mary.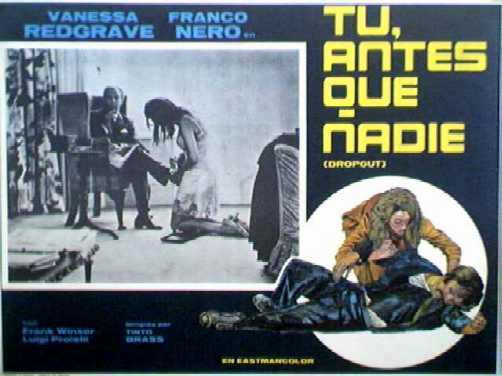 ROBERTO LERICI, the noted playwright, lent his hand to the script. He and Brass would continue to collaborate on five more films, and Brass also thrice directed one of Lerici's stage plays. Sadly, he died in 1992, in his early sixties.
Mary meets Bruno, and thus begins a deep friendship
Mary and Bruno visit Niagara Falls.
They also visit Buffalo
The police offer some help
Listening to Gigi the Pimp's monologue underneath the train tracks. (In the final film, we see only Bruno's face, not Mary's.)
A gourmet meal.
Gigi Proietti and his cane
Gigi Proietti as the City Slicker, who marries farm girl Tillie for her inheritance which he plans to steal for his true love, Mabel Normand, in this recently restored 1914 six-reel comedy from Mack Sennett's Keystone studio, with undetermined scenes directed by an uncredited Roscoe Arbuckle.
Uncle Malcolm rides again!
I keep seeing this still credited to Dropout, but I think it's just a snapshot taken during a visit with Stephen Frears, the guy sitting with Vanessa on the couch. This has nothing to do with the movie as far as I can tell.
Io sono Jennifer Johnson
The only proper stage for Bizet's Carmen. (This seems to be a different location from the one used in the final film.)
The three co-producers
Variety, Wednesday, 17 June 1970, p 26:
Tinto Brass, whose "The Shriek" also reps Italy at Berlin, is now filming "Drop Out" on location in London with Vanessa Redgrave and Franco Nero.
Variety, Wednesday, 15 July 1970, p 27:
DROPOUT (Started June 1 in London)....
Variety, Wednesday, 23 September 1970, p 26:
On a more ambitious plane, Colt partnered with film author Tinto Brass and his Lion Productions to film "Dropout" with Vanessa Redgrave and Franco Nero entirely in England for Medusa release in Italy and for Titanus International for foreign sales.
Variety, Wednesday, 23 September 1970, p 31:
TINTO BRASS—Withdrew his last film "The Shriek" at Cannes and entered it at the Berlin Film Festival instead. While Berlin reached its chaotic finale, Brass was in England filming "Dropout," the story of an Italian immigrant in London who escapes from a lunatic asylum and runs off with a married woman.
Sally K Brass [no relation], "Director's Quest for Reality," The Los Angeles Times, 2 September 1970, p H13.
...Still on the right side of 30 [sic; he was 37], Tinto has made his name in Europe and is fast attaining the reputation as the Antonioni of the 70s....
Tinto laughed when I asked what [the budget] was.
"I won't tell you," he hedged affably. "If you know what we spend you won't write the film up!"
Vanessa Redgrave, who has turned down more parts than there are script writers on the dole, looked amazed when asked why she agreed to participate in the film (both she and Franco Nero are acting for nothing but a stake in the production).
"I saw his last film," she said simply. "He is a fantastic director. It's the first film I've been around which is on every level that I am concerned about and that we are all concerned about. It's Tinto's own story and the writer's, Roberto Lerici's." (Italian scenarist Franco Longo has also collaborated on the script.)...
"In Italian movies it's very good, you don't work along the Anglo-Saxon principle that it is film acting. It's filming. We are part of what goes together just as paints and brushes are part of an artist's canvas. And there is an element in it — we are that element and you put yourself into it as an element in the director's hands.
"With this kind of filmmaking you can see that the actors revolve around the camera. It's the first time I have worked with these principles. When it works, it works very fast...." (Their shooting schedule is six weeks.)
"We have used a lot of real people there," said Tinto.
"The other night I saw some rushes from a scene we did in a hideaway under Tower Bridge. It was with a lot of drunks. They were meths drinkers — we gave them not real meths, just some alcohol colored like meths. It is incredible how they played this scene. More true than if I took an actor.
"The truth is that they didn't play it at all. They helped and gave suggestions. I knew the area where they hang out, also I went into two or three doss houses and mercy houses, but once you have found one you have found the lot because the rumor goes around."
For one of the few attractive settings in the movie, Tinto had moved his all-Italian crew into a private, elegant house in the outlying suburb of Putney. This was one incident where Italian nerve and sheer chutzpah had to be seen to be believed.
Even Antonioni and Fellini take over disused houses and refurnish them, or rent a house standing vacant when they want an authentic interior. But the money wouldn't stretch that far.
Tinto asked around his pals. One of his crew had a friend living in Putney. They knocked on the door, asked if they could work there, and promptly moved their equipment up the rose-covered drive and into the luxurious sitting room.
"We always do this in Italy," said Tinto. "It's how films are made. We are not a rich country."
from Chris Davies
date Wed, May 21, 2008 at 4:16 AM
Did you find a copy of Dropout? I believe I'm in it if they kept the scenes in the old warehouse with the hippies & skinheads.
Thanks,
Chris Davies
---
to Chris Davies
date Wed, May 21, 2008 at 7:03 AM
Hi Chris,
Great to hear from you! No, Dropout is one of the few Tinto movies I have never been able to see. Franco Nero misplaced his copy. Vanessa Redgrave is impossible to contact. I imagine, though, that if I can get to Rome again, I could convince Tinto to run it for me.
What was your rôle precisely? Tell me everything you can remember! By any chance might you remember a part-time costumer by the name of Lee?
Please keep in touch.
Ciao!
---
from Chris Davies
date Wed, May 21, 2008 at 9:36 PM
Hi RJ,
I was only a 5-pound-(10-dollar)-a-day extra but I should be visible. I was a hippy playing the guitar and then I was arrested by the police. Lee rings a bell but it's going back a loooong time. Both Franco and Vanessa were in the scene. We were sitting around playing guitars and pretending to be stoned. Some were of course and one guy, an American who called himself Martin R. Gas, was really whacked. When the skinheads ran in and pretended to beat us up and Vanessa or Franco got hit with a fake bottle, Martin went nuts and ran around the warehouse screaming, "Peace! Love!" and waving his arms (as you would) and we all thought "What the f**k?" and didn't know whether to laugh or whether we were really being attacked! Then the Italian crew ran in dressed as English cops and started arresting everyone and chaos reigned supreme. The whole scene could have been great or a complete dud because it could have looked very real or really hammy. If they kept it in, I think I'd have been in it because the cameraman gave me a thumbs up for my tussle with the cop. Who knows? Maybe he was just being nice. Anyway, it was a fun couple of days,
Chris
PS : I do know that a print was doing the rounds of the English Universities in the late seventies.
---
to Chris Davies
date Thu, May 22, 2008 at 12:05 AM
Hi Chris,
My this is exciting! Five pounds a day? That was a third of the budget of the entire movie! This all sounds fascinating. There was a print floating around in the late 1970s? Oh how I wish I could have seen that. Alas....
Would you mind if I include the bulk of our exchange on my web site?
Let's see: Oscar Cosulich, who knows Tinto and is a fan of his movies, was stunned when I told him that I had never seen Dropout. "But you must!" he exclaimed. "It's the BEST!" Franco Nero called Tinto a genius and told me that Dropout was better than La vacanza — and I think La vacanza is one of the five or ten greatest movies I've ever seen. Radley Metzger saw Dropout probably about the time it was released in Europe, I guess, and he found it fascinating, but he told me that it was "very much of its time," so psychedelic that "I don't think it could play today."... For 29 years now, I've been searching for this movie. It's one of those rare elusive treasures that eludes my grasp every time. It's nearly as frustrating to me as the alternative versions of the Marx Brothers' Paramount films, which I saw decades ago, and which were noticeably different from anything available now; and it's nearly as frustrating to me as Harry Langdon's Heart Trouble, which seems to have vanished, and which I would give my right arm to see.
Ciao!
---
from Chris Davies
date Fri, May 23, 2008 at 8:41 PM
Hi RJ,
Feel fee to use the conversation. I find it frustrating too since it might be my 5 minutes of fame, ha ha.... Nice to talk to you,
Chris
PS: I reckon there were about 30 extras and we were all "real" hippies and skinheads. Also if you see it, watch out for a blonde whose clothes suddenly change. We were there 2 days and she forgot to wear the same clothes on the second day!
ANICA — Associazione Nazionale Industrie Cinematografiche Audiovisive e Multimediali
Dropout
Distributed by Medusa (Italy), Titanus International (International),
and Scotia American (USA)
Released in France on 18 December 1970
Released in Italy on 22 February 1971 (censor visa 57592 granted on 30 January 1971)
Screened in the USA in January 1975
Running time: 1:48 (at 24fps)
16mm blown up to 35mm (1:1.375 Academy aperture which must never be cropped under any circumstances but which I'm certain was always cropped under all circumstances)
Regia (direction)
Tinto Brass
Sceneggiatura (screenplay)
Tinto Brass and Franco Longo
Dialoghi (dialogue)
Roberto Lerici
Prodotto da (produced by)
Tinto Brass for Colt Produzioni Cinematografica, Lion International Film, and Medusa Produzione
Direttore della fotografia
(director of photography)
Silvano Ippoliti
Musica (music)
Don Fraser
Canzoni (songs)
NON PIANGERE
sung by Luigi Proietti
THE SUN IS SHINING
sung by Middle of the Road
Musica di repertorio (music excerpts)
Il barbiere de Siviglia,
Il trovatore,
Rigoletto,
La traviata,
Carmen
Aiuto registi (assistant directors)
Franco Conge, Giorgio Patrono, Peter Elford
Aiuti montatrice (assistant editors)
Elsa Armanni, Fulvia Armanni
Costumi (costumes)
Maricia D'Alfonso
| | |
| --- | --- |
| PERSONAGGI E INTERPRETI | |
| Bruno Caruso | Franco Nero |
| Mary Hopkins | Vanessa Redgrave |
| Gigi the Pimp | Luigi Proietti |
| Robert Hopkins | Frank Windsor |
| ??? | Carlo Quartucci |
| ??? | Gabriella Ceramelli |
| ??? | Patsy Smart Darcus |
| ??? | Giuseppe Scavuzzo |
| ??? | Mariella Zanetti |
| ??? | Zoe Incrocci |
| ??? | Sam Dorras |
| ??? | Libba |
| The "Prime Minister" | Tinto Brass |
---
Original research and commentary copyright © 2009 by Ranjit Sandhu. All rights reserved.
---