THE WORKS OF TINTO BRASS
---
La vacanza
(Vacation, 1971)
This was scheduled to come out on DVD in the summer of 2009, but I think the release was abandoned, though the

Libreria Universitaria

claims that it's in stock. It is?
EARTHY!
Brass, Redgrave, and Nero had so much fun making
Dropout
that they decided to follow it up with an Italian companion piece. Again, the three of them paid for the 16mm production out of their own pockets. Despite having nearly provoked a riot at the Venice Film Festival, it won the
PRIZE FOR BEST ITALIAN FILM
. This no-budget work plays, looks, sounds, and feels like a folk tale. It's a must-see, and it's one of my five or six favorite movies ever.
Fiorenzo Carpi
's music, based on Venetian folk songs, is among the loveliest ever to appear in a movie. The lyrics, appropriately, were written by inmates of mental institutions.
This is one of Vanessa Redgrave's greatest rôles — completely unglamourous. She plays peasant girl Immacolata, who leads not the best of lives. Her seduction of Count Claudio backfires when the count, having turned his attentions back to his wife, has Immacolata committed to an asylum for the criminally insane. Immediately upon her one-month experimental leave (vacation) from the institution, her family reject her and give her to a creditor as a mare. Her subsequent adventures of escaping into the woods, hitching up with a poacher, and squatting with her newfound friends — four Gypsies and a traveling underwear salesman named Gigi the Englishman — end tragically with kidnappings, murders, and more imprisonments. Corin Redgrave (Vanessa's brother) as Gigi the Englishman gives one of the most appealing performances in movie history. And you haven't lived until you've seen
Osiride Pevarello
wearing a dress and interrogating a donkey.
Immacolata seduces the count and teachs him to boogie.

A psychiatrist treats his patients.

Immacolata and Osiride fall in love and get caught poaching.

Immacolata meets Gigi the Englishman.

Gigi the Englishman.

Mock execution

Horsing around on the set.

Coffee break.

Everything about this movie amazed me, but what especially amazed me was the economy of its storytelling. Complex ideas are presented in a matter of moments, and presented more directly and more visually than I have seen done in even the best silent movies. Often this is accomplished by absurd exaggeration. For instance, to illustrate that Immacolata (played by the 5'9" Vanessa Redgrave) is a misfit among her family, most of her relatives are played by midgets. If I had made the film, swiftly explaining that Immacolata's family are in debt to their neighbor the miller would have presented me with a challenge. Watch how Brass explains it, primarily visually, in about five seconds. In one instance Brass apparently had to go to some length to explain how Immacolata and Alpì went from being prisoners of the Count's Nazi son to being enslaved in a sewing factory. To speed the film along, Brass simply deleted the explanation, replacing it with a jump cut. And that's only the tip of the iceberg. As far as I know, there's never been another movie even remotely like this one.


La vacanza, with its wonderful eccentricities, beautiful look and feel, lovable characters, and hypnotic narrative, should have been a midnight favorite. But its minuscule release went unnoticed.


MUSING: There's a character named Iside (Isis) and another named Osiride (Osiris)? And yet another named Ra?


A POSSIBLY DEAD-WRONG MUSING:
Now, why did
La vacanza
nearly provoke a riot? After reading the
New York Times
's account of the world première, I braced myself for the most obnoxious movie imaginable. But when I finally got a copy and plopped it into my machine, I saw a very quiet, imaginative, and beautiful film. What was the problem? Well, about a year later I think I figured it out. Social commitments forced me to sit through one of my least-favorite movies ever,
The Man Who Shot Liberty Valance
(1962). I had watched it once before, ages ago, and thought it one of the three worst movies I had ever seen — horribly written, with undeliverable dialogue, and the most excruciatingly silly acting possible. Watching it was a painful experience for me, as well as an embarrassing one. No second-grade class putting on a school play could do as badly. So this time around I insisted on watching it from the booth. That gave me the luxury of being able to shut off the monitor (and invent my own dialogue!). It also kept me away from the crowd, who I felt might well become violent. I was fully expecting the audience, especially the several dozen university students who were required to view it for a class, to lynch the film programmers. When the movie was over I walked into the auditorium, and was completely taken aback to discover that everyone loved it. There was much talk about how delicate, subtle, and intelligent it was. Finally, a college professor friend, who was leading the after-film discussion, made a remarkably cogent and telling observation. He said that we enjoy movies because of the comfort they give us by providing familiar conventions. A ha! That's it! Apparently many people
do
take comfort in familiar conventions. I am not one of those people. Familiar conventions depress, irritate, and offend me.
The Man Who Shot Liberty Valance
is a two-hour catalogue of the corniest and most clichéd of all movie conventions.
La vacanza
, on the other hand, contains no conventions at all — apart from its utilization picture and sound recorded onto emulsion affixed to a triacetate base. Those who seek comfort in the conventional will find no comfort here. But those who enjoy being challenged with new points of view, who get off on seeing the world stood on end, and who revel in imaginations that go into overdrive, will have a rollicking good time. (If you're wondering what my other two least-favorite movies are, here goes:
Stagecoach
[1939] and
The Way He Was
[1974]. Ranking a very distant fourth for sheer unwatchability is a Carole Lombard movie from 1929 called
High Voltage
. I have been unable to watch these three films in their entirety. And mercifully,
The Way He Was
seems to have vanished off the face of the earth — not even the
Internet Movie Database
makes a mention of it. The loss of the film is no loss, believe me. Now that I think about it, I wonder if
The Way He Was
was even released. It was a supposed parody of Nixon that played at the Guild Theatre in Albuquerque for a few days in 1974, and it was a truly independent 35mm production, shot by people who somehow rustled up enough money to rent some equipment but who did not have a clue as to what they were doing. That may well have been its only public screening. Actually, I wouldn't mind locating a print just for the curiosity value. Anyway, I'm sure there are plenty of other movies as bad as these, if not worse, but I hope I never run across them.
LATE-ADDED NOTE:
Oops. Ran across them. Pretty much
everything
being made in Hollywood now is
far
worse.)
SONS OF THE SEA
Written and composed by Felix McGlennon, 1897
Have you heard the talk of foreign powers,
Building ships increasingly?
Do you know they watch this Isle of ours,
Watch their chances unceasingly?
Have you heard the millions they will spend,
Strengthening their fleets, and why?
They imagine they can break or bend
The nation that has oft made them fly
But one thing we possess, they forget, they forget
The lads in blue they've met, often met, often met.

Chorus: Sons of the sea, all British born
Sailing every ocean, laughing foes to scorn
They may build their ships, my lads
And think they know the game
But they can't build boys of the bulldog breed
Who made old England's name.

Do you know they threaten to combine
Three to one's their bravery?
Do you know they'd like to sweep the brine
Bind us lads in slavery?
Have you heard they think that plates of steel
Plates of steel and guns will do?
But we know 'twas British hearts of oak
In every battle pulled us safely through
For one thing we possess, they forget, they forget
The lads in blue they've met, often met, often met.

Chorus: If they'd know why Briton rules the waves
If they'd solve the mystery
If they'd know the deeds of Britain's braves
Let them read their history
Let them search the bottom of the seas
Where their battered hulks now lie
Let them build their puny ships of war
We build men prepared to do or die
There's one thing we possess, they forget, they forget
The lads in blue they've met, often met, often met.
TECHNICAL NOTE: The PAL VHS video is a 25fps transfer but the fields are out of phase. How that happened, I don't know. On normal TV sets (which are almost extinct now) there will be a few moments of noticeable cropping. On modern televisions, there won't be. The video was taken from a 35mm blowup rather than a 16mm original. The colors in the video are quite weak, with trees looking more blue than green. The original must have looked gorgeous, and it's a tragedy that the video edition doesn't do it justice.


ANOTHER TECHNICAL NOTE: Unlike most post-1950s films, La vacanza has little re-dubbing. In most scenes, what we hear on the soundtrack is pretty much what the crew heard on location. While that gives us rather poor audio quality, it compensates by providing us a nice cinéma vérité feel. And at long last, I figured out how something was done. The sound is in sync for only about one-third of the shots. For the longest time I couldn't understand why. Then it hit me like a ton of bricks. So obvious. Why didn't I catch this before? Tinto would reshoot each scene from several different angles, but when he cut all the various takes together, he could use the audio from only one take. So simple! And it works!


Variety, Wednesday, 27 January 1971, p. 24:


Vanessa Redgrave and Franco Nero have another project with author-director Giovanni Tinto Brass — "The Vacation" — again dealing with mental alienates per their last one together, "Drop Out."
Variety, Wednesday, 3 February 1971, p. 30:


Over on the Adriatic, Giovanni Tinto Brass gathered Vanessa Redgrave, Franco Nero and newcomer Fanny Sakantany for start on the "The Vacation."
"Italo Chums Of Moscow Fest Try To Shame Soviet To Cancel Its Films for Venice; Rondi List Due Aug. 20," Variety, Wednesday, 18 August 1971, p. 5:


...Entries include the latest Giovanni Tinto Brass film "Vacation," topbilling Vanessa Redgrave and Franco Nero. Though considered violently anti-Establishment, Brass is a Venetian and seemingly unable to resist the hometown appeal to participate....
The New York Times, 5 September 1971, sec I, p 40:


"FILM 'LA VACANZA' STIRS VENICE ROW"
Crowd Hoots Italian Entry — Director Replies in Kind
By THOMAS QUINN CURTISS
Special to The New York Times


VENICE, Italy, Sept. 4 — The 1971 Venice Festival had its stormiest session yesterday evening when a section of the audience loudly voiced its objection to a delirious Italian entry, "La Vacanza," which was itself deafeningly noisy.


"La Vacanza" stars Vanessa Redgrave and Franco Nero and has to do with a peasant girl who suffers more outrages at the hands of the Establishment than were visited on De Sade's Justine. One must have a heart of stone not to laugh at her humiliations, all of them grotesquely pictured.


Sold by her parents — as a mare — to a miller to whom they are indebted, she finds true love when she runs away and meets an understanding poacher in the woods. Her later aspirations to win the affections of Count Claudio result in her being incarcerated in a lunatic asylum and later being sent to work in a factory full of vibrating sewing machines. Events here run to a high sexual pitch.


At this point a cry of "Schifo" — "Disgusting" — was heard in the auditorium. That set off a chorus of "Basta" — "Enough" — and the rest of the film became inaudible, though it equaled its spectators in noisemaking. It concluded with most of the players being machine-gunned by the police.


Not to be outdone, the movie's director, Tinto Brass, greeted the dissatisfied house with an obscene gesture when the house lights rose.


"La Vacanza" is probably the squawkiest of all talkies. Its dialogue in Venetian and Milanese dialects is accompanied by snare drums, bugle calls, nightwatchmen's whistles, agonized shouting and gunfire....
Vincenzo M. Siniscalchi presenta
un film di Tinto Brass
La vacanza
World première at the Venice Film Festival on Saturday, 4 September 1971
Passed by the censor board on Thursday, 2 March 1972
Released Wednesday, 5 April 1972
Distributed by Italnoleggio
103 min at 24fps
99 min at 25fps
1:1.33 which must never be cropped to a widescreen ratio
Soggetto di (original story by)
Tinto Brass
Sceneggiatura di (screenplay by)
Vincenzo Maria Siniscalchi & Tinto Brass
Dialoghi di (dialogue by)
Roberto Lerici
Direttore della fotografia
(director of photography)
Silvano Ippoliti
Musiche di (music by)
Fiorenzo Carpi
Consulenza giuridica di (legal counsel)
Sergio Pastore
Sostituto procuratore della repubblica
(deputy public prosecutor)
Tullio Grimaldi
Sostituto procuratore della repubblica
(deputy public prosecutor)
Igino Cappelli, Giudice di Sorveglianza
Operatore alla macchina (camera operator)
Enrico Sasso
Aiuto operatore (assistant camera operator)
Renato Doria
Organizzatore generale (general manager)
Marcello Bollero
Direttore di produzione (production manager)
Pierluigi Ciriaci
Segretaria di edizione (continuity)
Carla Cipriani
Aiuti registi (assistant directors)
Peppe Scavuzzo, Osiride Pevarello
Vanessa Redgrave's dialogue coach
Osiride Pevarello [uncredited]
Assistente alla regia (asst. to the director)
Girmbruno Legnaioli
Scenografia (art direction)
Carla Cipriani
Costumi (costumes)
Susanna Dubiner
Fonico (sound)
Mario Messina
Trucco (make-up)
Pino Capogrosso
Fotografo (still photographer)
Angelo Samperi
Capo elettricista (gaffer)
Sergio Spila
Aiuto (best boy)
Marcello Gardarelli
Gruppista (generator operator)
Italo Trombetta
Capo macchinista (key grip)
Quirino Fantauzzi
Aiuto (grip)
Orlando Zuccari
Attrezzista (prop master)
Tonino Marra
Assistente montatore (assistant editor)
Elsa Armanni
Aiuto (second assistant editor)
Fulvio Armanni
Effetti speciali (special effects)
Luciano Anzellotti
Missaggio (mixer)
Fausto Ancillai
Sincronizzazione
Nis Film
Colore della (color by)
Technichrome
Si ringrazia (we thank)
L'istituto Simes per la concessione de locali di villa contarini e le confezioni Siv-Sar per la fabbrica di Donada
Canzoni (songs)
"SENTO LE GAMBE DEBOLI," "GENTE CHE PIANGE RIDE" cantate da Vanessa Redgrave
"LA GENTE CHE QUI SE LA FA SOTTO," "A QUALCUNO LONTANO" cantate da Gigi Proietti
Edizioni musicali (music publishers)
General Music Produzione
Produzione (production company)
Lion Film
con il contributo del
(with a contribution by)
Ministero Turismo e Spettacolo [uncredited]
Montaggio e regia
(editing and direction)
Tinto Brass
| | |
| --- | --- |
| PERSONAGGI E INTERPRETI | |
| Immacolata | Vanessa Redgrave |
| Osiride bracconiere | Franco Nero |
| Il giudice | Leopoldo Trieste |
| Gigi l'inglese | Corin Redgrave |
| Olindo mugnaio | Osiride Pevarello |
| Iside | Contessa Veronica |
| ??? | Germana Monteverdi [Mercedes] |
| Ra | Margarita Lozano |
| ??? | Bigoncia |
| ??? | Stefano Oppedisano c.s.c. |
| ??? | Attilio Corsini |
| ??? | Canesecco Doria |
| ??? | Anja Smirnoff Casaroli |
| ??? | Peppe Scavuzzo (c.s.c.) |
| ??? | Gianfranco Bullo |
| ??? | Riro Lerici |
| ??? | Angelo Samperi |
| ??? | Laura Belli |
| Alpì | Fany Sakantany |
| ??? | Orlando Zuccari |
| ??? | Quirino Fantauzzi |
---
HRIFF, through Alexander Tuschinski and under the sponsorship of Todd Leibensperger, booked this at the New Beverly in Los Ángeles, California, in December 2012 (and no, despite any rumors you've heard, no Hollywood celebrity had anything at all to do with this):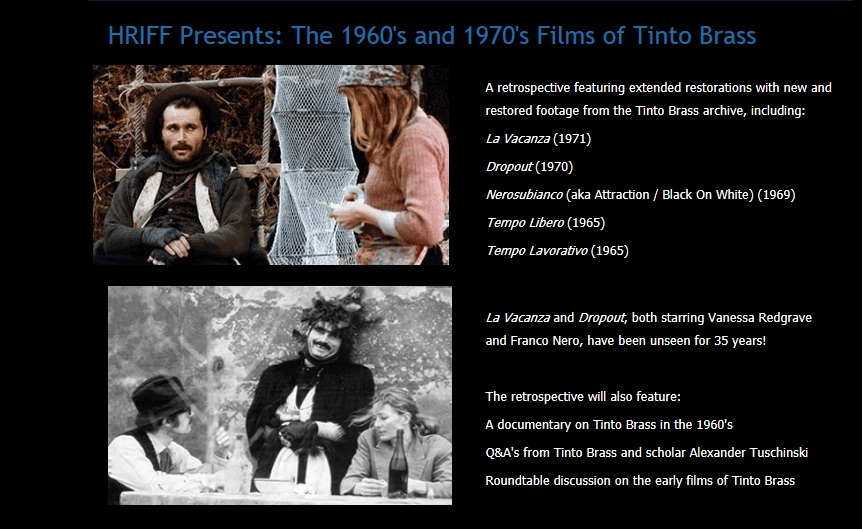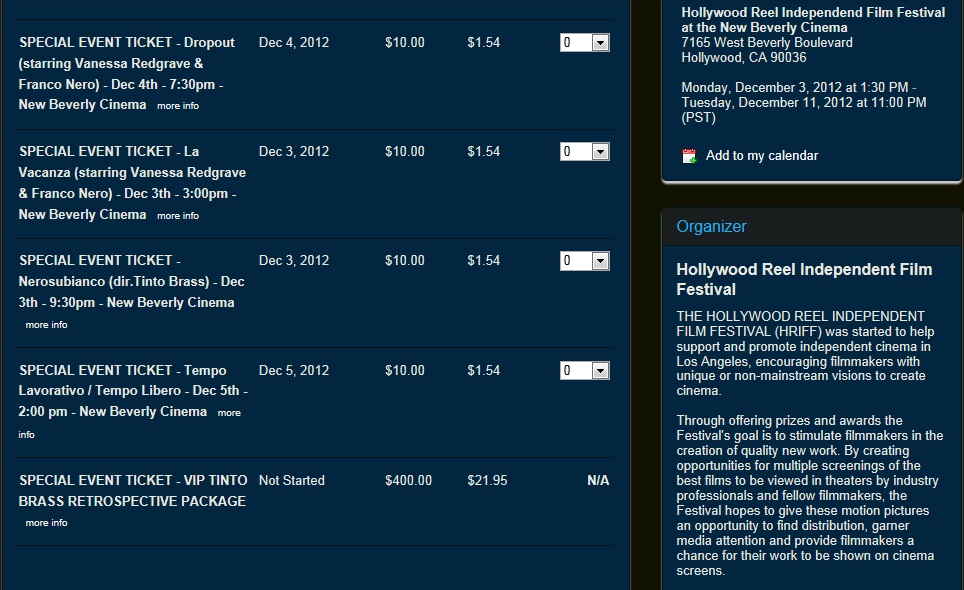 ---