L'India vista da Rossellini
(India Seen by Rossellini)
What little I know about this 16mm color documentary is that it was shot simultaneously with Rossellini's 35mm feature film, India — matri bhumi, and that Rossellini returned to the Cinémathèque Française when the authorities chased him out of India for his scandalous affair with his married scenarist, Sonali Sen Roy Dasgupta. He still needed to finish shooting the 35mm feature (in studio sets in Europe), but could only raise the funds by selling the 16mm footage to French television. So he turned the raw 16mm color Kodachrome footage over to Tinto Brass to edit. The result was a four-hour ten-part television series broadcast in black and white — in Italy! — beginning in January 1958, with Rossellini and the television host discussing the footage as it unspooled. It was later broadcast on French television from January through August 1959, with a French TV host interviewing Rossellini in French this time round, under the title J'ai fait un beau voyage (I Had a Fine Trip). This documentary has rarely been seen since that time.


We are offering a bounty for a good video of L'India vista da Rossellini and of J'ai fait un beau voyage.
If you know where we can get these,
write to us
.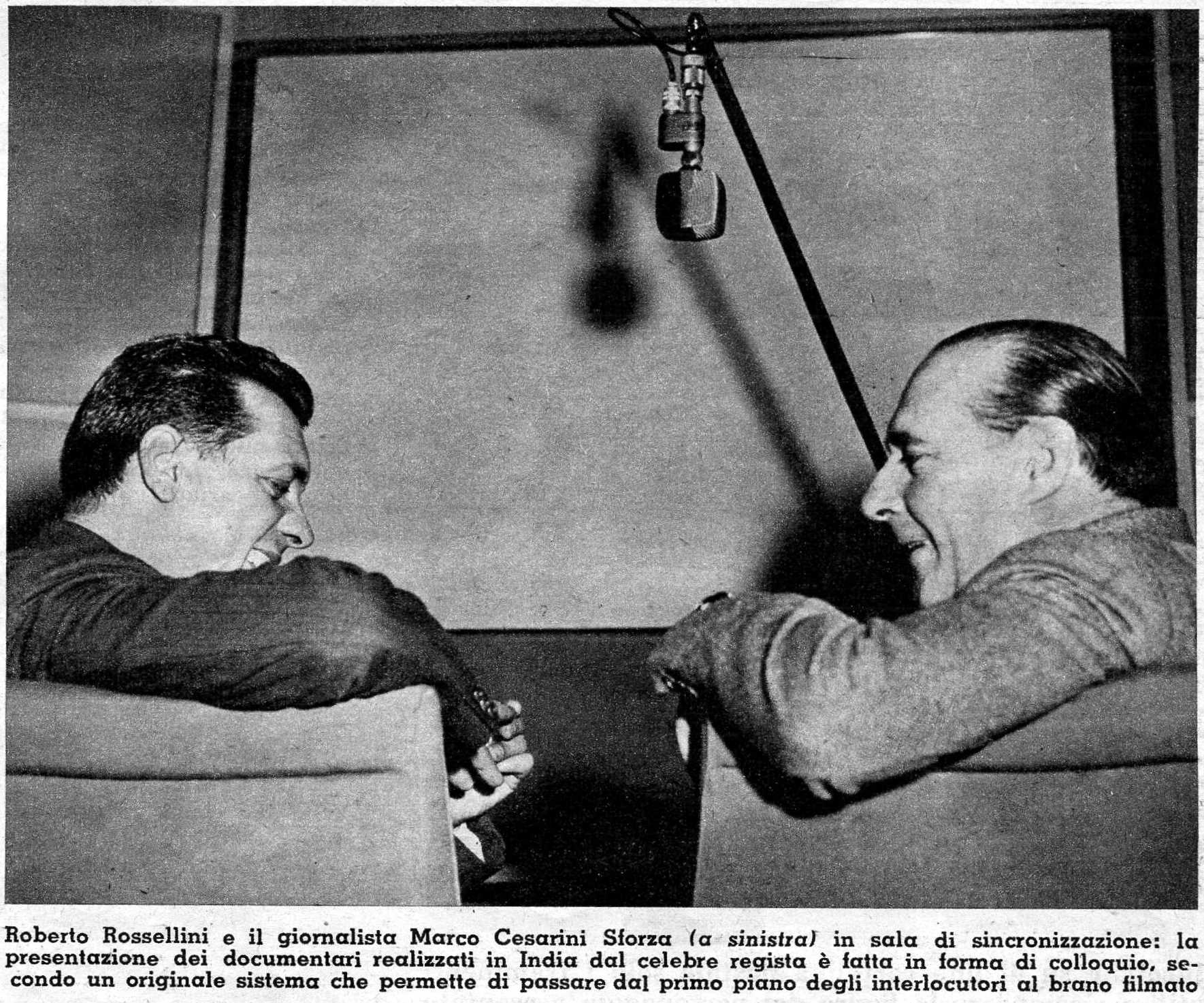 (Source: Fernaldo Di Giammateo, "Rapporto sull'India di Roberto Rossellini," Radiocorriere · TV, 4–10 January 1959, pp 16–17.)
---
India — matri bhumi
(Literal translation: India — Motherland)
(Rossellini's authorized title: India — Humus of the Land)
working title: India '57
a.k.a. India '58
a.k.a. India
a.k.a. India—senza limiti
(India without Limits, 1958)
| | |
| --- | --- |
| | |
This opens as a documentary, but soon switches to fictional stories of life in India, written by Sonali Sen Roy in collaboration with Fereydoun Hoveyda. When the authorities ran Rossellini from the country, he completed filming the few leftover shots in France and Italy. Brass's true name, Giovanni Brass, is listed in the credits as one of the assistant directors, but what his rôle was precisely, I'm not sure.
India — matri bhumi
was released in April 1960 to approximately no boxoffice. For many years the original French-language version of this film was considered lost. A single print was discovered in a private collection and donated to the Cinémathèque Française. Unfortunately, it was a poor print and had degraded significantly. The Italian-language version is likewise reprinted from poor materials and is also missing the closing shots. The original negatives seem to have vanished.
If you know where they are hiding, please write to me!! Thanks!!!!!
Roberto Rossellini is easily one of my favorite filmmakers, and arguably one of the greatest who ever lived. No, I have not yet seen all of his surviving movies, but I have seen at least half of them. India matri bhumi is by far the best of the lot, the most intellectually and emotionally stimulating, the most textured, the most daring, and yet the most humble. French filmmaker Jean-Luc Godard was impressed: "India goes against all standard cinema: the image is only the complement of the idea which provokes it. India is a film of an absolute logic, more socratic than Socrates. Each image is beautiful, not because it is beautiful in itself... but because it's the splendor of the true, and because Rossellini takes off from the truth. He has already departed from the place most others won't even reach for another twenty years."


Godard was wrong. Twenty years later most others still had not reached this place. To this day most have not reached this place. So long as hyper-consumerism and its accompanying egocentrism and "spirituality" and rabid self-absorption continue to rule, most will never reach this place.


| | |
| --- | --- |
| | |
| This young guy is washing some elephants | Un esplosione di gioia |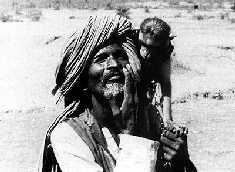 Raimù the Monkey with his human
This film was shown in the US, but only in black-and-white 16mm, and was a boxoffice dud.


Click on above images to enlarge.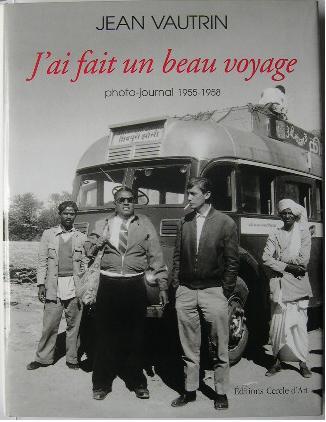 Paris: Editions Cercle d'Art, 1999
There's also a bilingual (French/English) booklet by Adriano Aprà called
Rossellini, India 1957
(Rome: Cinecittà International, 1991), which seems to have been issued also in a French-only edition called simply
Rossellini India
(Rome: Cinecittà Estero S.p.a., 1991). If you have a copy of either for sale,
please let me know
. Thanks!
VIDEO COMPARISON

Exceedingly rare French VHS issued by the Cinémathèque Française, taken from a dupe of the only known surviving print of the original version of the movie, which appears to have been matted to 1:1.66 at the lab (though the matting may have been done for the video transfer)
Japenese DVD of the Italian version, which retains the Academy 1:1.375 camera aperture
Traditional music is played over the opening credits
Though some Italian prints retain the original backgrounds and music, the print used as the source for the Japanese DVD deletes the backgrounds and has no music at all during the opening credits
For more than a quarter of a century now, I've so much wanted to see a genuine shadow-puppet play
Musical accompanists
First puppets, then musical accompanists, and now a circus — my kind of movie
Raimù's talented new partner thrills the crowd. As for Raimù himself, he was given the most difficult, nuanced, and complex rôle in the film, and he arguably gives the finest, most affecting, and best-realized performance. He and his partner demonstrate beyond the shadow of any doubt that the average monkey is more skillful, more talented, more resourceful, more clever, and more entertaining than the brightest human.
India — matri bhumi
Produced by
Aniene Film, Rome
Union Générale Cinématographique, Paris
with the aid of
Indian Films Development
Format
1:1.375:1 designed for a 1:1.66 crop, though the current English-subtitled Italian-language print has the subtitles printed so low on the frame that cropping is out of the question • monaural
Oh the wonders of YouTube. Grab these now, since they will probably vanish soon:


L'India vista da Rossellini
, Episode One, "India senza miti"
https://www.youtube.com/watch?v=csbhXIoYe_c
L'India vista da Rossellini
Episode Two, "Bombay la porta dell' India"
https://www.youtube.com/watch?v=yShf7sS67u8
L'India vista da Rossellini
Episode Four, "Varsova"
https://www.youtube.com/watch?v=5i1x4ZkvKkE
L'India vista da Rossellini
Episode Five, "Verso il sud"
https://www.youtube.com/watch?v=IoeSqVj4_C0
L'India vista da Rossellini
Episode Six, "Le lagune di Malabar"
https://www.youtube.com/watch?v=ZrAuP8jAfO0
L'India vista da Rossellini
Episode Seven, "Kerala"
https://www.youtube.com/watch?v=ggKEwcZ3Ieg
L'India vista da Rossellini
Episode Eight, "Hirakud la diga sul fiume Mahadi"
https://www.youtube.com/watch?v=vZOeQw_uN0c
L'India vista da Rossellini
Episode Nine, "Il pandit Nehru"
https://www.youtube.com/watch?v=aT1qK1cF6pk
Missing are:
Episode Three, "Architettura e costume di Bombay"
Episode Nine, "Gli animali in India"
The incomplete Italian version is available on DVD in Japan, with optional Japanese or Chinese subtitles. It's in the North American/Japanese system, NTSC, but it's coded Region 2, which will not play on most US/Canadian equipment.