THE WORKS OF TINTO BRASS
---
(a.k.a. Transgressing,
a.k.a. Cheeky, 1999–2000)
Filming again in his two favorite cities, Venice and London, Brass created this goofball comedy about a girl who, try as she might, has an impossible time of staying faithful to her boyfriend. I was on the floor laughing. I was so impressed that I invited some friends over, and they were all on the floor laughing. This film transcends silliness, and transforms bad dialogue, bad storytelling, and bad acting into a brilliant hour and a half of belly-laugh comedy.


NON-WARNING: The English dub is actually funnier than the Italian original, as the dialogue was rewritten to be even more preposterously campy.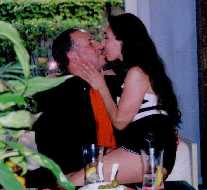 CURIOSITIES: The lead rôle, played by Yuliya Mayarchuk, is named Carla, obviously after Brass's wife, who co-authored the screenplay. The working title was simply T, which was to stand for both Tradire (To Cheat) and Trasgredire (To Disobey). The double-entendre release title is better.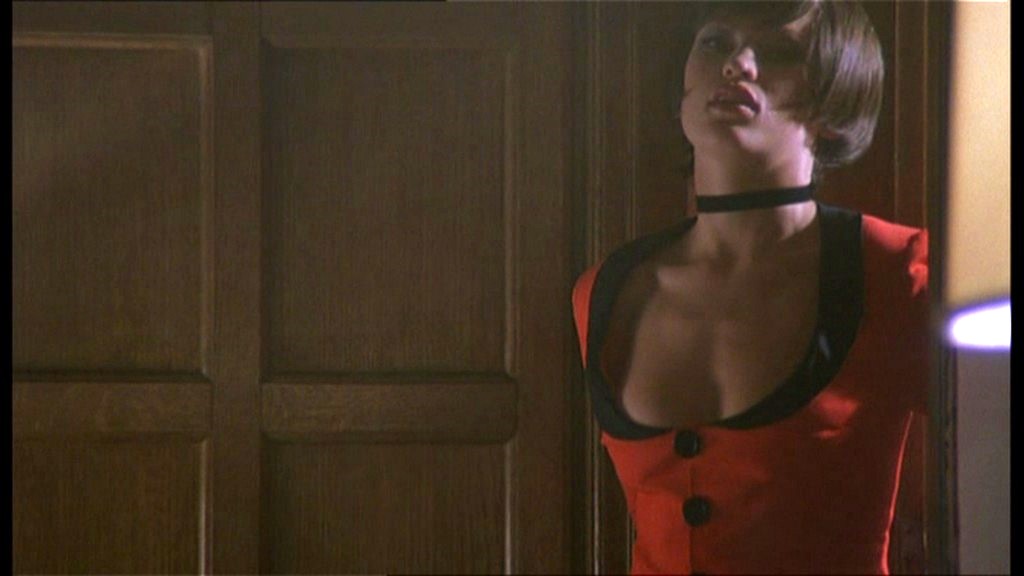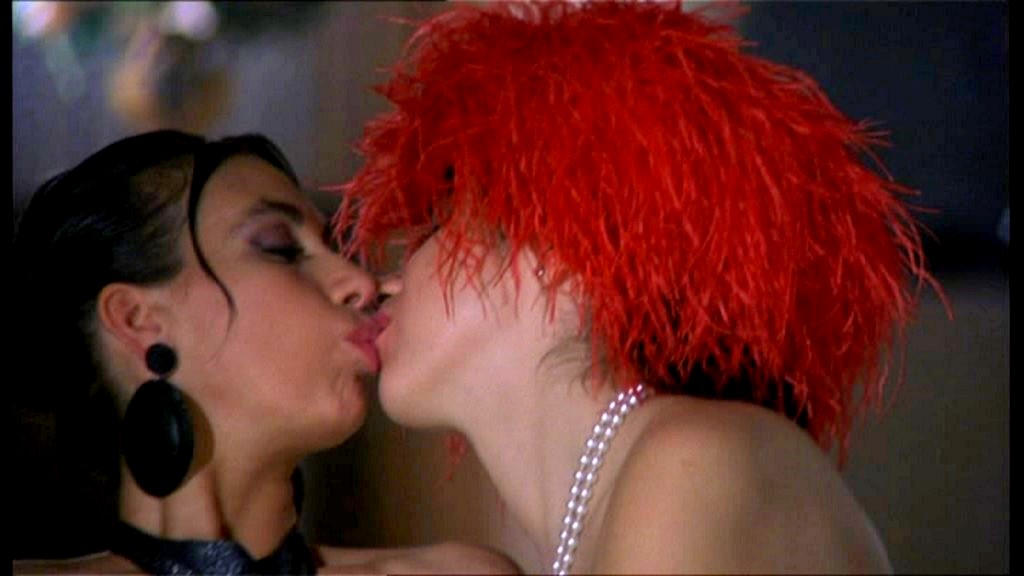 ANOTHER CURIOSITY: Hanging on the walls of the Photo Venice are some nice black-and-whites of Venice, including a wonderful candid of Roberto Rossellini and his wife Ingrid Bergman. Did Brass take these photos way back when?


A TECHNICAL CURIOSITY:
This was the first movie I had ever seen that gives the projectionist instructions in the closing credits: "Mascherino 1: 1,66." In other words, the projectionist should make sure to crop the film with a 1.66:1 mask (.825" x .497"). Infuriatingly, the video version is electronically cropped at the smaller 1.85:1 (.825" x .446"). Fortunately only one scene is noticeably ruined (when we can't see
Antonio Salines
's head through his second-story window). But it is apparent from the preview on the DVD version (which we don't stock) that the film was actually shot with much larger masks (Academy 1.375:1 or MovieTone 1.18:1 or full-frame 1.33:1) that would easily fill a TV screen without any needless cropping or letterboxing. And it looks
beautiful
that way. What can you do? Sigh.
MORAL:
There's almost never any point in telling a projectionist or telecine operator what to do, because (a) he won't understand you, and (b) he won't care. It's like talking to a wall....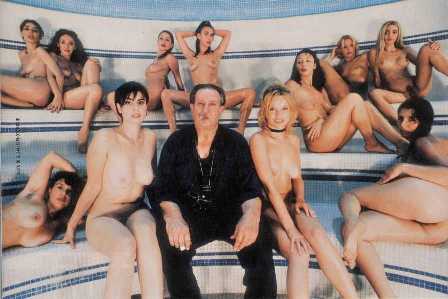 ---
| | |
| --- | --- |
| | |
| The Italian Region-2 PAL DVD, which will not play on most US equipment. Option for the English-dubbed soundtrack. Nice little behind-the-scenes featurette in the supplements. | The US Region-0 NTSC DVD. Both the cut and uncut versions are available, so be careful to order the uncut version! |
---
Preview on the Italian DVD
Actual Film Transfer on the Italian DVD
The Shortened "Producer's Cut" from Cult Epics
Above left: This is the correct crop for showing this
particular movie at a cinema...
Above center: ...and this isn't.

Above right: Close, very close.
Above: The video transfers for both the preview and the movie proper were reformatted in this shot!

And the end credits actually instruct the projectionist on the correct crop:

I wish all movies contained such on-screen instructions, which I think should be right up at the front, when the movie begins. Alas, I know of only four movies that have any on-screen instructions: All are in the end credits, and all four just happened to have been made by Tinto Brass.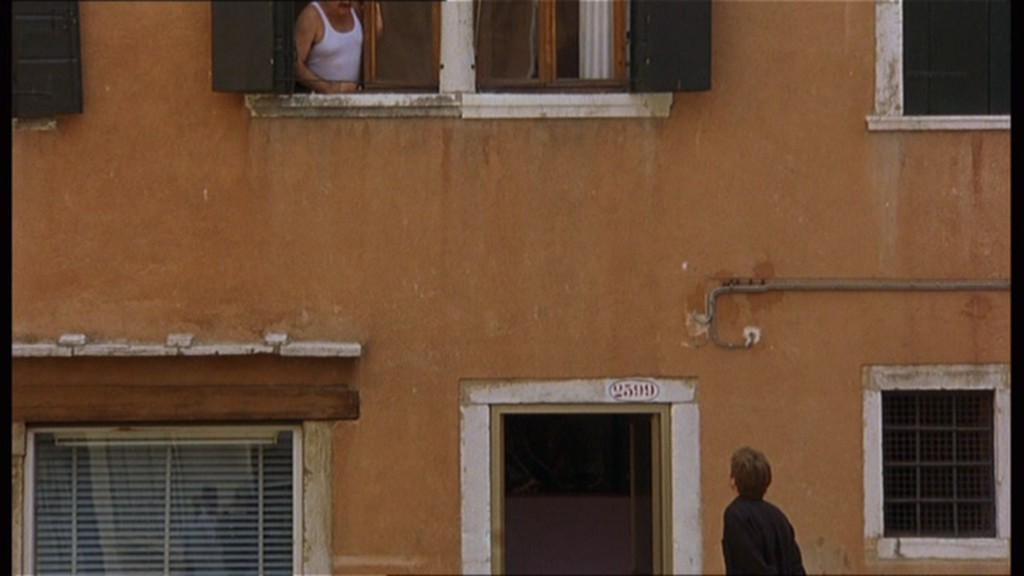 And now, with the above in mind,
maybe you can understand why I get really very extremely horribly maniacally irritated
when a scene plays like this?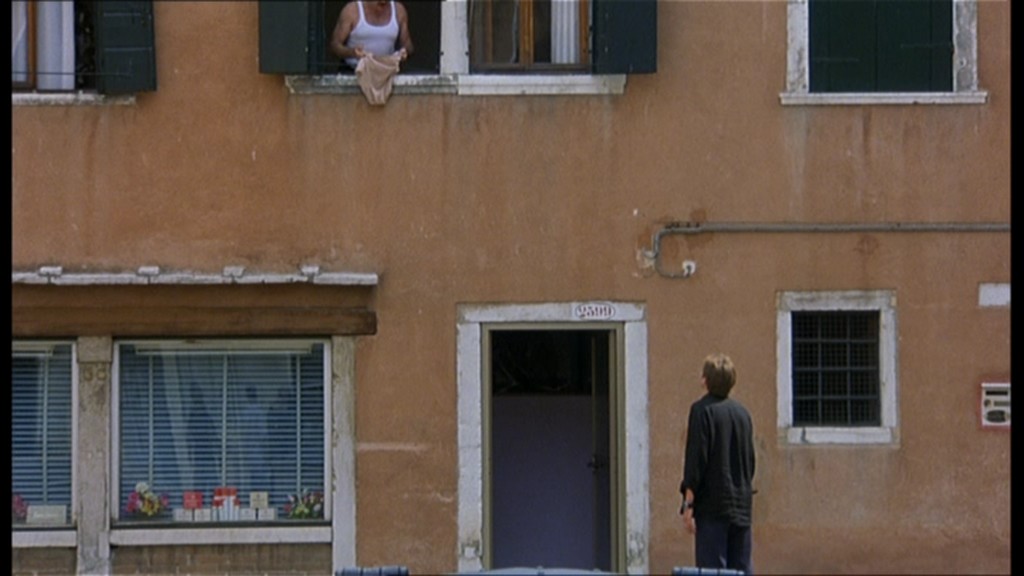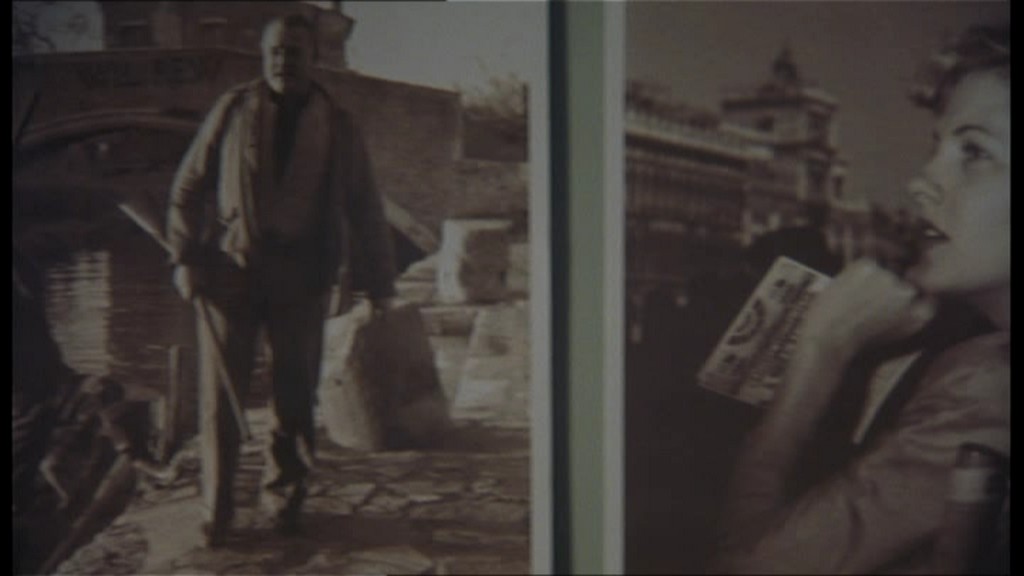 Fragments of two photos on the wall. Interesting, yes?
Let's pan over and get a better look at the one on the left.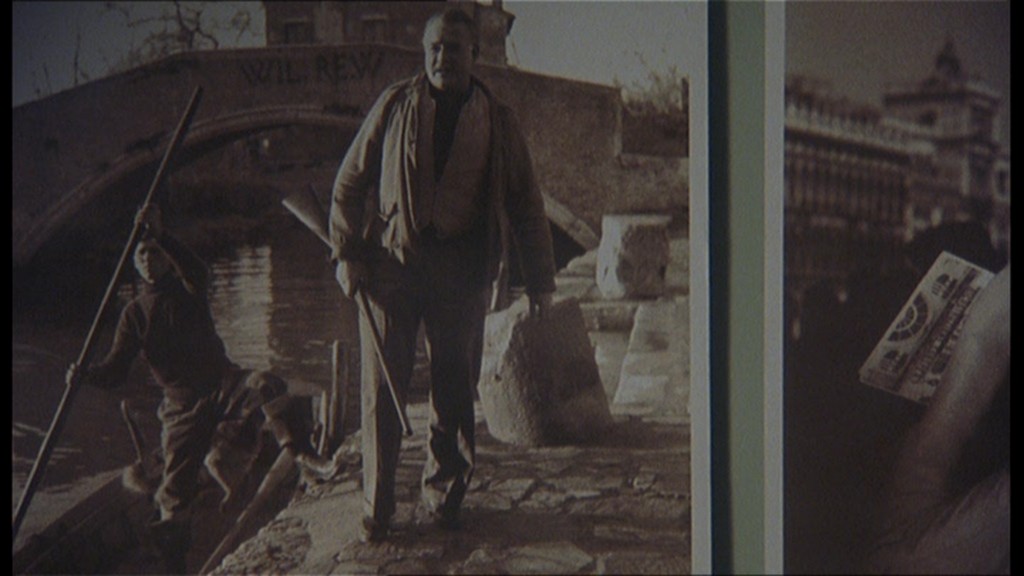 Looks like Ernest Hemingway, doesn't it? Is this from the Cipriani family archive?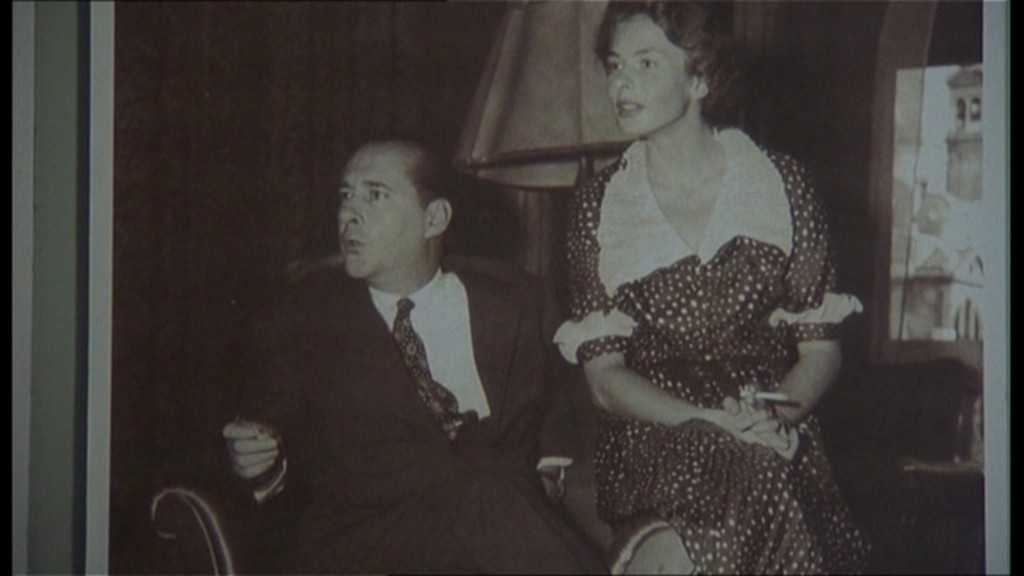 Now whose archive did this one come from?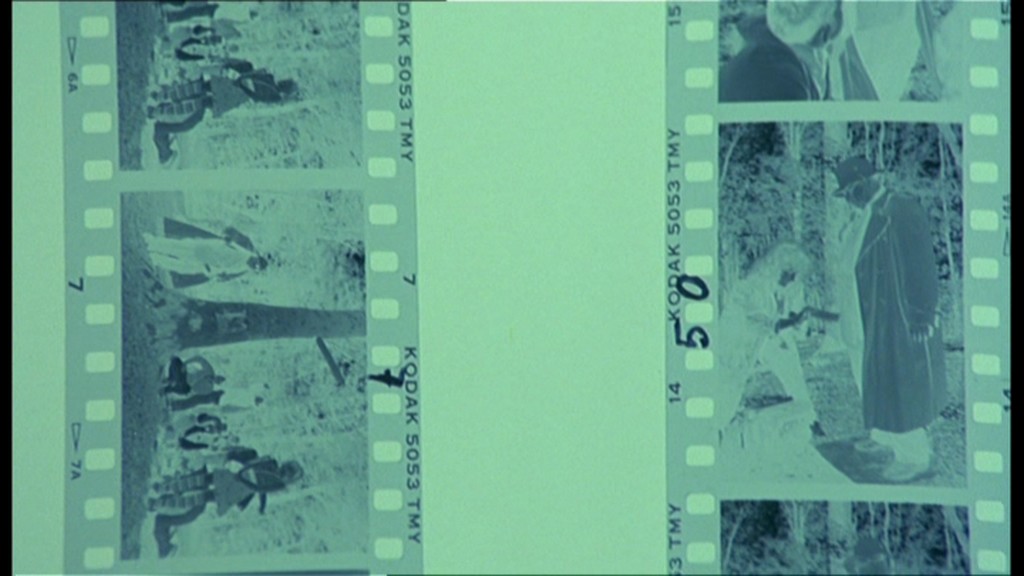 Ever wonder what was on those negs? Well, here you go!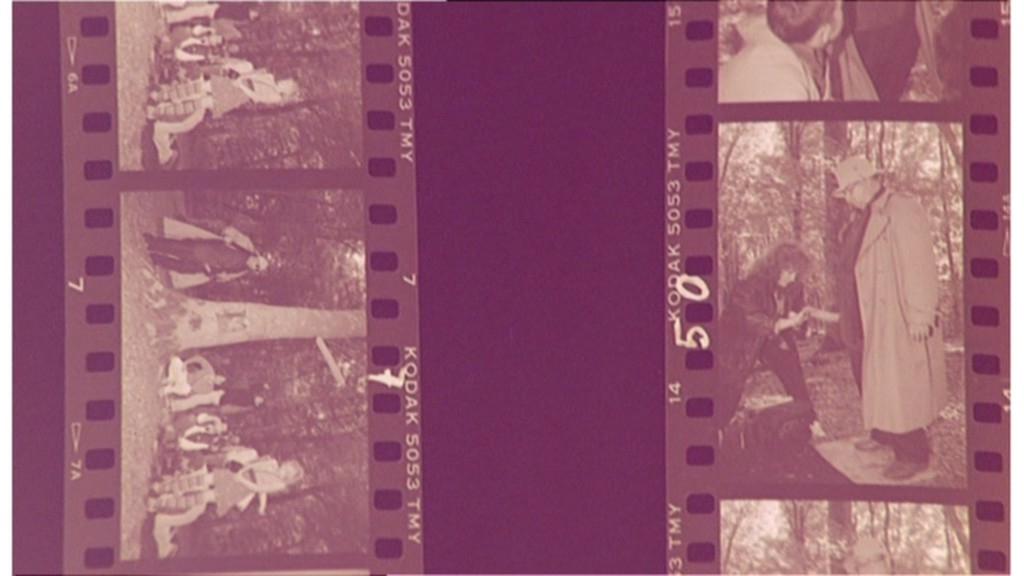 Let's take a closer look: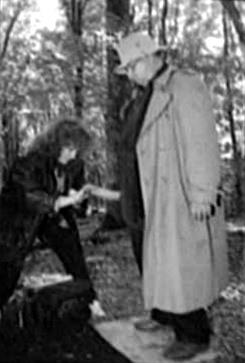 Massimo Ferrero presenta
un film di Tinto Brass
TRAsgreDIRE
© Copyright - CRC 2000
Direttore della fotografia
(director of photography)
Massimo di Venanzo
Musiche (music)
Pino Donaggio
Dirette da (directed by)
Andrea Bandel
CAM Digital ________
Scenografia (art direction)
Carlo de Marino
Arredamento (set décor)
Maricia d'Alfonso
Costumi (costumes)
Cesare Tanoni, Stefano Giovani
Soggetto (original story)
Tinto Brass
Sceneggiatura (screenplay)
Tinto Brass, Carla Cipriani, Nicolaj Pennestri, Silvia Rossi, Massimiliano Zanin
Aiuti registi (assistant directors)
Carla Cipriani, Isabel Vitturi
Collaborazione al montaggio (assistant editor)
Fiorenza Mueller
Edizione - postproduzione
(continuity - postproduction)
Carla Cipriani
Assistente operatore
(assistant camera operator)
Andrea Doria
Capo elettricista (gaffer)
Sergio Spila
Capo macchinista (key grip)
Pietro Santarelli
Fotografo di scena (still photographer)
Gianfranco Salis
Promozione (promotion)
Saverio Ferragina
Direttore di produzione (production manager)
Mauro Sangiorgi
Organizzatore generale (general manager)
Alberto Passone
Un produzione realizzata da (produced by)
Massimo Ferrero
Un film prodotto da (a production of)
Pino Gargiulo per la C.R.C.
Diretto e montato da
(directed and edited by)
Tinto Brass
Si ringraziano (we thank)
Toni Leone
Madame X
Emanuela Quaglia
Marco Maiello
Maurizio Prudenzi
Antonio Tentori
Luciana Giusti
Alessandra Costa
Filly
Mitch
Laura Licari
Valentina Arpaia
Stella Sarcinella
Stefania Corradetti
Antonella Re
Silvia Archiapatti
Locanda Cipriani - Torcello
Parucchiera (hairdresser)
Irene Carufo
Truccatrice (make-up artist)
Carla Catanzaro
Assistente operatore
(assistant camera operator)
Antonello Emidi
Attrezzista (prop master)
Remo Pizzaroni
Location
Edmondo Amati, Roberto Trillò, Umberto Zampini, Giorgio Padoan
Segretari di produzione (production secretaries)
Simone Onorati, Eleonora Rossi, Michela Ferrero
Percussioni e computer
Paolo Steffan
Fonico (sound)
Gilberto Martinelli
Microfonista (boom operator)
Diego de Santis
Assistente scenografo (assistant art director)
Natacha Claudine Tanzilli
Sarta (tailor)
Anna Fontana
Aiuto montaggio (assistant editor)
Roberta Barracco
Macchinisti (grips)
Marco Verginelli, Gaetano Pizzi
Elettricisti (best boys)
Marcello Cardarelli, Roberto Ridolfi
Gruppista (generator operator)
Alfredo Iannone
Pittore di scena (scene painter)
Antonio Tedesco
Cassiere (paymaster)
Otto Buffa
Amministratori (production accountants)
Laura Pasquarelli, Alessandra Bianconi
Teatri di posa, sviluppo e stampa, macchine da presa, Mezzi tecnici (studio, lab, cameras, technical equipment)
Cinecittà
Tecnici del colore (color technicians)
Paasquale Cuzzupoli, Stefano Giovannini, Gianni Cerniglia
Mascherino (required projector mask)
1: 1,66
Pellicola negativa (negative stock)
Kodak Color
Postsincronizzazione (sound recording)
Fono Roma
Missaggio (mixer)
Alberto Doni
Tecnico di doppiaggio (ADR technician)
Stefano Nissolino
Segretario di doppiaggio (dubbing secretary)
Edoardo Cannata
Effetti sonori (sound effects)
Cineaudio Effects
Effetti speciali (special effects)
Franco Sabelli
Titoli e truke (titles and opticals)
Studio 4
Costruttore
Roberto Laurenzi
Laboratorio fotografico (still-photo lab)
Cavalieri snc
Lampade e gelatine (lights and filters)
Petracca
Assicurazione (insurance)
Chub
Arredamento (set décor)
Maricia d'Alfonso, Cine 800, La Teca dell'Immaginario, Arredamenti Cineteatrali GRP, Foto Roma
Tappezziere (upholsterer)
Artigiana Arredatori e Tappezzieri
Costumi (costumes)
Sartoria Cineteatrale Nori Enzo
Parrucche (wigs)
Rocchetti & Rocchetti
Trasporti (transport)
Romana Trasporti
Spedizioni
Air Transport
Cestini (catering)
Da "Gigi"
Esterni (exteriors)
Venezia - Londra
Si ringraziano inoltre (we also thank)
Paolo Barovier
Vinnaioli Jermann
Maison Louis Roederer
Nino Franco
Sagna spa
Instax Fuji Film
Artemide spa
Fontana Arte spa
Rubinetterie Cristina spa
Tulli Zaccari
Inda Industria Nazionale Accessori spa
Emu Group
Siarco
Laufen Duravit
Matteo Grassi
Valli & Valli spa
Dolby Digital in teatri selezionati
| | |
| --- | --- |
| PERSONAGGI E INTERPRETI | |
| Carla Borin | Yuliya Mayarchuk |
| Matteo | Jarno Berardi |
| Moira | Francesca Nunzi |
| Marion | Max Parodi |
| Bernard | Mauro Lorenz |
| Nina | Leila Carli |
| Luca | Vittorio Attene |
| Sig. Borin | Antonio Salines |
| ??? | Chiara Gobbato |
| ??? | Remo Pizzaroni |
| ??? | Mauro Sangiorgi |
| ??? | Alberto Passone |
| Voyeur at the beach | Osiride Pevarello [uncredited] |
| Proprietor of Photo Venice | Tinto Brass [uncredited] |