THE WORKS OF TINTO BRASS
---
Action
(1979)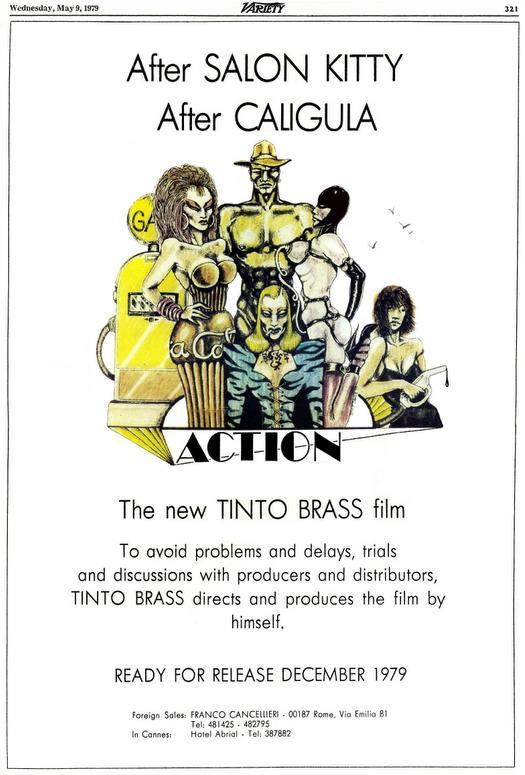 The above poster art is by The Phenomenal Jost Jakob
| | |
| --- | --- |
| | |
The protracted lawsuits involving
Caligula
made Brass unemployable. In order to rescue his reputation, he paid for his next production himself. He moved his crew to England and made this 16mm movie about an actor, Bruno (Luc Merenda), who specializes in gangster rôles in cheap action dramas. He is fired for cutting up on Tinto Brass's set and ruining a take, and so follows his agent's advice by taking a job with a porno production, which puts even further strain on his already strained marriage. Before he has a chance to act in a scene, he rescues Doris, an abused would-be Shakespearean actress who prefers to call herself Ophelia, from the set. Together they set forth on a journey through England, where they are attacked in a junkyard by punks, are taken in by an escaped lunatic who thinks he's Garibaldi, and are incarcerated in an insane asylum where the delicate and emotionally unstable Ophelia commits suicide. An escape from the asylum is easy, and Bruno and Garibaldi steal a car, rob a cash register, shoot a cop, get a job pumping gas at a petrol station in the middle of nowhere, and find themselves caught in the middle of a domestic feud. This magnificent surreal work proves what we have suspected all along, namely, that the national language of England is Italian. The film was a family affair, as Brass's wife Carla "Tinta" Cipriani was production secretary, their daughter Beatrice was continuity girl and played two rôles (continuity girl on the set at the beginning and the girl in the garbage dump who won't wear her cast), and their son Bonifacio was still photographer. A lot of fun! Too bad it flopped.
There is a much-longer version on DVD in Italy, poorly derived from Tinto Brass's personal print, and it has significantly more dialogue. Surprisingly, it was not the nudity that was cut from the release version.


On the set of a porn film
Ophelia is unhappy with her rôle
Horsing around in the pool
The punks are not amused
Bruno's vision in the woods
No need for explanation
Horsing around on the set
A NOTE AND A QUESTION:
Brass dubs an extra's line: "Cosa sei, un prete?" Who dubbed
Osiride Pevarello
?
THE END OF PHASE ONE:
This was the only time that Brass collaborated with both of his favorite writers,
Giancarlo Fusco
and
Roberto Lerici
, and it was his last collaboration with Fusco. Never again would Brass's films have the same raw forcefulness and earthy feel that he achieved with these two artists. Never again would his films look so organically grown, almost improvised. Yes, he would achieve greatness again, but not
this
sort of greatness. I really miss this old style. It puts one in mind of the great comics of the teens and twenties, who felt free enough, creative enough, and confident enough to let films take on lives of their own. Pier Paolo Pasolini also had that gift. Dusan Makavejev, in
WR: Mysteries of the Organism
(1971) and
Sweet Movie
(1974) worked the same magic. But who else? I know of no one.
Action
not only brought to a close the most vibrant phase of Brass's career; it also brought to a close an entire era.
Here's something interesting: a few frames from a 35mm release print.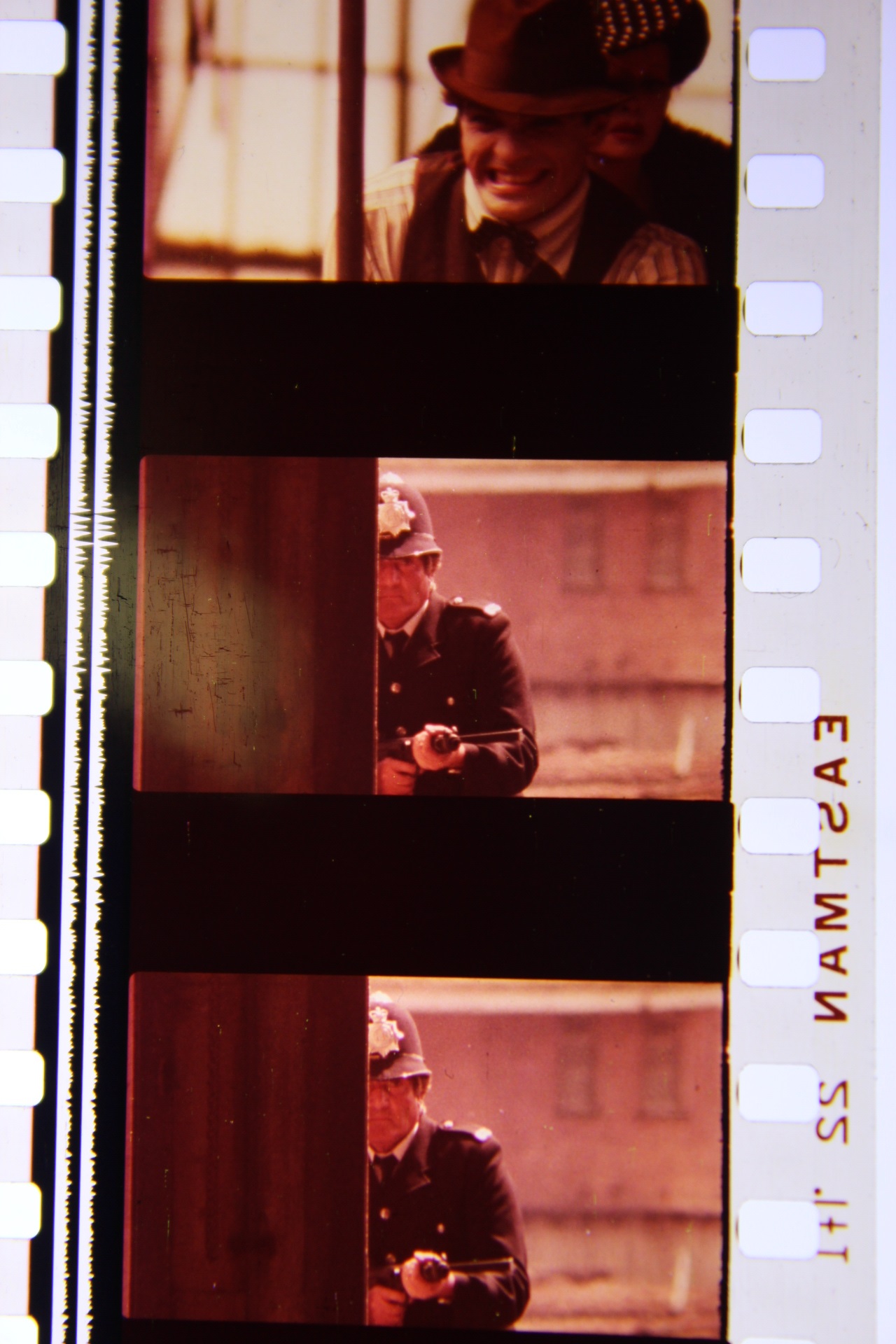 So that settles some arguments. The original release prints were 1:1.85. So there. The movie had been shot in standard 16mm, and for the blowup the top and bottom of the image were blacked out. The VHS in my collection was something closer to 1:1.66, but with the sides lopped off. The VHS revealed something: the black borders at the top and bottom were not entirely black. They contained the faintest vestige of an image that the lab had cropped off from the original 16mm.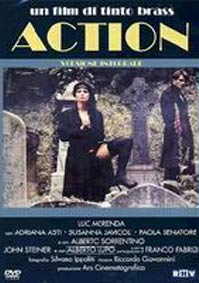 The DVD, about 10 minutes longer than the VHS version. Too much compression, I mean, way too much compression. Yet a friend who is a video engineer tells me that it is easy to make a computer adjustment and to bring in all the image information. He says that there is no image compression at all. All the info is there, it just requires some twiddling to bring it all out. And the sound is about one syllable behind the picture all the way through. But it's got optional Italian captions and optional English subtitles and a nice photogallery and an excerpt from Lorenzo Codelli's unreleased feature-length interview with Tinto Brass (conducted in 2003), it's still mesmerizing and hilarious and delightful and unique and quirky and memorable and just so absolutely lovely and a million times better than most other movies.
Tinto Brass presenta
Action
CIDIF: Consorzio Italiano Distributori Indipendenti Film
Direttore della fotografia (director of photography)
Silvano Ippoliti
Scenografo (production design)
Claudio Cinini
Costumi (costumes)
Jost Jakob
Sceneggiatura e dialoghi
(script and dialogue)
Giancarlo Fusco, Roberto Lerici,
Tinto Brass
Musiche (music)
Riccardo Giovannini
eseguite da (performed by)
Blue Malbec Band
Edizioni musicali (music publisher)
April Music
Musiche di repertorio (musical excerpts)
HOW I WAS NICE
cantata da Hiliry Harvey
COME VEDI
cantata da Gianna Giovannini
BRAVO POUR LE CLOWN
cantata da Edith Piaf
Operatore alla macchina (camera operator)
Enrico Sasso
Assistente operatore (focus puller)
Luigi Conversi
Segretaria di edizione (continuity)
Bea Brass
Aiuto registi (assistant directors)
Fabrizio Pisaneschi, Massimo Spano, Francesco Favino
Aiuto montatrice (assistant editor)
Fiorenza Mueller
Assistenti montatori (second assistant editors)
Claudio Maimone, Giovanna Ritter
Fotografi di scena (still photographers)
Gianfranco Salis, Boni Brass
Ufficio stampa (publicity)
Maria Ruhle
Coreografo (choreographer)
Giuseppe "Pino" Pennese
Fonico (sound)
Pietro Spadoni
Microfonista (boom operator)
Flavio Leone
Truccatore (make-up)
Pino Capogrosso
Parrucchiera (hairdresser)
Jole Cecchini
Sarte (dressmakers)
Anna Cirilli, Sally Sekers
Art works by
Robert Knight
from
Nicholas Treadwell Gallery
English graffiti
Carla Volpato
Hair stylist
Natalino
Direttore di produzione (production manager)
Mario di Biase
Organizzazione generale
(production management)
Carla Cipriani, Vincenzo Maria Siniscalchi
Soggetto, regia, montaggio
(story, direction, editing)
Tinto Brass
| | |
| --- | --- |
| Capo macchinista (key grip) | Quirino Fantauzzi |
| Macchinisti (grips) | Orlando Zuccari, Osvaldo Giansanti |
| Capo elettricista (gaffer) | Sergio Spila |
| Elettricisti (best boys) | Marcello Cardarelli, Giuseppe Fabrizi |
| Amministratore (administrator) | Mario Ficini |
| Ispettori di produzione (unit managers) | Vittorio Fornasiero, Marcello Bollero |
| Segretari di produzione (production secretaries) | Rossella Ferrero, Franco di Tivoli |
| Location managers | Massimiliano Bramucci, Alan Sekers |
| Direttore di produzione per le riprese in teatro | Enzo Nigro |
| Teatri (studio) | Dear |
| Suono (sound studio) | Cinecittà |
| Effetti speciali sonori (special sound effects) | Alvaro Gramigna, Fernando Caso |
| Missaggio (sound mixer) | Fausto Ancillai |
| Pellicola (negative) | Eastmancolor |
| Sviluppo e stampa (laboratory) | Telecolor |
| Una produzione (produced by) | Ars (Attori Registi Solidali) Cinematografica |
| Presentata da (presented by) | Franco Cancellieri |
PERSONAGGI E INTERPRETI
Bruno Martel
Luc Merenda
Florence
Adriana Asti
Doris/Ophelia
Susanna Javicoli
Ann Shimpton
Paola Senatore
Garibaldi
Alberto Sorrentino
Woodruff Vandenberg Scott,
"The Big Woody"
Gianfranco Bullo
Il omosessuale
Giancarlo Badessi
Agent
John Steiner
???
Edoardo Florio
???
Luciano Crovato
Joe
Alberto Lupo
???
Paola Montenero
???
Alina de Simone
Il produttore
Franco Fabrizi
Herself / Girl with Broken Leg
Beatrice Brass
???
Helene Chauvin
???
Gigi d'Ecclesia
King Kong
Eolo Capritti
Un arrestato
Osiride Pevarello [uncredited]
Angry Dog
Tinto Brass [uncredited]