THE WORKS OF TINTO BRASS
---
Capriccio
(a.k.a. Love and Passion, 1987)
| | |
| --- | --- |
| | |
REVISED NOTES, POSTED ON MONDAY, 11 NOVEMBER 2002:
On my first viewing, nearly a year ago, I thought the first 15 minutes enchanting, but the rest of the movie didn't do much for me. Well, that's putting it mildly. Actually it horrified me. But a second viewing changed my mind. Brass had wanted to make this film, from Mario Soldati's novel, immediately after
The Key
, but had to wait a few years to convince a producer. The story, which I at first thought overly simplistic, is of Jennifer and Fred, a couple whose marriage is beginning to fail. A business trip to Capri after the war reunites them with their previous lovers, the scary pimp Ciro and the hot-tempered hooker Rosa. The disillusionment that both Jennifer and Fred suffer has the unexpected consequence of renewing their marriage. On my first viewing, my basic problem was Jennifer's crush on the scary Ciro, which I found disturbingly unrealistic. More specifically, the one scene that turned my stomach and turned me off to the entire movie was when Jennifer lured Ciro into attacking her. But when I watched the film again (Why, you ask? Because I wanted to write about it), I realized how dumb I was. All my life I've been witnessing otherwise-intelligent women swooning over dangerously scary guys — and seeming to enjoy being victims of violence. For the life of me I'll never understand why that is. So okay, the movie is perfectly realistic. How could I have thought otherwise? Still, though, I wish that scene had been written differently, without the sexual violence. Anyway, that aside,
Capriccio
beautifully explores the minds of people who are a short step away from self-understanding. The acting by the four leads is completely convincing, and Nicola Warren in particular is superb. (She is obviously a professional actress, but she has made no other movies, and Google searches turn up absolutely nothing.
Strano!
) The more I think about it, the more beautiful I think this movie is. (And no, in case you're wondering, the sex scene at the end is faked.)
Interesting to see Brass's daughter Beatrice as Alice the babysitter. (Is she the one who's credited simply as "Bea"? Is the baby she's babysitting her real-life son? Is his name Matteo? Is the girl watching the parade Brass's niece Lulù?)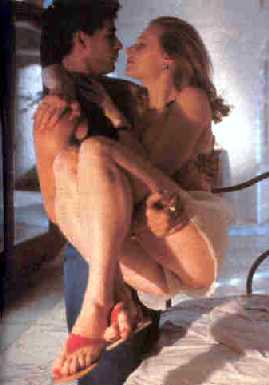 >NOTE: Ciro (Cyrus), in addition to being a personal name, is also the name of the film splicer invented by famous editor Dott. Leo Catozzo. The expensive models are the best splicers in the world, and the inexpensive models are the worst splicers in the world. I don't know if that bears any significance on this film, but just in case it does, now you know.


TECHNICAL NOTES: Capriccio was made in English, but every English copy we have found looks terrible. The only copy we know of that looks nice, bright, clear, sharp, colorful, and widescreen (1.66:1) is the Italian dub. Oy.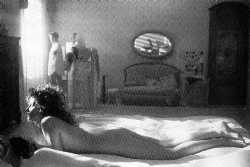 ANOTHER NOTE: This is the first of Brass's films in stereo.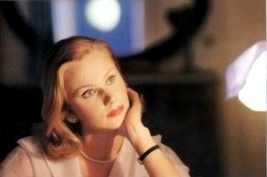 YET ANOTHER NOTE:
Brass's next script was
L'uomo che guarda
, from the Alberto Moravia novel, which was scheduled to go before cameras in late 1986 or early 1987, but was delayed by seven years. (See
Variety
, 2 April 1986, p. 42.)
NOTE ADDED ON SUNDAY, 28 MARCH 2010: I had been wanting to read Soldati's novel, Le lettere da Capri, but in the original Italian. The problem is that until I can live and work for a few months or a year in Italy, my Italian will never be good enough. And I can't manage to move to Italy. That's a benefit reserved only for the privileged and/or rich, of which I am neither. So I finally checked to see if there was an English translation. There was: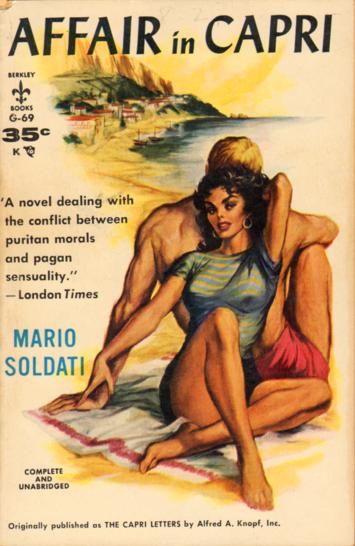 The novel was not at all what I was expecting. It dealt straight away exclusively with people who are shallow, selfish, deceitful, manipulative, cunning, two-faced, confused, obsessive, uncaring, psychopathic, self-centered, self-absorbed. The type of people I hate. The type of people I hate even to think about. The type of people whose sexual indiscretions are forever gossiped about around the water cooler in the break room. Normally I would have thrown the book into the trash bin after a few pages, but I am at the stage of life where I don't like to abandon projects anymore. If I start something, I'll finish. So I read it all the way through. Once I was nearly half-way into it, I couldn't put it down. It was absolutely gripping, for it worked in some unexpected surprises, as these horrid characters, against their will, and without even realizing it, began to acquire some hints of sanity and perception and caring. This book, toward the end, becomes genuinely haunting — eerily, disquietingly so. This book was never made into a movie. Capriccio bears only the faintest resemblance to Soldati's book. Tinto took a few plot elements and wrote his own story based upon them. He gave everything his own spin. The half-century-long marriage of Tinto and Tinta was one of the rare successful and happy marriages. The result of that good fortune is that Tinto became a firm proponent of marriage, and most of his movies, beginning with The Key, presented marriage as a panacea to all emotional ills. Oh, yes, Tinto says, marriage will have its challenges, but challenges are meant to be overcome. So he transformed Soldati's tragic, almost unbearably sad story into a joyous celebration of married life. There is another element to Soldati's story, and I'm not completely certain that even Soldati himself was aware of it, though I suspect he was. The story's main protagonist could only be open and honest with another male. With women he had always to be deceitful. That lent the book a homosocial overtone that hinted at a repressed homosexual undertone, which usually wouldn't bother me in the least, but in the context of this story it's downright disturbing. Tinto eliminated that completely. In essence, Tinto's movie was no longer Soldati's story; it was his own story, and that surely is why Soldati would not allow the producers to list him or his book in the credits.


---
| | |
| --- | --- |
| | |
| The out-of-print Region-2 PAL DVD from somewhere in Scandinavia, which is full-screen (cropped) but at least in the original English. This will not play on most US equipment. | The widescreen Italian Region-2 PAL DVD, which contains only the Italian-dubbed soundtrack. This will not play on most US equipment. |
---
Luigi e Aurelio De Laurentiis presentano
un film di Tinto Brass
Capriccio
Copyright © 1987 Famous Films Productions n.v.
Operatore alla macchina (cameraman)
Enrico Sasso
Collaborazione al montaggio (assistant editor)
Fiorenza Müller
Montaggio sonoro (sound editor)
Alessandro "Sandro" Peticca
Ufficio stampa (press office)
Lucherin-Pignatelli
Fotografo di scena (still photographer)
Gianfranco Salis
Coordinamento generale (coordination)
Carla Cipriani
Organizzatore amministrativo (accounting manager)
Mario Sampaolo
Organizzatore generale (production manager)
Mario di Biase
Costumi disegnati da (costumes designed by)
Jost Jakob
Costumista (costumer)
Carolina Ferrara
Divise (uniforms)
Ugo Pericoli
Scenografia e arredamento
(art director)
Paolo Biagetti
Musica composta e diretta da (music composed and conducted by)
Riz Ortolani
Direttore della fotografia
(director of photography)
Silvano Ippoliti
Una produzione
Famous Films Productions n.v.
Realizzata da (produced by)
Giovanni Bertolucci
per la (for)
San Francisco Film S.r.l.
Liberamente tratta dal romanzo di
(freely adapted from the novel by)
Mario Soldati, Le lettere da Capri[uncredited]
Scritto, diretto e montato da
(written, directed, edited by)
Tinto Brass
Aiuto regista (assistant director)
Sandro Peticca
Segretaria di edizione (continuity)
Carla Cipriani
Parrucchiera (hair dresser)
Iole Cecchini
Truccatore (make-up)
Fabrizio Sforza
Coreografo (c[h]oreographer)
Giuseppe Pennese
Primo assistente operatore
(first assistant cameraman)
Ettore Corso
Assistente al montaggio
(second assistant editor)
Giovanna Ritter
Arredatore (set dresser)
Maurizio Garrone
Fonico di presa diretta (sound)
Amedeo Casati
Ispettori di produzione (unit managers)
Massimo Ferrero, Roberto De Laurentiis
Assistente scenografo (assistant art director)
Emita Frigato
Capo elettricista (gaffer)
Sergio Spila
Capo macchinista (key grip)
Giancarlo Rocchetti
Attrezzisti (property masters)
Roberto Magagnini,
Marco e Luca Mazzieri
Effetti speciali (special effects)
Franco Celli
Maestro d'armi (stuntman)
Giorgio Ricci
Microfonista (boom man)
Alfredo Petti
Assistente truccatore (assistant make-up)
Antonio Maltempo
Assistente operatore (second assistant cameraman)
Gino Conversi
Assistenti alla regia (second assistant directors)
Emanuela Lucidi, Massimo Arcalli
Dialogue coach
Stefania Amfitheatrof
Assistenti costumisti (assistant costumers)
Simonetta Mattei, Fulvia Amendolia
Sarta (wardrober)
Franca Paoletti
Pittore (set painter)
Otello Tiberi
Aiuti al montaggio (third assistant editors)
Giorgio Peticca, Cristina Serangeli
Elettricisti (best boys)
Marcello Cardarelli, Franco Cardarelli, Franco Gubiotti
Macchinisti (grips)
Massimo Galiano, Mario Occhioni, Riccardo Ferrero
Cassiere (paymasters)
Dorina Mari, Alessandra Sampaolo
Segretari di produzione (production secretaries)
Francesca Andriotto, Mauro Babini, Andrea Mattei
Edizione italiana a cura di (Italian edition)
Gruppo Trenta
Assistente al doppiaggio (assistant dubber)
Monica Simonetti
Fonico di doppiaggio (dubbing recording)
Adriano Torbidone
Esterni (locations)
Capri, Amalfi, Atrani, Caserta, Tarquinia, Soriano, Caprarola, Vicarello
Teatri di posa (interiors filmed at)
De Paolis, Roma
Negativi (negatives)
Kodak spa
Sviluppo e stampa (processed by)
Technicolor spa
Postsincronizzazione (postsynchronization)
Cinecittà spa
Missaggio (sound mixers)
Fausto Ancillai e Danilo Sterbini
Titoli e truke (titles and opticals)
Studio 4
Sartoria (wardrobe supplied by)
Russo Costumi d'Arte srl
Neriteatromoda srl
Calzature (shoes)
L.C.P. srl
Parrucche (wigs)
Rocchetti-Carboni
Tappezzerie (textiles)
Schiavi Bruno
Arredamento (set dressing)
D'Alfonso-Dedalo
G.R.P.-Latour
Mezzi tecnici (technical equipment)
CineNoleggio
Trasporti (transportation)
Romana Trasporti Cinematografici srl
Musiche di repertorio (songs)
ROSAMUNDA
di Nise - Vejvoda
ed. Leonardi-Milano
BUONASERA SIGNORINA
di Sigman - De Rose
ed. R.C.A.
NANNÌ
di F. Silvestri
ed. Abramo Allione Edizioni Musicali
TAMMURIATA NERA
di E. A. Mario - E. Nicolardi
edizione musicale eseguita dalla
Nuova Compagnia di Canto Popolare
supervisione artistica di
Roberto de Simone
disco EMI Italiana
Dolby stereo sound consultant
Federico Savina
Dolby Stereo in selected theatres
| | |
| --- | --- |
| PERSONAGGI E INTERPRETI | |
| Jennifer | Nicola Warren (doppiata in italiano da Roberta Paladini) |
| Rosa | Francesca Dellera (doppiata in italiano da Giuppi Izzo) |
| Fred | Andy J. Forrest (doppiato in italiano da Tonino Accolla) |
| Ciro | Luigi Laezza (doppiato in italiano da Claudio Sorrentino) |
| ??? | Isabella Biagini |
| ??? | Venantino Venantini |
| Clark Gable | Giuseppe "Pino" Pennese |
| ??? | Dodi Moscati |
| Sergeĭ | Osiride Pevarello |
| ??? | Josephine Van As |
| Alice | Bea [Beatrice Brass] |
| Hotel Owner's Young Niece | Lulù |
| Duccio | Matteo |
| Don Vincenzo | Vittorio Caprioli |
| ??? | Camillo Marino |
| ??? | Enzo Turrin |
| ??? | Simona Tedeschi |
| ??? | Laila Peloso |
| ??? | Armando Marra |
| Reads the will | Luciana Cirenei |
| ??? | Jean René Lemoine |
| ??? | Cheryl Lee Buchanan |
| ??? | Maria Rosaria Virgili |
| Waiter | Eolo Capritti |
| ??? | Robert Sommer |
| ??? | Umberto Conte |
| ??? | Paolo Pigozzi |
| Hotel Owner | Tinta Brass (Carla Cipriani) [uncredited] |
| Rosa's Client | Tinto Brass [uncredited] |