THE WORKS OF TINTO BRASS
---
The Key
(a.k.a. La chiave, 1983)
| | |
| --- | --- |
| | Does anyone know who painted this beautiful French/Belgian poster? If so, please write to me. Thanks! |
| | | |
| --- | --- | --- |
| | | Courtesy of Mrs Jenny Hanon, Japanese-Chirashi, Cardiff, Wales |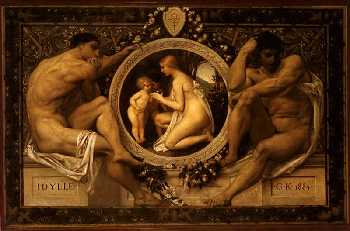 Gustav Klimt, Idylle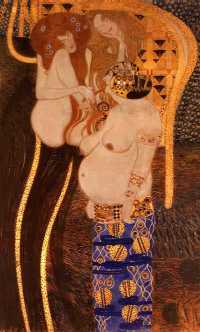 Gustav Klimt, detail of the Beethoven Frieze, showing Intemperance, Lust, and Gluttony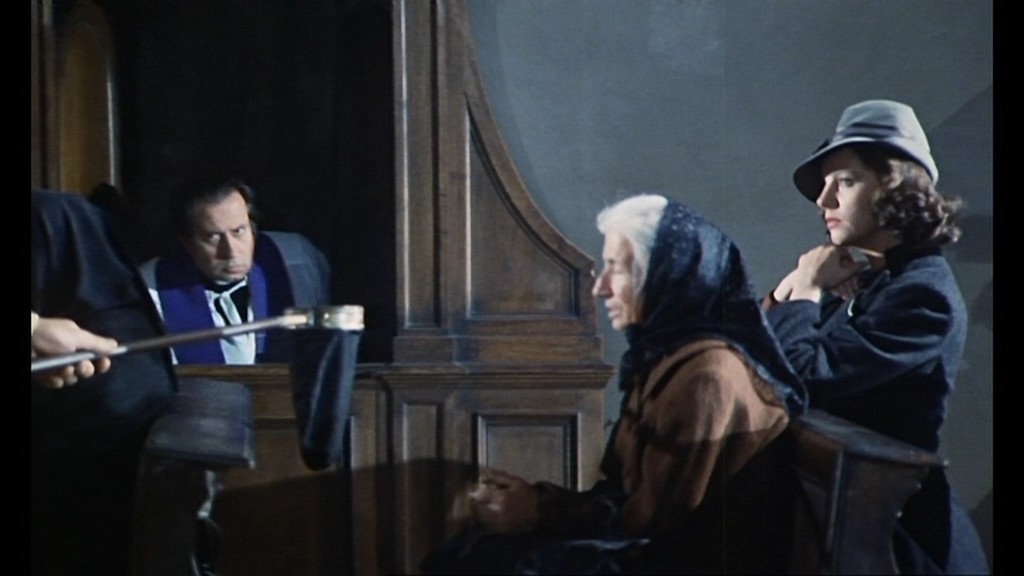 Tinto Brass as the father confessor
I like pornography because it is vulgar. I like everything that's vulgar.... I just exalt pornography because it is a vulgar way to approach the problem of screen sex. Just take it for what it is, without any taboo, any surprise, any guilt complex — anything. Sex is serious. As serious as eating. Sex is everything. There can never be enough.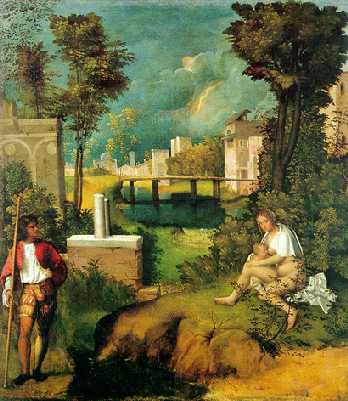 Giorgione's La tempesta, which is referenced in the film, directly and obliquely
No, there isn't, at least regarding the masses. There is still repression — or rather a cultural removal — amidst the élitist classes, undoubtedly the most inhibited. I always asked myself the reason, and the only answer I can think of is that since rules, laws, taboos, commandments — which transformed nature's most splendid pleasure into a monstrous form of madness — were conceived by culture (religious or otherwise), the more one is cultured, the more one is neurotic and inhibited, and this burden keeps one from enjoying sexuality in a quiet, serene, and natural way, even regarding the so-called perversions, which are in fact nothing but different sides of the same thing.
CVC VHS

aro DVD

And for good measure, let's compare both of the above to the Cult Epics edition.



The frame grabs below are all from the Raro DVD from 2006.

Eolo Capritti as the fascist military band conductor

Father and daughter

Does the English-language master dialogue

tape for this scene still exist somewhere?

Does

any

English-language material for this scene still exist somewhere?

If you know where it is located,

please write to me right away!

Thanks so much!

Missing from every English-language copy

Missing from every English-language copy

Missing from every English-language copy

Memo Longobardi (played by Piero Bortoluzzi) comforts his retarded brother Anania, recently ejected from a mental hospital.

Lulù and Tinta.

Sig.ra Zaira

The priest on the left is played by Gino Cavalieri, who earlier played Bonifacio's father in

In capo al mondo

. Memo, reluctantly baptised Catholic to avoid possible persecution, feels awkward and a bit resentful in his new life's rôle. His discomfort is never emphasized, and you won't catch on to it on a first or second viewing, but it will register subconsciously. Brilliant acting!
The only Tinto Brass-authorized edition, which is several minutes longer than any previously released edition. This is the artwork as originally advertised, but it was rejected in favor of the design below. Nonetheless, Raro Video continues to use this artwork on its web site. And I can understand why. I love that font, and I love the blue-bordered red against the blue-filtered blue background. The design that was actually released is a bit too busy for my tastes, and it doesn't communicate much. The best design, of course, was the French poster, which I reproduced above. It's most evocative, and captures the mood and feeling of the film beautifully, but nobody else seems to like it at all.

The same as the one above, but this time with the revised artwork, which is what was actually issued in 2006. No subtitles. Italian dub only, no English. Includes a

30-minute

interview with Tinto, which is one of the best interviews he's ever given. The back cover correctly states an aspect ratio of 1.67:1 (actually 1.668403:1), and, as you can see from the frame captures in the comparisons below, you'll understand why I really wish they had gone the extra mile and transferred the entire image, which was slightly larger than a 1.66:1 projector aperture. The running time is given as 112 minutes. Actually it is 110 minutes and 37 seconds (at PAL speed, 25 frames/second). If it could be slowed down to cinema speed (24 frames/second), that would come to 115 minutes, 13 seconds, and 11 frames, which would be the approximate running time of the original film, though the original might have a few more seconds at the reel changes and it certainly had an intermission which is deleted from all video editions. Also, this DVD edition ends immediately as the credits fade out. That is so wrong. In the original, after the credits end, we hear the sounds of the Grand Canal's waves breaking against the shore for a good 20 or 30 seconds, and in at least some prints there was one final credit during this sound effect. A minor omission, you say? No, it's not minor. After nearly two hours of being flooded with unexpected and overwhelming emotions, and after getting completely involved with the main characters, the black screen indicates to us that it is all over, that these characters, who have become a part of our lives, are gone from our lives forever, and all that is left of this profound experience is the hauntingly lonely sound of waves. This is of utmost significance for the emotional trajectory of the story. To deprive the audience of those final few contemplative moments is simply wrong, unfair both to the creators of the movie and to the audience. Chances that anyone in the money side of the business would agree with me are about nil, I suppose.

Click here to see Raro's online listing.

(Region-2 PAL DVD, which will

not

play on most US/Canadian equipment.)

NEWS FLASH!

19 January 2009: This was recently

re-released

with optional English subtitles! — Even Tinto's interview is subtitled! The back cover is the give-away, as it indicates English subtitles (SOTTOTITOLI: Inglese). But don't fret about the stated running time or aspect ratio. It is

not

96 minutes, nor is it 1.85:1. The transfer is identical to the one above. This new edition has replaced the earlier Italian-only edition, and you can order it from

Raro Video

. (Region-2 PAL DVD, which will

not

play on most US/Canadian equipment.)

The US Region-0 NTSC DVD, with optional English subtitles for the Italian sequences and a nice interview with Tinto Brass in the supplements. The stated running time is 106 minutes. And that's about right; it is 105 minutes and 22.296 seconds. Since it is converted from PAL, it was run at approximately 25/frames per second. If we could slow that down to the cinema speed of 24 frames/second, we would get about 109 minutes, 45 seconds and 18 frames.

Out-of-print Italian DVD, which had both the Italian and English soundtracks, though the English was rather hissy. The box gives no indication of this, but hit your AUDIO button a couple of times, and there you go! It's so nice to be able to switch back and forth. But there are no English subtitles. Sadly, this was cropped at about 1:1.78, which lops off far, far, far too much of the image. The running time is stated as 98 minutes. Actually, not including the opening Gaumont logo, it is 98 minutes and 33.474 seconds (at the PAL speed of 25 frames/second). If we could slow that down to the cinema speed of 24 frames/second, we would get 102 minutes and 40 seconds. This edition does, though, contain an image I have not seen in any other edition. After the end credits fade out and as we're listening to the sounds of the Grand Canal's waves breaking against the shore, we see this title fade in and out:

(Region-2 PAL, which will

not

play on most US/Canadian equipment.)
JUST FOR THE RECORD: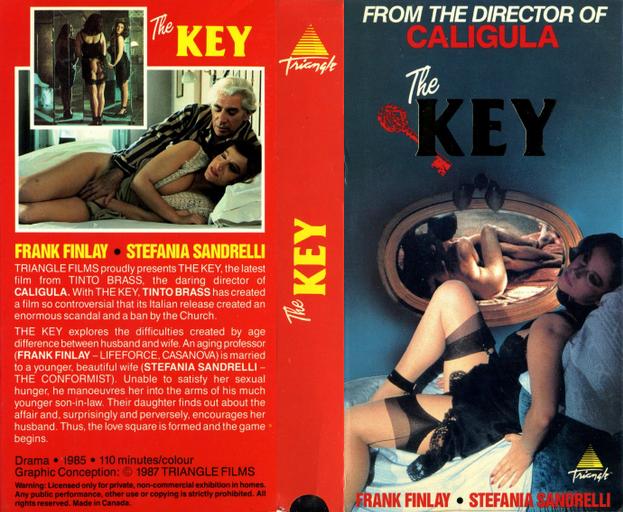 The word "KEY," which registers here as black, is actually gold. This is a miserable and fuzzy transfer from a tired 35mm release print, cropped to full screen. Released in Canada in 1987. NTSC.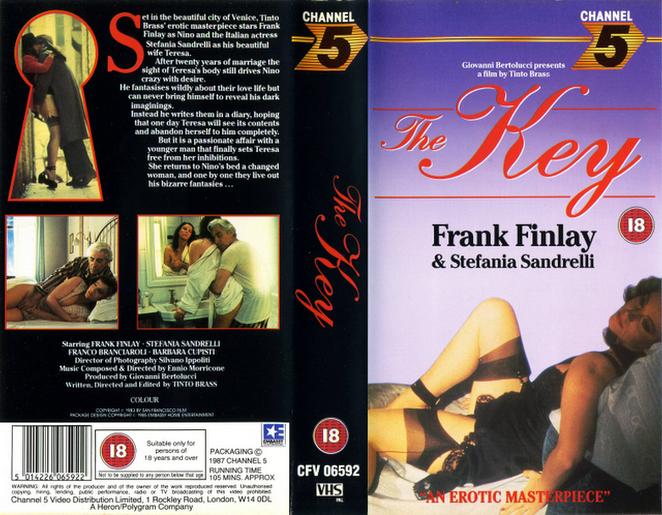 The transfer is not too bad, but it is cropped to full screen. The BBFC imposed some absolutely pointless censor cuts, and was probably responsible for the deliberate mistranslations in the subtitles too. Well, they're paid to do things, and if they just let movies sift through their hands unaltered, then they're not doing things, and so they're risking their jobs. So they do things. This is from Heron/Polygram/Avco-Embassy/Channel 5, released in 1985 in England. PAL.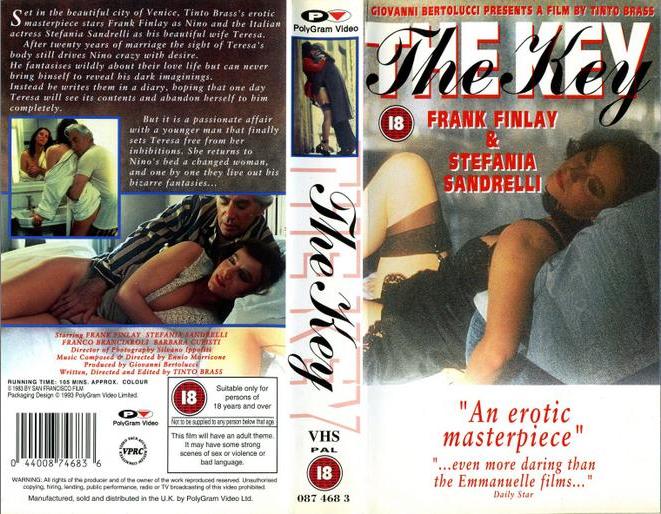 Identical to the above, released by Polygram in 1993. PAL.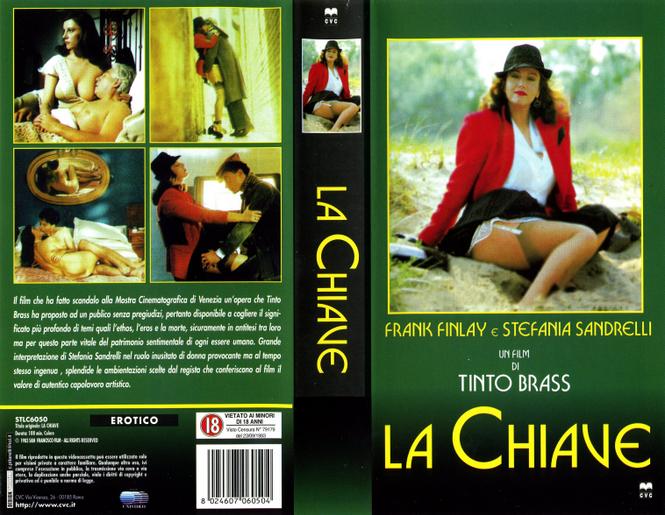 One of the numerous Italian VHS releases, this one dating from about 1999. As it was transferred through the Academy aperture, this is the only edition I know of that retains the full height of the 1.66:1 camera aperture. PAL.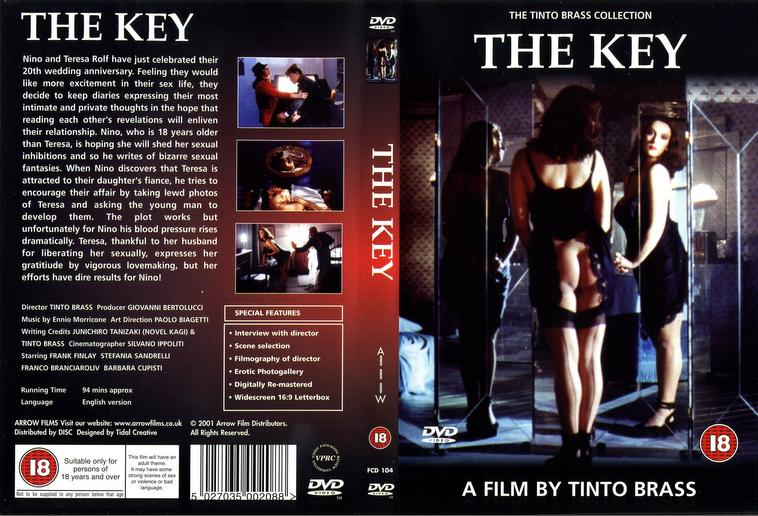 Rather good color, but cropped terribly and devoid of any subtitles. The ratio is about 1.67:1, but something else was adjusted somewhere along the way, and far too much of the height is sheared off. The "interview with the director" is something you can skip, as it's just a very poor copy of the behind-the-scenes docu for
TRAsgreDIRE
. It is NOT 16×9; it is letterboxed 4×3. Released by Arrow in 2001. PAL.
Variety, 9 February 1983, p. 52:


Producer Giovanni Bertolucci has a March start on the Tinto Brass pic "The Key" — adapted by Brass from the Nippon novel by Junichiro Tanizaki.
Variety, 21 September 1983, p. 44:


Exclusion of the Tinto Brass film "The Key" from the Venice program was commemorated by six tall beauties in bathing briefs and chastity belts on the Excelsior beach front to the delight of fotogs. Flesh exhibition was to climax with presentation of a giant key to the filmmaker but Brass didn't show. Otherwise the festival was as chaste as baby talcum.
Variety, 19 October 1983, p. 38:


Silent partners with Giovanni Bertolucci in the Tinto Brass pic "The Key" are Vittorio Annibaldi and Giulio Sbarigia, who have two more Brass projects in development. Annibaldi said he is high on "The Key" and expects heavy marketing at Mifed, where the Filmexport Group is handling foreign sales. To everyone's surprise, Brass quietly accepted censor cuts on "The Key" and the film has been cleared for release as an adult entry (18 years and over).
When the film was released [in Italy], I went straight to London because I had some things to do. [Producer Giovanni] Bertolucci phoned me after two days, desperate: "I'm ruined; they've confiscated the film!" I said, "Oh f__k! Do something!" So from London I dictated a fiery press release against the intervention of this sh_tty country. I appointed my trustworthy lawyer, [Vincenzo] Siniscalchi, who managed to do something really nice. He managed to have only one copy confiscated as material evidence. It's not written anywhere that they must confiscate all the copies. Then he managed to get a very quick trial. In one week, 10 days, the film was tried, absolved, dismissed — I think it was still a preliminary investigation. Anyway, the plan worked, and as a result it had a huge, free publicity campaign.... Regarding the censor, there was a clever woman at the Ministry, very intelligent, who said to me, "Brass, you must make an act of submission. You must cut something." I cut the scene in the bedroom with the mirror, when Branciaroli neighs like a horse, pulls his cock out, she's in front of the mirror, and pulls her petticoat up, he charges, she moves, and he crashes into the mirror and his cock is squashed. No, the cuts were made afterwards when I made the version not suitable for under-14s to be shown on TV. I don't know if it was ever shown. Then this cut version also came out on home video. This made me really angry, because it doesn't make sense. You buy a DVD or a cassette to see more, not to see less.
Variety, 7 December 1983, p. 38:


Seizure of the Tinto Brass film "The Key" for violating penal code on common standards of decency was less of a surprise than the sudden deconfiscation last Friday (2). "Key" distrib Gaumont Italia is mapping immediate re-release.
Variety, 18 January 1984, p. 88:


...It is, in effect, the highest-grossing pic of all late fall releases and now ranks third in the full year's top-10 grossers.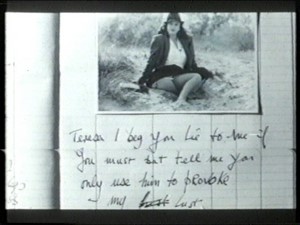 CVC VHS. As you can see, the movie was transferred through the Academy aperture, retaining the full height of the negative. This is the only home video I have ever seen in which you can read the entire diary entry in this scene. (I can't afford a time-base corrector. If anyone wants to donate one, give me a holler.)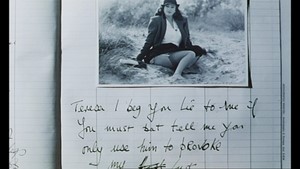 Raro Video DVD.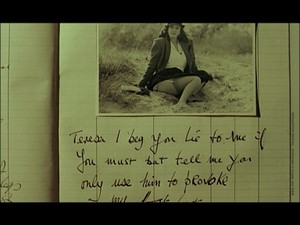 Arrow Video DVD.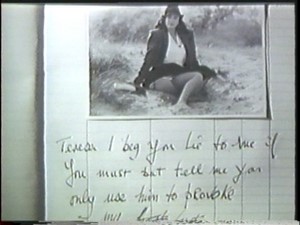 Just so that you can compare the widescreen videos with the VHS from Triangle of Canada from 1987. The tearing of the image at the bottom is a sure sign that this VHS derived from a ¾" submaster. Those dratted things....
Giovanni Bertolucci presenta
The Key / La chiave
Il libro "LA CHIAVE" è pubblicato in Italia da Bompiani
Filmed on location in Venice and at De Paolis Studios, Rome
Copyright © 1983 by San Francisco Film
All rights reserved
Released by San Francisco Film S.r.L. - Rome
Dal romanzo omonimo di
(from the novel of the same name by)

Junichirô Tanizaki

Produced by

Giovanni Bertolucci for San Francisco Film S.r.l. and Selenia Cinematografica

Coproducers

Vittorio Annibaldi [uncredited] and Giulio Sbarigia [uncredited]

Direttore della fotografia
(director of photography)

Silvano Ippoliti

Musiche composte e dirette da
(music composed and directed by)

Ennio Morricone

Edizioni musicali (music publishers)

Tripletime Music, Roma

Operatore alla macchina (camera operator)

Enrico Sasso

Collaborazione al montaggio (assistant editor)

Fiorenza Müller

Amministratore (production accountant)

Mario Sampaolo

Segretaria edizione (continuity)

Carla Cipriani

Organizzatori della produzione
(production managers)

Mario di Biase, Aldo U. Passalacqua
[uncredited in Italian version]

Costumi da bozzetti e disegni di
(costumes created by)

Jost Jakob

Realizzoli da (costumes made by)

Vera Cozzolini, Michela Gisotti

Scenografia e arredamento
(art direction and set décor)

Paolo Biagetti

Scritto, diretto e montato da
(written, directed, and edited by)

Tinto Brass
Colore dello (color by)

Telecolor s.p.a.

Prodution associati

Selenia Cinematografica s.r.l., International Video Service s.r.l.

English-version postproduction

Gene Luotto

Ufficio stampa (publicity)

Lilletta Bertolucci

Aiuto regista (assistant director)

Riccardo Tognazzi

Capo parrucchiere (hair stylist)

Iole Cecchini

Capo truccatore (make up)

Fabrizio Sforza

Fotografo di scena (still photographer)

Gianfranco Salis

Fonico (sound)

Gaetano Carito

Coreografa (choreography)

Gabriella Borni

Montatore del suono (sound editor)

Sandro Peticca

Ispettori di produzione (unit managers)

Massimo Ferrero, Vittorio Fornasiero

Amministratrice /cassiera
(business manager/pay master)

Dorina Mari

Segretario di produzione (production secretary)

Mauro Babini
[uncredited in the English version]

Capo sarta (seamstress)

Angela Silighini

Capo squadra elettricisti (gaffer)

Sergio Spila

Capo squadra macchinisti (key grip)

Renato Cinti

Attrezzista (prop master)

Roberto Magagnini

Assistenti alla regia (second assistant directors)

Pietro Santagada, Domenico Saverni,
Luca Lachin

Consulenza a Venezia
(Venetian legal counsel)

Carlo Montanaro
[miscredited in the English version]

Assistente operatore (assistant cameramen)

Ettore Corso

Aiuto operatore (focus puller)

Andrea Sabatello

Assistenti al montaggio (assistant editors)

Giovanna Ritter, Emanuela Lucidi, Emanuele Cassin

Assistenti scenografa (assistant art directors)

Egidio Spugnini, Nello Giorgetti

Assistente arredatore (assistant set décor)

Luigi Urbani

Assistenti costumista (assistant costumers)

Alessandra Querzola, Marina Frassine

Truccatore (assistant make-up)

Antonio Maltempo

Parucchiera (wigs)

Carla Ruffert
[uncredited in the English version]

Microfonista (boom man)

Marco di Biase

Teatri di posa (sound stage)

De Paolis, Roma

Suono (sound)

Cinecittà

Mixage (mixer)

Fausto Ancillai

Effetti sonori (sound effects)

Cineaudio Effects, Alvaro Gramigna, Fernando Caso

Sartoria (wardrobe)

Mario Russo

Gioielli (jewelry)

Nino Lembo, Roma

Parucche (wigs)

Rocchetti - Carboni

Calzature (shoes)

Arditi

Arredamento (set dressings)

GPR - Dedalo - Rancati

Foreign Sales

Filmexport Group, Rome

Musiche di repertorio (musical excerpts)
PERSONAGGI E INTERPRETI

(Figuring out who all these people are is a lot of fun. Tinto kept winking at us by casting well-known, highly respected stage actors to play the smallest of bit parts and walk-ons. It seems that many of the walk-ons were better-known than Frank Finlay or Barbara Cupisti!)

Professor John Brian "Nino" Rolfe

Frank Finlay (dubbed by Paolo Bonacelli in the Italian version)

Teresa Rolfe

Stefania Sandrelli

Laszlo Apony

Lisa Rolfe

Barbara Cupisti

Sailor

Aurelio

Giulietta

Maria Grazia Bon

Don Busetto

Memo Longobardi

Piero Bortoluzzi

French guest

Enzo Turrin
[uncredited in the English version]

At long last, I found an image of Enzo Turrin from another movie (below), which helps me identify him as the French hotel guest who, glanced at momentarily from a distance, say across a canal, can look remarkably like Laszlo. In any case, the frame capture below is from a beautiful, beautiful, beautiful, beautiful movie called

Bis ans Ende der Welt

(

Until the End of the World

), which is four and a half hours long but if it were ten times longer it would still be worth every minute. You think it looks silly? Don't worry, in context, it's not silly at all.

German Nurse

Irma Veithan

???

Gianfranco Bullo
[uncredited in the English version]
I've searched and searched and searched and searched, but for the life of me I don't see him anywhere in this movie

Military Band Leader

Eolo Capritti

???

Marina Cecchetelli
[uncredited in the English version]

???

Maria Pia Colonnello

Giustina

Milly Corinaldi

???

Luciano Crovato
[uncredited in the English version]

???

Edgardo Fugagnoli

???
I can't identify him in the movie (unless, maybe, he played Commendator Cosulich?), but above is a photo I just found on the Internet

Dottor Davide Fano

Giovanni Michelagnoli

???

Sara Tagliapietra

???

Mirella Zardo

Tithe collector

Antonio Salines

(He's not credited, and nobody anywhere at any time has ever mentioned or noticed that he's in this movie. As a matter of fact, for years and years, every time I saw his momentary scene, I thought to myself, "He looks so familiar. Where have I seen him before?" And then finally it clicked: "That's

Antonio Salines

!" He and Tinto had worked together in the 1970s in Roberto Lerici's play,

Family Lunch

, which, judging from the few publicity stills I've seen, looks stunningly surreal. He went on to become one of Tinto's regulars. For more photos of this prominent stage actor, click

here

and

here

and

here

and

here

.)

???

According to IMDb and other sources, a sculptor by the name of

Pietro Lorenzoni

also made an appearance in this movie, but I don't know what he looks like and so I can't identify him. I would hazard a guess that he played Radoničić, but that's only a guess and I'm probably wrong like I usually am.

Click here to see one of his sculptures.

THERE ARE MANY HUNDREDS OF EXTRAS WHO APPEAR MOMENTARILY, OFTEN FLEETINGLY IN THE BACKGROUND.
AMONG THEM ARE THE FOLKS BELOW.
I CANNOT IDENTIFY THEM AT ALL.
IF YOU KNOW WHO THEY ARE, PLEASE WRITE TO ME. THANKS!!!

???

???

???

???

Radoničić

???

Barber

??? (Is it Arnaldo Momo? There seems to be some vague resemblance, but I really can't tell to save my life.)

Housewives whose names Nino would recognize were he to hear them

???

Widower who can pay for his kicks

???

VIPs at the gallery

???

Two more VIPs at the gallery

???

Commendator Cosulich

???

Anania Longobardi (on the left)

???

Street urchins

???

The waiter who is forbidden by law from speaking any language other than Italian
(He looks a little bit like Paolo Stoppa but I'm sure he's not)

???

A clumsy pedestrian

???

Street vendor who enjoys watching clumsy pedestrians

???

A guy who's always around and regularly taunted by street urchins

???

Cosma

???

Tavern folk

???

More tavern folk

???

Voglio morire

???

One of Zaira's regulars

???

Approving guy on the street

???

Painter

???

Young couple

???

AND SINCE YOU WERE ALWAYS WONDERING WHAT WAS REALLY IN THOSE DIARIES:
---
---