Here are the program notes I wrote for a 35mm screening in downtown Buffalo on Tuesday, 28 August 2001, as part of the Buffalo Film Seminars. I have since modified them slightly, in light of further research — both my own and others'.
The General
Well, the moment you give me a locomotive and things like that to play with, as a rule I find some way of getting laughs with it.
Railroads are a great prop. You can do some awful wild things with railroads.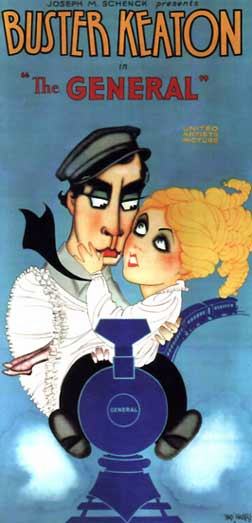 The three-sheet poster, 41" × 81", designed by Alvan Cordell "Hap" Hadley. The only known surviving original sold at auction at Christie's East in Manhattan on 5 December 1994 for $46,000.
| | |
| --- | --- |
| | |
| One-sheet poster | Half-sheet poster |
A United Artists ProductionWritten and Directed by Buster Keaton and Clyde BruckmanAdditional Material by Al Boasberg and Charles Henry Smith
| | |
| --- | --- |
| Produced by | Joseph M. Schenck |
| Directors of Photography | J. Devereaux "Dev" Jennings andBert "Boots" Haines |
| Camera Operators | Elmer Ellsworth and Byron Houck |
| Assistant Camera Operator | Harry Wilde |
| Scenic Director | Harry "Rosie" Roselotte |
| Location Manager/Chief Property Man | Bert Jackson |
| Properties Crew | Mike Graves and others |
| Casting Director | Harry Barnes |
| Chief Draughtsman | Billy Wood |
| Bridge Timber Contractor | George E. Potter |
| Bridge Timber Crew | William Ernshaw and others |
| Technical Assistance with the Trains | Jack Dempster |
| Brakeman | Fred A. Lowry |
| Production Manager/Technical Director | Fred Gabourie |
| Technical Director for Battle Scenes | Glen Cavender |
| Chief Makeup and Wardrobe | J. K. Pitcairn |
| Assistant Makeup and Wardrobe | Bennie Hubbel and Fred C. Ryle (Western Costume Company) |
| Lighting Effects | Denver Harmon |
| Business Managers | W. G. Gilmour and Lou Anger |
| Construction Foreman | Frank Barnes |
| Construction Crew | Jack Coyle and others |
| Bridge and Dam Construction | H. L. Jennings |
| Chief Mechanic and Firefighter | Fred Wright |
| Munitions Foreman | Jack Little |
| Chief Electrician | Ed Levy |
| Still Photographers | Byron Houck, Dale Clawson, and William Piltz |
| Horses and Mules Supplied by | Dee Wright, Eugene, Oregon |
| Railroad Assistance | L. L. Graham and Bob Holmes, Oregon Pacific and Eastern Railway |
| First Aid | Dr. Axley and Dr. Frost, Cottage Grove, Oregon |
| Buster Keaton's Valet and Chef | Willie Riddle |
| Buster Keaton's Cook | Viola Riddle |
| Catering | Anderson & Middleton, under the direction of George E. Potter |
| Chef | Ralph Land |
| Continuity | Christine Francis |
| ?????????? | Betty Cavender |
| Location Screening Facility | Arcade Theatre, Cottage Grove, Oregon |
| Editor | Buster Keaton |
| Assistant Editors | Sherman Kell and Harry Barnes |
| Music Compiled by | James C. Bradford |
| Published by | Cameo Music Service Corporation, New York |
| | |
| --- | --- |
| CAST | |
| Johnnie Gray | Buster Keaton |
| Annabelle Lee | Marion Mack |
| Her Father | Charles Henry Smith |
| Her Brother | Frank Barnes |
| Captain Anderson | Glen Cavender |
| General Thatcher | Jim Farley |
| A Southern General | Frederick Vroom |
| A Union General | Joe Keaton |
| A Union General | Mike Donlin |
| A Union General | Tom Nawn |
| Boy | Jackie Hamlon |
| Boy | Jackie Lowe |
| Recruiter | Frank Hagney |
| Raider | Jimmie Bryant |
| Raider | Jack Dempster |
| Raider | Budd Fine |
| Raider | Ray Hanford |
| Raider | Al Hanson |
| Raider | Anthony Harvey |
| Raider | Ross McCutcheon |
| Raider | Tom Moran |
| Stunt Double for Tom Moran | Earl Mohan |
| Raider | Charles Phillips |
| Raider | Red Rial |
| Raider | Ray Thomas |
| Raider | Red Thompson |
| A Union Railroad Fireman | Ed Foster |
| A Union Officer | Edward Hearn |
| A Soldier | Lewis Lewyn |
| Union and Confederate Soldiers | Oregon State Guard (Henry Baird, Kieth Fennell, Ronald Gilstrap, "Fat" Kerr, Billy Lynn, James Walsh, John Wilson, Harold Terry, and about 500 others), under the command of Captain C. C. Cruson and Sergeant Bukowski |
| ?????????? | Jean Woodward |
TECHNICAL NOTES. Some original prints of The General were tinted sepia, with blue toning for the nighttime scenes. Other original release prints were straight black and white. It is probably unknown which version Keaton preferred. In 1987 Raymond Rohauer made a full-frame print directly from the camera negative for a British tour arranged by Kevin Brownlow and David Gill, for which Carl Davis conducted his new score. This is the print we tried to get, but couldn't, as it's still in England. The print we have tonight was reduced from the original full-frame silent aperture to the Academy 1:1.375 aperture. Sadly, the part titles ("End of Part One," "Part Two," "End of Part Two," "Part Three," and so forth) were edited out of this copy. Apart from the special-effects shots, the film was cranked at 16 frames per second at the low end to about 19 frames per second at the high end. Kevin Brownlow reported that Buster Keaton preferred that the film be projected at 24fps. Reports that the cue sheets called for a speed in excess of 32fps are not correct. The cue sheets, actually, specified no speed, and gave approximate timings that were so far off-base as to be useless. The rumors that the preview prints and the 31 December 1926 Japanese release prints were longer than later prints are probably incorrect, and were probably inspired by production stills of abandoned sequences. Two negatives were completed by the use of cameras placed side by side; one was for the US release and the other for the European release. Six cameras shot the train crash, as there was no possibility of retakes. Because of a mistake in the original opening credits, in which the copyright owner is named but the year of copyright not given, the film has technically been in the public domain from the first.
JOSEPH FRANK "BUSTER" KEATON (4 October 1895–1 February 1966, lung cancer) sometimes said that The General was one of his finest movies; sometimes he said it was his finest of all. But in his autobiography, My Wonderful World of Slapstick, he mentions it in passing only three times (pp. 175, 201, and in the unpaginated illustrations).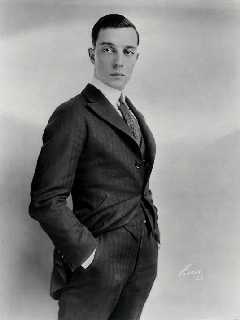 Keaton was born in a boarding house in Piqua, Kansas, where his parents, Joseph Hallie Keaton and Myra Cutler Keaton, were touring with a medicine show. He made his debut at the age of nine months when he crawled out of the dressing room onto the stage, and he became part of the act when he was three. The young Keaton got his nickname within the first two years of his life when he fell down a flight of stairs and landed unhurt and unfazed. Legend has it that it was Harry Houdini who picked him up in wonderment and commented, "That's some buster you took." More recent research by the seldom-reliable Marion Meade suggests that it was actually a vaudevillian by the name of George Pardey who witnessed the fall and made the fateful comment. Father Keaton immediately thought out loud: "That would be a good name for him." The young Keaton seems to have been the first person in history to go by that nickname. From infancy Joe taught Buster how to take falls without getting hurt, and the rough-house act that his family specialized in, in which little Buster was used as a mop, hurled against scenery, dropped into the orchestra, and slammed against the back-stage wall, caused mirth and merriment, but also led to the Gerry Society (Gerry with a hard "g") to institute proceedings on behalf of the seemingly abused child. Court investigations revealed that the young Buster had no bruises or scars, and that there was no evidence of abuse. Keaton, his family, friends, and fellow vaudevillians, even into their old age, all confirmed that the courts were right, and that the allegations of abuse were woefully mistaken. Buster was the star of the show, with ads sometimes reading "BUSTER, assisted by Joe and Myra Keaton." Despite enduring audience appeal, while touring in the Keith-Albee circuit the Keatons were not a first-tier act. They usually ranked fifth, sixth, or seventh in an eight-act show. Buster learned to sing, dance, and get by with a guitar or ukulele. He also learned magic and juggling, and was the Buff in a team called Buff & Bogany, the Lunatic Jugglers. (Thanks to Ron Pesch of Muskegon for making that last discovery!)

When Joe Keaton's mid-life crisis induced a bout with alcoholism, and hence poor timing and great risk, the twenty-one-year-old Buster broke up the act, visited his family's agent, Max Hart, and announced his availability. Hart scheduled him for The Passing Show of 1917, in which Keaton hoped to do a wordless sketch. But a chance encounter with his old vaudeville buddy Lou Anger led to a visit to the studio of fellow Kansan Roscoe Arbuckle. Keaton had just seen Arbuckle's latest, The Waiter's Ball, which had stolen a gag that the Keatons had originated and made famous, and he was not looking forward to the meeting. But to his surprise the two of them hit it off famously, and within minutes Arbuckle asked Keaton to do a turn in The Butcher Boy, which had just started filming. Before the end of the day Keaton was in love with the movies, canceled his $250-a-week Passing Show contract, and signed on with Arbuckle's studio for $40 a week. He quickly became Arbuckle's principal gagman, even inventing special effects. In 1920 Arbuckle won a (tragically short-lived) contract for feature films with Paramount Studios, and Keaton's producer and future brother-in-law Joe Schenck (pronounced Skenk) gave Keaton his own studio. Keaton here made nineteen short films over the next three years, and in 1923 he was finally allowed to make features, which he had wanted to do from the first. While the shorts were filled with impossible stories and rapidly paced gags, most of his independent features were revolutionary. His less-is-more method of story telling demanded that his performers underact. Seldom in a Keaton feature do actors smile or frown or shout or cry or laugh. The feature films that Keaton made during the next five years are notable for their striking compositions and camera work, their fluid editing, their lack of sentimentality, and their absence of heroes or villains. One of Keaton's strengths was irony, showing how different perspectives lead to surprisingly different points of view. Sadly, most of his best features were laden with boy-gets-girl plot lines, most likely imposed by his producer's insistence upon insuring success with a proven formula. The General showed Keaton at his most independent and uncompromising.
CLYDE A. BRUCKMAN (20 September 1894–4 January 1955, suicide) was among the most highly sought-after gag men, comedy writers, and comedy directors, but almost nothing is known about him, and nothing at all is known about his specific contributions. Film historian Steve Massa supplied a brief sketch for a film program:
Bruckman came from a newspaper background and became a writer and gagman in 1919 for Eddie Lyons & Lee Moran and Monty Banks. In 1921 he joined Keaton's staff of ideamen and was one of his key collaborators until he began freelancing after Seven Chances (1925). Besides being an important (and sometimes uncredited) collaborator to Harold Lloyd for almost fifteen years and directing Laurel and Hardy in some of their most important early comedies (Putting Pants on Philip [1927], Battle of the Century [1927], The Finishing Touch [1928], etc.), Bruckman also worked with Mack Sennett, Hal Roach, Max Davidson, W. C. Fields, Lloyd Hamilton, and the Three Stooges.
Bruckman's fatal flaw was alcohol. As the 1930s rolled around he would go on binges and disappear in the middle of shoots. While this effectively ended his directing career, he was still in demand as a writer. But he had a penchant for recycling material he had written for other people and in the 1940s Harold Lloyd sued Universal and Columbia over material Bruckman revised — leaving Bruckman pretty much unemployable. In the early 1950s he managed to work on Keaton's and Abbott and Costello's television shows but not much else. In 1955 he borrowed a pistol from Keaton and shot himself.
The national press did not consider his death newsworthy, and there seem to have been no obituaries. Not long before Bruckman's death, Rudi Blesh interviewed him for his book, Keaton (pp. 148–152):
"I was with Warner Brothers," Bruckman related. "Warners at that time consisted of Jack, Sam, and Harry Warner, Monte Banks, and a few extras and props, in an old barn of a studio at Bronson and Sunset, where the big bowling alley now is.
"Then I ran into Harry Brand, an old friend of mine from newspaper days. Now he was Buster's publicity man.
"'Why don't you come over with Keaton?' he asked.
"'How do I know Keaton wants me?'
"Next day Brand phoned, said 'Come over for lunch with us.'
"I did and was hired, to start the next Monday. I went back and saw Jack Warner. 'Jack, I have a chance to go with Keaton — better job, better opportunity. I'd like to close Saturday.'
"'Can you keep a little secret?' said Jack. 'We're all closing Saturday.'
"And, by gosh, they did — for six months or more. It took a German police dog called Rin Tin Tin to take them out of the red."
Then Bruckman described the Keaton lot. "I suppose writers should coin phrases, so here goes," he said. "We were one big happy family. And that's something you don't know until — and if — you've been in one. In such a situation, gags are never a problem. You feel good. Your mind's at ease, and working.
"I was at Buster's house or he at mine four or five nights many a week — playing cards, horsing around, dodging the issue. Then, at midnight, to the kitchen, sit on the sink, eat hamburgers, and work on gags until three in the morning. And how we'd work!
"You can't match that today, when you walk in on a supervised production, cut and dried, every cough scripted and every sneeze timed, and the bigwigs all a pushbutton's length from the set. Joe Schenck was too big to be a bigwig. He's said — and I've heard him — 'Tell me from nothing. Go ahead, what should I know about comedy?'
"Buster was a guy you worked with — not for. Oh, sure, it's a cliché, like the 'happy family.' But try it some time. I even hate to mention the playing. It sounds like a buildup. But late afternoons we chose sides and had our ball game — fights, arguments. Rainy days it was bridge in a dressing room — fights, arguments. And we made pictures." Bruckman sighed. "Harold Lloyd was wonderful to me," he said. "So was Bill Fields. But with Bus you belonged.
"Well, it's all changed, anyway. So organized and big a man can't touch it. It used to be our business. We acted in scenes, set up scenery, spotted lights, moved furniture — hell, today even the set dresser with paid-up dues can't move a lousy bouquet. He sits and waits until the 'green man' arrives. An actor has to fight his way onto the set through technicians, supervisors, experts, and accountants. And television has followed the same lines. So...." He swallowed and looked up. "Other days, other ways, as Nero said.
"Oh, we'd get hung up on sequences. Throw down your pencils, pick up the bats. The second, maybe third, inning — with a runner on base — Bus would throw his glove in the air, holler, 'I got it!' and back to work. 'Nothing like baseball,' he always said, 'to take your mind off your troubles.'
"With it all, you wouldn't believe a comedian could be so serious. He showed them all how to underact. He could tell his story by lifting an eyebrow. He could tell it by not lifting an eyebrow. Buster was his own best gagman. He had judgment, taste; never overdid it, and never offended. He knew what was right for him."
Clyde Bruckman paused, lit a cigarette, and went on. "You seldom saw his name in the story credits. But I can tell you — and so could Jean Havez if he were alive — that those wonderful stories were ninety percent Buster's. I was often ashamed to take the money, much less the credit. I would say so.
"Bus would say, 'Stick, I need a left fielder,' and laugh. But he never left you in left field. We were all overpaid from the strict creative point of view. Most of the direction was his, as Eddie Cline will tell you. Keaton could have graduated into a top director — of any kind of picture, short or long, high or low, sad or funny or both — if Hollywood hadn't pushed him down and then said 'Look how Keaton has slipped!'
"Comedian, gagman, writer, director — then add technical innovator. Camera work. Look at his pictures to see beautiful shots, wide pans and long shots, unexpected close-ups, and angles that were all new when he thought them up. But each and every camera angle calculated to help tell the story — without sound, remember, and with damn few subtitles."
"...The guy's honesty was impressive. He wouldn't fool his audience. None of the easy camera tricks like cutting an action into several parts with a new camera angle for each, then splicing it all together.... When he did use a camera trick, he did it deliberately, to make an impossible statement. Like multiple exposure. Not double exposure, which is a picture on top of a picture, generally an amateur accident. Multiple exposure is dividing up the picture frame into parts, taping the lens to correspond, and photographing each part separately. Keaton didn't originate this idea. It had been used for years to show an actor in two roles at once. But it was a difficult technique. It was hard to join the halves of the picture without a telltale line down the middle. It was also hard to get the separate actions to synchronize — like looking up at the exact moment that your alter ego, in the earlier exposure, said something to you.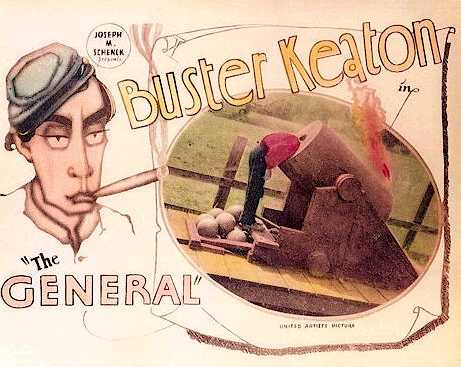 "Buster Keaton did the multiple exposure to end all multiple exposures. It was in Playhouse. He did an entire minstrel show all by himself — nine Busters in blackface on the stage at once. Every move, song, and dance exactly in unison. That meant taping off the lens into nine equal segments accurate to the ten-thousandth of an inch.
"'It can't be done,' said [Elgin] Lessley, the cameraman.
"'Sure it can,' said Buster. 'We won't use tape.'
"He built a lightproof black box, about a foot square, that fitted over the camera. The crank came out the side through an insulated slot. It was in the front that the business was: nine shutters from right to left, fitted so tight you could have worked underwater. You opened one at a time, shot that section, closed that shutter, rolled the film back, opened the next shutter and shot, and so on.
"'Keep this a secret, you lugs,' said Buster. We did. Hollywood gave up on that one. No one even tried to copy it."
Clyde Bruckman stamped out his cigarette. "I often wish," he said, "that I were back there, with Buster and the gang, in that Hollywood. But I don't have the lamp to rub. It was one of a kind."
LIEUTENANT WILLIAM PITTENGER (31 January 1840–24 April 1904) is known for Daring and Suffering: A History of the Great Railroad Adventure (Philadelphia: J. W. Daughaday, Publisher, 1863), his terrifying first-hand account of the now-famous Union attempt to steal a Confederate railway engine and run it north, destroying cables, tracks, and bridges along the way. The attempt was an almost instant failure. Union soldiers under the leadership of a secret agent named James J. Andrews boarded a Confederate train as civilian passengers, stole it during a meal break, ran it a few miles north, and pulled over to a side track to allow a scheduled Confederate train to pass in the other direction. To their surprise, the other train had a flag on its engine, indicating that a second train would be following in a while. Worse, the second train also had a flag on its engine, indicating that yet a third train would follow. This unexpected complication forced Andrews and his men to abandon the mission and flee. They were hunted down by bloodhounds, and the bulk of the book is devoted to the harrowing tales of how the men were imprisoned and tortured, and how eight of them were executed.
The Kennesaw Civil War Museum has a massive display concerning the Andrews Raid, including the stolen locomotive. See their web pages at http://roadsidegeorgia.com/site/kcwm.html and http://ngeorgia.com/history/raiders.html.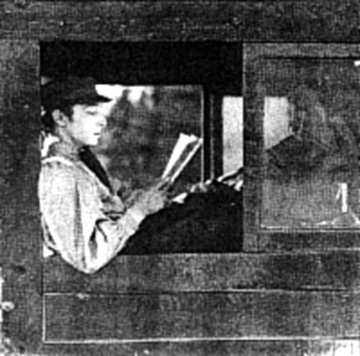 THE PRODUCTION. Sometime at the end of 1925 or the beginning of 1926 Clyde Bruckman found a reprint of Pittenger's book, retitled The Great Locomotive Chase. He instantly thought the story would be perfect for Keaton, who was an avid history buff. Keaton read it straight through in one night. As Blesh recounted: "Buster raced to the studio. 'It's a picture,' he said to Clyde, 'and I want you to help me direct it.'" Keaton would play a part based loosely on William A. Fuller, the conductor of the stolen train, who gave chase on foot and then on several hastily commissioned engines. Keaton's crew invented gags, and Keaton rejected them all, saying the film would not be a gag picture, but a straight story. "It's got to be so authentic it hurts," he said. His research revealed that the stolen engine was named General, that the last of the several engines that chased it was Texas, and that both were preserved in museums. His idea to shoot on the actual locations proved impossible, as the tracks had been modernized. The State of Tennessee, which then had possession of the original General, was initially happy to loan it out the for filming — until the powers that be discovered that the film was to be a comedy. Keaton's staff technician Fred Gabourie and location manager Bert Jackson located period tracks still being used by the Oregon Pacific & Eastern railway in Cottage Grove, Oregon. And Cottage Grove strongly resembled northwestern Georgia. Wood-burning engines were purchased from the Anderson & Middleton logging railway. These were old enough to be adapted into replicas of the originals.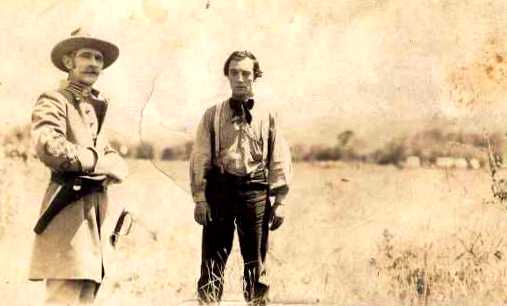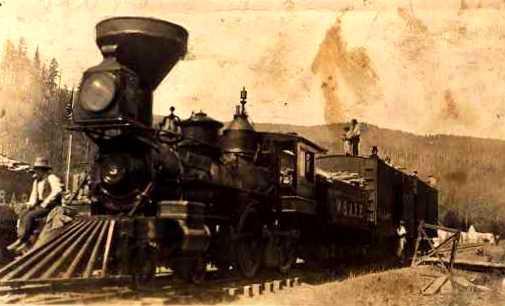 Some rare behind-the-scenes shots
The story in the film, apart from the initial idea of Union soldiers stealing a train and sabotaging the lines and a Southern crewmember giving chase, was a work of pure fiction, but it was fiction that had the look of authenticity. Shooting began on 8 June. Keaton said to Gabourie:
"Now work fast. Telephone the governor up there and you can get the whole damned Oregon State Guard for the war scenes."
"Well," the governor said, "I don't know." He hesitated. "We have two regiments going into camp in two weeks."
"We'll pay them a salary on top of yours," said Buster.
"All right, they're yours."
Buster Keaton was the most popular star in Russia in the 1920s. Here are two posters for The General designed by the Stenberg brothers.
Previous Keaton features had been released through Metro and its successor, MGM. Since Joe Schenck had just switched jobs, The General was the first of Keaton's films to be released through United Artists, a far less wealthy outfit. This may have been a source of later problems, for The General was to be the most expensive of Keaton's features, originally budgeted at half a million dollars. The cost of the film escalated when July 1926 gave Cottage Grove a record heat wave. Sparks from the engines set haystacks alight and caused massive fires, filling the skies with smoke, and Keaton himself led the fire-fighting forces, who consisted largely of the Oregon State Guard. The governor awarded Keaton an honorary captaincy for his efforts. (The day-by-day newspaper accounts of the filming omitted any mention of the film production's role in causing the fires, and instead put all blame on spontaneous brush fires. Those reports do not tally with the recollections of people who were there.) Shooting in smoke-filled skies, in addition to looking bad, would have produced mismatched shots, and so production was halted, at one time for a month, with the State Guard still on the payroll. The production cost shot up to nearly a million dollars, about three times that of a normal Keaton feature. There were a few other problems too, as old-style firearms caused some potentially dangerous confusion, and several Guardsmen received minor injuries during the battle scenes. One Guardsman was even knocked unconscious by an explosion. In July Keaton was sued by Fred A. Lowry for $2,900 for a crushed foot. "Lowry says he was employed as a brakeman on the train and the accident occurred because of lack of safety appliances on the cars, which were made to appear like the cars used in Civil War days. He says in his complaint that the drawhead of a car buckled as he was attempting to couple two cars together and in trying to get out from between them his foot was caught beneath a wheel and was run over" (The Cottage Grove Sentinel, 19 July 1926). Unfortunately, the Sentinel also ran a poorly worded joke story which might wrongly lead readers to think that ten members of Keaton's cast drowned in the river.
Thanks to the pathbreaking research of George Wead and Kevin Brownlow, we now know that the local newspapers confused the three principal engines. In reality, an engine known affectionately to locals as Old Four Spot was remodeled into the General. It had been manufactured less than two decades after the end of the Civil War by Cooke, the same company that had manufactured the original Texas. Another engine, the Yonah, was remodeled into the Texas. A third engine was remodeled into the apocryphal Columbia. The Yonah was old and tired, and Buster planned to give it a grand send-off. But at the last moment it was discovered to be in better operating condition than the engine that was impersonating the Columbia. So, unbeknownst to the reporters, the Yonah/Texas and the Columbia were switched.
Location shooting finished on Saturday afternoon, 18 September 1926.
| | |
| --- | --- |
| | |
THE AFTERMATH. The General was shown to a preview audience in San José, California, during the first week of November 1926. A few days later it was shown in Glendale, California. According to Bert G. Bates in The Oregonian (15 November 1926), "Buster Keaton's Oregon-made super-feature comedy, 'The General,' clicked 100 per cent when presented to a preview audience at the Alexander theater in Glendale this week. The somber-faced giggle producer has one of the greatest pictures of the year, and Joseph Schenck, who witnessed the preview, declared that it was undoubtedly the greatest comedy Keaton has ever produced and should earn $1,000,000 for United Artists.... The picture has laughs galore and will set a mark for Chaplin and the rest of the top-notch comedians to shoot at. Following the preview showing the audience stood and applauded long and loud as a tribute to Keaton's efforts." The General was copyrighted on 22 December 1926, and it played in several cities in Oregon in early January 1927, but its scheduled December opening at the Capitol Theatre in Manhattan was delayed until Saturday, 5 February. The delay prevented Keaton from making a personal appearance at the opening.
| | |
| --- | --- |
| | |
In the winter 2001[–2002] issue of The Buster Bulletin, David Macleod went through reviews in popular movie magazines that the general public would likely have seen.
Bioscope (27 January 1927):
Excellent comedy for 1st class houses. It cannot fail to please a discriminating audience. Buster Keaton gives a performance of polished comedy.
Picturegoer [UK] (April 1927):
Buster Keaton as the engine driver hero of an American Civil War story, goes unsmilingly as usual through a series of amusing adventures. Marion Mack is his leading lady, and there is an excellent supporting cast. Capital entertainment.
Motion Picture (March 1927):
Buster Keaton has evolved a mild little comedy of Civil War days. It's a pleasure to laugh continuously but comfortably, with no painful side-splitting, while Buster inadvertently becomes the hero of the Confederate Army. He is relentlesly aided, throughout the picture, by the heroine, who is nothing short of an inspiration. Marion Mack plays this delightful brand of leading lady with infinite good nature. Don't miss her and Buster.
Photoplay (March 1927):
...Buster Keaton does spoof the Civil War most uncivilly in his new comedy. Buster is a locomotive engineer who saves a whole Confederate army single-handed. There is an undercurrent of heroic satire in the way Buster is always saving the moron heroine in crinolines. Anna-belle Lee is a gorgeous laugh at all the helpless young ladies of historic fiction.
"Brief Reviews of Current Pictures," Photoplay (May 1927):
Good satire on war melodrama and excellent comedy thrills.
Picture Play (May 1927) gave a negative review, perhaps unique among contemporary fan magazines:
What is easily Buster Keaton's most ambitious comedy is his least funny one. Mr. Keaton's task was to invest it with comic byplay, which he does, but there is an underlying solemnity in the proceedings which puts rather a crimp in the farcical treatment given them. "The General" is a one man show, a mistake in a picture lasting over an hour.
Carl Sandburg, who was once also a movie reviewer for The Chicago Daily News, wrote the following, which can be found in Arnie Bernstein, ed., "The Movies Are": Carl Sandburg's Film Reviews and Essays, 1920–1928 (Lake Claremont Press, 2000):
If they'll put Buster Keaton at the head of the armies next time there's a war his maneuvers will bring that war to a pleasant, painless and prompt conclusion, because the belligerents will simply die laughing. At least that is the impression one gets viewing him in The General, a Joseph M. Schenck production, directed by Buster Keaton and Clyde Bruckman, the star's first feature for United Artists, and now having its first Chicago showing at the Orpheum Theater.... The play is chockfull of hilarity, pathos and thrills, such as when Johnnie chases himself with a loaded cannon; attempts to burn down a bridge and gets on the wrong side of the fire; shoots a cannon into the air and with fool's luck hits the dam that floods the river and puts the enemy to rout. And if any young "modern" thinks short skirts and knickers an attribute to agility, let her behold the acrobatics of Marion Mack in hoopskirt and lace beruffled pantalets.... If you want a good laugh, don't miss The General.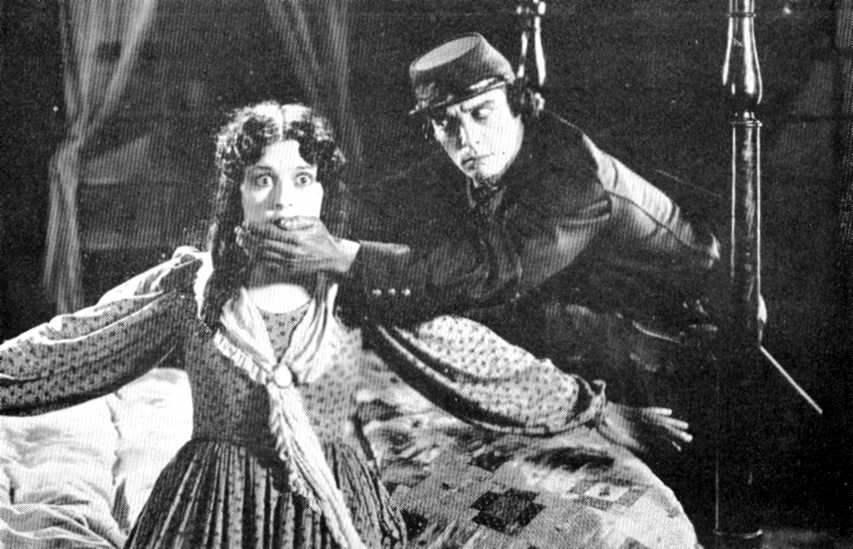 Buster Keaton said that The General was one of his three top financial successes. And check out the lovely interview with Marion Mack: "...we were surprised when it took off as it did. It was the audiences that made it such a hit; the studio never realized what a gem they had in their hands until the money started rolling in." Yet in the ledger books the film was a flop, with a domestic gross of only $474,264. No one has yet fully researched the discrepancy here, and no one has yet determined its actual earnings or loss, as opposed to its reported loss (there's often or always a major difference between the two). If the film was indeed a financial failure (doubtful), then perhaps Joe Schenck and the stockholders of United Artists, nervous about the film's enormous budget, decided to play it safe rather than take a risk on its success, and so instantly wrote it off as a tax loss and refused to promote it properly. In the more likely case that the film was indeed successful, then perhaps back-room dealings were to blame for some creative accounting. Here's a conspiracy theory, of my own invention, which may or may not have an element of truth in it. Perhaps MGM was angry at no longer having the distribution contract for Keaton, who had been one of their cash cows. If so, perhaps Joseph Schenck and his brother Nicholas, who was in charge of MGM's distribution, secretly worked out an excuse to take Keaton's contract away from United Artists and sell it back to MGM. Juggle some numbers, create a loss where a gain had been, and presto, Keaton's an MGM property all over again. Crazier things happen in business every day.
Tom Dardis's mistake-ridden 1979 biography, Keaton: The Man Who Wouldn't Lie Down, cites as evidence of The General's poor reception the following reviews from New York City newspapers (p 144).
Mordaunt Hall, The New York Times:
This is by no means as good as Mr. Keaton's previous efforts.... [A] mixture of cast iron and jelly.
The New York Herald-Tribune:
Long and tedious — the least funny thing Buster Keaton has ever done.
The New York Daily Telegraph:
[A] pretty trite and stodgy piece of screenfare, a rehash, pretentiously garnered of any old two-reel chase comedy.... The audience received "The General" with polite attention, occasionally a laugh, and occasionally a yawn. Disappointing.
The New York Daily Mirror
...slow, very slow.... [P]ull yourself together, Buster. That's all.
Martin Dickstein, The Brooklyn Eagle
Probably lots of people will not think it funny at all.... I give you "The General," a comedy for the exclusive enjoyment of the matured senses.... Buster Keaton has made a financial faux pas, perhaps....
| | |
| --- | --- |
| | |
Thanks to Dardis's book, the current accepted wisdom is that The General was a critical and box-office failure. Despite his bias, though, Dardis has rendered a service, for we can now see that the initial negative reviews in New York City likely played a rôle in Joseph Schenck's future decisions concerning Keaton's contract. In response to the real or manufactured box-office disaster of The General, Schenck appointed a supervisor for the Keaton studio and hired directors for his films. A little over a year later he closed Keaton's studio and sold Keaton's contract to MGM. After his first film there, The Cameraman, which Keaton fought valiantly to make his own way, MGM dispersed Keaton's crew and assigned him standard assembly-line projects. Most of his subsequent MGM films are now regarded as unwatchable, but financially they were more successful (at least domestically, though almost certainly not internationally) than any of his independently made features. The reason for this was surely not that audiences enjoyed them more, but that MGM now had superior booking clout in the U.S.
With his marriage to Natalie Talmadge at an end, with her winning custody of their two sons, and with the loss of his independence and his crew, Keaton became an alcoholic and suffered a nervous breakdown. Shortly after MGM fired him for insubordination in 1933, Keaton attempted to dry out of his own volition. When he slipped in 1937 his mother and sister had him committed to an aversion-therapy sanitarium, where he could easily have lost his life. Keaton began a three-decade-long climb back to the top. Never again would he have the independence or the resources to create anything close to the quality of his finest silent works, but like the characters in his films, he made the best of the situation. Under the guidance of his eminently sensible third wife, dancer Eleanor Ruth Norris, he learned to be at peace with the realization that his best work was behind him, and so he concentrated on his other dreams — purchasing a small ranch, getting back with his children, enjoying his grandchildren, keeping close company with his friends, and performing as much as possible. He accepted almost every offer to appear on stage, in musicals, in photo shoots, in nightclubs, in circuses, on television, in magazine ads, in TV commercials, and in movies.
| | |
| --- | --- |
| | |
In the 1950s the Museum of Modern Art began showing The Navigator and The General, which were then thought to be the only surviving Keaton silents, and a new generation discovered Keaton and proclaimed him a genius, a description Keaton sincerely rejected. In 1965 he won a standing ovation at the Venice Film Festival. He was in tears. "This is the first time I've been invited to a film festival, but I hope it won't be the last." A few months later he died content at the age of 70, after a night spent with his friends, in the company of his wife.
ANOTHER SOURCE. There was a surprise in the Spring 2000 issue of The Keaton Chronicle. Film historian and preservationist David Shepard wrote a letter to the editor, which is here quoted in full:
I am working on a video edition of a quite fine Civil War film called The Coward (1915, produced by Thomas Ince, directed by Reginald Barker, starring Frank Keenan and Charles Ray). Eric Beheim, who is doing the music, noticed many startling similarities to the non-locomotive-chase portions of The General. We wonder if this could have been a source for Keaton?
Similarities between The Coward and The General (none of these elements was part of the original historical incident):
• Confederate recruiting stations figure prominently in the openings of both films.
• Failure of the heroes to enlist is used to advance the plot.
• When they fall out of favor for "cowardice," both heroes' photographs are removed from sight by the family patriarch.
• Both heroes overhear a top-level Union staff meeting at which important plans are discussed.
• Both heroes hide under the table in the room where the officers are meeting.
• Both heroes escape by overpowering guards and changing into enemy uniforms.
• During their escapes back to Confederate lines, both heroes are fired upon by friendly sentries because they are wearing the wrong uniform.
• Both heroes relay important battle information which ultimately leads to a Confederate victory.
• The destruction of a key bridge figures prominently in outcomes of the final battles.
For those who are interested, The Coward will be out on DVD and VHS from Image Entertainment later this year as a component of a program of Civil War Films 1911–1915.
The film does make for interesting viewing. The Coward, forgotten for seventy years, was one of the most popular silents and was continually revived during the silent era. Keaton and his crew were surely familiar with it, and it is crystal clear from watching it that Keaton was deliberately referencing this earlier film, largely for comical effect. It is also interesting to note that highly decorated war hero Glen Cavender, who played Captain Anderson in The General, served as technical director for battle sequences on Ince pictures prior to The Coward, and that he had worked with Charles Ray.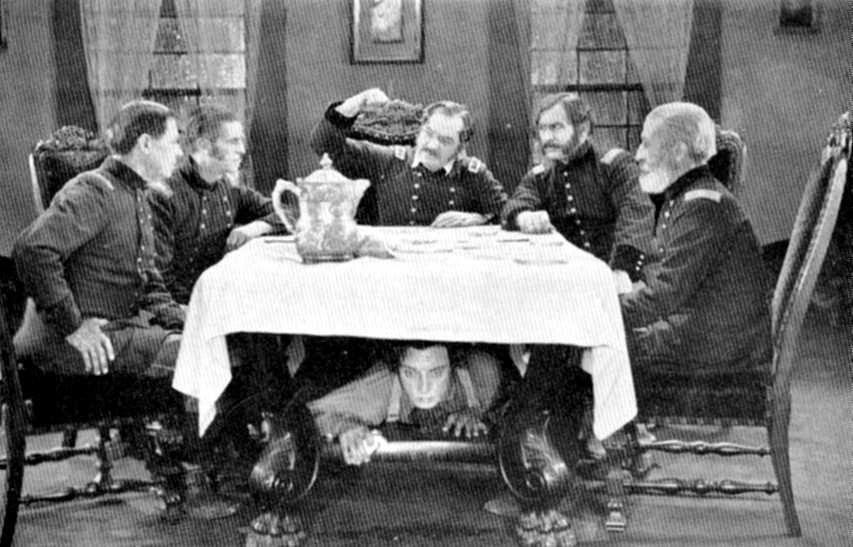 Left to right: Joe Keaton, Mike Donlin, Jim Farley, Glen Cavender, and Tom Nawn, with Buster hiding underneath.
(In my researches on older theatres, I keep running into a vaudeville act entitled "The Nawns," and I assume that Tom was the patriarch of that family. One of my greatest frustrations is my inability to go out at night and watch the shows and performers who entertained the country from about, oh, 1785 through about 1928. Now what do we have to replace that culture? Parking lots, Wal-Mart, and video games. Sheesh.)
CURIOSITIES. There is a rumor that the general who gives the command for the engine to cross the burning bridge is Keaton's former cameraman, Elgin Lessley. Wrong! Kevin Brownlow informs me that it was not Elgin Lessley, but Buster's current cameraman, J Devereaux Jennings! The story that Boris Karloff plays one of the three Union generals in the cabin at night and on the train the next day is incorrect, but it's easy to see where the rumor came from. The Union general in question bears a striking resemblance to Karloff. Actually, he was Michael Joseph "Turkey Mike" Donlin, a retired baseball player who was trying to launch a new career in the movies. Marion Mack's character was called Virginia during the shooting; it wasn't until the film was edited that her name was changed to Annabelle Lee, surely an homage to Edgar Allen Poe as well as a reference to General Robert E Lee. Lewis Lewyn, who briefly appears as a soldier, was Marion Mack's husband. Frank Barnes, who played Annabelle's brother and who also served as the company's construction foreman, usually performed under his birth name, Richard Allen. The name Johnnie Gray sounds nothing like William A Fuller, but it does sound quite like Johnny Grey, who had just worked with Clyde Bruckman on a Harold Lloyd film called For Heaven's Sake. It also has a curious resonance with a popular 1919 song entitled "Take Your Girlie to the Movies (If You Can't Make Love at Home)." First verse:
Beatrice Fairfax gives advice,
To anyone in love;
That's why Johnny Gray,
Wrote to her one day;
"When I call to love my girl,
Her folks are always there;
That's why I'm blue,
What shall I do?"
And Beatrice said, "Never despair"....
To top that off, Kevin Brownlow, in his book, Alla ricerca di Buster Keaton, has found yet another source of that name! (More on this wonderful new book below.)
ANOTHER CURIOSITY. An episode of The X-Files written by Darin Morgan was little more than an excuse for obscure references and in-jokes that surely almost no viewer would recognize. It was entitled "Clyde Bruckman's Final Repose," and it was essentially a rebus-like puzzle whose solution was "Buster Keaton."
THE CRUELEST CURIOSITY. About a year after writing the above, I discovered that I need not have, because George Wead had already written almost the exact same article for American Film magazine (vol. 2, no. 9, July–August 1977, pp. 18–24). Just goes to show you.... (I don't think he'll ever believe that this web page was researched entirely independently of his article. Hope he does, though.)
INADVERTENT PLAGIARISM. I hadn't read Jim Kline's intro to his book, The Complete Films of Buster Keaton, in about ten years. When I reread it the other day (late March 2003), I was amazed at how much I borrowed (stole?) from him, without even realizing it. Is that what they call cryptomnesia?
BUSTER ON VIDEO
(A lot of the links below are dead. Forgive me. I'll fix them soon.)
The General. The best video edition was available from the Thames Television International/Video Collection International Ltd in Hertfordshire, on PAL-system VHS, product number TV 8129. This same edition was also available in the U.S. on laserdisc from HBO video through Image Entertainment, product number ID6862HB, as well as on NTSC VHS as part of HBO video's "Legendary Silents" label, product number 0282. All are out of print, but a few copies of the HBO VHS edition are still available from http://www.busterkeaton.com/, and the laserdisc still shows up on eBay.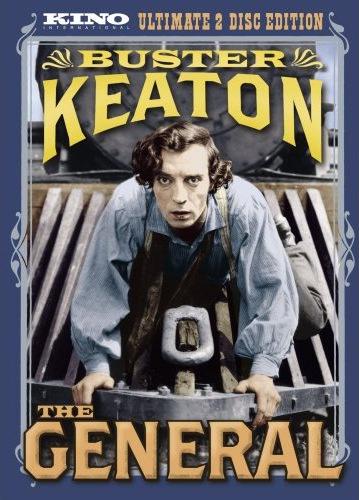 NEWS: A new print directly off of the camera negative, probably the same print that Kevin Brownlow and David Gill and Carl Davis used for their roadshow engagements, has been issued on DVD by Kino, WITH THE CARL DAVIS SCORE!!! It's beautiful, though the old sound recording did not always synchronize perfectly with the new image transfer (the cannon-ball gag is now slightly mistimed) but it's still wonderful to have, and it has some nice extras, some of which are available elsewhere, and some of which aren't.
Another noteworthy edition is the restoration from Lobster Films in France. The quality of the image is stunning! And there are lots of nice extras, too. But, unfortunately, no Carl Davis score.
Our Hospitality. This major Keaton work was available from HBO on NTSC laserdisc (Image Entertainment, product number ID6863HB) and on NTSC VHS ("Legendary Silents," product number 0281). Again, these are out of print, but can still be found on eBay.
The Early Shorts. Ten of Keaton's fourteen shorts with Roscoe Arbuckle were recently released on Region 1 NTSC DVD and NTSC VHS from Kino on Video in New York as a two-volume set called "Arbuckle & Keaton: The Original Comique/Paramount Shorts, 1917–1920." A superior copy of one of these shorts (The Garage), an eleventh short (Oh Doctor!), and an uncredited Keaton cameo (an abridgment of The Iron Mule), are available on volume 4 of Image's "Slapstick Encyclopedia" on Region 1 NTSC DVD and NTSC VHS. A twelfth Arbuckle/Keaton short, the long-thought-lost The Cook, is in release from Milestone. An impressive 4-volume Region 2 PAL DVD set is Buster Keaton — L'Intégrale des courts métrages 1917–1923, which contains almost all of Keaton's surviving footage in silent shorts. Twelve of these shorts have been remastered for an American release, The Best Arbuckle-Keaton Collection. The various restorations don't match. If you're a true connoisseur, you'll need to purchase all the editions.
The Deluxe Box Set. The bulk of Keaton's independent solo work is available on DVD, laserdisc, and VHS from Kino in a ten- or eleven-volume set called "The Art of Buster Keaton." The films are beautifully restored by David Shepard, and the latest eleven-volume NTSC DVD edition is almost perfect. Earlier releases (1995–2000) were missing important footage in Day Dreams and Convict 13. Even the current release is missing two shots in Sherlock Jr. and one shot in The General. This box set opens with the dull and overlong preview print of the Metro film, The Saphead, a feature in which Keaton appears, but over which he had almost no control. A slightly better copy of Sherlock Jr. (with infinitely better music!) was until recently occasionally shown on American Movie Classics. (All current releases are eight minutes short of the preview version, which was mysteriously — probably mistakenly — circulating until 1975.)
Some of the Kino transfers (converted to PAL) were also once released in France, in a brutally expensive box set. Some shorts were also included, taken from the "L'intégrale des courts métrages" set, and The General was taken from the Lobster set:
Beware of all other video editions of Keaton's independent work, many of which are incomplete, copied from pathetic dupes, sometimes transferred at speeds that are far too slow, and have dreadful music scores.
The Cameraman. Keaton's first MGM-produced silent, which was also the last true Keaton film, is finally available in a beautiful DVD edition. Sadly, the original camera negatives and fine-grains were lost long ago, probably in the infamous MGM vault fire, and so parts of the film (derived from copies of copies of copies of copies) look horrible. There is also a segment missing from the middle. The current 35mm prints, the DVD, the laserdisc version, and the current television version, look a lot better, but they were all re-edited to make the gap less noticeable. The out-of-print NTSC VHS has a momentary fragment from that now-missing scene. You might still be able to find the VHS at Amazon. (In 1977 British game-show host Bob Monkhouse found a complete internegative of The Cameraman in Czechoslovakia. He shipped it to England, but British Customs, mistaking it for contraband, burned it and had Monkhouse arrested.)
Miscellanea. One of the rarest and most curious Keaton appearances was in a trade-show short from 1921 called Seeing Stars, in which he briefly appears as Charlie Chaplin's waiter. Only one incomplete copy is known to survive, and no historian seems to be aware of the film's existence, hence its nonappearance on over-the-counter video, though a few home-made copies have been circulating on VHS. The opening scene was included in the recent Industrial Strength Keaton DVD set, which also includes another recent discovery, the six-minute Character Studies, which stars Carter De Haven "impersonating" Roscoe Arbuckle, Buster Keaton, Harold Lloyd, Jackie Coogan, Douglas Fairbanks, and Rudolph Valentino, courtesy, of course, of clever editing.
FURTHER RESEARCH
Perhaps the best place to start learning about Keaton's life and work is the web site operated by the Damfinos — The International Buster Keaton Society. An impressive British-based web site is the Blinking Buzzards. Another superb source is the three-part video by Kevin Brownlow and David Gill called Buster Keaton: A Hard Act to Follow, which was available on laserdisc and VHS from HBO, but is now out of print. It is still available as a single cassette from Connoisseur/Academy Video in England in PAL-system VHS and on Region-2 PAL DVD from Network. An impressive article/interview is published as chapter 43 of Kevin Brownlow's The Parade's Gone By... (Berkeley: University of California Press, 1968). The best books about Buster Keaton's life are Oliver Lindsey Scott's superb, seductive, and encyclopedic Buster Keaton, the Little Iron Man (New Zealand: privately printed [1995]), Rudi Blesh's Keaton (New York: Macmillan, 1966), and Buster Keaton's autobiography (as told to Charles Samuels), My Wonderful World of Slapstick (Garden City, N.Y.: Doubleday & Company, 1960). The best book on Keaton's work is Jim Kline's The Complete Films of Buster Keaton (New York: Citadel Press, 1993). David Macleod's The Sound of Buster Keaton (London: Buster Books, 1995), which deals only with the post-independence work, is also highly recommended. Daniel Moews's Keaton: The Silent Features Close Up contains an invaluable final section entitled "Bibliographical and Filmographical Comments." Alan Schneider wrote a (self-deprecatingly) hilarious and touching description of his work with Keaton in an essay called "On Directing Film." Keaton, dismayed by what he thought was an insane script, was not his usual joking and laughing self on the set, but taciturn and subdued, giving Schneider that wrong impression that the somber attitude he had on screen was a carry-over from real life. This essay is included in Samuel Beckett's Film: Complete Scenario / Illustrations / Production Shots (New York: Grove Press / Evergreen, 1969), and was later republished, with a few modifications, as "The Sam and Buster Show, 1964–1965," a chapter in Schneider's unfinished autobiography Entrances: An American Director's Journey (New York: Viking Penguin, 1986). (Among the people who despise Schneider's essay and find it dishonest: Eleanor Keaton, Oliver Scott, at least one person who worked both with Schneider and Keaton, and every Buster fan I've ever met. So I'm completely alone in my judgment on this one, but I can't find anything dishonest about it and I think it's a wonderful source.) More recently, Eleanor Keaton and Jeffrey Vance published Buster Keaton Remembered, a lovely coffee-table book with fascinating text and never-before-published photos. And then when you begin to wonder about all the contradictions in the various accounts, a great remedy is Patty Tobias's wonderful essay, "The Buster Keaton Myths." A charming and intensely researched booklet on the Actors' Colony, which Buster's father helped found just outside of Muskegon, Michigan, and where Buster had his happiest childhood memories, is Marc Okkonen and Ron Pesch's Buster Keaton and the Muskegon Connection: The Actors' Colony at Bluffton, 1908–1938 (Muskegon: privately printed, 1995; available through the Muskegon Mercantile). Marion Meade, whose atrocious and offensively inaccurate book, Buster Keaton: Cut to the Chase (working title: Quiet! The Tumultuous Life of Buster Keaton), infuriated Keaton's family and friends, has nonetheless done the world a service by making her wealth of research material, much of it unique, available at the University of Iowa Libraries' Special-Collections Department. Material on the making of The General can be found in some of the above items, but the best source is The Day Buster Smiled (Cottage Grove, Oregon: Cottage Grove Historical Society, 1998).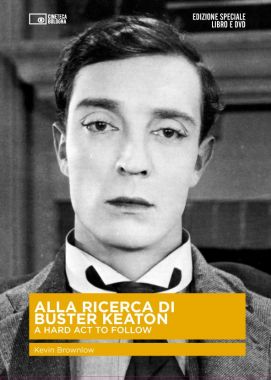 A NEW BOOK! Available only in Italian translation is Kevin Brownlow's long-delayed Seeking Buster Keaton. Definitely worth a read (extremely difficult for me, unfortunately — when I get a month to myself I'll force myself to plough through it and maybe finally master a little bit of Italian). Amazingly, and importantly, this book contains a supplement: a DVD of the only authorized edition of Buster Keaton: A Hard Act to Follow. (And if you're interested, Kevin also has a new book about Chaplin: Alla ricerca di Charlie Chaplin. Yummmm. Must get it.)
— Ranjit SandhuFriday, 27 July 2001 (and occasionally updated)
Many thanks to Kevin Brownlow for correcting some howling errors!
SOME OF MY OTHER STUFF:Tinto BrassBelieve It or Not, Buffalo Was a City Once, and It Even Had Theatres
---
Original research and commentary copyright © 2001, 2002, 2003, 2009, and 2010 by Ranjit Sandhu. All rights reserved.
---