The General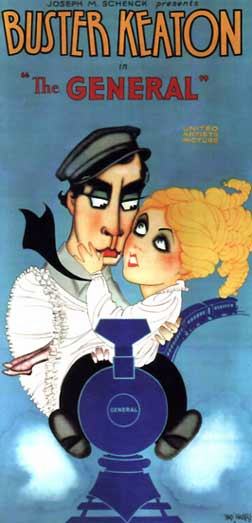 The three-sheet poster, 41" × 81", designed by Alvan Cordell "Hap" Hadley. The only known surviving original sold at auction at Christie's East in Manhattan on 5 December 1994 for $46,000.
| | |
| --- | --- |
| | |
| One-sheet poster | Half-sheet poster |
A United Artists ProductionWritten and Directed by Buster Keaton and Clyde BruckmanAdditional Material by Al Boasberg and Charles Henry Smith
| | |
| --- | --- |
| Produced by | Joseph M. Schenck |
| Directors of Photography | J. Devereaux "Dev" Jennings andBert "Boots" Haines |
| Camera Operators | Elmer Ellsworth and Byron Houck |
| Assistant Camera Operator | Harry Wilde |
| Scenic Director | Harry "Rosie" Roselotte |
| Location Manager/Chief Property Man | Bert Jackson |
| Properties Crew | Mike Graves and others |
| Casting Director | Harry Barnes |
| Chief Draughtsman | Billy Wood |
| Bridge Timber Contractor | George E. Potter |
| Bridge Timber Crew | William Ernshaw and others |
| Technical Assistance with the Trains | Jack Dempster |
| Brakeman | Fred A. Lowry |
| Production Manager/Technical Director | Fred Gabourie |
| Technical Director for Battle Scenes | Glen Cavender |
| Chief Makeup and Wardrobe | J. K. Pitcairn |
| Assistant Makeup and Wardrobe | Bennie Hubbel and Fred C. Ryle (Western Costume Company) |
| Lighting Effects | Denver Harmon |
| Business Managers | W. G. Gilmour and Lou Anger |
| Construction Foreman | Frank Barnes |
| Construction Crew | Jack Coyle and others |
| Bridge and Dam Construction | H. L. Jennings |
| Chief Mechanic and Firefighter | Fred Wright |
| Munitions Foreman | Jack Little |
| Chief Electrician | Ed Levy |
| Still Photographers | Byron Houck, Dale Clawson, and William Piltz |
| Horses and Mules Supplied by | Dee Wright, Eugene, Oregon |
| Railroad Assistance | L. L. Graham and Bob Holmes, Oregon Pacific and Eastern Railway |
| First Aid | Dr. Axley and Dr. Frost, Cottage Grove, Oregon |
| Buster Keaton's Valet and Chef | Willie Riddle |
| Buster Keaton's Cook | Viola Riddle |
| Catering | Anderson & Middleton, under the direction of George E. Potter |
| Chef | Ralph Land |
| Continuity | Christine Francis |
| ?????????? | Betty Cavender |
| Location Screening Facility | Arcade Theatre, Cottage Grove, Oregon |
| Editor | Buster Keaton |
| Assistant Editors | Sherman Kell and Harry Barnes |
| Music Compiled by | James C. Bradford |
| Published by | Cameo Music Service Corporation, New York |
| | |
| --- | --- |
| CAST | |
| Johnnie Gray | Buster Keaton |
| Annabelle Lee | Marion Mack |
| Her Father | Charles Henry Smith |
| Her Brother | Frank Barnes |
| Captain Anderson | Glen Cavender |
| General Thatcher | Jim Farley |
| A Southern General | Frederick Vroom |
| A Union General | Joe Keaton |
| A Union General | Mike Donlin |
| A Union General | Tom Nawn |
| Boy | Jackie Hamlon |
| Boy | Jackie Lowe |
| Recruiter | Frank Hagney |
| Raider | Jimmie Bryant |
| Raider | Jack Dempster |
| Raider | Budd Fine |
| Raider | Ray Hanford |
| Raider | Al Hanson |
| Raider | Anthony Harvey |
| Raider | Ross McCutcheon |
| Raider | Tom Moran |
| Stunt Double for Tom Moran | Earl Mohan |
| Raider | Charles Phillips |
| Raider | Red Rial |
| Raider | Ray Thomas |
| Raider | Red Thompson |
| A Union Railroad Fireman | Ed Foster |
| A Union Officer | Edward Hearn |
| A Soldier | Lewis Lewyn |
| Union and Confederate Soldiers | Oregon State Guard (Henry Baird, Kieth Fennell, Ronald Gilstrap, "Fat" Kerr, Billy Lynn, James Walsh, John Wilson, Harold Terry, and about 500 others), under the command of Captain C. C. Cruson and Sergeant Bukowski |
| ?????????? | Jean Woodward |
Bruckman came from a newspaper background and became a writer and gagman in 1919 for Eddie Lyons & Lee Moran and Monty Banks. In 1921 he joined Keaton's staff of ideamen and was one of his key collaborators until he began freelancing after Seven Chances (1925). Besides being an important (and sometimes uncredited) collaborator to Harold Lloyd for almost fifteen years and directing Laurel and Hardy in some of their most important early comedies (Putting Pants on Philip [1927], Battle of the Century [1927], The Finishing Touch [1928], etc.), Bruckman also worked with Mack Sennett, Hal Roach, Max Davidson, W. C. Fields, Lloyd Hamilton, and the Three Stooges.
Bruckman's fatal flaw was alcohol. As the 1930s rolled around he would go on binges and disappear in the middle of shoots. While this effectively ended his directing career, he was still in demand as a writer. But he had a penchant for recycling material he had written for other people and in the 1940s Harold Lloyd sued Universal and Columbia over material Bruckman revised — leaving Bruckman pretty much unemployable. In the early 1950s he managed to work on Keaton's and Abbott and Costello's television shows but not much else. In 1955 he borrowed a pistol from Keaton and shot himself.
"I was with Warner Brothers," Bruckman related. "Warners at that time consisted of Jack, Sam, and Harry Warner, Monte Banks, and a few extras and props, in an old barn of a studio at Bronson and Sunset, where the big bowling alley now is.
"Then I ran into Harry Brand, an old friend of mine from newspaper days. Now he was Buster's publicity man.
"'Why don't you come over with Keaton?' he asked.
"'How do I know Keaton wants me?'
"Next day Brand phoned, said 'Come over for lunch with us.'
"I did and was hired, to start the next Monday. I went back and saw Jack Warner. 'Jack, I have a chance to go with Keaton — better job, better opportunity. I'd like to close Saturday.'
"'Can you keep a little secret?' said Jack. 'We're all closing Saturday.'
"And, by gosh, they did — for six months or more. It took a German police dog called Rin Tin Tin to take them out of the red."
Then Bruckman described the Keaton lot. "I suppose writers should coin phrases, so here goes," he said. "We were one big happy family. And that's something you don't know until — and if — you've been in one. In such a situation, gags are never a problem. You feel good. Your mind's at ease, and working.
"I was at Buster's house or he at mine four or five nights many a week — playing cards, horsing around, dodging the issue. Then, at midnight, to the kitchen, sit on the sink, eat hamburgers, and work on gags until three in the morning. And how we'd work!
"You can't match that today, when you walk in on a supervised production, cut and dried, every cough scripted and every sneeze timed, and the bigwigs all a pushbutton's length from the set. Joe Schenck was too big to be a bigwig. He's said — and I've heard him — 'Tell me from nothing. Go ahead, what should I know about comedy?'
"Buster was a guy you worked with — not for. Oh, sure, it's a cliché, like the 'happy family.' But try it some time. I even hate to mention the playing. It sounds like a buildup. But late afternoons we chose sides and had our ball game — fights, arguments. Rainy days it was bridge in a dressing room — fights, arguments. And we made pictures." Bruckman sighed. "Harold Lloyd was wonderful to me," he said. "So was Bill Fields. But with Bus you belonged.
"Well, it's all changed, anyway. So organized and big a man can't touch it. It used to be our business. We acted in scenes, set up scenery, spotted lights, moved furniture — hell, today even the set dresser with paid-up dues can't move a lousy bouquet. He sits and waits until the 'green man' arrives. An actor has to fight his way onto the set through technicians, supervisors, experts, and accountants. And television has followed the same lines. So...." He swallowed and looked up. "Other days, other ways, as Nero said.
"Oh, we'd get hung up on sequences. Throw down your pencils, pick up the bats. The second, maybe third, inning — with a runner on base — Bus would throw his glove in the air, holler, 'I got it!' and back to work. 'Nothing like baseball,' he always said, 'to take your mind off your troubles.'
"With it all, you wouldn't believe a comedian could be so serious. He showed them all how to underact. He could tell his story by lifting an eyebrow. He could tell it by not lifting an eyebrow. Buster was his own best gagman. He had judgment, taste; never overdid it, and never offended. He knew what was right for him."
Clyde Bruckman paused, lit a cigarette, and went on. "You seldom saw his name in the story credits. But I can tell you — and so could Jean Havez if he were alive — that those wonderful stories were ninety percent Buster's. I was often ashamed to take the money, much less the credit. I would say so.
"Bus would say, 'Stick, I need a left fielder,' and laugh. But he never left you in left field. We were all overpaid from the strict creative point of view. Most of the direction was his, as Eddie Cline will tell you. Keaton could have graduated into a top director — of any kind of picture, short or long, high or low, sad or funny or both — if Hollywood hadn't pushed him down and then said 'Look how Keaton has slipped!'
"Comedian, gagman, writer, director — then add technical innovator. Camera work. Look at his pictures to see beautiful shots, wide pans and long shots, unexpected close-ups, and angles that were all new when he thought them up. But each and every camera angle calculated to help tell the story — without sound, remember, and with damn few subtitles."
"...The guy's honesty was impressive. He wouldn't fool his audience. None of the easy camera tricks like cutting an action into several parts with a new camera angle for each, then splicing it all together.... When he did use a camera trick, he did it deliberately, to make an impossible statement. Like multiple exposure. Not double exposure, which is a picture on top of a picture, generally an amateur accident. Multiple exposure is dividing up the picture frame into parts, taping the lens to correspond, and photographing each part separately. Keaton didn't originate this idea. It had been used for years to show an actor in two roles at once. But it was a difficult technique. It was hard to join the halves of the picture without a telltale line down the middle. It was also hard to get the separate actions to synchronize — like looking up at the exact moment that your alter ego, in the earlier exposure, said something to you.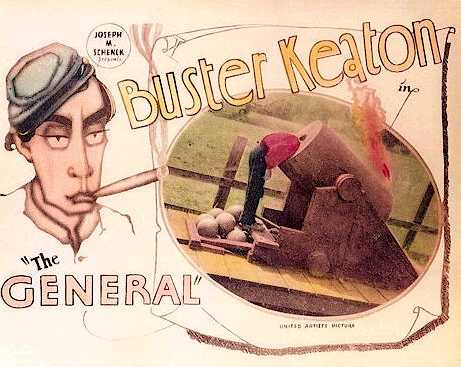 "Buster Keaton did the multiple exposure to end all multiple exposures. It was in Playhouse. He did an entire minstrel show all by himself — nine Busters in blackface on the stage at once. Every move, song, and dance exactly in unison. That meant taping off the lens into nine equal segments accurate to the ten-thousandth of an inch.
"'It can't be done,' said [Elgin] Lessley, the cameraman.
"'Sure it can,' said Buster. 'We won't use tape.'
"He built a lightproof black box, about a foot square, that fitted over the camera. The crank came out the side through an insulated slot. It was in the front that the business was: nine shutters from right to left, fitted so tight you could have worked underwater. You opened one at a time, shot that section, closed that shutter, rolled the film back, opened the next shutter and shot, and so on.
"'Keep this a secret, you lugs,' said Buster. We did. Hollywood gave up on that one. No one even tried to copy it."
Clyde Bruckman stamped out his cigarette. "I often wish," he said, "that I were back there, with Buster and the gang, in that Hollywood. But I don't have the lamp to rub. It was one of a kind."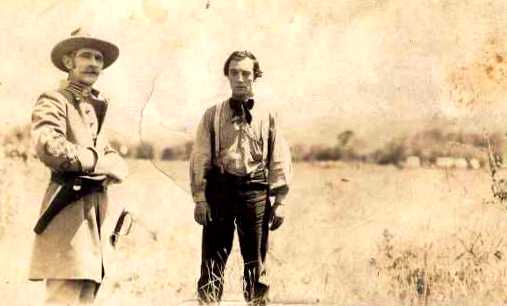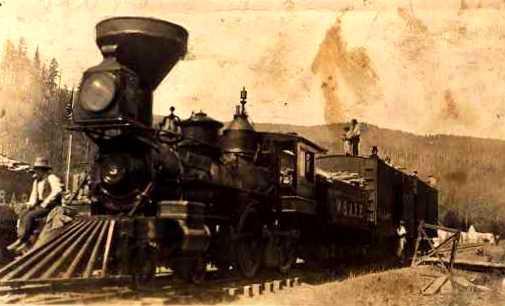 Some rare behind-the-scenes shots
"Now work fast. Telephone the governor up there and you can get the whole damned Oregon State Guard for the war scenes."
"Well," the governor said, "I don't know." He hesitated. "We have two regiments going into camp in two weeks."
"We'll pay them a salary on top of yours," said Buster.
"All right, they're yours."
Buster Keaton was the most popular star in Russia in the 1920s. Here are two posters for The General designed by the Stenberg brothers.
Excellent comedy for 1st class houses. It cannot fail to please a discriminating audience. Buster Keaton gives a performance of polished comedy.
Buster Keaton as the engine driver hero of an American Civil War story, goes unsmilingly as usual through a series of amusing adventures. Marion Mack is his leading lady, and there is an excellent supporting cast. Capital entertainment.
Buster Keaton has evolved a mild little comedy of Civil War days. It's a pleasure to laugh continuously but comfortably, with no painful side-splitting, while Buster inadvertently becomes the hero of the Confederate Army. He is relentlesly aided, throughout the picture, by the heroine, who is nothing short of an inspiration. Marion Mack plays this delightful brand of leading lady with infinite good nature. Don't miss her and Buster.
...Buster Keaton does spoof the Civil War most uncivilly in his new comedy. Buster is a locomotive engineer who saves a whole Confederate army single-handed. There is an undercurrent of heroic satire in the way Buster is always saving the moron heroine in crinolines. Anna-belle Lee is a gorgeous laugh at all the helpless young ladies of historic fiction.
Good satire on war melodrama and excellent comedy thrills.
What is easily Buster Keaton's most ambitious comedy is his least funny one. Mr. Keaton's task was to invest it with comic byplay, which he does, but there is an underlying solemnity in the proceedings which puts rather a crimp in the farcical treatment given them. "The General" is a one man show, a mistake in a picture lasting over an hour.
If they'll put Buster Keaton at the head of the armies next time there's a war his maneuvers will bring that war to a pleasant, painless and prompt conclusion, because the belligerents will simply die laughing. At least that is the impression one gets viewing him in The General, a Joseph M. Schenck production, directed by Buster Keaton and Clyde Bruckman, the star's first feature for United Artists, and now having its first Chicago showing at the Orpheum Theater.... The play is chockfull of hilarity, pathos and thrills, such as when Johnnie chases himself with a loaded cannon; attempts to burn down a bridge and gets on the wrong side of the fire; shoots a cannon into the air and with fool's luck hits the dam that floods the river and puts the enemy to rout. And if any young "modern" thinks short skirts and knickers an attribute to agility, let her behold the acrobatics of Marion Mack in hoopskirt and lace beruffled pantalets.... If you want a good laugh, don't miss The General.
This is by no means as good as Mr. Keaton's previous efforts.... [A] mixture of cast iron and jelly.
Long and tedious — the least funny thing Buster Keaton has ever done.
[A] pretty trite and stodgy piece of screenfare, a rehash, pretentiously garnered of any old two-reel chase comedy.... The audience received "The General" with polite attention, occasionally a laugh, and occasionally a yawn. Disappointing.
...slow, very slow.... [P]ull yourself together, Buster. That's all.
Probably lots of people will not think it funny at all.... I give you "The General," a comedy for the exclusive enjoyment of the matured senses.... Buster Keaton has made a financial faux pas, perhaps....
I am working on a video edition of a quite fine Civil War film called The Coward (1915, produced by Thomas Ince, directed by Reginald Barker, starring Frank Keenan and Charles Ray). Eric Beheim, who is doing the music, noticed many startling similarities to the non-locomotive-chase portions of The General. We wonder if this could have been a source for Keaton?
Similarities between The Coward and The General (none of these elements was part of the original historical incident):
• Confederate recruiting stations figure prominently in the openings of both films.
• Failure of the heroes to enlist is used to advance the plot.
• When they fall out of favor for "cowardice," both heroes' photographs are removed from sight by the family patriarch.
• Both heroes overhear a top-level Union staff meeting at which important plans are discussed.
• Both heroes hide under the table in the room where the officers are meeting.
• Both heroes escape by overpowering guards and changing into enemy uniforms.
• During their escapes back to Confederate lines, both heroes are fired upon by friendly sentries because they are wearing the wrong uniform.
• Both heroes relay important battle information which ultimately leads to a Confederate victory.
• The destruction of a key bridge figures prominently in outcomes of the final battles.
For those who are interested, The Coward will be out on DVD and VHS from Image Entertainment later this year as a component of a program of Civil War Films 1911–1915.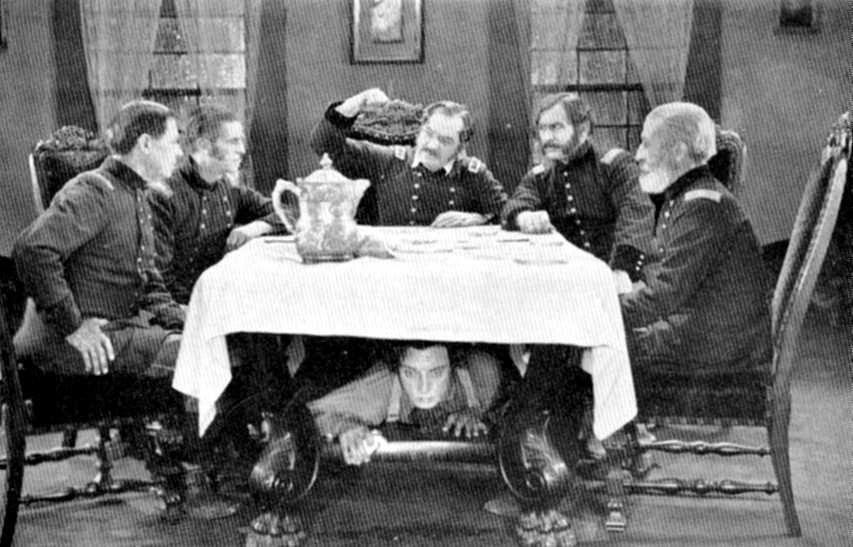 Left to right: Joe Keaton, Mike Donlin, Jim Farley, Glen Cavender, and Tom Nawn, with Buster hiding underneath.
(In my researches on older theatres, I keep running into a vaudeville act entitled "The Nawns," and I assume that Tom was the patriarch of that family. One of my greatest frustrations is my inability to go out at night and watch the shows and performers who entertained the country from about, oh, 1785 through about 1928. Now what do we have to replace that culture? Parking lots, Wal-Mart, and video games. Sheesh.)
Beatrice Fairfax gives advice,
To anyone in love;
That's why Johnny Gray,
Wrote to her one day;
"When I call to love my girl,
Her folks are always there;
That's why I'm blue,
What shall I do?"
And Beatrice said, "Never despair"....
BUSTER ON VIDEO
(A lot of the links below are dead. Forgive me. I'll fix them soon.)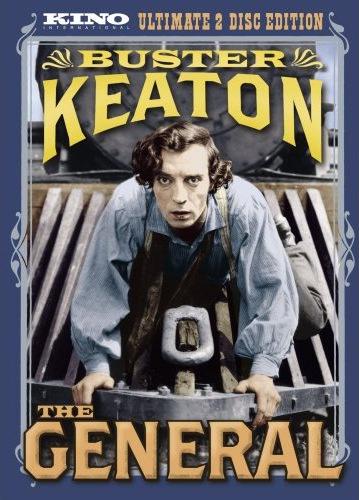 FURTHER RESEARCH
SOME OF MY OTHER STUFF:Tinto BrassBelieve It or Not, Buffalo Was a City Once, and It Even Had Theatres
---
---