THE WORKS OF TINTO BRASS
---
Fermo posta Tinto Brass
(a.k.a. P.O. Box Tinto Brass, 1995)
| | |
| --- | --- |
| | |
The widely disbelieved story that Brass regularly receives mail from his female fans who confess their sexual adventures and fantasies is actually true. This movie, freely adapted and inspired from such letters, as well as similar published letters, is a laff riot. Much of the humor derives from Riz Ortolani's music track, which is wildly incongruous in its unerotic bounciness. For reasons that escape me, porn connoisseurs who publish their opinions on the web are displeased with this film. Maybe that's because they're porn connoisseurs who wanted another
Paprika
??? I, on the other hand, am a comedy connoisseur, and so this movie suited me just fine. It consists of eight stories (or nine or ten or eleven or twelve, depending on how you want to count them), and several had me folded over with laughter. With this film, in my opinion at least, Brass came of age in his new rôle as a master of erotica. He finally figured out how to make it all work together, which is not easy to do.
Yes, that really is Brass's office. Yes, that really is where he auditions young ladies. My guess is that the kids in the photos on the wall are his grandkids. Stacked around the office are film cans labeled
L'urlo
and
NEROSUBIANCO
and so forth. Oooooooo how much I want to dig into those!
Hours and hours on the Internet, getting bleary-eyed with Google, and I still can't identify all the actors. Can anyone help?


The English dub is censored — very censored.


This movie brings into focus ideas that Brass had not completely articulated in his previous films, and it explains why some of his erotica, unlike almost any other erotica, is completely inoffensive: he's a female chauvinist. I don't know if he would ever admit it, but his firm conviction that women are superior to men in every way is obvious from his body of work.


WHERE DID WE HEAR THAT BEFORE?
Several musical pieces come from
Paprika
. The cheesy jazz tune in "Ivana" episode we heard before in
Miranda
,
Paprika
, and
L'uomo che guarda
. The main theme from
L'uomo che guarda
is re-used here for the "Le mutandine" episode. "Incontri" is the only episode that promises us serious eroticism, but then just as things are about to get really kinky, a bouncy theme from
Capriccio
is
re-used.
SELF-REFERENCES:
On the office of Brass's wall, in addition to posters for some of his films, there is an unused prop from
Snack Bar Budapest
: a small sign for the Cine Tabù.
---
| | | |
| --- | --- | --- |
| The out-of-print Italian Region-2 PAL DVD, which will not play on most US equipment. | The new Italian DVD, a little bit cropped, but with optional English subtitles and a nice interview with Tinto! It's Region-2 and PAL, and so it will not play on most US/Canadian equipment. | The censored dubbed-into-muffled-English Region-2 PAL DVD, which will not play on most US equipment. |
---
Jacopo Capanna e Guiseppe Perugia presentano
un film di Tinto Brass
Fermo posta Tinto Brass
© Copyright 1995 California Film e Produttori Associati
Direttore della fotografia
(director of photography)
Dante dalla Torre
Art Director
Maria Luigia Battani
Costumista (costume designer)
Ivo Crnojevic
Musica composta e diretta da
(music composed and directed by)
Riz Ortolani
Soggetto (original story)
Tinto Brass
Sceneggiatura (screenplay)
Tinto Brass, Aurelio Grimaldi, Claudio Lizza
Aiuto regista (assistant director)
Claudio Bernabei
Segretaria di edizione (continuity)
Carla Cipriani
Assistente operatore
(assistant camera operator)
Guido Cimatti
Collaboratrice al montaggio
Fiorenza Müller
Ispettore di produzione (unit manager)
Roberto Manni
Fotografo di scena (still photographer)
Gianfranco Salis
Promozione (promotion)
Saverio Ferragina
Organizzatore amministrativo
(production manager)
Mario Sampaolo
Organizzatore generale (general manager)
Massimo Ferrero
Prodotto da (produced by)
Giovanni Bertolucci FOR per California Film AND e Produttori Associati
Scritto, diretto, montato ed interpretato da
(written, directed, edited, and performed by)
Tinto Brass
Truccatrice (make-up artist)
Claudia Reymond/Shone
Parrucchiere (hairdresser)
Giancarlo Lucchetti
Fonico (sound)
Roberto Alberghini
Aiuto operatore (assistant camera operator)
Luciano Teolis
Assistente costumista
(assistant costume designer)
Stefano Giovani
Assistente scenografo (assistant art director)
Alessandra Martelli
Assistente al montaggio (2nd asst. editor)
Giovanna Ritter
Operatore steadicam
Carlo Maria Montuori
Segretari di produzione
Stefania de Luca, Antonino de Santis, Mauro Babini, Patrizia di Bernardino
Runner
Luca Infascelli
Capo elettricista (gaffer)
Sergio Spila
Elettricisti (best boys)
Marcello Cardarelli, Roberto Ridolfi
Capo macchinista (key grip)
Vittorio Rocchetti
Macchinisti (grips)
Riccardo Ferrero, Vittorio Ferrero, Roberto Caruso
Attrezzista (prop master)
Giusepe de Luca
Gruppista (generator operator)
Giancarlo Ruiu
Autisti (drivers)
Franco Moranti, Aldo Rocchi
Teatri di posa (interiors)
Cinecittà
Post-sincronizzazione (postproduction)
Fono Roma
Mixage (mixer)
Alberto Doni
Fonico Doppiaggio (ADR technician)
Stefano Nissolino
Assistente al doppiaggio (assistant ADR)
Giovanna Granieri
ADR supervisor for English version
Leslie James La Penna
Sviluppo e stampa (lab)
Fotocinema
Tecnico del colore (color technician)
Ernesto Volpi
Pellicola (raw stock)
Kodak Eastman Cinema e Televisione COLOR FILM
Edizioni musicali (music publishers)
EMI Music Publishing Italia S.r.l.
Mezzi tecnici (technical equipment)
Arco Due
Lampade (lighting equipment)
I.L.C.
Trasporti (transport)
Consorzio Trasporti Cinematografici
Cestini (catering)
Ristorante I Buonatavola
Assicurazione (insurance)
Ina Assitalia
Titoli e truke (titles and opticals)
Videogamma
Effetti sonori (sound effects)
Cineaudio Effects
Si ringraziano (we thank)
Seiji Fukasawa
Eyo Obong
Jasmine
Venere Torti
Stefano Costa
Asky Moda
Califfo Moda
Fabio D
Halfon by Victor
Ottica Vittoria Colonna
Romans 2000
Wolford
Artemide
Elettrovimar
Vinnaioli Jermann
La Maison Louis - Roederer
Polaroid
Musica di repertorio (musical excerpt)
Die Zauberflote [uncredited]
EPISODE 1: Sguardi (Glances)
EPISODE 2: Il preservativo (The Condom)
EPISODE 3: Le mutandine (The Panties)
EPISODE 4: Videocasalinghi (Home Videos)
EPISODE 5: La telefonata (The Phone Call)
EPISODE 6: Incontri (Meetings)
EPISODE 7: Ho perso te (I Lost You)
EPISODE 8: La segretaria (The Secretary)
EPISODE 9: Stivaletti rosso tango (Red Tango Ankleboots)
| | |
| --- | --- |
| Altri interpreti (others in the cast) | |
| ??? | Luca Flauto |
| ??? | Gianni de Martiis |
| ??? | Andrea Scataglini |
| ??? | Ghibly F. Lombardi |
| ??? | Cristian Marazziti |
| ??? | Susanna Bugatti |
| ??? | Anita Divizia |
| ??? | Stefania Coradetti |
| ??? | Sabrina Romeo |
| ??? | Laura Paparesta |
| ??? | Walter Carrera |
| ??? | Mario Agnoletti |
| ??? | Thomas Semeraro |
---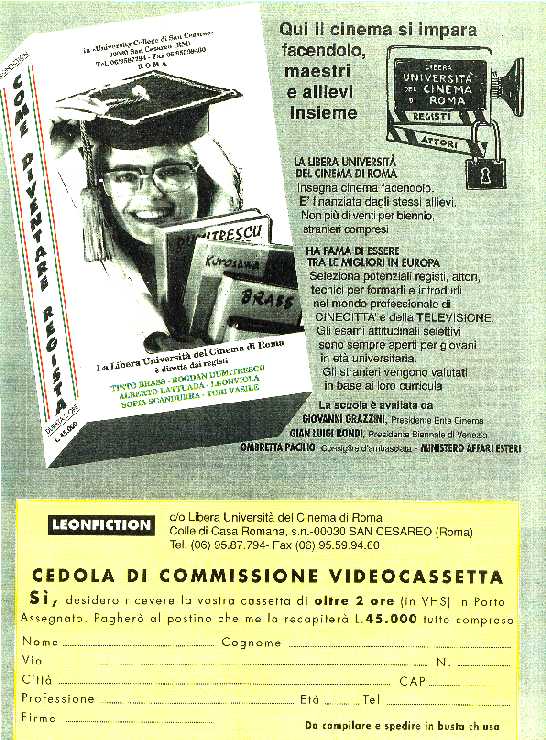 Home Schooling:
Teaching Tinto!